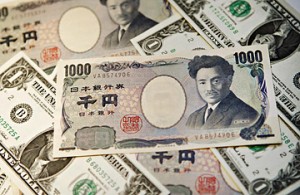 NEW YORK (Forex News Now) – The yen surged against the dollar on Thursday, approaching a 7-month high, ahead of a key report on Japan's services sector and following disappointing U.S. manufacturing data.
In early U.S. currency trading, USD/JPY sank to hit 87.23, close to the 7-month low of July 1, 86.97.
The currency pair later rose slightly to trade at 87.45, down 1.06 percent on the day.
Japan's Ministry of Economy, Trade and Industry was due later Thursday to release its monthly tertiary sector index of service industry activity, which was expected to show a drop of 0.7 percent in May.
According to forex analysis, USD/JPY was likely to touch support around the low of July 1, 86.97, and encounter immediate resistance around the daily high, 88.41.
Also Thursday, the Federal Reserve Bank of Philadelphia said its general economic index fell to 5.1 in July, the lowest level since August 2009, from 8 in June.
Analysts had expected a reading of 10.2 for the key gauge of U.S. manufacturing, two global forex news outlets reported.
Meanwhile, the Japanese currency rose versus sterling: GBP/JPY traded at 134.65, down 0.23 percent on the day.