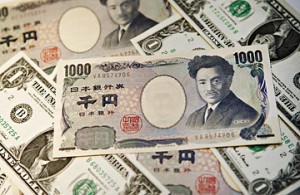 NEW YORK (Forex News Now) – The dollar neared its daily low against the yen on Wednesday, as Ben S. Bernanke, the Federal Reserve chairman, begin to give heavily anticipated testimony before the U.S. Senate.
In European midday currency trading, USD/JPY traded at 86.98, down 0.61 percent on the day, close to the daily low of 86.86.
In his comments, Bernanke was expected to reassure Congress that the central bank has the tools to reinvigorate the U.S. economy, which appears to be teetering on the brink of a double-dip recession in light of recent downbeat data.
According to forex analysis, USD/JPY was likely to touch support around the low of July 16, 86.26, and encounter immediate resistance around Tuesday's high, 87.57.
The Japanese currency's earlier gains came amid fears over the pace of the U.S. recovery and the financial health of European banks, ahead of the results of European bank stress tests later this week.
Meanwhile, the yen surged versus the euro: EUR/JPY traded at 111.06, down a massive 1.46 percent.