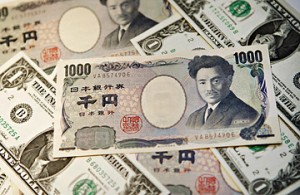 NEW YORK (Forex News Now) – The dollar slid against the yen on Monday after official data showed that Japan's economy grew at a slower pace than expected in the second quarter, heightening fears over the global recovery.
In European afternoon currency trading, USD/JPY struck 85.9, down 0.36 percent on the day, after rising slightly from the daily low of 85.72.
Japan's Cabinet Office said earlier that the country's gross domestic product, the broadest measure of economic activity, grew 0.1 percent quarter-on-quarter in the second quarter, after downwardly revised growth of 1.1 percent in the first quarter. Analysts had expected growth of 0.6 percent in the second quarter, two major forex news outlets reported.
According to forex analysis, USD/JPY was likely to touch immediate support around the low of Aug. 8, 84.73, and encounter resistance around Friday's high, 86.37.
The Japanese currency's gains also came amid reports of yen-buying by Japanese exporters, Reuters reported.
Elsewhere, the yen rose versus sterling: GBP/JPY traded at 134.33, down 0.09 percent.