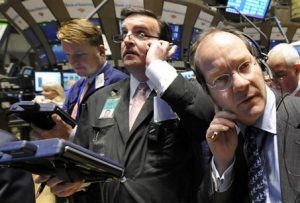 NEW YORK (Forex News Now) – U.S. stock markets sagged on Wednesday, after Federal Reserve Chairman Ben Bernanke said the U.S. economic outlook was "unusually uncertain."
The Dow Jones Industrial Average dropped 109.43 points, or 1.07 percent, to 10,121; the Standard & Poor's 500 slid 13.89 points, or 1.28 percent, to 1,069; and the Nasdaq Composite fell 35.16 points, or 1.58 percent, to 2,187.
In testimony to the Senate Banking Committee in Washington, D.C. Bernanke said the central bank was ready to implement further measures to spur growth, if needed.
"Even as the Federal Reserve continues prudent planning for the ultimate withdrawal of monetary policy accommodation, we also recognize that the economic outlook remains unusually uncertain," the Fed chief told lawmakers.
"We remain prepared to take further policy actions as needed to foster a return to full utilization of our nation's productive potential in a context of price stability."