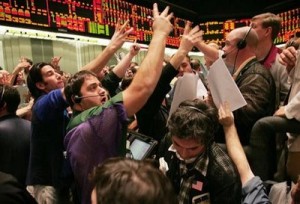 NEW YORK (Forex News Now) – U.S. stock markets slumped on Friday, in the wake of weak earnings reports and worse-than-expected U.S. economic data.
The Dow Jones Industrial Average dropped 261..4 points, or 2.52 percent, to 10,098; the Nasdaq Composite fell 70 points, or 3.11 percent, to 2,179; and the Standard & Poor's 500 slid 31.6 points, or 2.88 percent, to 1,065.
Earlier Friday, Citigroup Inc. posted poor second quarter results, as did Bank of America Corp., which reported a loss in its mortgage business and a falloff in Wall Street trading profits.
Treasury Department data showed earlier in the day that global demand for long-term U.S. financial assets slowed in May, as foreign central banks reduced their holdings of Treasury bills and investors abroad sold stocks.
A report on U.S. consumer confidence also weighed on investor sentiment.