The new week starts with us with the analysis of the Augur. This crypto was previously analyzed here on the 10th of July, when the price was around 31 USD. Back in that day, the bearish trend was pretty strong and in the same time, very technical. The price was creating nice trend continuation patterns, which helped us to estimate the further direction to the downside. Let's look how we concluded the previous piece:
"Breakout of the lower line of the flag, gave us a fresh sell signal and this is our outlook on this altcoin. Negative signal will be canceled, when the price will come back above the highs from the beginning of June. "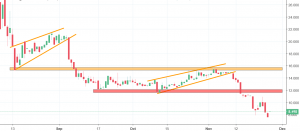 Current price is 8.4 USD so you can see that we made a very good prediction there. The price continued to behave very technically and respected major price action principles. On the chart, you can see two more technical patterns: wedge and a flag (orange). Today, the price is going up over 10% but does that change anything? Not really, yesterday we were on the historical lows, so this rise does not change absolutely anything. From the technical point of view, this is just a dead cat's bounce so one should not think about this as a good trading opportunity. As long as we stay below the horizontal resistances, the sentiment is negative.