Bitcoin is on fire. The cryptocurrency rose to an almost three-year high last Friday to trade at $777 against the dollar. Bitcoin and a host of other altcoins have been gaining since the surprise election of Donald Trump as the 45th president of the U.S.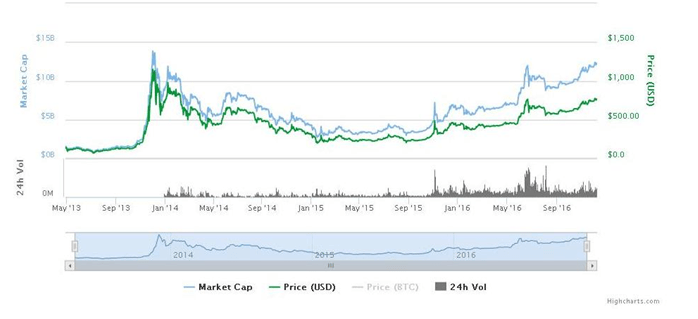 But what's fueling appetite for Bitcoin? Analysts have pointed out that several factors are at play in boosting demand for digital currencies such as Bitcoin, Litecoin and Zcash.
Investor confidence
Investors are growing more confident in the security of virtual currencies. Those who may have been scared by hacking of digital currency exchanges and stealing of millions of dollars in Bitcoins are overcoming those fears. Hackers raided Mt. Gox system in 2014 and made off with Bitcoins worth millions of dollars, sparking a selloff in the cryptocurrency world. Other hacking of digital currency exchanges also kept many investors on the sidelines of virtual money.
However, interest in Bitcoin and other altcoins has been strengthening in the recent times as those networks have enhanced their security and privacy measures.
Worries over Trump's crackdown on remittances to Mexico
The uptake of Bitcoin in Mexico has particularly spiked since Trump won the race to the White House. The reason for the development can be explained by worries over Trump's tough stance on illegal immigrants flowing into the U.S. from the South. One of Trump's signature campaign proposals was constructing a wall along the border of the U.S. and Mexico to keep illegal immigrants at bay. Trump also promised to the crackdown on remittances to Mexico by undocumented U.S. immigrants, which is seen as a way of making Mexicans pay for the wall.
Worried Mexicans in the U.S. are turning to Bitcoin and other digital currency to potentially circumvent Trump's cash transfer embargo targeting Mexican immigrants who cannot show proof they entered the U.S. legally.
But the panic over Trump blocking remittances to Mexico has given way to a thriving Bitcoin exchange industry in Mexico besides helping push up the value of the digital currency.
Trump's criticism of China's currency manipulation
Trump's recent criticism of China's devaluation of its currency yuan is another factor seen fueling uptake of Bitcoin. Beijing has been fixing yuan value against the dollar, especially devaluing the currency to make Chinese exports cheaper on the global market. Trump is upset with China's trade and monetary policy manipulations and has threatened to slap Chinese exports to the U.S. with high tariffs, potentially roiling Asian currencies.
China acquires raw materials for the products it manufactures and exports from its Asian neighbors. As such, hitting Chinese exports with high tariffs could rattle many Asian currencies and economies, and that explains why Asian investors are buying Bitcoin as a hedge against economic uncertainties in the region.
Italian referendum
Bitcoin hit the three-year high as the weekend on which Italians were going to the ballot to vote in a referendum approached. Investors stepped up Bitcoin buying because of the Sunday referendum uncertainty. Italians shot down the referendum proposal, leading to the resignation of Prime Minister Matteo Renzi.
With the Eurozone still gripped in political uncertainty, the appetite for the Bitcoin and other altcoins is likely to remain strong as investors move to hedge their investments. Some analysts have predicted that the dollar will catch up with euro early next year as the Eurozone struggles with a rising eurosceptic wave.