Third instrument of the day is Kiwi – NZDUSD. For the last time, this pair was analysed on the 19th of November. Back in that day, we were bullish. Now the price is lower, does that mean that we were wrong? Well, maybe but the bullish setup is still here and our sentiment remains positive. Most probably, we will have to wait a bit longer to make that happen. You know, patience is the key. Let's see how we concluded the previous piece:
"Situation here is similar to this one on the AUDUSD – it is a typical price action movement and the bullish sentiment here is still dominant. Our outlook for the future remains positive. "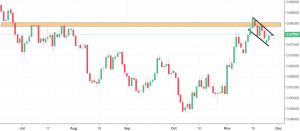 Since those words were written, the price is in the bearish correction. It is still only a correction but a bit bigger than we thought. Despite the size, it is still very technical. We talk here about the flag (black lines). That structure should end with a breakout to the upside even despite the fact that we came below the horizontal resistance on the 0.685 (orange). Our positive outlook will be denied, when the price will drop below the 0.675 (lows of the flag), which as for now, seems less likely to happen.