Trading in Asian currencies was mixed Monday as markets grappled with referendum loss in Italy and escalating tough talk between the U.S. President-elect Donald Trump and China.
Italian voters handed Prime Minister MatteoRenzia stinging rebuke by shooting down his referendum proposal to overhaul the country's legislature. Renziwill resign. But investors areworred his exit would slow reforms in Italy's struggling banking sector. Renzipromoted economic policies that would have helped Italian banks quickly get back on their feet to avoid economic recession.
But amid a surging wave of populist sentiment sweeping across Europe, Italian voters refused to allow a constitutional change that the administration of Renzisought to enable it drive its economic reforms.
The euro fell 1.1% against the dollar in early trading Monday, but recoup most of its early losses to close up 0.9%. The contained decline in the common currency was attributed to the fact that investors had largely expected Italians to vote in the referendum the way they did. Additionally, the rejection of a populist candidate for president in Austria also seemed to have limited euro slide. EURUSD continued sliding Tuesday in Asian trading hours, but the decline was a little more muted than the previous day. Some analysts have said the dollar could match euro in value in the coming months.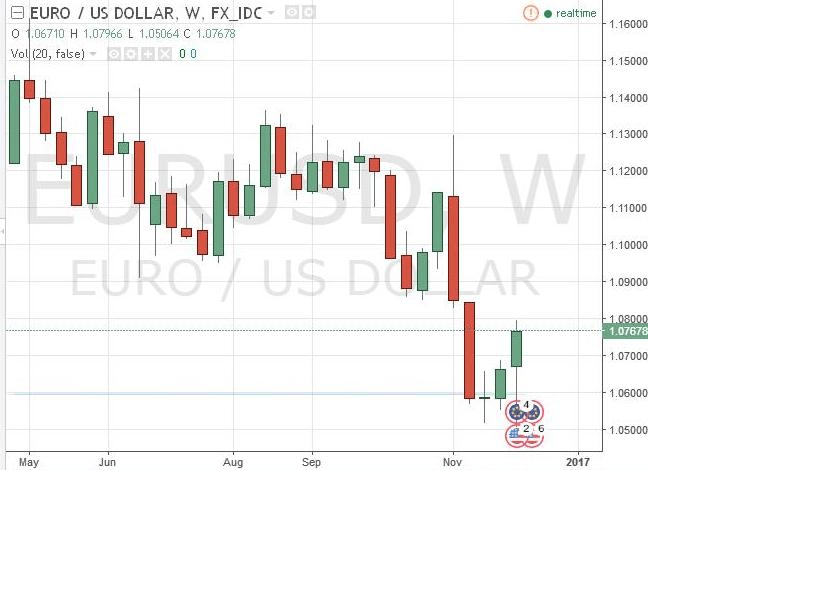 Dollar surges against Asian rivals
The dollar was largely strong in Asian on Monday as Trump's break with established diplomatic protocols by calling Taiwan's president directly continued to reverberate. Beijing, which doesn't consider Taiwan a sovereign nation, protested Trump's phone call to President Tsai Ing-wen of Taiwan.
Currencies of both China and Taiwan slid against the greenback. The yuan dropped 0.1% against the dollar, while New Taiwan dollar declined 0.3%. ButJapanese yen, largely considered a safe-haven currency, was steady against the dollar.
The U.S. Dollar Index, which measures the strength of the greenback against a basket of six currencies, jumped 0.7%.
Heavy tariffs on Chinese exports
Other than the diplomatic row, Trump has accused China of currency manipulation, threatening to slap Chinese exports to the U.S. with hefty tariffs to stop Beijing in its currency manipulation tracks. Trump's criticism of China's trade and currency policies added to the pressure on the yuan.
While Trump has shown a desire to respond to China's currency and trade manipulations with hefty tariffs on its exports to the U.S., some analysts have warned the move could rattle the global economy, especially economies of Asian countries that supply China with raw materials.
They say Chinese manufacturers source their raw materials supplies from other Asia countries, and those countries' currencies would be adversely impacted if China lowers its raw material purchase from because of high import tariffs in the U.S. that limit uptake of its exports.
As such, some experts have argued that the best way the Trump administration could deal with China's trade and currency manipulation is to target specific sectors with high tariffs instead of a broad lift in import tariffs.
By pegging its currency lower than the dollar, China makes its exports cheaper on the global market, and that encourages uptake of Chinese products. The yuan is down about 6% against the greenback so far this year.