If you are the president, people respect your decisions and trust you will improve their lives, by strengthening the economy. They see an added advantage if you claim or they perceive you're a shrewd businessman.
Donald Trump is the billionaire, newly minted chief tenant coming to the White House in a matter of weeks. He is already causing Beijing sleepless nights. Throughout his campaign trails Trump hinted he would teach China lessons if he became president.
President Xi Jinping and his men in Beijing didn't seem to worry much about Trump's as most polls showed Trump was trailing Hillary Clinton in the presidential race. But now that Trump has beaten the odds to become the 45th president of the U.S., he has already rattled China in several ways. First he made a call to Taiwan's president, breaching the established diplomatic protocols. Then he called China a currency manipulator and warned of hefty tariffs on Chinese imports.
Trump has worn many hats. Trump the president (elect). Trump the Chinese chief tormentor. Trump the climate change denier and Trump the business loser. Now, let's turn the microscope on the latter: Trump's business fails no one talks about.
Trump may be a successful entrepreneur, but his investment profile is not without blemishes.
Trump Shuttle hits the ground crawling
Trump has tried his hands in airline business and got burned. He acquired Eastern Air Shuttle in 1988 and made it Trump Shuttle, hoping to make a fortune. His investment in airline business was propped up by a $245 million credit, which went in to paying for the planes and routes.
But only two years down the line, Trump would have ended up in the gutters had it not been that he owns other investments. Not only did the airline struggle to attract travels in its New York, Washington and Boston routes, but even repaying the loan became a problem. Trump defaulted on the credit and lenders seized the business.
Trump in the game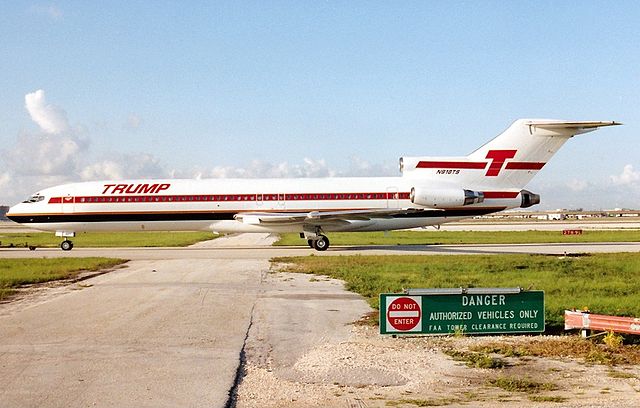 Trump The Game cover.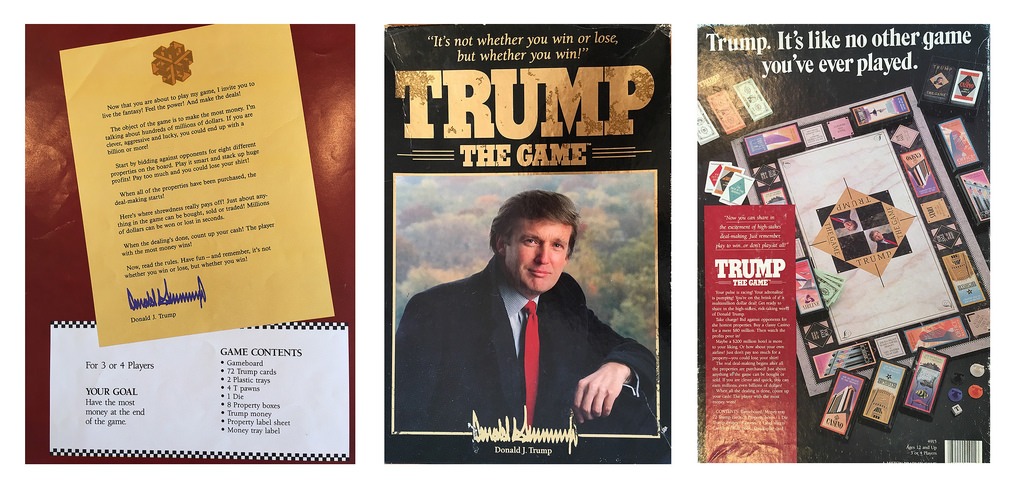 Source: Flickr 
Trump attempted to monetize his popularity with a videogame. In fact, there has been more than one attempt to put Trump in the game. But they have failed and it remains to be seen if his surprise ascension to the presidency would inspire another Trump Game attempt.
In 1988, around the same time Trump tried to become an airline mogul, he teamed up with games creator Milton Bradley to develop a called Trump: The Game. The project appeared to have been well-funded going by the television advertisements for the game.
But instead of 2 million copies of games the venture was expecting to move, just about 800,000 copies of Trump Game sold and the business was terminated in 1990. A little more than a decade later, Hasbro showed up with a revised version of Trump Game, hoping to capitalize on Trump's popularity because of his Apprentice television show. But Hasbro's efforts also failed to yield much.
Trump super premium vodka (Success Distilled)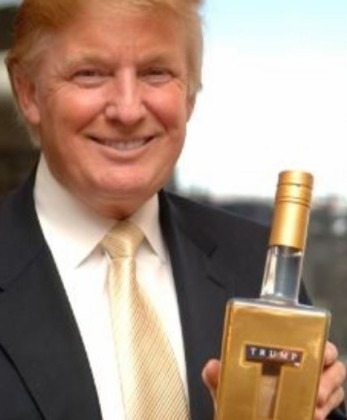 Trump holding a bottle of his ill-fated Trump vodka business.
Trump thought to himself that alcohol guzzles were short of enough liquids to irrigate their throats. So he came up with Trump vodka, which went with the slogan "Success Distilled." But it turned out to be "Failure Distilled" for Trump. The consumer market showed little interest in Trump Vodka and the liquor business was discontinued in 2011. Trump doesn't drink, so how was he going to assure drinkers that he can serve them quality brew that matches his billionaire standards?
But Trump's business fails are still child's play compared to the woes of currency fail in Zimbabwe.