1Market review – More than 600 assets available for trading
1Market is a famous Forex broker offering services to European Forex traders. The company has been around for some time now, and it has managed to become very popular among European traders. There are hundreds of different trading assets available at 1Market, which means that everyone can find something that they want to invest in. To make trading simple, the broker offers access to over 120 technical indicators and charting options which can be very useful for strategically planning trading activity.
Thanks to CFD trading, investors are able to access various different markets, including Forex, stocks, Indices, Commodities, and many others. The motto of the company is 'trading for all' and the team behind 1Market does everything to make sure anyone can find something that there are looking for.
Thanks to competitive trading conditions and diverse opportunities, traders are able to become active parts of the Forex trading market with 1Market. If you want to learn more about the offerings of the broker, follow our review of 1Market and see how it exactly works.

1Market review – Safety of your funds
When it comes to Forex trading, there are many things that you, as a trader, should keep in mind. However, one that can really make a difference is the regulatory framework of the broker. 1Market is regulated by two jurisdictions, which means that its services can be used in several different countries.
The broker is a licensed company and is operated by Podora Ltd, a company based in the Marshall Islands. The registration number of the company is 107838. To be able to offer its services to European traders, the broker is also regulated by CySEC, which is the main regulatory agency of Cyprus.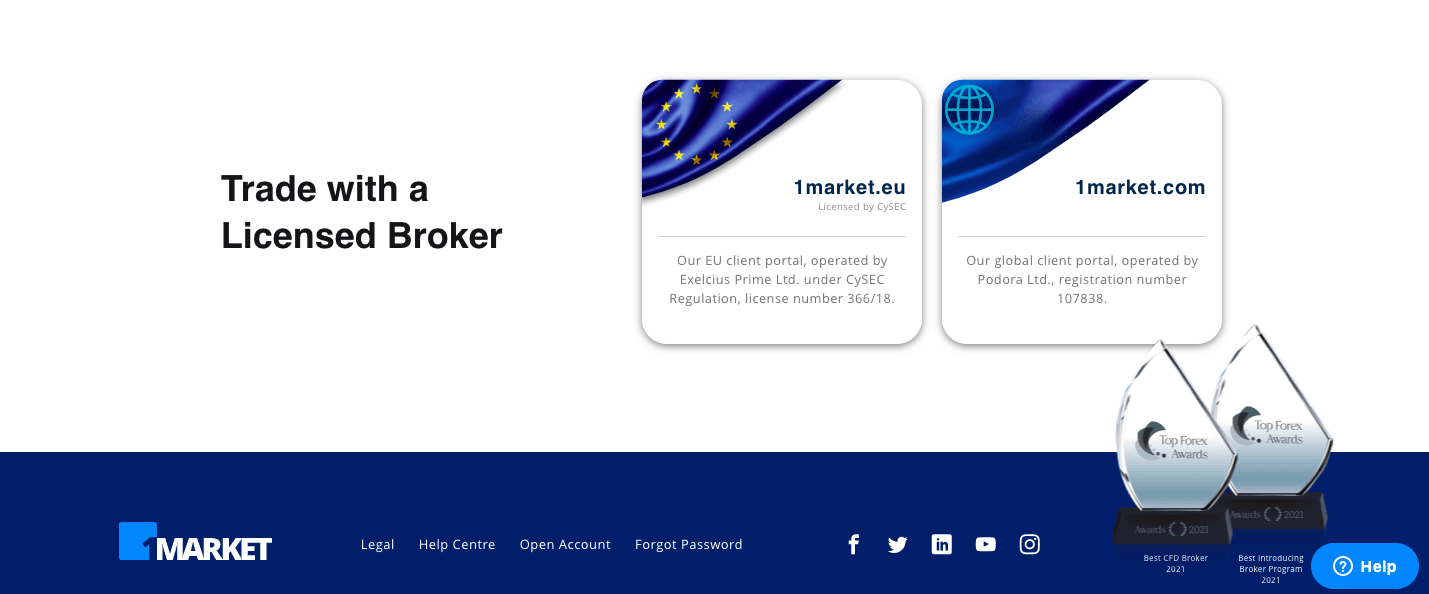 Cyprus is an EU-member country, which means that the regulatory framework of the country is at the level of MiFID, which is the Markets in Financial Instruments Directive. It is a European Union law that oversees safe-practice regulations and standards for financial companies and makes Forex brokers in the region more coherent.
Thanks to the MiFID directive, if a Forex broker has a license from any of the EU member states, it is able to offer its services to the whole region. Europe is one of the strictest when it comes to Forex trading regulations and since this broker owns a trading license from here, it means that it is capable of offering safe and secure services to its clients. The CySEC license number of the company is 366/18.
Can 1Market be trusted?
As we have already said while reviewing this Forex broker, 1Makret is regulated by CySEC, which means that this Forex broker can be trusted. CySEC requires the Forex broker to follow very strict regulations, which makes trading safe for investors. Among many other things, the broker is required to keep the funds of its clients on segregated bank accounts.
The broker is partnering with leading banks in the region to make sure that the funds of its clients are kept safe at all times. Account segregation is a very important thing since it lets traders always have access to their funds. Even if the broker goes bankrupt, you will still be able to access your funds.
Another very important policy that the broker has adopted is negative balance protection. According to our review, Forex traders can use high leverage with this broker without worrying that they might lose more money than they have on their trading account. With the negative balance protection, all of your positions will be automatically closed once your account balance reaches zero.
Getting started at 1Market
To start Forex trading at 1Market, you will first have to choose which account type you want to create. Our review of 1Market shows that the broker offers traders several different types of accounts, among which you can find:
Mini Account
Standard Account
Gold Account
Platinum Account
Diamond Account
VIP Account

Because there are so many options available for traders, anyone can easily find something that they like. The mini account is a perfect solution for those who are just getting started in Forex trading. To create this market, you will have to make a minimum deposit of $250.
With this account, you will have access to the 1nsight live feed, trading signals, and 24/5 live chat support. The standard account a perfect choice for those who wish to learn more about trading Forex. The minimum deposit for this account is $1,000, and users of this account get access to MetaTrader 5.
As for the Gold and Platinum accounts, these two are a perfect choice for more advanced traders who are ready to face more challenges in Forex trading. The minimum deposit for a gold account is $5,000, while the Platinum account requires a minimum deposit of $10,000.
There also are exclusive account types offered to traders, such as Diamond and VIP trading accounts. The diamond account requires traders to make a minimum deposit of $50,000, while VIP account holders must deposit at least $100,000. Users of Gold, Platinum, Diamond, and VIP accounts all get access to personal push and SMS notifications, as well as exclusive market updates. In addition, Diamond and VIP traders are offered special services, which can be very beneficial for experienced traders.
Reviewing 1Market – Professional account
If you feel like the offerings of other trading accounts are not enough for you, you can go professional with 1Market. The professional account of the broker is a perfect choice for those who are dealing with Forex trading as a full-time job and who have years of experience in this market.

With this professional account, you are offered a chance to turn Forex trading into a full-time job. However, to be able to create a professional account, you will need to meet specific requirements. There are many benefits that traders of professional accounts can enjoy.
This includes a le verge of 1:400, low commissions, and very fast execution speed. If you choose to become a professional client of the broker, the protective measures that are created to safeguard and protect the rights of retail clients will not affect your account, thus, it will give you the ability to enjoy higher leverage and special benefits created especially for you.
Demo account of 1Market reviewed
If you are just getting started in the Forex trading market, there might be a lot of things that you need to learn. 1Market Forex broker offers traders access to the demo trading account, which is a great way to get started in the Forex trading market. Demo account users are able to trade Forex without having to risk any of their real-life funds.
While using a demo account, the broker will give you a certain amount of virtual cash which you can use for trading. This account gives you the ability to trade different types of Forex trading strategies without having to lose any of your funds. Many people have this misconception about demo account that it should only be used by beginner traders, however, it can also be a great help for experienced traders.
Creating a live trading account at 1Market
To create a live trading account at 1Market you will have to take a few steps. It is very easy to create a live trading account and should not take you that long to do so. All you have to do is to provide major information about yourself, such as your name, last name, email, and phone number.
1Market review shows that the broker follows the Know Your Customer policy, which means that you will have to verify your identity. Because of this, you will have to provide different types of documentation, such as your personal ID and a copy of the utility bill that shows your address.
Reviewing 1Market trading assets
1Market offers traders access to various types of trading assets. Because of this, anyone can find something that they are looking for at this Forex broker. Also, if you are someone who looks forward to diversifying their trading portfolio, there is a lot that this broker can offer you.

Among the available trading assets at 1Market, you can find:
Forex
Commodities
Indices
Stocks
This Forex broker offers traders access to all three types of currency pairs, including Major pairs, such as EUR/USD, GBP/USD and others, minor pairs, including EUR/GBP, EUR/AUD, and Exotic currency pairs, including EUR/TRY, USD/HKD, and many others.
Forex trading is the biggest financial market around the world. There are two types of commodities available for trading at 1Markets, including soft and hard commodities. Soft commodities are those that are a result of agricultural activity, while hard commodities require mining or similar activity. You can trade commodities such as gold, silver, natural gas, coal, and many others at 1Markets. The leverage for commodity trading at 1Market is 1:20.
1Market also offers traders the ability to trade shares of leading companies around the world, including Apple, Facebook, and others. Trading stocks have always been very popular among investors,
Payment methods of 1Market review
The Forex broker offers a wide range of payment methods to fund your trading account. You can make payments through credit/debit cards, wire transfers, e-wallets, and many others. Because there are so many opportunities for traders to make payments, anyone can find a payment solution that works best for them.
There are little to no commissions applied to deposits made at 1Market. Keep in mind that the minimum deposit to create a live trading account is $250, and the amount of money that you might have to pay to create an account varies from account to account. For example, as we have already discussed earlier in the review of 1Market, to create a Diamond account, you will have to make a minimum deposit of $100,000.
Trading platforms of 1Market reviewed
Once you have created a live trading account, decided which assets you want to trade, and made your first deposit to your trading account, it is time for you to start opening and closing positions using trading platforms offered by the broker. There are several types of trading platforms available at the Forex broker created to meet the needs of different types of Forex traders.
You can create a WebTrader, which does not require download. It can be used through a browser directly, which makes using it a lot easier. It is a perfect solution for those who do not wish to download additional applications to their computers.
Our review of 1Market also shows that this broker offers traders a very popular trading platform, MetaTrader 5, which was created by a famous Russian company called MetaQuotes. 1Market's version of MT5 offers traders numerous types of indicators and very helpful tools that can make trading a lot easier.

The Forex broker also traders 1nsight, which is a very useful trading environment consisting of two core elements, the 1nsight Feed, which is a live streaming pool of market events, and the Trading Gauge, which shows traders how the community is reacting to the changes in the real-time. Thanks to this, traders can easily detect the possible trends in the market and see how prices are moving. By connecting to 1nsight, trading can become much easier for you.
The Forex broker also works very hard to offer traders mobile applications. In recent years, mobile trading has become very popular and our 1Market review shows that this broker is working very hard to create a high-class smartphone version of the trading platform.
Reviewing 1Market customer support
As we have already said 1Market is working very hard to create a welcoming environment for every trader. For this, it is very important to offer traders of different backgrounds equal opportunities. We have focused on many different parts of this broker, including the customer support team of 1Market.
We were very glad to find out that the customer support team of the broker is very helpful and is always ready to reply to the client's questions. The customer support team of the broker is available in 11 languages, 24 hours a day, 5 days a week. The representatives of the broker are trying as much as they can to offer the much-needed help to traders, which is a great thing.
Is 1Market a legit Forex broker?
After reviewing 1Market, we are able to say that it is a legit Forex broker. The Forex broker is licensed by a top-tier regulatory agency, making its services safe and secure for traders. The Forex broker very hard to create a safe atmosphere for its clients and does so by following strict regulations.
There are more than 600 trading assets offered by the broker and over 120 technical indicators which can make trading much easier and accessible for traders. Because of this and many others reasons that we have discussed throughout this guide, we believe that 1Market is a Forex broker that can be trusted by traders.