Is 4XC reliable broker? The full review about this Forex broker

Any trader can be overwhelmed by the number of financial brokers that exist, especially since the internet search popping up different financial market brokers operating in different locations providing different offers and promotions, it becomes challenging for the trader to identify if a specific broker is reliable or no.
Financial crimes and illicit financial activities under the cover of a license are becoming very common now since many brokers obtain an unrecognized license that covers the legality of the broker, a broker can claim that they are regulated by a specific license, and registered under that regulatory authority, but what if the license itself is not worthy, then nothing can stop that financial broker from carrying on its activities.
In the following, we will be looking at the 4XC broker review, to assess the activities performed by this broker, whether it is a reliable broker or not, and what is legality surrounding this broker's activities.
What is 4XC financial broker?
4XC is a financial broker operating from the Cook Islands and since 2018 it is offering its traders the ability to open market positions and invest in different financial markets such as stock, indices, Forex, Cryptocurrencies, and commodities.
Traders using one of three types of accounts can invest in more than 250 stocks, 24 CFDs, and more than 70 currency pairs using 4XC broker trading platforms such as MT4 or MT5, in addition to the Webtrader that is available for traders to login and start trading online without the need to install any trading software.
Each type of account features different floating spread ranges, and maximum leverage of 1:500 or 1:200 on all the assets depending on the account type. There are several payment methods offered and the commission fees and processing times are clearly stated on the website of the broker.
In addition to that, there is an education section that offers the trader some informational content to be aware of the trading activities offered by the broker.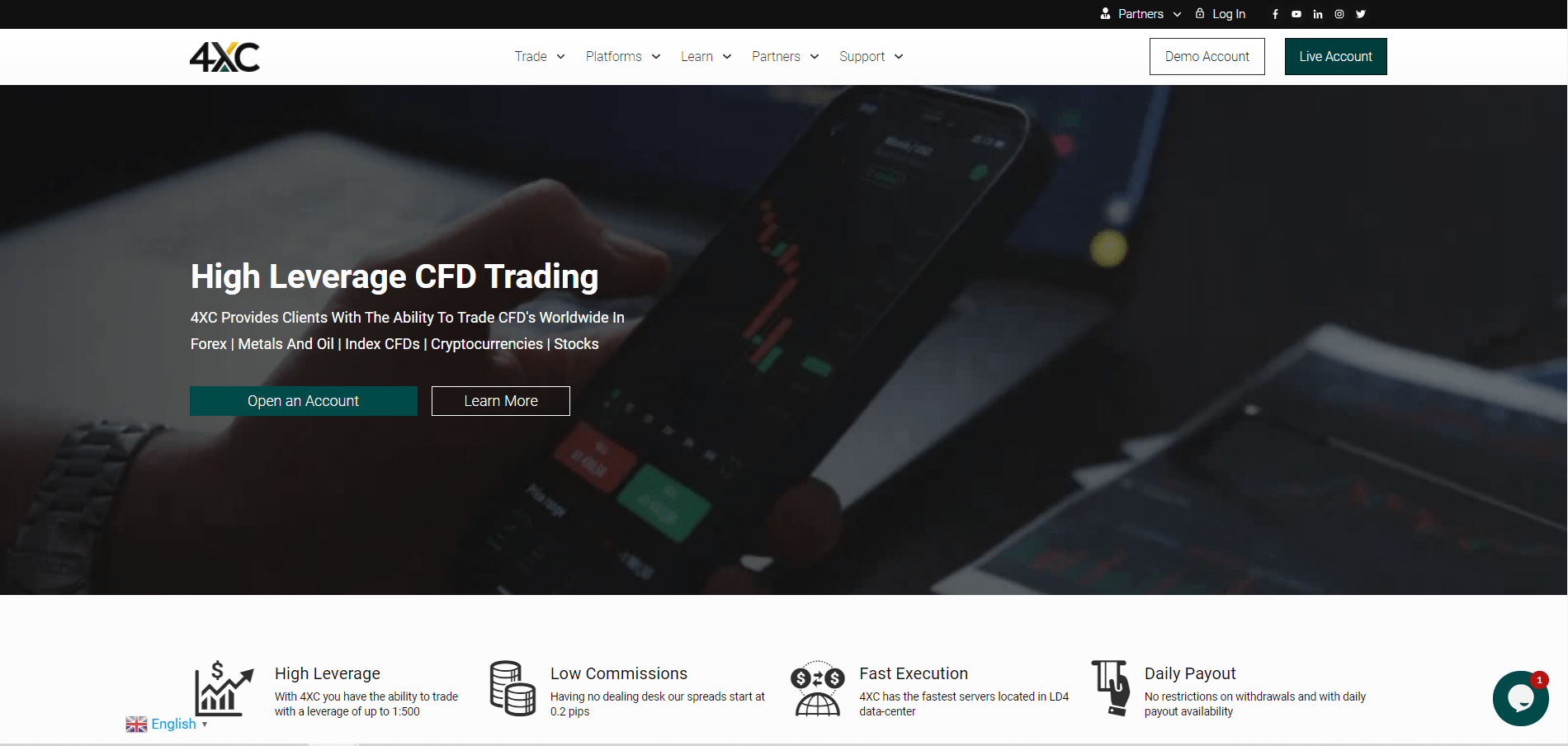 Can 4XC broker be trusted?
4XC broker is registered and regulated by the FSC license of the Cook Islands, and this is probably the first red flag a trader might notice. The Cook Islands is a remote location in the Pacific that has become a hub for companies who offshore their businesses, taking advantage of the lack of regulations there.
The business environment provides corporations around the world the opportunity to offshore their activities to a remote location, so that companies such as 4XC scam brokers enjoy low fees to startup a business, low auditing and insurance requirement, and a relaxed penalizing system. Which gives room for entities to run their illicit business under the umbrella of a legal license.
FSC license or (Financial Services Commission) of the Cook Islands has always been characterized by financial crimes and money laundering since it does not impose any strict guidelines of behavior for companies' financial activities, and it does not qualify to any other regionally or globally recognized license such as FCA or CySEC or even FSCA and ASIC.
Opening your trading account with 4XC
The registration process in 4XC financial broker is similar to any other sign up process for any other website, a new register will be asked the type of account they want to operate with whether it is an individual or corporate account, followed by personal information such as full name, email address, date of birth, phone number, and country.
However, unlike most brokers who look after the willingness of new clients, there are no introductory survey questions that usually assess the level of experience and the needs of the trader.
In addition to that, reliable brokers usually ask new clients to submit verification documents such as proof of identity and utility bill which is intended to ensure that registered accounts are safe, legit, and do not belong to financial criminals or scammers, which is not the case here for 4XC broker, as it seems they do not care so much about the wellbeing of their community.
Accounts types
Newly registered traders are offered 3 types of accounts, these are Standard, Pro, and VIP accounts, and each of them is different in regards to the spread range, minimum deposit required, and maximum leverage.
Standard account
the first step into trading with 4XC financial broker, which requires the least deposit required to operate on the broker's website, it might be surprising that 4XC broker charges different minimum deposits for different trading platforms, meaning that $10 is needed to start trading with MT4, while $500 is required at least to trade using MT5.
This difference in minimum deposit makes it possible that 4XC broker cannot be trusted because requiring a different minimum deposit for different platforms is not something common among reliable brokers.
While the spread is changing and it can be as low as 0.8 pips depending on the asset being traded, while standard account traders can enjoy maximum leverage of 1:500.
Pro account
This type of account is usually offered for average traders, who already know how to trade and are willing to upgrade their trading levels with more challenges, the minimum capital required in this type of account is $100 for MT4 and $500 for MT5, the maximum leverage is 1:500, and the spread is variable and the lowest it could be in 0.2 pips which is the lowest among all accounts, however, this type of account charges commission fees of $2/lot commission per side
VIP account
This type of account suits proficient traders, who want to try investing with different brokers, the minimum deposit required here is $25,000 for both platforms MT4 and MT5. Moreover, 4XC Forex broker limits the leverage to these traders to 1:200, and the lowest spread is 0.6 pips, which makes trading with this broker in this type of account not very appealing for wealthy traders.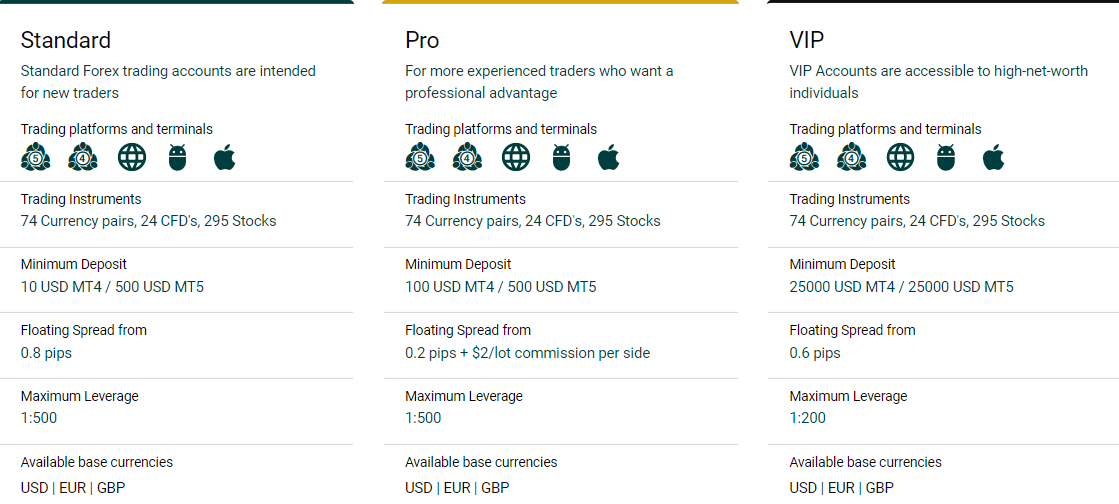 Synopsis
To assess the features offered in these three types, there are some illogical offerings, such as the limited leverage in the VIP account, since VIP traders are those traders who can comfortably take any risk and open trades in high value or risky market positions, to either amplify their gains or their losses.
Rather, 4XC scam broker attracts beginner readers with the generous leverage that can go up to 1:500 which could amplify the gains 500 times, but on the other hand, if a trading position is losing, the traders can lose a massive amount of money and owe the broker some amount of money as well since the leveraged fund is provided by the broker.
In addition to that, the spread range is another feature that matters from every trader, and traders make the decision to register based on the range of spread that is offered as traders look for the tightest spread ranges, while the 4XC website offers the VIP trader a spread (0.6 pips) which is almost similar to the standard account spread range (from 0.8 pips) which makes the brokerage services provided by this broker not really appealing for high profile traders.
Finally, the different minimum deposits required to trade with different trading platforms are also unusual, and no reliable broker does that since it is totally up to the trader to choose the trading platform they prefer, without being biased like the 4XC broker.
Available assets
There are plenty of trading instruments offered for clients on 4XC financial broker, and they cover almost all the financial markets such as Forex, stock, indices, commodities, and cryptocurrencies.
However, there is some limitation on the cryptocurrencies and commodities markets, since traders can only use Bitcoin, Ethereum, and Litecoin to engage in the most exciting and growing market, while other virtual currencies are totally ignored and traders on this platform might be missing out a lot.
What is makes it wary about the tradable assets, is the use of maximum leverage, because the maximum leverage is limited according to the EU regulations, and it can be a maximum of 1:30 for all instruments, and 1:10 for trading commodities. However, a trade can become unsure if 4XC broker can be trusted, because they are offering their European traders maximum leverage that is not allowed according to the EU regulations.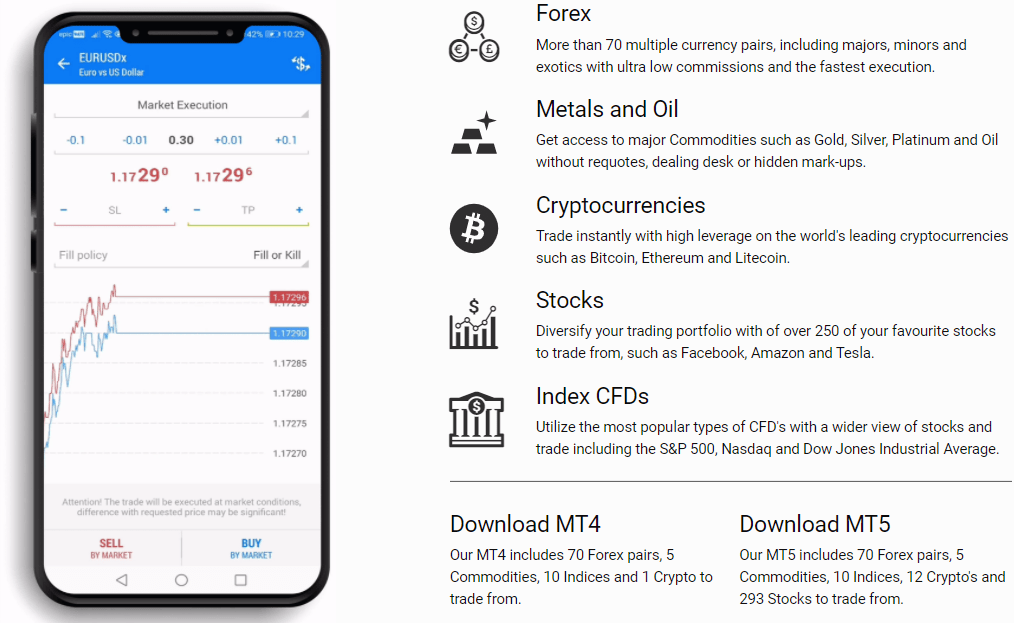 Forex
The largest financial market, which is probably used by every trader around the world, and using 4XC Forex broker, traders can use more than 70 currency pairs to enter the Forex market, with maximum leverage of 1:500. Spread for treading currencies is variable and changes depending on the account type and the currency pair itself.
Stocks
Shares of worldwide corporations are offered on the stock exchange markets, and 4XC brokers offer more than 290 stocks, with maximum leverage of 1:500 and variable spread ranges.
Indices
an Index is the collection of different companies' stocks, which usually operate in the same industry, major indices are offered to be traded with 4XC financial brokers. More than 10 indices CFDs are offered with the broker alongside the possibility to use maximum leverage of 1:500.
Commodities
There are is a limited amount of commodities that a trader can invest in with a 4XC financial broker, and these are limited to metals and oils. The maximum leverage offered here is 1:500 and the spread range is also variable, and changes according to the account type and the commodities in question.
Cryptocurrencies
One of the most growing and thriving markets today, where hundreds of virtual currencies are being traded, witnessing a massive increase in value. Traders here can be missing out since there are few cryptos that can be traded on this website, and they are Bitcoin, Ethereum, and Litecoin.
The maximum leverage offered here is 1:500, and the spread ranges are changing, it can be as low as 7.1 pips for trading Litecoin using the Pro account, at the same time, it can get as wide as 50 pips for trading bitcoin using the standard.
Trading platforms
There are different ways for 4XC clients to open market positions, using either the MetaTrader 4, MetaTrader 5, or the WebTrader. And it might sound trustworthy since MetaTrader is the most commonly used trading software among traders, and it is easy to install and use. However, the different deposit requirement between the 4XC broker MetaTrader4 and MetaTrader 5 makes it doubtful because it shall not really matter which trading platform the trader is using, and usually, reliable brokers do not charge differently between different trading platforms.
Another way for traders is the use of the Webtrader that is incorporated on the website, but it seems that it is not of any new innovation, rather it is just a copy of the MT4 that is available on the web, and where a trader can directly login and trade from the website without the need to install any other software.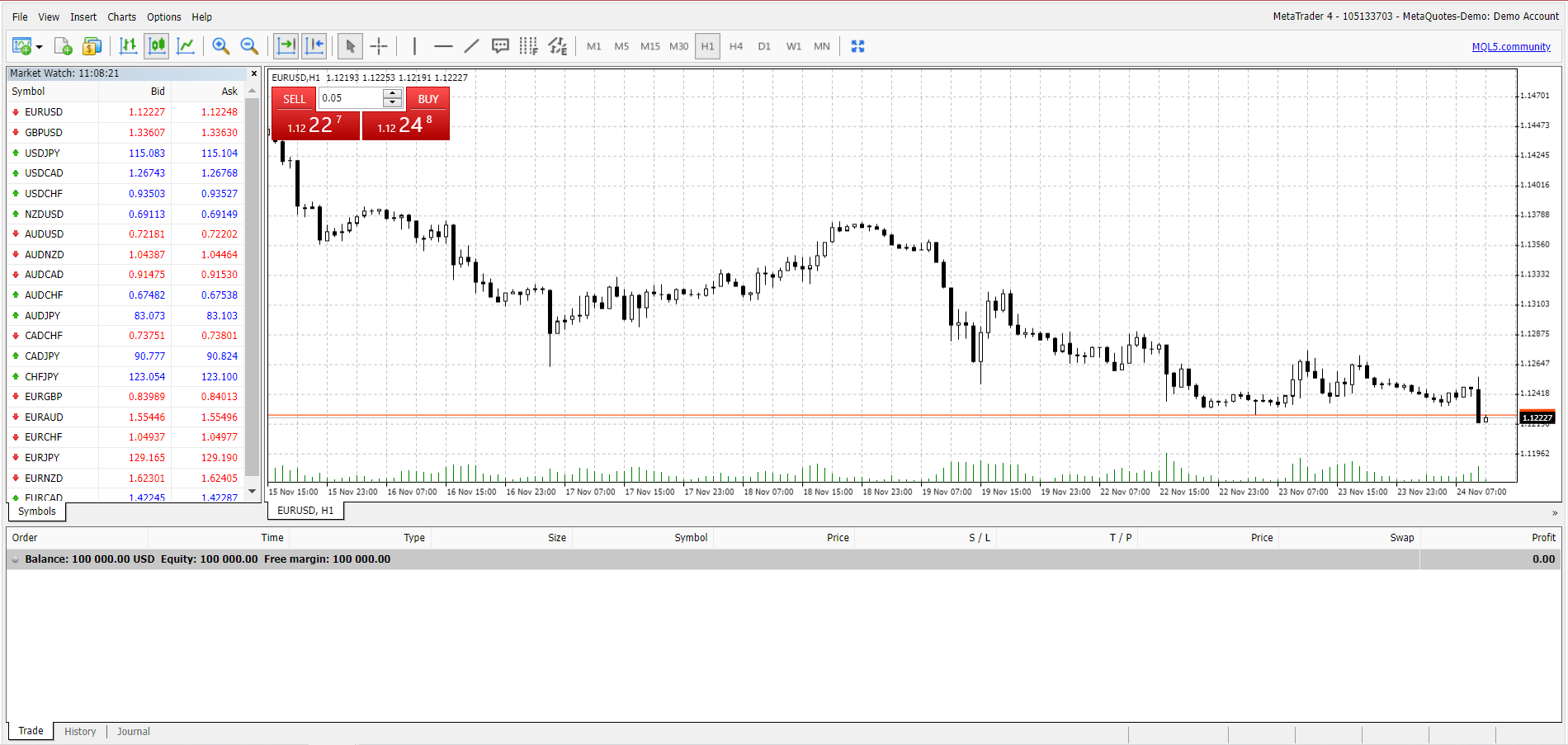 Other features
Besides the classic way to attract traders in 4XC.com, there are other features that this broker is using to get as many traders as possible to trade with them.
PAMM accounts
or Percent allocation management module, which typically means when an investor leaves their capital at the use of the money managers, and these money managers are managing the capital invested by the investors, performing trading activities in Forex for some gains which are allocated between investors based on prior agreed percentages.
Now the twist is that given the low-profile license and the vague options offered by this 4XC fraud broker, do you really want to invest your money and put it under the control of the so-called money managers? Most probably this is an additional risk that no wise trader would want to take.
MetaTrader trading signals
This is a way to receive notification and market signals in order to remain on track with your trades and to make the right decision that is timely and based on real-market activities. However, this add-on could lack subjectivity since it is tied with the MetaTrader trading software, and it requires the trader to take a considerable amount of time to look into the inbounding signals and notification. Rather, the broker is missing out on some contemporary tools such as TC market buzz which gives the traders a quick snap of the market trends and does not require a lot of time to read and comprehend what is being communicated.
Funding methods
There are different ways for traders to deposit their capital into their trading account, methods such as credit/debit cards, e-wallets, digital banks are acceptable, despite being limited in some applications or limited to some areas, for example, Neteller and Skrill that are available for non-European users only.
4XC financial broker charges commission fees on almost every funding method, with the exception of Neteller, Skrill, and Adv cash. While the processing time is almost instant in most of the funding methods.
Withdrawing methods
Similar to the depositing methods, there are several ways for traders to cash out their capital from the trading account of 4XC broker, and these are credit/debit cards, and limited options of e-wallets and digital banks, and with the exception of Advcash, 4XC broker withdrawal options charge commission fees on every method. While the processing time can take from 1 to 10 business days, depending on the withdrawal method selected.
Our thoughts
4XC financial broker seems to be too good to believe, and after this thorough 4XC broker review, it is easy to find out that it is safe, and it gets risky for traders to invest their capital in their trading accounts.
Starting from the fact that the license under which 4XC financial broker is performing the financial activities, which is a low-quality license and it only covers the business activities of any offshore company, without low requirements to entry, and relaxed regulations, any company can conduct their illicit business and claim that they have a license to do so.
The 4XC broker opinions arise from the red flags that appear alongside this review when the broker offer European traders to use maximum leverage that is not allowed by the EU regulations because the use of high leverage puts the trader at a high-value trading position, which can expose the trader to exaggerated losses if the market moves in the unwanted direction.