Is 8MAX trading legit broker or another unsophisticated scam?

There are sophisticated scam brokerages that are quite difficult to reveal, but most of them use the same tactics to lure the customers and can be recognized even with just one glance. 8MAX Forex broker is one of them, it is leading a very unsophisticated scam that can be seen through its website, offerings, and trading conditions. The broker is registered in Vanuatu and offers its financial services to the worldwide audience. The broker offers trading currency pairs and CFDs on equity indices, commodities, energy, and precious metals. As can be seen with many scam brokerages the minimum deposit with 8MAX is low and leverage is high. One can open an account with 5USD only and trade with the leverage up to 1000. Unfortunately, these are not the only things that point out to 8MAX trading scam, there's more.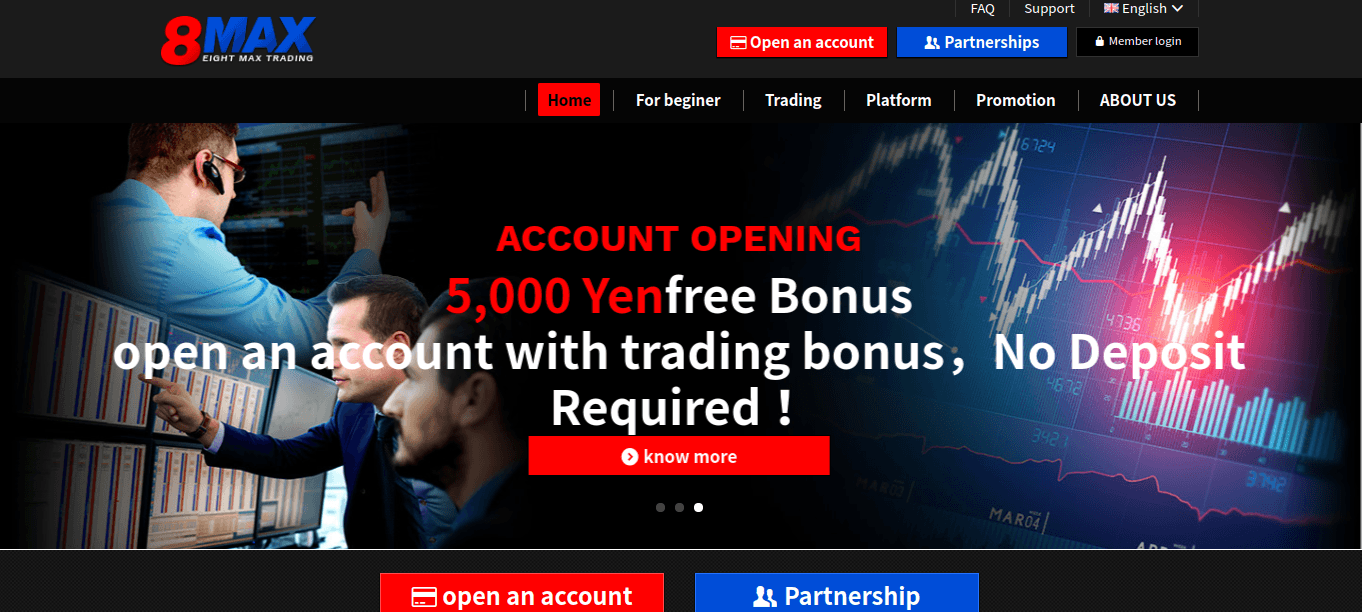 Is 8MAX legit?
Let's start with facts. The broker is registered in Vanuatu, with an offshore regulator which is known with its kindness or ignorance towards the scam brokerages and their wrongdoing. The broker does not even display the information about the license and only gives the visitors of the website address of the box it is registered in Vanuatu. Hence, there is a high probability that 8MAX is not licensed even by the financial authority of Vanuatu.  Even though the broker does not have the authorization to provide with financial trading services to the worldwide audience it still offers its services to every trader except the residents of the United States, Canada, Israel, and Iran.
Seemingly, 8MAX FX brokerage is targeting mostly European and Asian, more specifically Japanese traders. The website is only available in two languages  English, and Japanese. The base currency for the account with 8MAX is either USD or JPY and the broker shows the trading hours with the Japanese time zone. However, 8MAX has an authorization neither from Japanese financial watchdog nor from any national financial authorities in Europe, hence it is operating illegally.
8Maxtrading.com review
The website of the broker is enough for the bells to ring in your head that you ended up on scam broker's site. The website design with the black, blue and red colors reminds you more of a gambling website rather than a Forex brokerage. On the main page of the website, one can see a couple of stock images and broker's bonus offering that occupies the whole page. Luring customers with high bonuses is the traditional strategy of scam brokerages. Contentwise, the website is too bad. There is not much information about the broker, in fact, the about me page does not work at all. Hence visitors are left without any information about 8MAX. The only information the broker provides claims that it carries the values of professionalism, integrity, innovation, teamwork, and customer focused business, however, the website showcases the opposite. Can 8MAX trading be trusted after seeing its website? clearly not.
8MAX account types
8MAX offers three types of accounts standard, MAM, and 8MAX zero account.  The maximum opened or pending orders is 200 for every account, all of them have 0.01 lot minimum trade volume and hedging is allowed for each of them.
Standard account can be opened with 5 USD minimum deposit only. The base currency options are limited to USD and JPY. Lost restriction per ticket is 100 lots and traders are allowed to use leverage up to 1:1000.  As broker claims spread start from 1pips for this account and it is best for the traders who like to trade themselves.
MAM account can only be opened with JPY currency. The minimum deposit for this account is 30,000 JPY which is roughly 275 USD. Lot restriction for this account is 50 lots and holders of it can only use 1:100 leverage. The monthly commission on this account is 50% of profits made. It is a relatively high commission for the MAM account, unfortunately, there are not 8MAX trading reviews made by the customers who have tried this account to see how does it work.
8MAXzero account has three currencies available as base currencies: USD, EUR, JPY. The minimum deposit is 100 USD and the maximum leverage is 1:1000.
Deposit and Withdrawal
One can deposit money using a debit/credit card, wire transfer, Bitcoin, and i-account. For credit and debit card the minimum amount that can be deposited is 3oo USD and there is a remittance charge in USD. For domestic wire transfers, the minimum amount is 5USD and there is a transfer fee. The transfer takes 1 to 2 business days. For overseas bank transfer the minimum amount is 300 USD, charges for remittance and 30 USD fee, it might take 2-10 business days.  Bitcoin transactions should be made via email, there is an exchange fee and the minimum amount of the transaction is 1000 USD. As for transferring the money with i-Account it takes one business day and is charged with transfer fee and an additional 30 USD.
Payment methods for 8MAX trading withdrawals are more limited. One can only use telegraphic transfer or i-Account.  The minimum amount that can be withdrawn is 5 USD. Telegraphic transfers take up to 12 business days which is a very long time. Also, there is a commission of up to 30 USD. As for the i-Account the transfer goes via mail, it takes up to 3 business days and charges 3 USD commission. Overall, both deposit and withdrawal methods are poorly designed which reduces 8MAX rating even more.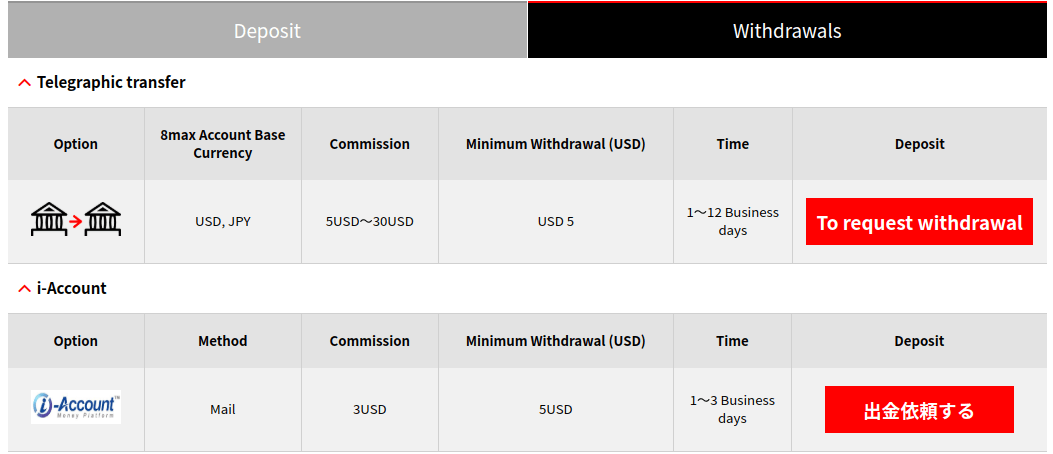 Customer support service
With this kind of broker one can be sure that there will be a lot of issues raising every now an then. Hence it is important to have a good support service that ensures that traders will receive professional assistance. Sadly, 8MAX fails in customer support as well. The broker claims to have a customer-focused business model, however, the customer support information is nowhere to be found on the website. While making the 8MAX review I could not find the customer support live chat or number of the broker.  It indicates that the broker is not willing to be contacted directly by the customers as they are expecting a lot of complaints. Customers are left with only one way to contact the broker which is email, meaning that if you have any problem or complaint towards the broker you might simply never receive an answer from it.
8MAX rating
You could already guess that 8MAX has the lowest rating possible. It is an offshore brokerage that offers unauthorized services. The website of the broker is not fully finished and there are too many mistakes to count. The broker clearly tries to lure the customers into the 8MAX trading fraud with the low minimum deposit, high leverage, and high bonuses. The withdrawal methods are designed very badly and there is a high chance that customers will never be able to receive any profits from the broker. Last but not least, there are no ways that one can contact the broker and be sure to receive assistance from it. Summing up, you need to stay away from 8MAX and brokers alike if you want to keep your money safe and your trading career successful.