AccuIndex Review – Would You Really Want to Trade with this Broker?

Forex trading is one of the most complex forms of financial exchange you can find in the financial industry. While it can lead you to significant gains, it's worth noting that losing is also a very realistic outcome.
In fact, there are a bunch of financial entities that want you to lose. Some Forex brokers, for instance, are definitely among them. The fraudulent brokers mask their platforms with flashy trading terms and conditions, yet underneath the surface lurks the scam.
With this in mind, you should be very careful when choosing a broker. Regardless of how beneficial the leverage and commission offerings are, you first need to make sure that the broker you're trading with has proper safety features.
And in this review of AccuIndex Forex broker, we're going to do exactly that. So, make sure to read this review until the end and find out whether you can fully trust this broker or stay away from it as far as possible.
Is AccuIndex legit? – Regulation overview
As always, our in-depth broker review begins with the discussion about its regulation and other safety measures.
As our expert reviewers have discovered, there are two main regulatory materials present on AccuIndex's website:
Cyprus Securities and Exchange Commission (CySEC)
Financial Services Commission (FSC) of Mauritius

Now, we have to note that the CySEC license makes the broker look quite trustworthy and safe. After all, it's the EU-based regulation with all of the leverage caps and bonus restrictions. Plus, there's also the MiFID and ESMA directives that accompany this regulation, which should further enhance the credibility of AccuIndex, right?
As it turns out, not quite so. Sure, the broker says it has a CySEC license, but as we have found out, available trading features don't really add up to the whole equation. Our AccuIndex review shows that the maximum leverage goes way beyond what the CySEC sets as the maximum cap. Moreover, we also saw three different promotional bonuses offered to AccuIndex clients, which also violates the n0-bonus guidelines imposed by the CySEC.
So, it's more realistic to think that AccuIndex isn't actually regulated by the Cyprus Securities and Exchange Commission; or at least the regulation concerns only the most insignificant aspects of trading, which still translates into the lack of regulation.
This eventually leaves us with the only financial license from the Mauritius Financial Services Commission. Granted, it seems like a real license from this regulator, we should still point out that Mauritius' political or economic prowess isn't sufficient to monitor and even control the broker's actions properly, especially if we're talking about an international broker.
All in all, we can pretty easily assume that we're dealing with an unregulated broker and that the AccuIndex scam can be a real possibility here.
Website and software support
Granted, broker safety is the most important feature and it should be the primary aspect determining your final choice, you should still take some interest in other aspects of the broker. In this section, we're going to take a look at AccuIndex's website, as well as the available trading platforms.
When it comes to the website and its interface, there's not much to say about it. The design doesn't really look appealing to the viewer's eye; sure, it's simplistic and not-too-complicated, but the layout doesn't really radiate professionalism right away.
Finding information about various trading features is quite easy, in the broker's credit. We didn't have to search for leverage rates, commission levels, and available instruments for a while. With that being said, however, we already know that at least some of these details are untrue, which further undermines our AccuIndex opinion.
Another interesting topic of discussion is trading accounts. Depending on how diverse this section is, it's going to be easier or harder for all sorts of traders to do business with AccuIndex.
As our team has discovered, there are only two live accounts available on the broker's website:
Standard – 250 USD minimum deposit
ECN – 5,000 USD minimum deposit
Now, ECN is a very elite account type that not a lot of people can use. Even professional Forex traders tend to avoid it quite frequently. The main reason for that is how difficult it is to actually use it; you need to personally communicate with liquidity providers and negotiate prices with them – all on your own.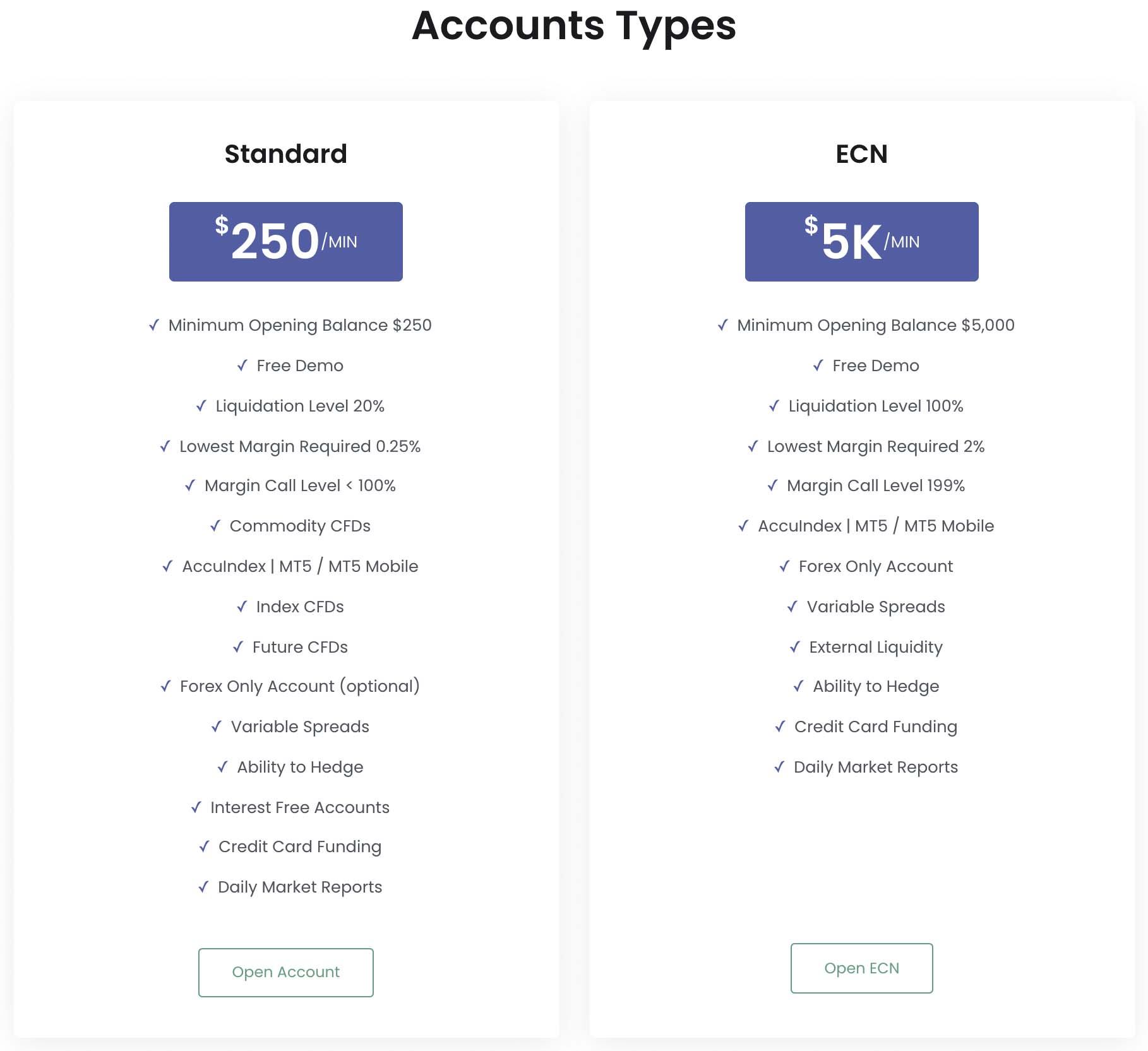 This takes a lot of practice, not to mention a lot of money for high deposit requirements, as well as high commission rates. In short, the only regular account you can get at AccuIndex is the Standard one, which is to say beginner traders won't have a great time trading with AccuIndex.
The next broker feature we want to discuss in our AccuIndex Forex broker review is its trading platforms. A platform is what facilitates all of your trading accolades and helps you exchange all sorts of different instruments in the market.
As our review shows, AccuIndex features top-of-the-line MetaTrader 5 trading software. There's nothing bad we can say about this platform; it's pretty much the industry-standard at this point. What we can say is that it's a bit more complicated than its older brother, MetaTrader 4, which is more popular in Forex trading.
But even if its software is ideal, AccuIndex still fails to reinstate its reputation because of its poor safety measures and overzealous trading terms and conditions.
How lucrative is it to trade with AccuIndex?
Speaking of trading terms and conditions, let's take a look at how you can actually trade with this broker and what its trading features are.
First things first, let's see which instruments you can trade with AccuIndex. As our review of AccuIndex Forex broker shows, there are less than 100 different instruments available on the broker's website, which is not too bad but definitely not great. These instruments are categorized into the following groups:
Currency pairs
Index CFDs
Bullion CFDs
Commodities
ETFs
Trading features on these instruments are seemingly pretty decent. For instance, AccuIndex doesn't charge commissions on using instruments or creating accounts on its platform. However, when it comes to spreads, they go pretty high: even though the minimum spread is 1 pip, it hardly ever reaches that level. The regular spread markup at AccuIndex is around 3-4 pips.
And then there's leverage. As we have already noted before, the maximum leverage cap enforced by the CySEC license is 1:30. This is to protect traders from too-overwhelming losses that occur with high leverage ratios.

AccuIndex, however, doesn't seem to heed this warning from the regulator. As our reviewers have discovered from this AccuIndex broker review, the maximum leverage you can get with this broker goes up to 1:400, which is roughly 14 times larger than what it should have if it really were regulated by the Cyprus Securities and Exchange Commission – which it isn't.
But why is it dangerous to have leverage that high? Well, if you're trading with a 400 times larger capital, your losses increase by the same rate, which means you can easily destroy your account balance and go to the negative balance as well. This is yet another reason why we don't trust AccuIndex and think that its credibility is flawed down to its core.
Finally, let's take a look at the financial platforms that facilitate deposits and withdrawals at AccuIndex. If you do decide to choose AccuIndex as your service provider in Forex, you'll be able to make deposits and withdrawals using these methods: credit/debit cards, bank wire transfer, Neteller, Skrill, and CashU.
While the payment methods are moderately diversified, the conditions on them are rather hazy. For instance, our AccuIndex review shows that while there don't seem to be any deposit or withdrawal fees present on the platform, the terms and conditions document does point out that there might be some charges for payments. What this means is that if you're charged a certain commission rate, even though you shouldn't be, the broker will be right. Not a great detail.
Should you trust AccuIndex?
So, now that we've done an in-depth review of this broker, should you entrust your funds to it? Is AccuIndex a trustworthy broker?
Well, let's take a step back once more: as our review shows, AccuIndex doesn't feature a proper license on its website. The claim that it is regulated by the Cyprus Securities and Exchange Commission is totally false, which leaves us with the Mauritius Financial Services Commission – not the most trustworthy regulator in this business.
The website and software support is also pretty underwhelming. While AccuIndex features a top-of-the-line platform, it definitely doesn't make up for overzealous trading terms and conditions, which include: very high leverage rates, seemingly eliminated payment commissions, etc.
All in all, we consider the AccuIndex fraud to be a real possibility here. Which is why we don't recommend trading with it by any stretch of the imagination.