ATFX review

ATFX is a Forex brokerage registered and licensed in the St.Vincent and the Grenadines. It seems to have been operational for about a year now, which gives it at least some kind of experience in the financial markets. In this ATFX review, we will be focusing on discussing the broker's legitimacy in terms of registration and license, their access to various markets as well as the comparison of their terms and conditions with their competitors.
Take note that this will be focusing completely on the FX side of ATFX and not the CFDs they offer on any other financial assets. We will be taking a look at the leverage, spreads, deposit/withdrawal options as well as the overall usability of their website.
But if you're looking for information straight off the bat, we can say that the ATFX scam does have some merit towards it, but there's no 100% true evidence. When it comes to leverage, the broker offers both 1:30 as well as 1:200 for different types of clients with a $100 minimum deposit.
The broker also features floating spreads ranging from 0.1 pips to 4.0 pips in total. But the display of such information is a bit redundant without context and all of the terms combined in one easy-to-understand review. So let's start digging.
Can ATFX be trusted? Are they a legitimate brokerage?
In order to determine whether or not the company can be trusted, we need to take a good look at their license. Luckily, the website doesn't hide this and displays all of the information clear for us to see in the footer.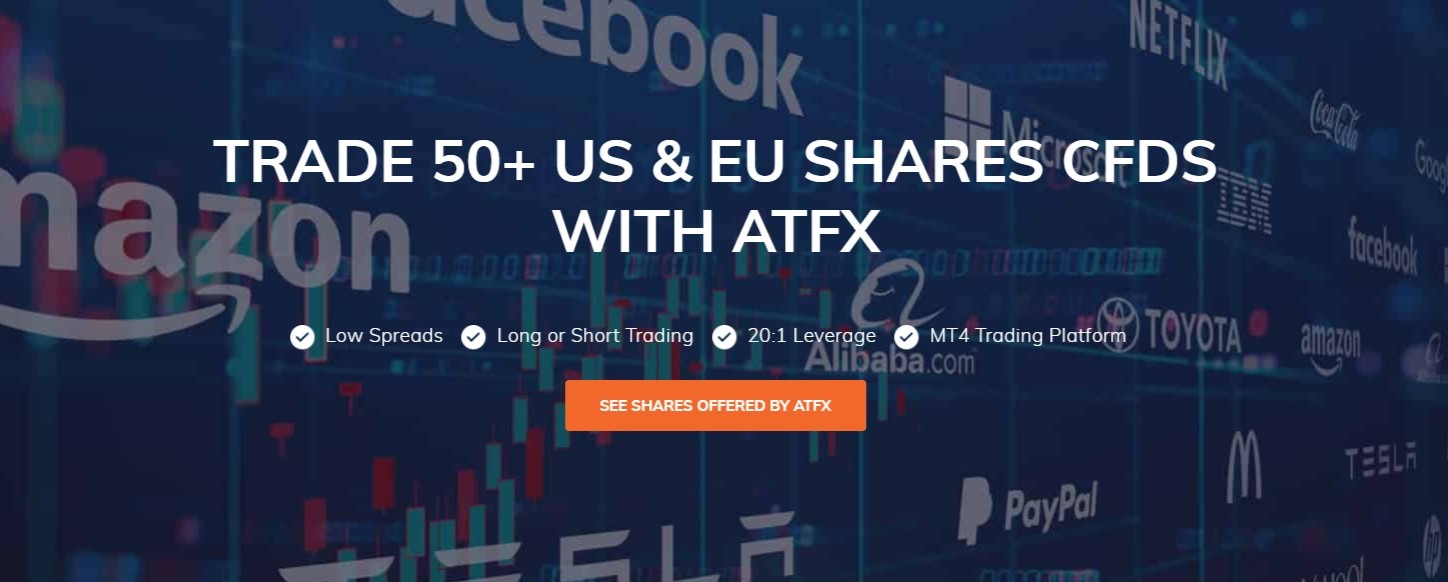 According to that information ATFX is registered and licensed in the St.Vincent and the Grenadines. Normally, this would be enough information to deem the broker as trustworthy, but here's the hurdle.
The St.Vincent and the Grenadines government has clearly stated that they have no interest in regulating foreign Forex companies on their territory. They will allow them to register in the country, but that doesn't mean that their financial regulator will be held accountable for their actions.
This is a big deal as similar to the ATFX fraud possibilities, dozens of scammers have been sighted to be registered in the St.Vincent and the Grenadines due to this very situation.
As long as they don't touch the local markets, their operations will be legitimized and deemed legal by the local authorities, just not on a license-based factor.
Because of this, we can't really say that the registration and claim of having a license in this country calm us down, in fact, it increases the probabilities of the ATFX scam being real.
But let's forget we ever found out about this in the first place and try to rate this broker compared to existing market standards.
Is the website user-friendly?
Before we even touch the trading conditions, we need to focus on the website itself and determine if it's user-friendly and allows beginners to get around easily.
This also includes the transparency of information and the accessibility of useful data.
In AFXT's case, we need to say that we enjoyed the minimalistic design of the website. Almost all of the relevant information was right in front of us to read through, which pretty much birthed this review in the first place.
Probably the only issue we encountered during the ATF review was finding out about the minimum deposits. It required us to register an account and find out how much it required to activate it. It turned out to be $100 for the smallest one.
ATFX trading conditions – are they competitive?
Now let's tackle the most important part of this review. The trading conditions with the ATFX Forex broker. Are they in any way worth it for beginners and veterans alike? Or are they simply an average or even below average brokerage? What if they have terrible conditions that confirm our scam suspicions?
In this paragraph, we will discuss things such as the leverage, spreads, withdrawals, software and various other aspects of the company.
Is ATFX profitable?
In order to determine the profitability of this brokerage, we need to take a look at their maximum leverage and spreads. According to the website, there are two types of leverage they offer. The retail version is 1:30 and the premium version is 1:200.
When it comes to spreads though, as already mentioned, they're floating so it's hard to pinpoint the most accurate version. But we can say that the major currency pairs have a pretty stable 0.1 pips spread which is the best option to get.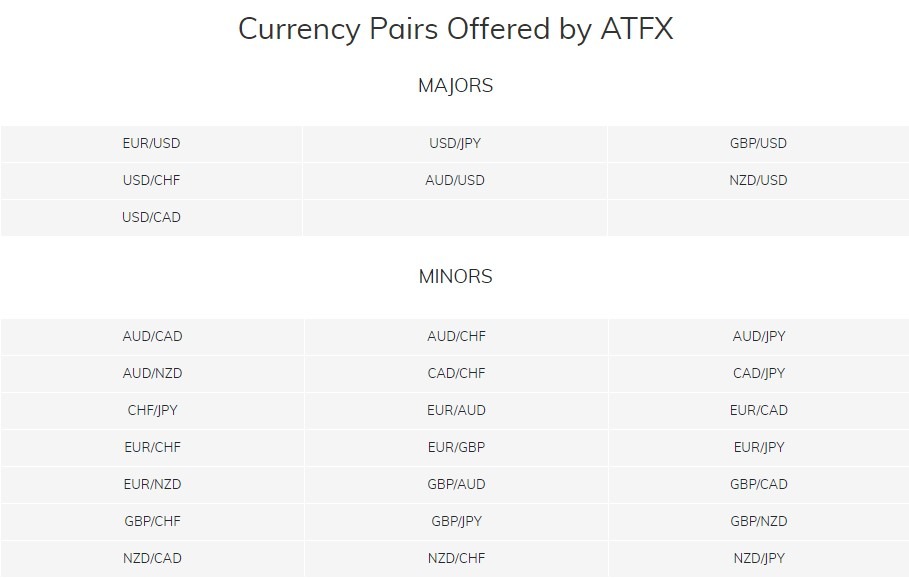 However, the moment we combine these two the ATFX rating goes down significantly. You see, even a 0.1 pip spread is not enough to make a Forex trade profitable with 1:30 or even 1:200 leverage. The market average right now is 1:300 and even that is sometimes not enough to keep trading profitable.
Because of this, we can't really say that trading with ATFX can land you amazing profits.
Deposits & Withdrawals
Fortunately, the deposits and withdrawals are quite nice with ATFX. The variety is quite wide, with Bank Transfers, Credit/Debit cards, Neteller, Skrill an various other third-party wallets.
But the best news is that there are no fees attached whatsoever, depending on which option you choose though. If you go with Neteller, they may be a 4% commission due to the platform policy and not the broker policy.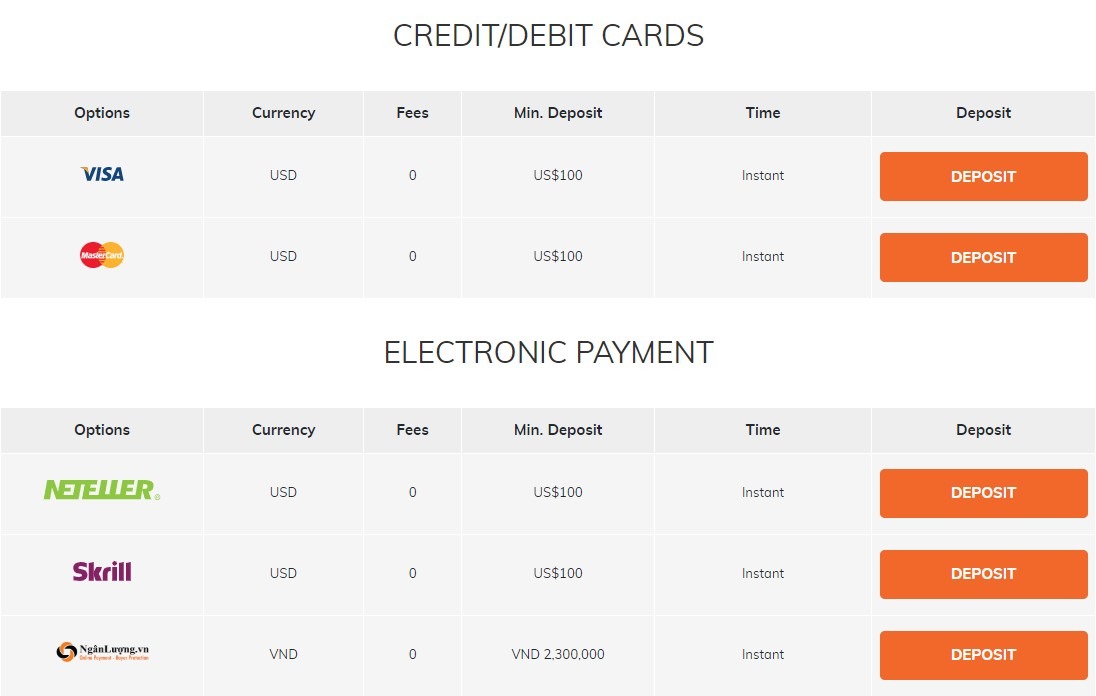 Account types and software variety
When it comes to account types, we were, unfortunately, unable to find if there is any variety. The website does not mention any other account type besides the one you can immediately register for with the minimum $100 deposit.
This is not really a good way to operate a brokerage. Why? Because there will always be people willing to deposit $10,000 or so and expecting some really good benefits out of it, such as better leverage or personal support from a professional.
Not segregating the customers can also be an issue in the long run as processing trades becomes a bit too chaotic. Why? Because the broker will start favoring the larger trades compared to the smaller ones as that's where they're making most of their money. Overall, the ATFX Account types get a terrible rating from us for simply not having variety.
The same goes for trading software. There's only MetaTrader 4 available. Even though it's the most popular software for traders of all calibers, it would still be handy to have at least a WebTrader version as well.
Is ATFX legit? Should you trade with this broker?
After so much discussion, it's time to finalize this ATFX review with a verdict. Is it worth trading with this broker? Or is it just another mediocre company outshined by pretty much everybody else?
Well, yes in a sense. ATFX does not have any features that make it stand out from the rest of the competition. In fact, it has mostly below average offerings when compared to industry standards. The licensing argument is also a bit shaky.
All in all, we'd say that it's not worth trading with ATFX when there are so many better options available currently.