Blix Group Review – What is this broker all about?

The more we dive deeper into the vast world of Forex, the more we find Forex brokerages that choose to remain incognito and hide their offerings. We don't know what is the end result of this practice, but we know one thing: it certainly doesn't increase the credibility of the broker.
And credibility is the biggest criteria you should be assessing a broker with. If the broker has lots of fancy offerings, yet there's something shady to be felt within its platform, it can be a good indication to stay away from it and find someone else.
Our team at Forex News Now wants to help you in the selection process. For that reason, we've created this Blix Group review that will explore everything this brokerage offers. So, without wasting too much time, let's start our review.
The website and information
First off, we have to start our discussion with the website. One thing that becomes apparent straight away is the poor optimization of the website. When you start scrolling through pages, you'll notice that the process is not very smooth and there's no inertia to scrolling, meaning the moment you release your fingers from the trackpad, scrolling stops immediately, which is not a desirable effect for a website.
Besides, the design choice is also quite poor. A giant blue wallpaper in the welcome screen outshadows all the important details that you'd get on the website.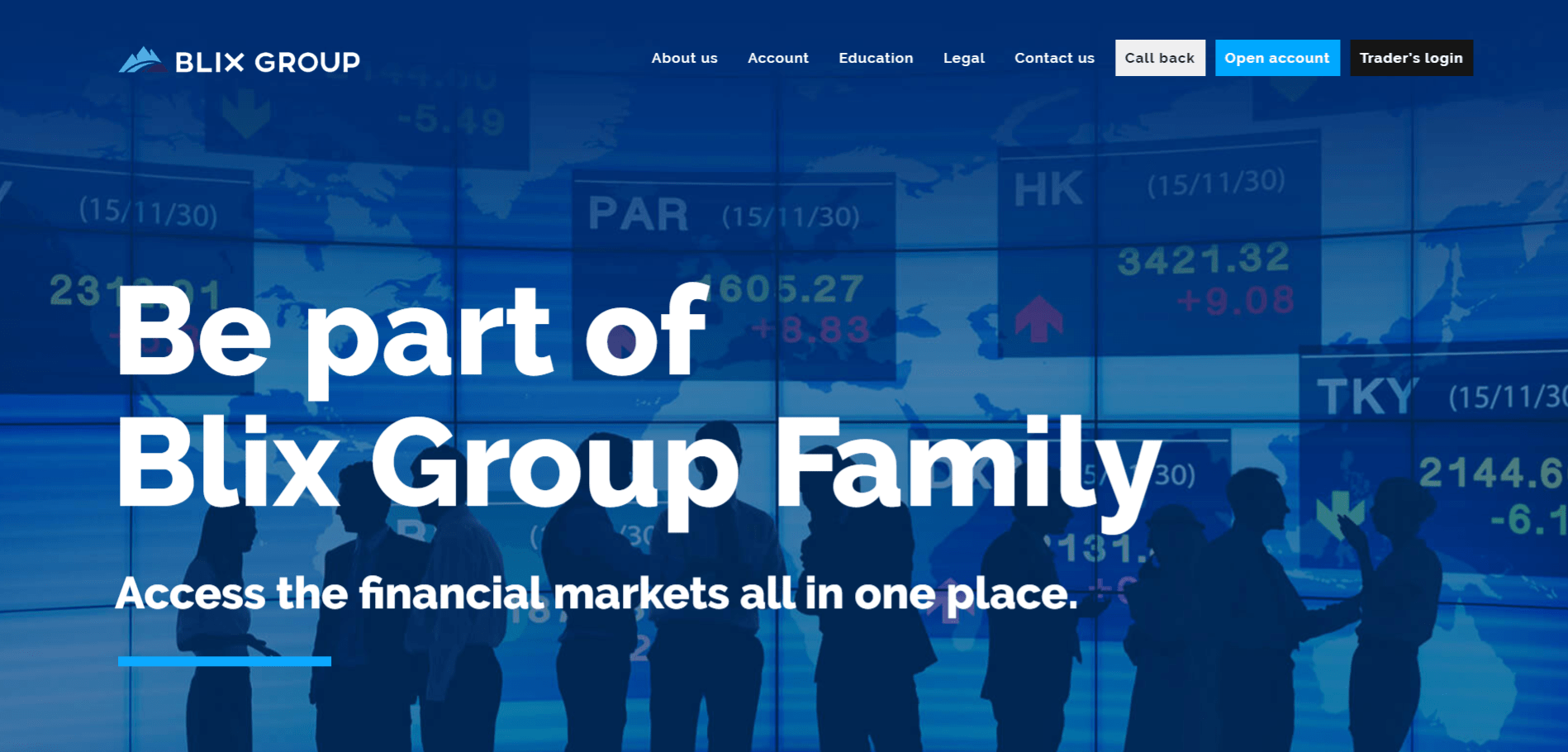 Speaking of information, we pointed out in the introduction that a secretive brokerage isn't someone that you should be looking for. Yet that's exactly what the Blix Group Forex broker is all about; we tried to find anything related to trading terms and conditions or licensing, but ended up finding empty words of security and lucrative trading at Blix Group.
The only way the broker claims to disclose trading details is once people create accounts and deposit money on the platform. This, as you can imagine, is an outrageous act of plunder in exchange for a piece of information that is openly and freely disclosed by almost any other brokerage.
The only real thing about the trading process we know is that Blix Group offers six different trading accounts: Basic, Silver, Gold, Platinum, Diamond, and Millioner Club accounts. Even in naming the final account, the broker made a grammatical error (Millionaire, not Millioner). Besides, even in comparing these accounts, there's not much you can find out about trading conditions except for different bonuses, minimum deposit requirements, and other minor features.
In fact, we don't even know what kind of trading software is available on the platform. Is it MetaTrader or cTrader? Or does the Blix Group WebTrader power the whole process? Unfortunately, there's no indication of that on the website.
The chasm of information is so wide that even an extensive section of education materials doesn't help reverse our Blix Group opinion.
Is there a license to guarantee Blix Group's credibility?
Moving on, let's talk about legal matters. Blix Group has an extensive Legal section where it talks about terms and conditions, withdrawal and deposit policies, privacy and AML/KYC policies, etc. However, the broker doesn't mention a single word about its licensing.
At the very bottom of the website, Blix Group claims that it is based in Tallinn, Estonia, with a registration number of 14625979, yet we don't know anything about the financial institution that has issued the license.
Is it the country's Financial Supervisory Authority (FSA)? Is it an organ from a different country? We simply don't know, for which we have to consider the Blix Group Forex broker an unregulated broker.
And as just another unregulated broker, it is very unsafe to associate yourself with a shady financial entity that doesn't disclose information about virtually anything.
What about trading numbers?
Lastly, we need to talk about trading terms and conditions offered at Blix Grou, at least about those that we know of. As we noted, there's not an awful lot of information about the broker's leverage offering, spread conditions, or even available tradable assets. Sure, Blix Group is called the Forex broker but are there any other securities that people can buy and sell? Again, we don't know.
So, if we don't know a lot of stuff, let's talk about those details we know, starting with the minimum deposit requirement. The Basic account, with virtually nothing fancy accompanying it, has a requirement of 500 Euros, which is nothing less than ridiculous. It shows that the Blix Group FX brokerage really doesn't care about the convenience of its low-tier consumers.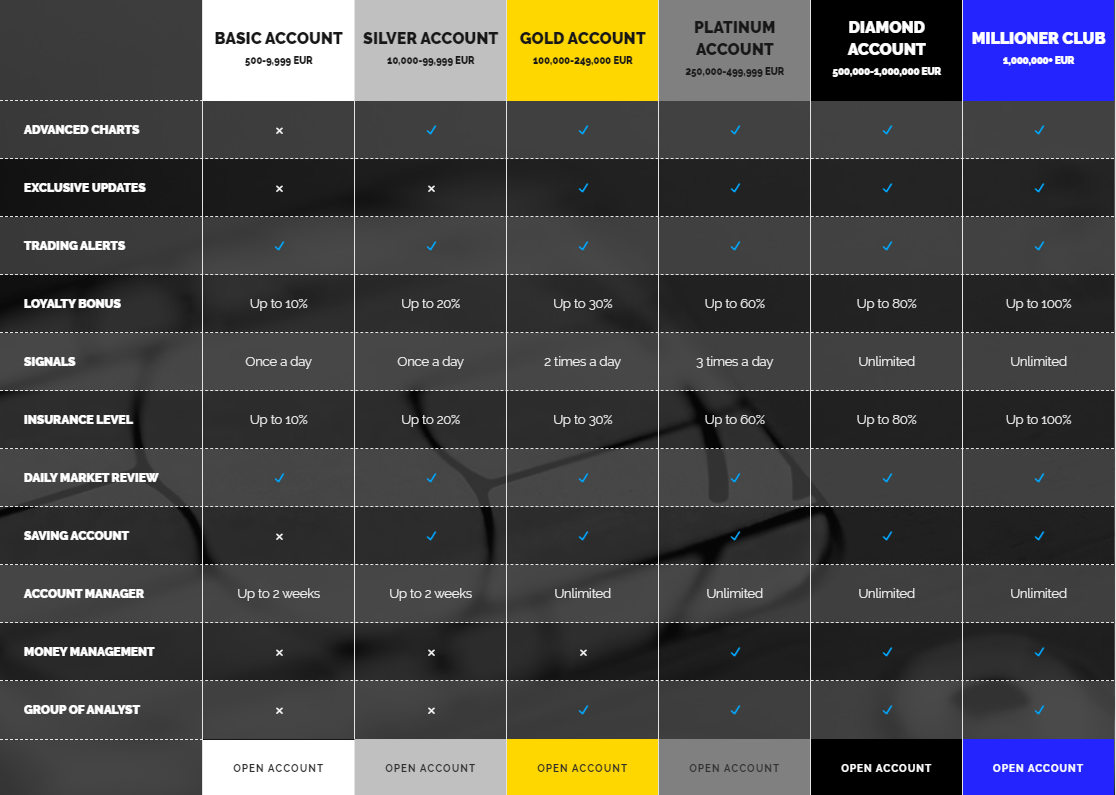 For what it's worth, even lots of experienced traders will find the Blix Group platform too burdensome because the next account, Silver, comes in for 10,000 Euros! And there's not much that you get compared to the Basic account: advanced charts, 10% more insurance and bonus, and a savings account. You don't get exclusive updates or money management features.
And this trend can be observed for other accounts as well; you need to deposit tens and even hundreds of thousands of Euros to become a client of the broker that doesn't inform you about its offerings. Ultimately, this is yet another factor that lowers our Blix Group opinion quite significantly.
Lastly, we wanted to talk about financial platforms that facilitate deposits and withdrawals. However, even here are we stuck with vague claims and reports: as the broker claims in the Payment Policy section, traders can make deposits and withdrawals via credit cards, bank wire, etc. Yet we don't know what that "etc." means exactly: are there e-wallets? Cryptocurrencies perhaps? Again, we don't know.
Our ultimate verdict of Blix Group
For everything we've explored during our review, we have one specific answer to the question of whether you should trade with Blix Group or not:
You should most definitely not! There are an awful lot of grey areas that are harbingers of the Blix Group scam. That's why you should totally avoid this broker and find a more credible trading counterparty.