Blueberry markets review – Shall you trust this broker?

Many brokers started to emerge as a response to the mass movement towards financial trading using the internet, which has opened the door for many brokerage service companies to accelerate their operations.
Blueberry markets broker is a financial trading brokerage company based in Australia and claims to be one of the best trading agents in the country, and one of the tops around the world. In this Blueberry markets review, we have decided to inspect all their service to check how true their statements are and how legitimate is this broker.
Blueberry is a financial broker holding licenses in Australia and the Bahamas and is offering its services to trader around the world offering them a huge variety of trading assets, using a variable spread that start from 0 pips, and leverage that can reach a maximum of 1:500
There are two types of accounts offered by this broker, each of them incorporates different spreads and different commission structures. Both can be operated by a minimum deposit of $100 and use different trading platforms include the Webtrader.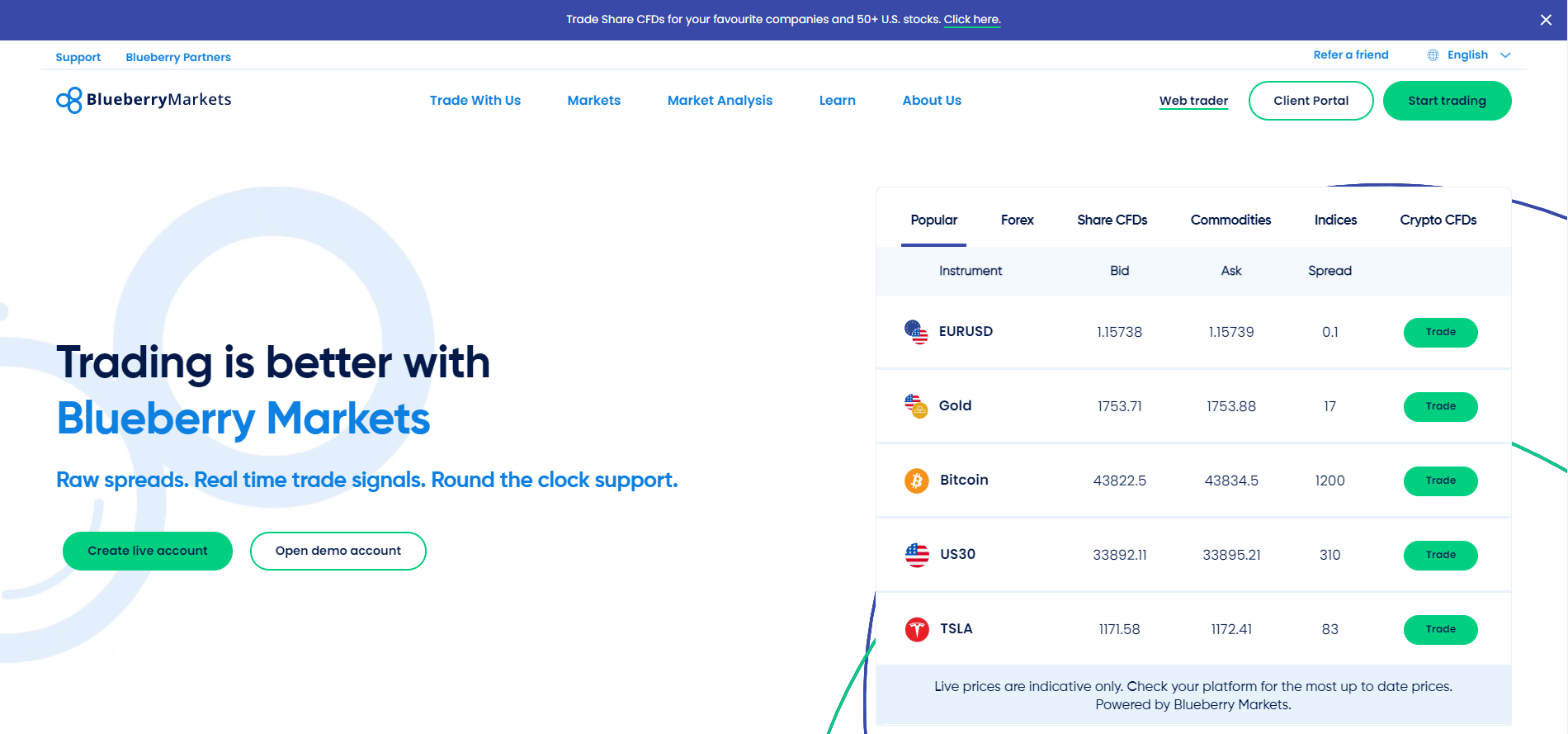 Registering your account
It is quite easy to get yourself set up and ready for trading with this broker, all you have to do is click the green box on the top-right corner "Start Trading" and start entering your personal information such as your name, your country of residence, your email address, phone number and then choose a password.
After that, the Blueberry markets broker will ask you to submit further documents for verification reasons, such as a personal ID number and passport with full details. Be aware that it might not be a good idea to submit your personal information with this website – we will uncover through this Blueberry markets review why you shall not trust this broker.
Accounts
There are two types of accounts offered for the traders, the standard and the direct. They differ in terms of payments charged by brokers, along with spread and commission fees, and we will go into detail for each of them.
The standard account allows the trader to directly realize their profits from the gains they make on trading without taking into consideration any commission fees because the spreads are a bit higher here and they start from 1.0 pips.
The direct account presents the fees in form of the commission only, with a raw spread that starts from 0.0 pips. The charges taken by the broker as commission fees amount to $7.
Thus, every other feature remains the same on both accounts, such as the maximum leverage of 1:500, the minimum deposit of $100, and 0.01 as the minimum trade size a trader may use.
In addition to that, all the users can access the different trading platforms such as Blueberry Markets Metatrader trading platforms, as well as the Webtrader.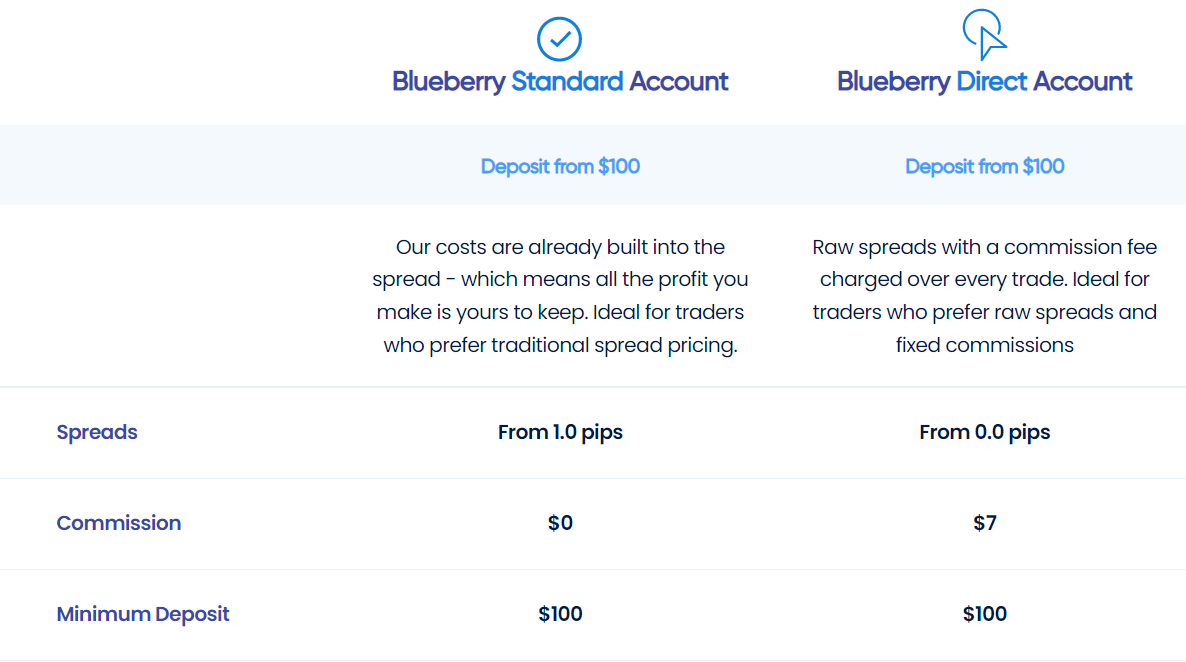 Is Blueberry Markets licensed?
Blueberry Markets claims to be regulated by the ASIC license (Australian Securities & Investments Commission) and the SCB (Securities Commission of The Bahamas), and at first glance, it might seem like a legit broker with a disclosed registration number.
However, after conducting a deeper check by searching the registry number in the ASIC portal, we could not find any result which means Blueberry Markets is not really regulated under the ASIC.
Rather, the claimed registration number belongs to a sub-category of licenses and does not really represent the ASIC itself, taking advantage of the flaws the Australian financial structure used to have in the world of financial trading.
At the same time, it is registered under the SCB license of the Bahamas, which in its turn is a low-end license that does not really impose restrictions on the conduct of the financial institutes, and does not provide guidelines that protect the traders' rights.
Tradable assets
Blueberry Markets financial broker offers traders access to start trading in all financial markets, including Forex, stocks, indices, commodities, and cryptocurrencies.
In most markets, the website does not indicate the exact amount of assets, and not the top assets that are available, however, what we know is that the spread range and the maximum leverage are variable and they change according to the products being traded.
Forex
The website does not state how many currencies pars are available for trading, which might be risky if a trader registers and finds out that a very limited amount is given for trading.
The leverage allowed is up to 1:500 as per the account specifications without limitation, and the tightest spreads are offered in this market starting from 0 pips.
Stocks
CFDs for shares of international corporations are available on trading with the Blueberry Markets website, though the website does not state how many stock CFDs are available.
The maximum leverage is limited here to 1:5 and the minimum lot size a trader may use is 0.01.
Indices
More than 10 worldwide markets indices are available for trading with this broker, including the US S&P 500 Index, the Australian S&P 200 Index, and FTSE 100 Index.
Commodities
CFDs of commodities are also available for trading with Blueberry Markets, and these include precious metals, gas, oil, and energy resources. The spread is variable and it could get as low as 1.5 pips.
Cryptocurrencies
One of the most growing financial markets these days that is gaining the attention of more traders by the time, Blueberry Markets broker offers to trade using at least 5 main cryptos such as Bitcoin, Ethereum, Litecoin, Ripple, and Bitcoin Cash.
The leverage to trade with cryptocurrencies is capped to 1:10 which is totally different than what is acceptable in Europe according to the EU regulations.
Payment methods
Blueberry Markets encourages traders around the to get registered by offering different ways to deposit money into their account, and by facilitating the process with decreased fees for deposits and withdrawals.

Deposits
There are many ways for traders to add funds to their trading accounts, Blueberry Markets financial broker accepts the Visa/Mastercard which is globally adopted and it also accepts this method of deposit with no fees and instant processing time. Using this method a trader may use one of these currencies: AUD, EUR, GBP, NZD, SGD, USD.
Bank wire transfer is also possible to use knowing this method takes a longer time to process and it can last for 2 business days, and the fees are depending on the sender's bank.
Other methods of payments such as e-wallets and crypto wallets are acceptable such as PayPal, Skrill, Neteller, Poli Pay, BPay, Fasa Pay, Dragonpay, Tether, and Bitcoin. Where each method has a different processing time and no fees from the broker's side,  there might be some fees from the provider of the payment method.
ًWithdrawals
Similar to deposits, Blueberry Markets withdrawals are also possible using credit/debit cards, wire transfers, e-wallets, and crypto-wallets. Using the Visa/Mastercard method, the trader does not pay any withdrawal fees but it might take 1 to 3 business days for the amount to show the user's bank account.
Other e-wallets payments such as (PayPal – Skrill – Neteller) have variable fees depending on the receiving bank, and they shall be checked separately. However, free of charge methods are including (Tether – Bitcoin – Poli Pay – BPay – Fasa Pay – DragonPay) might take up to 3 businesses to process the withdrawal.
Trading platforms
Multiple trading platforms are offered for traders on Blueberry Markets, these include MT4 and MT5 which are the most commonly used trading platforms. Here the broker tries to cast a reliable image on its service by cooperating with the most popular trading software.
However, the Blueberry Markets Broker Metatrader trading platform association may not necessarily mean that the broker is highly reliable because it could be easy to get associated with the software using the affiliate link.
Both MT4 and MT5 can be accessed using multiple devices, whether it is a desktop, mobile phone, or tablet using the proper link provided by the broker.
In addition to that, the Webtrader is also offered on this website where some traders prefer direct access to a web-based trading platform without installing any 3rd party device.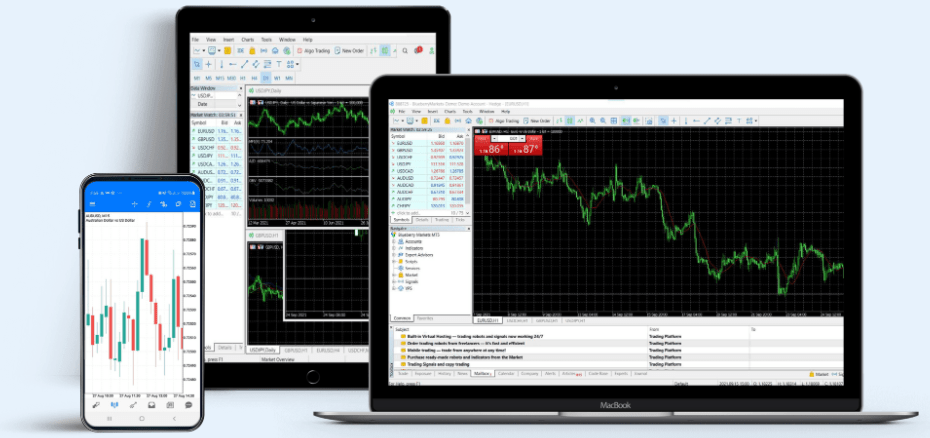 Market news
Blueberry Markets tries to give a professional impression of themselves by showing that they provide market news analysis and briefs, but this does not really play any factor in deciding if Blueberry Markets broker can be trusted or not, because as we have uncovered, the lack of license is more important for traders to make their mind.
This section of the website shows different information such as newsletters that offer reading material for the users to learn more about the different market trends. And market analysis where some experts give their rationale about the market movement of the past period, what has caused each movement, and what is the projected movement in the future.
The website also offers an economic calendar that shows the times for each trading session around the world and what are the current trends. However, this part of the website is very overwhelming and the user can be easily confused to navigate.
Education
The website provides traders with some educational material such as video and reading material, which serves differently experienced traders.
Trading program
This part in www.blueberrymarkets.com contains reading material as courses for traders with different experiences (Beginner – Intermediate – Advanced), but the reading material can seem a bit boring because it is full of written material and texts and a view, especially beginners can feel overwhelmed with the overflow of texts from everywhere.
Video tutorial
The video content is usually more engaging for traders to learn from and to become familiar with trading charts and terminologies, and these videos are also classified according to the traders' experience.
However, there is a limited amount of video for each level of expertise, under 10 videos or even 5 videos and each of them is less than 5 minutes. This means either no complete information is being delivered, or the quality is bad.
This part also includes a video tutorial on the trading platform, to teach users how to install the trading software on the desktop or on mobile devices, and how to navigate and operate different trading positions.
Customer service
There are limited ways for traders to get assistance from this broker, and the unpleasant Blueberry Markets broker opinions originate from the fact that traders here feel totally alone with no real support from the site admins or support team.
The ways of communication are limited to the complaint form and the support email. Everyone knows that these are the slowest ways of communication – especially if a trader is encountering a platform issue that requires swift response and resolution.
The telephone number provided on the website is a local number in Australia and not anyone around the world can call the number, while the real broker provides multiple numbers, this is not the case with this broker, leaving the traders in the air.
The live chat function on the website is very pushy and every time you just navigate around you will be hearing the notification and see the pop-up that is offering help, while the help is basically offered by a repetitive bot and not a real agent, rendering the trader getting no valid answers.
Our thoughts
Do not get tricked by the neat website of this broker, and look beyond their so-called license, to find that Blueberry Markets broker is not safe, and they hold only a sub-license that is not subject to any regulations.
The broker claims to be legit by offering moderate leverage, however, it still does not abide by the EU regulations if they claim to serve traders around the world, they are not eligible to work under the EU regulations and they are probably abusing the fact that Australia used to be a hub for financial scammer before some reforms took place.
There is a kind of ambiguity over the products offered by the broker, where reliable brokers give a glance at the products and the assets they offer in each market, Blueberry Markets fraud broker does not showcase what are the assets offered in their website until you get registered, and then it might be too late.