Capex review

Capex is a CFD brokerage operating in various European jurisdictions including Cyprus, the United Kingdom, Germany, and Poland.
The company wasn't referred to as Capex CFD broker in the past, they've rebranded from CFDGlobal.com for a while now. The company is owned by Key Way Investments Limited and is located in Nicosia, Cyprus.
At first glance, Capex seems to be a legitimate brokerage from the get-go, but many of our readers may already know that experience teaches a lot. Just because something seems to be the case on the surface, it may not exactly be so. Therefore we decided to dig deeper into Capex's offers and various licenses, to determine if the brokerage is legit, and most importantly, worth it.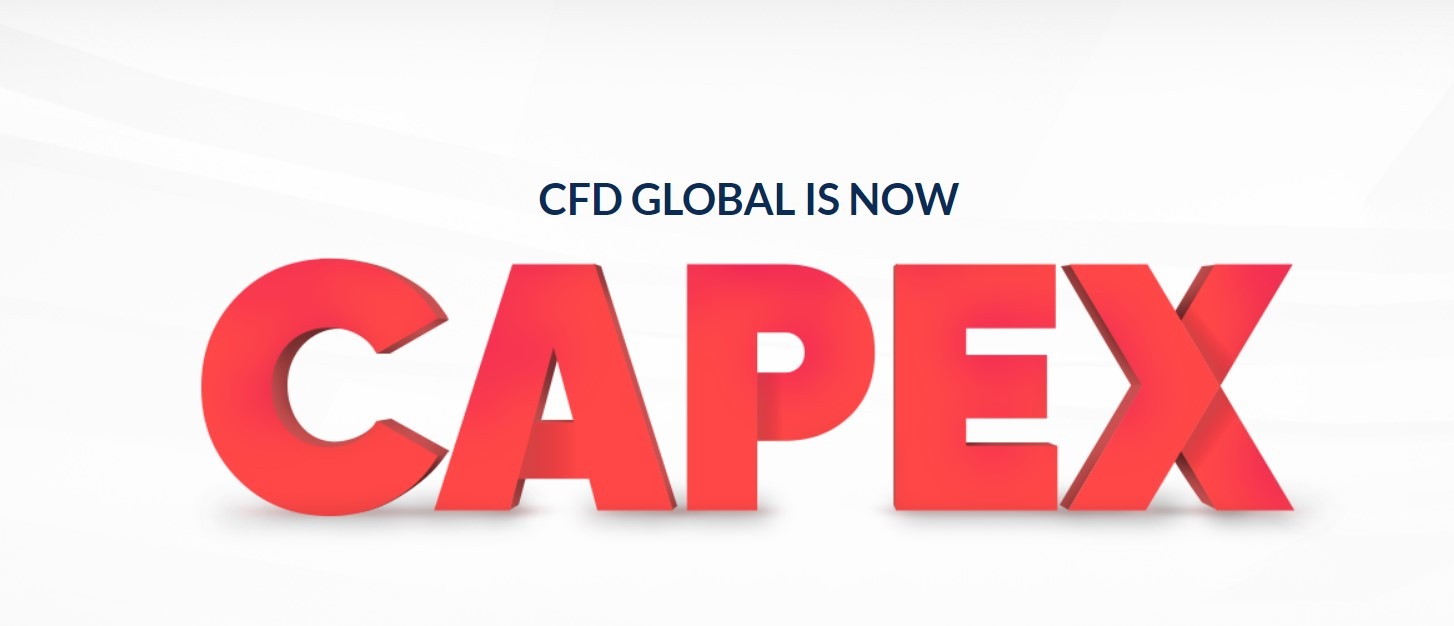 Capex review
As already mentioned in our Capex review intro, the parent company is located in Nicosia, Cyprus, but the brokerage fields quite a lot of licenses in the European region. Names such as the Financial Conduct Authority (UK), BaFin (Germany), CySEC (Cyprus) and KNF (Poland) appear on the front page of the brokerage.
A quick search on the regulators' websites proves the licenses to be legitimate. The FCA website showed us that the brokerage has been registered since 2015, alongside its parent corporation. The same can be said about BaFin, CySEC, and KNF.

Is Capex legit because of these legal documents? Yes, definitely. Now that we've gotten the Capex scam argument out of the way, let's find out if the company is worth it not only for beginners but for veterans as well.
Capex CFD broker features
We will try to focus on several aspects of the broker. Things such as leverage, spreads, withdrawals & deposits, and commissions will be discussed below. Other than that we'll also showcase the platforms that traders can use with Capex.
Leverage
Just like any other CFD brokerage operating within the ESMA jurisdiction, Capex has quite a lot of restrictions when it comes to offering leverage on its trading assets.
In total there are 7 assets: ETFs, Forex, Commodities, Shares, Cryptocurrencies, Indices, and Bonds all with varying caps for maximum leverage.
The most important, however, CFDs on Forex have a cap of 30:1 which should be obvious for any ESMA follower.
Nothing too amazing nor disappointing here though, it's a market standard and it was expected. In fact, we'd add a few points to the Capex CFD brokerage for following the local rules.
Spreads
Spreads are not the lowest we've seen but they are passable. According to the page on the website itself, major currency pairs like the EUR/USD have a fixed spread of $1.5 on each trade. One thing that needs to be considered though is that the entry-level in terms of the deposit is quite high for a beginner, therefore the spread could tamper a bit with the profitability.
Capex withdrawals & deposits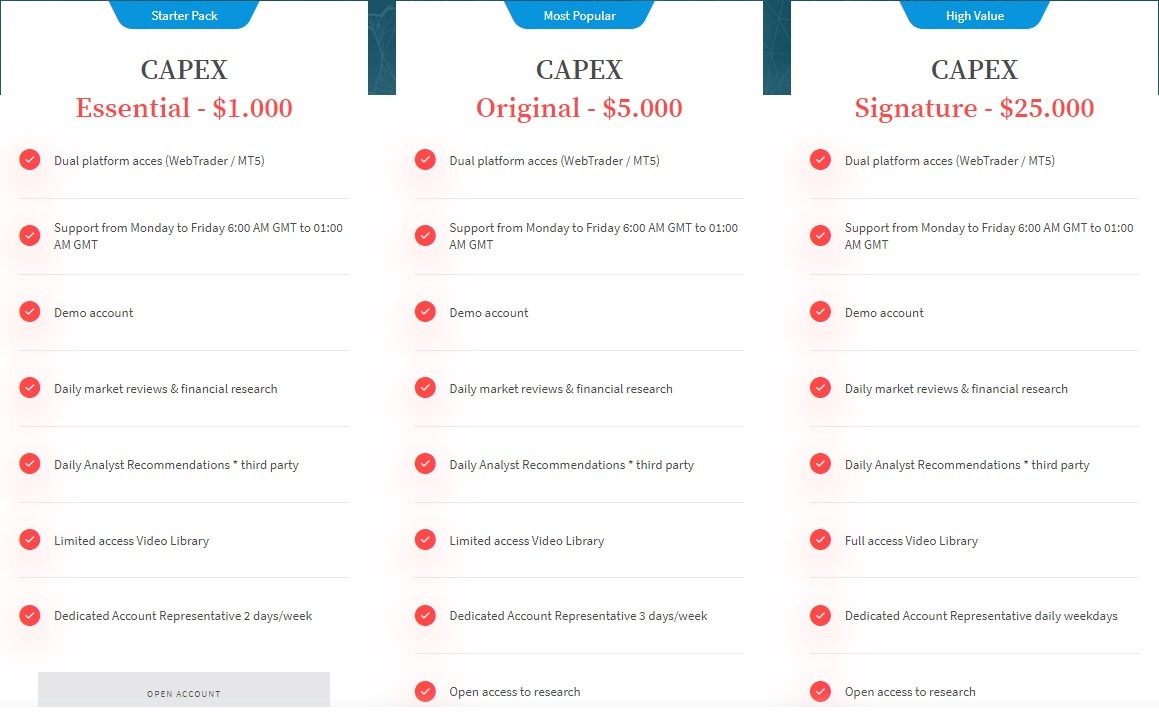 There are three types of Capex accounts, all with varying benefits as well as deposits and withdrawals. There's the:
Essential Account – $1,000 minimum deposit
Original Account – $5,000 minimum deposit
Signature Account – $10,000 minimum deposit
In terms of the withdrawal offers, the traders will need to choose one according to their country of residence, but most of the options are through banks, credit/debit cards and two payment providers, Neteller and Skrill. The platform does say that there are no fees attached, but there could be some transaction commissions on Neteller and Skrill as they're mostly third party providers.
All in all, the withdrawal methods are industry standard, therefore one could expect them taking a few days to process.
Capex rollovers
Capex has rollovers every 21:00 GMT. Rollovers are quite simple, if an open position's expiration date is not renewed through a new contract, then the position will close at the designated deadline when the contract will form.
This is nothing new or weird in the CFD industry as every brokerage operates this way.
Is Capex trustworthy?
Combining all of the features from the brokerage, we get a solid company that complies with all of the European CFD trading rules. The Capex fraud argument was already disregarded at the beginning of the review when the licenses were showcased, therefore the traders can rest easy, knowing that their provider is legitimate.
When it comes to other offers though, there's not much Capex can actually do in those terms. Increasing or decreasing leverage is impossible due to ESMA restrictions, and spreads seem to be reasonably fixed.
All in all, Capex is a slightly above average CFD brokerage which is actually one of the best deals in Europe for traders looking to trade Contracts for Difference.