Capixal Review – Is it a trustworthy broker?
Capixal Forex broker offers traders several types of advantages and profitable services. Capixal is regulated and licensed by Cyprus Securities and Exchange Commission. CySEC is a very well-known regulatory agency, which works tirelessly to make the market safer for everyone.
Capixal supports traders with flexible conditions and provides them with trading essentials. The broker offers traders more than 350 trading assets among more than 60 trading indicators, designed to make trading easier for investors. Capixal, moreover, offers to traders 3 account types, that are characterized by numerous advances. It gives traders a chance to build a solid ground for their incredible journey.
Capixal offers traders very competitive services. With zero commissions, tight spreads, and very fast execution speed, Capixal is among some of the fastest-growing and best-known Forex brokers in the market. Capixal grants traders more than 100 educational materials, which are extremely useful both for beginners and experienced traders, and aids them to coordinate easily and learn more about the FX markets' characteristics.
Capixal Review – Can Capixal be trusted?
As we already mentioned above, Capixal is operated by IFC investments Cyprus LTD. It is licensed by the financial regulator CySEC, which is famous for its trustworthiness. So, you don't have to worry while trading on Capixal, because it provides you with safety.
The Forex broker is very transparent with official information. Capixal's license number is 327/16 and the physical location of the broker is Limassol, Cyprus. Also, on the website, we've found the address of the company – office 203, 2nd floor, P. Lordos Centre, Makariou III, Arch, Limassol, Cyprus. So, as we see, the regulating and licensing system of Capixal is totally reliable and allows investors to trade without worries.
Capixal – Different types of accounts
During our research, we've found out that there are 3 types of Capixal trading accounts. Each of the accounts provides investors with numerous advantages and gives them chance to have a higher profit. The mentioned 3 types of accounts on Capixal are:
Silver Account
Gold Account
Platinium Account
Below we'll discuss account main features and characteristics, which we could find on the company website.
Silver Account
Capixal silver account is a prominent choice for beginners. Silver account is convenient for CFD traders, which provides investors with a range of capacities, which include the chance to trade assets without actually having to own them. The available leverage for silver account holders is 1:30.
Gold Account
The gold account is for the investors who want to take more advantages while trading and want to grow their achievement while operating in the FX market. The gold account is a great choice for traders who want to take high risks in the market, which increases their profits and chances of earning money.
First of all, like the silver account, the amount of FX leverage is defined by 1:30. A huge advantage of this account is that the gold account traders can work with a 25% swap discount, which allows them to minimize their costs and spending money.
Platinum Account
The platinum account is the most prominent one among those accounts which Capixal offers to the users. The traders can take a high risk while using the platinum account and make great profits. Like the above-mentioned account, for those who are using the platinum account, the amount of FX leverage is defined by 1:30. Also, platinum account traders can get a 50% swap discount and save their money and lessen their costs.
What's the most significant, the aforementioned account customers can get free VPS, which has essential importance while operating in the volatile markets. It provides us with extra security and safety. Also, it makes trading with currencies and with other assets more reliable and easy.
But this is not all. The Forex broker also offers its clients a special type of account, called a Professional Account. If the offerings of retail accounts are not enough for you, you can go with this account type and get the most out of trading. However, keep in mind that there might be certain requirements that you should be met by traders.
Capixal brokerage review – is there any affordable commission?
What makes Capixal one of the most prominent companies among FX brokerages is that it requests no to zero commission and fee from its customers. This is one of the main reasons why the Capixal rating among traders is so high. Because of no commissions and fees, traders can get a bunch of profits, save their money, and invest their saved money in creating a better portfolio, which gives them numerous opportunities for successful trading.
Capixal review – What can you trade here?
Capixal provides customers with hundreds of trading assets. As we already mentioned in the beginning investors can trade more than 350 assets. Among the available assets, you can find stocks, commodities, cryptocurrencies, indices, and so on. While trading with the mentioned assets customers have to take into account some of the company's conditions.
Capixal provides traders with the possibility to trade with more than 45 CFDs on currency pairs. Here traders can diversify their portfolio with the currencies investors think are perspective. All three types of currency pairs are available at Capixal.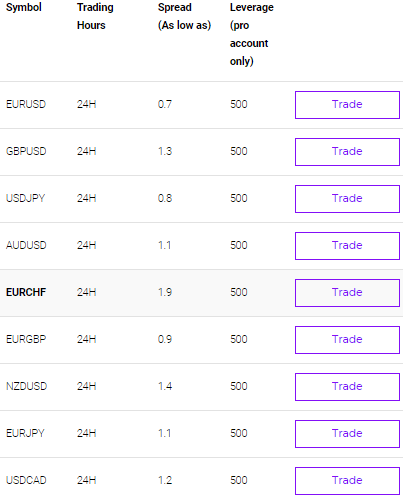 In addition, you can also trade cryptocurrencies, which has become very popular in the recent years. Capixal also furnishes investors with more than 25 CFDs on commodity assets, including:
Brent Oil – trading hours 03:00 – 01:00, spread – 0.03, leverage – 125
Cocoa – trading hours 11:45 – 20:30, spread – 30, leverage – 125
Coffee – trading hours 11:25 – 20:30 , spread – 0.3, leverage – 125
Copper – trading hours 01:00 – 00:15, spread – 0.0041, leverage – 125
Corn – trading hours 03:00 – 15:45 & 16:30 – 21:25, spread – 0.45, leverage – 125
and many more.
Capixal.com review – platforms you can use for trading
There are three types of platforms, that you can use while trading on Capixal, including:
All of the above-mentioned platforms provide customers with several and advanced features.
WebTrader
There are several benefits you can get from the WebTrader while trading on Capixal. For example, you can have instant access to more than 350 top assets, including Forex, commodities, cryptocurrency, indices, stocks, and so on.
Besides, you can get profit from a full pack of analytical instruments, more specifically with more than 60 analytical tools, and also, get customizable notifications. All of these features help traders to generate their own strategies. Also, while using the WebTrader, Capixal provides you with keeping full track of trading history, and also, it suggests to customers multilingual customer support service.
The biggest advantage of the WebTrader is that it can be accessed directly from the internet browser. Because of this, there is no need to download the additional applications, you can open the WebTrader in just a few clicks and start opening and closing positions.
Mobile App
Mobile App trading has a bunch of useful features, as well. Investors can have access to more than 350 trading instruments. Also, it provides us with 60+ professional analytical tools and multilingual support. Besides, the mobile app has a customizable trading environment and is compatible with both Android and iOS users. Moreover, it allows investors to set up Stop Loss/Take Profit function, which aids them to control their finances and raise their money earnings.
MetaTrader4
Capixal also offers its clients access to MetaTrader 4, which is one of the best-known Forex trading platforms. With a very long history, this trading platform is popular among many traders.
Capixal MT4 can be downloaded very easily from the website of the broker. Also, it gives traders access to 9 timeframes, which is quite a prominent characteristic of the mentioned trading platform. Also, it grants customers more than 20 analytical tools and 30 technical indicators. And most importantly, users can have access to fast and interactive charts.
Capixal withdrawal and deposits – what are the main conditions?
For starting trading on FX companies it is always needed and necessary to have a certain amount of money on your account, Capixal is no exception. The minimum deposit while trading through Capixal is defined as $20. What's more, the process of making a deposit and Capixal withdrawal is instant and quick and isn't time-stretched. Mostly, the time for making transactions, depositing, and withdrawal is 24 hours, however, if there's a high request on the confirmation for the mentioned processes it may take a bit longer time. Whats' more investors can use several types of payment methods, via Visa, MasterCard, Maestro, Skrill, and so on.
Capixal Opinion – Educational Section
One of the main advantages of Capixal is that it provides investors with several educational materials. Customers can see all of them in the section of  "Education", where there are Videos on Demand (VOD), Ebooks, Courses, Tutorials, Economic Calendar, Report Season Calendar, Daily News, Trading Signals. So, as we see users are granted numerous educational materials, which allows them to learn more about forex trading and operating in volatile markets. Also, all of the educational materials on Capixal are high-quality and give us exhaustive information about every important thing which we should know while start trading. What's more, the mentioned materials allow us to generate our own, individual strategy which is the guarantee of seeing profits and successful trading.
Capixal Customer Support – Is It Helpful?
Capixal brokerage provides investors with high-quality and helpful customer service. It can be said that the features of the customer support service are the best among several broker companies. Customer service on Capixal includes both Live Chat, FAQs, email and phone number.
FAQs on Capixal are quite exhaustive and give us detailed information about the things which can be obscured for both new and experienced traders. Also, people who work in customer support services are quite polite and give us every information which are essentials for traders and investors. Also, the replies both on email and live chat are instant, which is quite rare among broker companies.
So, as we see, Capixal provides customers with numerous high-quality services and is always ready to support and help us to make a profit.
Is Capixal a recommended broker?
Depending on the Capixal review and the above-given information, we can say that there are numerous reasons why you should be the customer of this broker. First of all, Capixal can be trusted because of the brokerage company's regulating and licensing system.
What's more, Capixal provides you more than 350 trading assets. You can trade anything from Forex currency pairs to the stocks of leading companies around the world. There are three account types available for traders, making sure that anyone can find something that fits their needs.
After reviewing Capixal and discussing every little detail about the brokerage, we are very confidently recommending this Forex broker to everyone.