CBB Review – Is this a trustworthy brokerage company?

CBB Forex Broker claims to be an online financial platform that provides exceptional brokerage services accompanied by good trading conditions for 4 years now. Considering the fact that they have been around for such a long time, it means that they should be known among traders all around the world, but unfortunately, the internet does not actually have any kind of information about their services – you can't even find reviews from other people, which is already suspicious. The main webpage says that the company is licensed by three different financial regulators, however, after digging out, we found out that none of this is true, as license numbers given by them can't actually be found on any of these licensing platforms. Greeting customers with wrong information already says a lot about them, doesn't it?
The maximum leverage offered by the website is 1:500, but we could not find anything about spreads. Generally, the site is not very informative, and customers will not be able to find things that might influence their decision-making process. This happens when the company either has very bad trading conditions, or it is a scam. One important thing about brokerage companies is the software that they use. It won't be a surprise to say that CBB FX Brokerage does not have any information about any software platforms that they use. We were not able to find traces of MetaTrader 4, MetaTrader 5, or any other trading tools, which once again is a red flag.
The minimum deposit amount is set to $1000, and it is possible to trade with 3 different types of accounts. The site does not provide information about bonuses or promotional offers and one can trade with metals, currencies, commodities, stocks, indexes, and cryptocurrencies.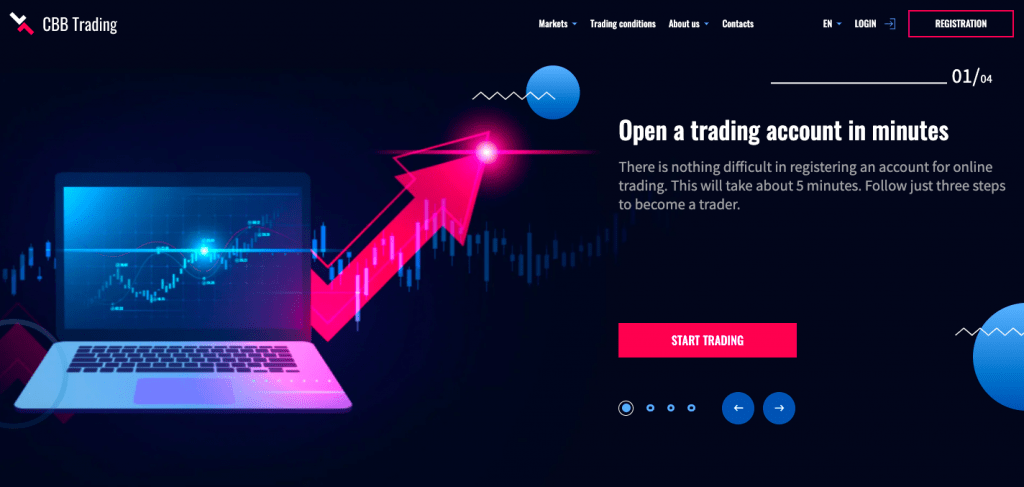 Is CBB Trading Legal?
No, CBB Trading is not legal. The website says that the company operates in accordance with the requirements of the Belize Securities and Exchange Commission, the International Financial Services Commission, and the Financial Services Commission of the Republic of Mauritius. In order to make this more believable, there are license numbers included, however, it gave us the ability to recheck whether these facts were true or not. Upon checking, we discovered that the company actually lies about its legitimacy – this is something that the majority of fraudulent companies do, in order to trick new customers into their system and let them deposit as much money as possible. We advise you to always choose platforms that are fully licensed and regulated by reputable financial regulatory bodies.
CBB Review – Trading Features
In order to find out what this company does in general, we decided to discuss other trading features that are important for customers, so you make your decision more easily, based on all the valuable information.
Spreads & Leverage
Spreads are something that is very important while trading, and it is crucial that the brokerage company tells you about them. However, CBB Trading chose to hide this information, which is another indicator of their fraudulent nature. The leverage ratio is up to 1:500, which might look attractive for experienced traders, but it is very excessive for beginners and includes the risk of losing high amounts of money. It is also above the industry's average and the majority of reputable brokers like to keep their leverage lower.
Account Types
As we mentioned earlier in this CBB review, one can trade using three different types of accounts including Start, Standard, and Trader Pro. Seems like they all come with different specifications and requirements, for instance, the "Start" account offers 1:100 leverage while the same indicator for the Trader Pro is 1:500. CBB also claims that these accounts have deposit insurance, instant execution of transactions, and 24-hour personal support, however, considering all the other facts stated above, we highly doubt that this information is accurate and true.

Minimum Deposit
The minimum deposit requirement for the "Start" account is set to $1000, which is very excessive and simply too much. If you decide to visit other popular providers, you will discover that the average minimum deposit amount is somewhere between 50 and 100 USD. This once again proves that the main aim of CBB Trading is to let you deposit your money as soon as possible and if something inconvenient happens (e.g they steal your money) you will not be able to do anything about it.
Bonuses
Bonuses may be another important part of brokerage platforms, as they give them the ability to attract new customers. CBB Trading does not have such promotional offers available – this is surprising, because the majority of scammers use fake bonuses to make their platforms look more attractive, but CBB did not put much effort into it either.
All in all, the trading feature information available on the website does not look very attractive to us as they don't correlate with the industry's average and are excessive. That's why using this platform is super risky.
CBB – Final Verdict
We definitely do not recommend using this platform and the main reason behind this fact is that the company is not licensed and can not be trusted with your financial assets. What's even worse is that they lie about important features and try to trick customers into their system with false information. In addition, there are a lot of brokers available on the internet that have a legit license and do not try to steal your money.