A detailed Clicktrades review to help you understand the broker

Clicktrades Forex broker is one of the many brokers that have been operating for many years. In this time they have managed to acquire the reputation of being pretty reliable. While they might not be a fan favorite, Clicktrades provides a service that has been praised a number of times before by many a user. They have a range of services and assets they offer, as well as a reliable platform to operate with and some nice terms and conditions for the users. In this review, we are going to examine a little bit of their history, talk about their track record, the general opinion of the populace and try to draw conclusions on the subject as to whether they are reliable enough to try trading with for everyday users. Hopefully, you will be able to find all of this information useful in the future.
Clicktrades review
Clicktrades has been operating for a year at the time of writing of this review, and they are still considered to be a very young brokerage. They offer a good range of different assets to trade with, including ETFs, Forex, Bonds, Indices, Shares, and Commodities. This will allow most traders to build an impressive trading portfolio and make money across a range of assets, even though it might be the goal of the majority of their clients to keep trading Forex. Still, it is to be considered a positive aspect, since you might not want to keep trading Forex all the time. Beyond that, the company also offers its users a limited, but still existing learning opportunity. While Clicktrades FX brokerage does not provide any kind of video tutorials or web seminars, the broker does provide a general glossary of terms that might be found useful by most beginner users. Though we do wish that they would provide something a little more advanced to help the users who are needing such education before they start trading.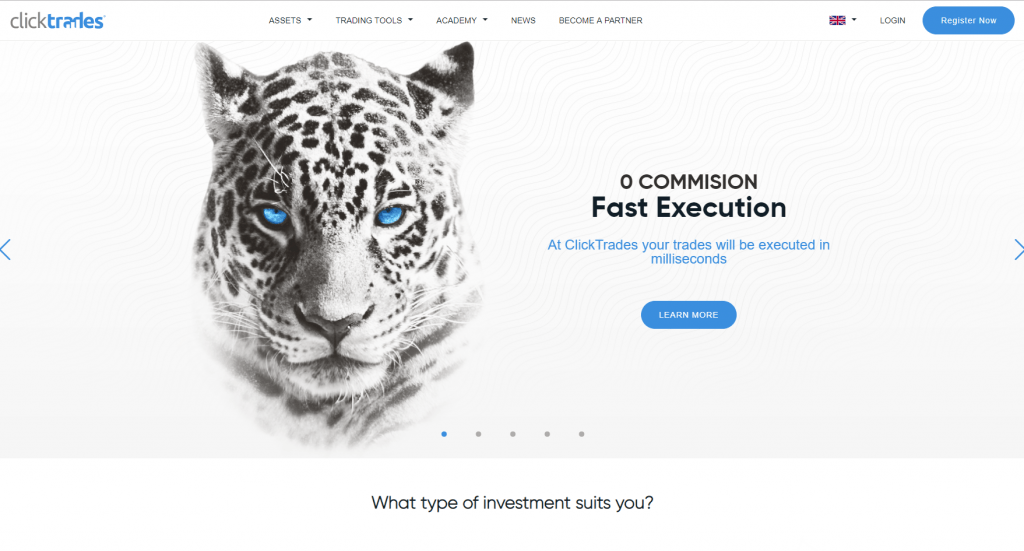 The broker is in general known for how good they are at executing trades and transactions rather quickly and without much delay, as per the users' request. They are also well known for having a wide range of options for withdrawal and depositing options so that most users will be able to find a way to do so without an issue for themselves. The broker also provides a news page where users will be able to receive all of the information on the updates that the broker is bringing to their platform or trading conditions or alternatively about the important events taking place on the market currently. Not something that affects our Clicktrades opinion too much, but definitely something many will be able to appreciate in their trading activity with the broker.
Our Clicktrades opinions of their offers and platforms
Clicktrades has two platforms working for its users right now. The WebTrader platform and the MT5 platform are almost common as MT4, and it is quite popular with most traders because of the amount of flexibility it offers to the users. WebTrader only requires their users to have a web browser that they can log into their account from and, once they have logged in, they will be able to trade whichever asset they find interesting and however much money they want. WebTrader is also rather easy to use when working from your phone, as all it requires you to do is log in from your mobile browser. Once you have done that, you have access to all of the same tools you have from your desktop based browser. Although there is a number of users who would prefer if the broker provided their users with an option to work with a different kind of platform, just so that they could have the choice. Those who would prefer the Clicktrades MT4 or CTrader might find it hard to spend most of their time on Webtrader, but thankfully MT5 is a good alternative as well. Still, Webtrader is a perfectly adequate trading platform that would permit most users to do what they would do with MT4 with ease.
The broker also offers its users several levels of accounts for their use and benefit. The three levels range from Essential to Original to Signature and require the users to deposit a minimum of a certain amount of funds to receive the benefits associated with their chosen level of account. The lowest level requires the deposit of a thousand dollars or equivalent and provides the users with all of the essentials of trading with Clicktrades. This even includes a dedicated account representative and the full access to their video library, which is far more advanced than the basic financial definitions dictionary that they provide. The higher levels of accounts provide access to additional benefits, including easy access to the research being conducted, special trading conditions, their trading central page and one on one meetings with a trading representative. All of these features, if they were accessible from the get-go, would increase the click trades rating by a whole lot, but so far, it only gives them a little boost to the reputation.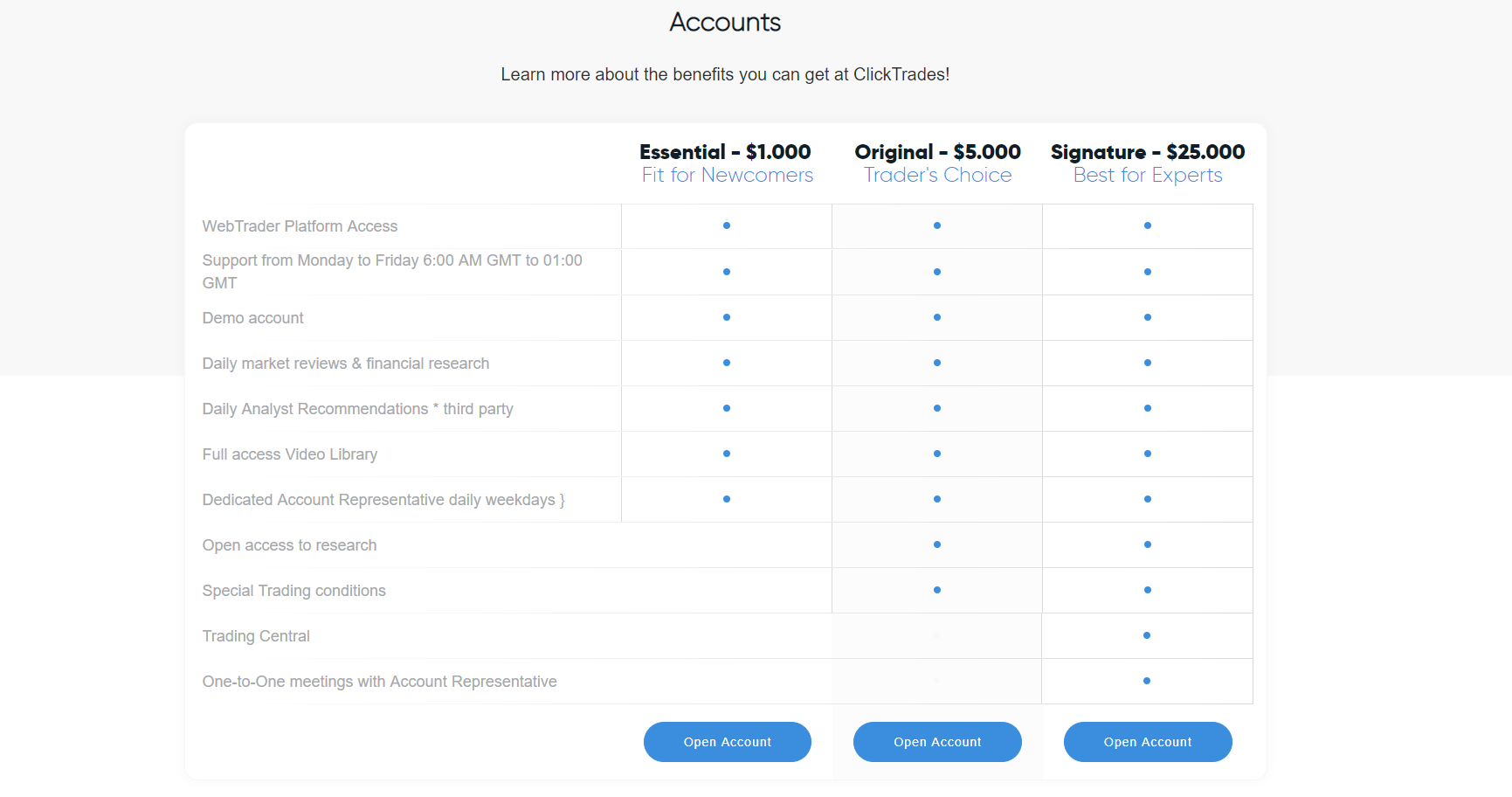 License and Reputation
The broker is located and registered in Cyprus, which allows them to be licensed for operation by FSA Seychelles. FSA Seychelles is known to be an incredibly reliable financial regulator and is known to provide some of the most reliable brokers with their licenses. The fact that FSA Seychelles gives the broker their license allows us to be positive in this review, as we have a high level of trust for the regulator.
Additionally, the majority of the click trades reviews you will end up finding online will be speaking of the broker in a positive light. While there will definitely be those who will have negative things to say about the broker, the fact that most have only positive things to say means that the broker can be trusted by everyone.
Is Clicktrades fraud?
After taking a close look at what they offer and how they offer it, we are confident enough to say that clicktrades is not Fraud. Far from it, we believe that it is a reliable broker to work with, even if not one of the best brokers to work with currently. If they start providing other platforms for their users to trade with and start offering a better educational platform, our conclusions might change though. So, is Clicktrades legit? Yes. But is it the best broker? No. Still worth your time.