CPT Markets Review – Are these conditions actually real?

The profitability of your trades depends on a huge set of probabilities. It can include your fundamental knowledge of trading mechanics, the experience on the market, as well as your psychology when entering the market.
But besides these internal aspects, it is also important to consider some of the major external factors that can lead you either to success or failure. One such factor is choosing the right broker.
We want to help you avoid scammers in your trading career as best as we can, which is why we offer yet another review of the CPT Markets Forex broker. Want to find out whether its platform is safe to use? Then read our comprehensive review.
Initial impressions
CPT Markets is a Forex trading brokerage that mainly operates from Belize. This simple fact already sets the mood for our entire review; choosing Belize as the main country of operations indicates that the broker wants to be relatively free in its activities; without regulations and whatnot.
The first segment of our review will be CPT Markets' website. As we're going to see further down below, the interface of this website looks a little amateurish and not too enticing to the visitor's eye. Granted, the website provides information about pretty much everything, it is quite brief and not very insightful.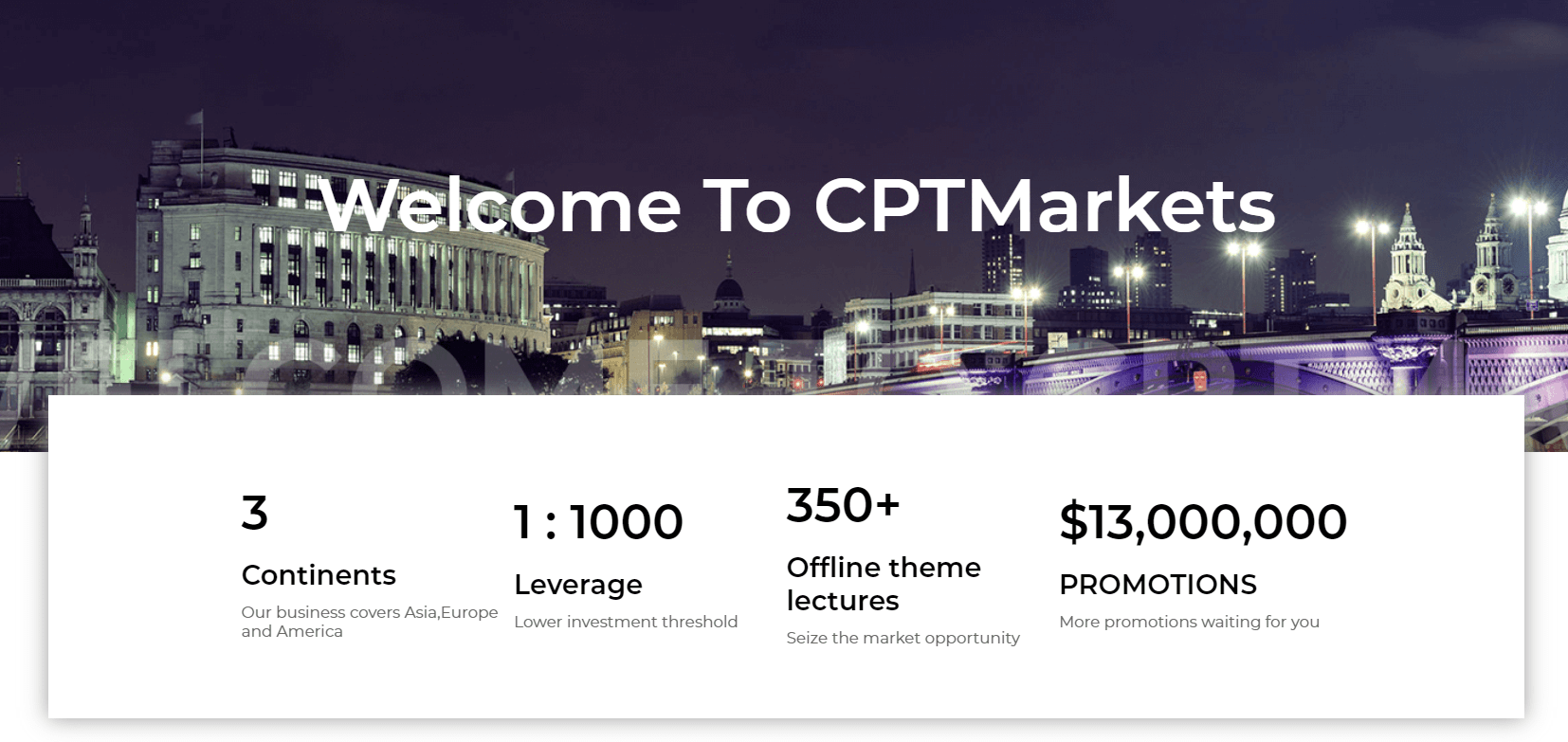 As for the accounts, we only found one standard account that should fit all traders' needs. This, in our CPT Markets opinion, is definitely a disadvantage that doesn't really include either beginner or experienced traders and is more targeted for the people in-between.
Next, we're going to discuss the broker's regulations. As we've found out, CPT Markets is licensed by the Belize International Financial Services Commission (IFSC). Yet the broker also claims to be regulated by the UK's Financial Conduct Authority (FCA), which, if true, can really disperse all our suspicions.
Finally, we're going to move to the actual trading terms and conditions. First off, even though CPT Markets is a Forex broker, it also offers other instruments from commodities, indices, and even cryptocurrencies.
Despite such diversity in tradable instruments, we have to note that the conditions following them seem quite a bit suspicious to us. For instance, the leverage up to 1:1000 includes lots of dangers that can easily put your account into the negative balance.
The same suspicions spill over to other conditions like spreads and the minimum deposit requirement. We'll discuss these in the final chapter of our CPT Markets review.
All in all, the details that we've found during this review show that there's something inherently wrong with CPT Markets. Now, let's dive a little deeper and tackle all of the issues individually.
The Cptmarkets.com review
As we have noted above, CPT Markets doesn't have a very polished website. Even though the background is mostly blank and simple, there are occasional wallpapers that throw the visitor's attention. Besides, the sections are ill-designed with no obvious transition from one to the other, which is the worst website optimization one can devise.
When it comes to obtaining information, we can admit that the basic data was easily accessible, although even here we struggled to find more detailed trading information. It's like the CPT Markets FX brokerage merely mentions these details and that's it, no further follow-up.
Next up, let's take a look at which live accounts you can get at CPT Markets. As we have found out, the broker only offers one Standard account that is very weirdly named as STD – yes, that's actually what they're naming it.

As for the features that are on offer here, you're getting everything that is available at CPT Markets, including a bunch of instruments, ultra-high leverage, etc. As stated before, a broker that only offers one account cannot really hope to cover all the traders' needs – neither the most novice nor experienced ones.
Finally, let's have a look at the broker's trading platforms and see how they facilitate trading at CPT Markets. The broker offers MetaTrader 4 and cTrader to its clients, which, admittedly, is a decent array of trading platforms. Both CPT Markets MT4 and cTrader are high-end pieces of software that support fast executions, professional research tools, etc.
However, the next chapter about the license will show that no matter how streamlined the trading platform looks, if the broker doesn't abide by strict financial guidelines, you shouldn't expect that anything will stand in its way to scam you.
Should you trust CPT Markets' license?
Moving on, let's dive deeper into regulatory measures at CPT Markets and make sure that there's no funny business going on here.
In the first chapter of this review, we said that CPT Markets is registered in Belize. The exact address of the registration is 2118 Guava Street, Belama Phase 1, P.O. Box 1920, Belize City.
Now, as the broker claims, its actions are regulated by the Belize International Financial Services Commission (IFSC), which is the country's main financial regulator. But there's more: CPT Markets even claims that it is also regulated by the Financial Conduct Authority (FCA) of the UK.
If the second claim was actually true, we would have nothing against this broker and all the CPT Markets scam suspicions would immediately be nullified. However, judging from all the overzealous and suspicious trading offerings, we think that listing the FCA license is a farce and nothing more. The broker tries to use this license to reinforce the less prestigious IFSC license, and its prestige at the same time.
However, we're not that easily tricked. The more realistic IFSC license from Belize is a very weak regulatory material that cannot really hold CPT Markets to high financial standards; the Belizean government isn't exactly up to that task. Therefore, we're not going to recommend you trading with this brokerage.
What do the trading terms and conditions look like?
Finally, we'll dive deeper into the most important trading terms and conditions that you're going to get at CPT Markets. First off, we have to note that there are many instruments that you can trade, namely:
Currency pairs
Crude oil
Precious metals
Indices
CFDs
Digital currencies (cryptocurrencies)
The fact that you have this many options available is definitely a plus, yet we think that the conditions that come with them are a little bit suspicious. For instance, one of the main offerings driving our CPT Markets fraud suspicions is the leverage. The broker offers a maximum of 1:1000 leverage, meaning you can effectively trade with $100,000 with just 10 USD of investment.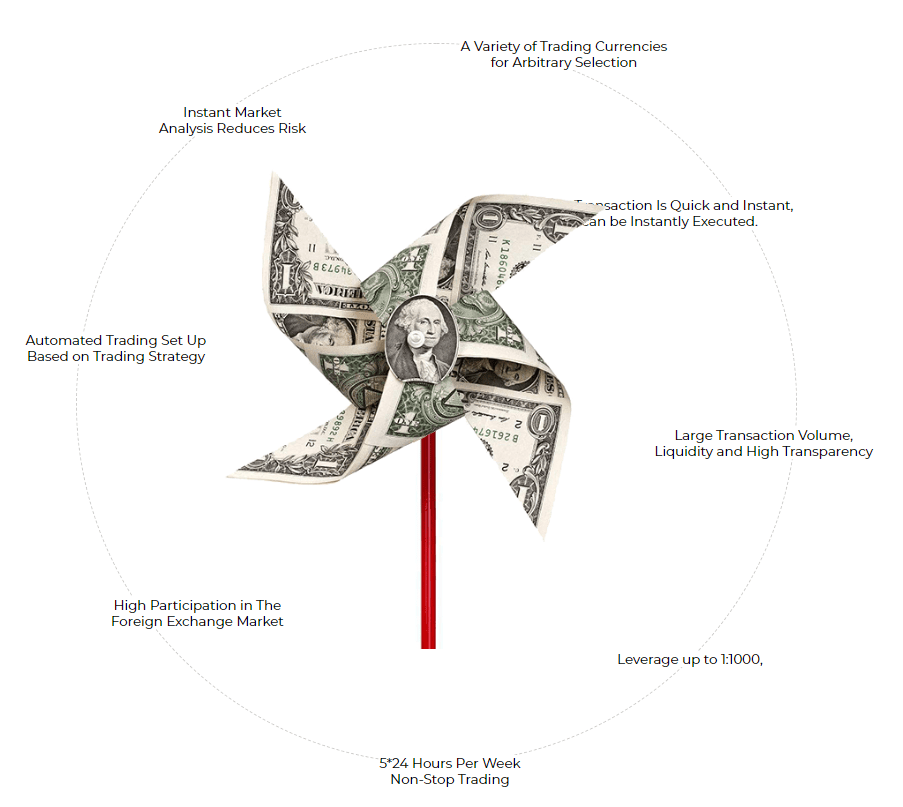 Now, it's for sure that the leverage this high will make your profits instantly larger, however, it does exactly the same thing for losses, which is almost always more destructive than the advantage of the higher profit. Unfortunately, CPT Markets doesn't sufficiently warn its clients to use as much caution as possible with this feature, which is why we're suspicious of the broker's credibility.
Next up, let's talk about spreads. CPT Markets charges variable spreads on bid/ask prices that start from 1.8 pips. In our opinion, this is a pretty regular spread quote that doesn't go too overboard with its shallowness, yet it certainly isn't a very beneficial offering either.
When it comes to the minimum deposit requirement, however, we have to say that CPT Markets definitely goes way too overboard with just how high its requirement is. Demanding 500 US dollars for a single trading account is a very high threshold for a Forex broker, and certainly the one that will automatically opt many beginners out of this platform, which is why our CPT Markets opinion is not too high.
Finally, we should take a look at how you can actually make deposits and withdrawals on the platform. For deposits, you can use:
Visa/MasterCard credit cards – immediate transactions
Wire transfer – 2-3 working days
UnionPay – immediate transactions
USDT – depends on the bank
QR code – 1-3 working days
Online banking – 1-3 working days
SSAC – depends on the bank
As for withdrawals, you can use:
Wire transfer – 1-3 working days
UnionPay – 1-3 working days
Online banking – 1-3 working days
There is no support for more established e-wallets such as Neteller, Skrill, or PayPal, not to mention Bitcoin or other cryptocurrencies. Besides, not supporting credit card withdrawals is an even bigger disadvantage for CPT Markets.
Our ultimate CPT Markets rating
So, now that we've reviewed the CPT Markets Forex broker, what is our ultimate opinion about its credibility? Should you trade with this broker based on everything we've just said?
Well, let's have another look: CPT Markets has a very low-level website that briefly discloses all the necessary details about trading terms and conditions. The broker also offers a very limited account base that only includes one live account.
As for the regulation, we're sure that the statement about the FCA license is a lie and CPT Markets only has an IFSC license from Belize, which is a lot weaker compared to its UK counterpart.
Finally, we examined the actual trading numbers and noted that the majority of them, including the leverage and the minimum deposit requirement, are very suspicious.
In short, we don't think that it's the best idea to trade with this broker. You'd rather find a more reliable company that actually cares about your interests.