CryptoGT Review – A trustworthy crypto brokerage?

One of the biggest challenges every trader faces is choosing a brokerage. Whether you're a Forex aficionado or a Hodler, the importance of a trustworthy trading partner can hardly be overestimated.
A trustworthy Forex broker can positively impact your trades; it can deliver some of the best tools and features to increase the lucrativeness of your trades and minimize losses as much as possible. On the other hand, there are scam brokers that do nothing more than trick clients into opening accounts with loads of false offerings and big requirements, which eventually ends with nothing more than a robbery.
So, you want to be careful when choosing a broker. To contribute something in that process, we have decided to prepare the CryptoGT review where we take a look at everything important offered at the broker's website. So, let's not waste any more time and get right to the review.
The website and software support
First off, let's begin our review by taking a look at the website and its design. At first, we didn't really mind the interface and visual decorations. The combination of aqua and light blue colors with rich wallpapers seemed nice at the beginning, but once we dove deeper and played around the website, we convinced that a complicated design is almost always a bad idea on a Forex trading platform – it takes away users' attention from what's important.
As for the informative aspect of the website, we had a hard time finding some of the important details such as the license, spreads, or the year of establishment. On the other hand, the broker heavily pushes its fancy offerings like the leverage and zero commission rates, which we'll discuss further down below.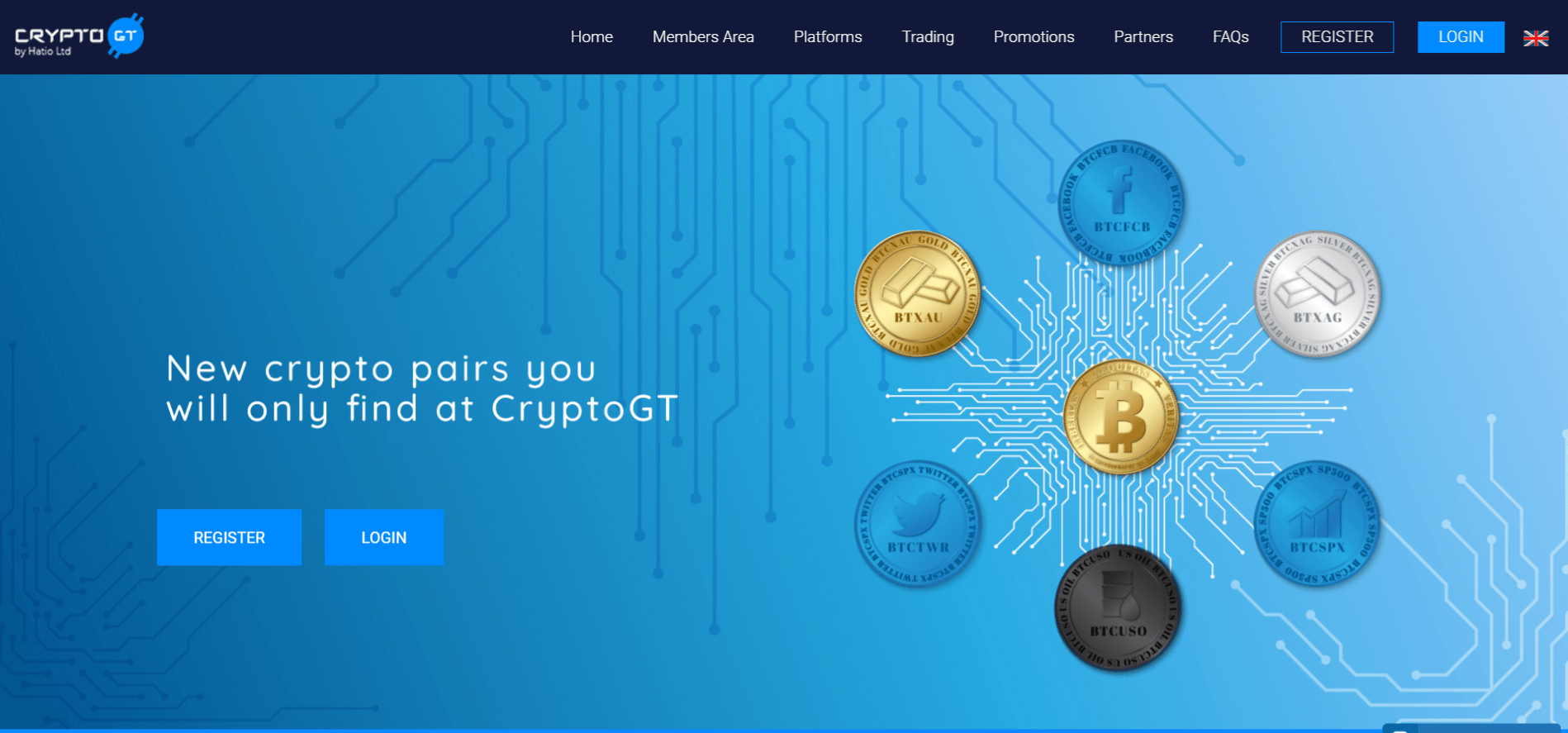 Another problematic thing about the website is that it only offers one account. Sure, there's also a demo account for beginner traders to hone their trading skills but what really makes the world of difference is a live account. And having only one account is a big downside, considering how many brokers are offering three or more different packages.
When it comes to the trading software, the CryptoGT Forex broker has one MT5 platform that is available for desktop, browser, and mobile platforms. In this case, we have nothing to complain about because it is a widely known fact that MT5 is far better software to use for asset classes other than Forex pairs. However, it would be better to incorporate both MT4 and MT5 and use the first one for Forex – which is a better choice for beginners and traders of that asset, while MT5 would be dedicated to other instruments.
Can CryptoGT be trusted for its license?
The second important segment of our review is licensing. We always stress that a trustworthy broker can be found with only the examination of its license; it provides information about where the broker was registered, which financial rules is it following, and how strictly those rules are enforced.
Unfortunately, we have to say that there was no legit license to be found at the CryptoGT FX brokerage. The broker points out that it was registered in Majuro, the Republic of the Marshall Islands; it even provides the number of registration. However, when it comes to the actual regulation, there's no mentioning of any specific license.
This leads us to believe that this broker is unregulated and there's a high chance of the CryptoGT scam. With every unregulated broker, the chances of that are always very high and you should avoid them at every cost.
Are trading numbers real?
The final piece of this review is trading terms and conditions. We'll start by reviewing trading instruments. As the name suggests, CryptoGT is mainly a cryptocurrency trading platform and offers over 50 different crypto pairs.
However, there's also other asset classes like Forex pairs, shares, indices, and more. To give the devil its due, this level of diversity is always beneficial to traders. But when it comes to the conditions accompanying those assets, we have something else to say.
The leverage that comes with crypto pairs, as well as Forex pairs, can go as high as 1:500. Now, to get a better idea of why leverage this high is a bad deal, you should keep in mind that this tool acts as a double-edged sword whereby it increases both profits and losses. Besides, crypto pairs always come with the maximum leverage of 1:50; 10 times higher multiplication rate is very dangerous to the safety of the traders' account balance.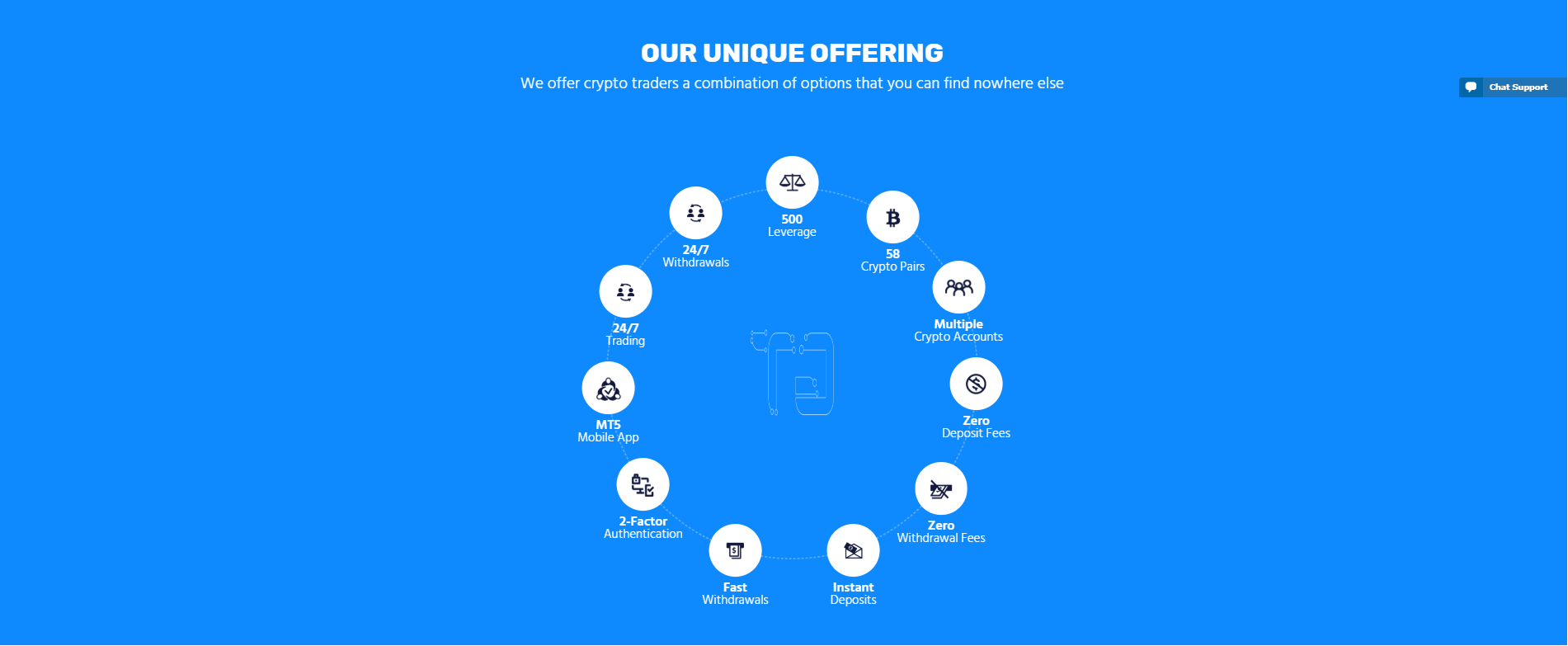 Then there's the whole other problem with spreads. Just like the license, CryptoGT doesn't say anything specific about spreads that accompany Forex pairs and other assets. This level of secrecy is not something that should be appreciated by any trader; it hints at a dangerous attitude of the broker.
When it comes to the minimum deposit requirement, the broker requires a very low 0.0001 BTC deposit from its clients, which is yet another suspicious thing in our opinion. The majority of credible brokers require clients to deposit around $100-$200 to open live accounts, yet CryptoGT asks them to deposit a mere $1 (sometimes even less). This certainly doesn't increase our CryptoGT opinion as it suggests that the broker may be hiding something underneath this flashy condition.
Finally, let's talk about financial platforms. In this case, there's nothing fancy or flashy about deposit and withdrawal methods. If anything, they're bland and uninspiring.
The only way you can deposit/withdraw money at CryptoGT is via cryptocurrencies. This means that if you're a Forex trader, you have to use some of the most volatile assets to actually start trading.
Ultimate CryptoGT rating
Let's round everything up:
CryptoGT is a crypto trading broker that offers assets in Forex, stocks, and other markets. The Cryptogt.com review has shown that the broker has an overcooked website that undermines the informative side of the website.
Software support is also pretty underwhelming if we not take MT5 into account, which is one of the brightest parts of the broker.
Then we reviewed the license and found out that there's absolutely nothing that restricts CryptoGT's actions. And considering very suspicious trading offerings, we're bound to say that the CryptoGT fraud may actually be the real deal.
Therefore, you should try to stay away from it.