CWG Review – A trustworthy broker or just another fraud?

Your "ideal" Forex broker should be an entity you trust no matter what. You know that if something happens to the market or if you make a wrong turn, it'll be there for you and protect your finances.
Unfortunately, finding such a brokerage is sort of difficult to find. That's because fraudsters have found ways to become dangerously similar to trustworthy brokers; they're copying their website designs, promoting their so-called licenses, and bragging with their flashy conditions.
With that said, it's still possible to distinguish one from the other. And we're going to do just that in today's CWG Forex broker review. So, strap on, and let's get going.
The Cwgsvg.com review
Initially, we should talk about the website and the design choice of the broker. When we entered Cwgsvg.com, we immediately had the impression that we had already seen such a design. In fact, the front page with its highlight features, the combination of black and red colors, and even black backgrounds made us think of another brokerage that is far more established and is widely known to be trustworthy.
So, it's copied design what we're trying to say. And it already says a lot about the CWG FX brokerage; apparently, the broker decided to take a shortcut and copy someone else's work, which is something we described in the introduction about how scammers tend to shapeshift into more credible brokes' forms.

To give CWG some credit, we can acknowledge that the website definitely contains information about everything we wanted to know, be it leverage, spreads, or deposit/withdrawal platforms – even though the legitimacy of those promotions can be debated.
The next important segment we wanted to examine was trading accounts. As we found out, CWG offers four different account types:
Instant – $10 min. deposit
Classic – $50 min. deposit
Advanced – $200 min. deposit
Institutional – $50,000 min. deposit
The more you pay, the shallower the spreads get, yet the leverage ratios also go down significantly. Now, diversity is always a commendable characteristic, be it in account packages or payment methods, however, we think that a regular trader should opt for the Instant account that offers pretty much everything from CWG promotions and has the highest leverage offering – although we're going to see why this much leverage is very dangerous in the upcoming segment of our review.
Finally, we examined available trading platforms at CWG. The broker currently offers two widely-used platforms to its clients: MetaTrader 4 and MetaTrader 5. The two pieces of trading software are very popular among Forex brokers, as well as traders, because of their stability and complexity. We have nothing bad to say about it, except that if there was a CWG scam, even these platforms wouldn't stand in the broker's way.
Should you trust CWG? – The license overview
After reviewing the website, our team went on to explore regulatory measures at CWG. The name of the website, Cwgsvg.com, already indicates that the broker has something to do with St. Vincent and the Grenadines.
And unsurprisingly enough, we were right. CWG is a brokerage owned and operated by CWG Markets, which is itself registered at the following address: Suite 305, Griffith Corporate Centre, mailing address: POBox 1510, Beachmont Kingstown St.Vincent and the Grenadines.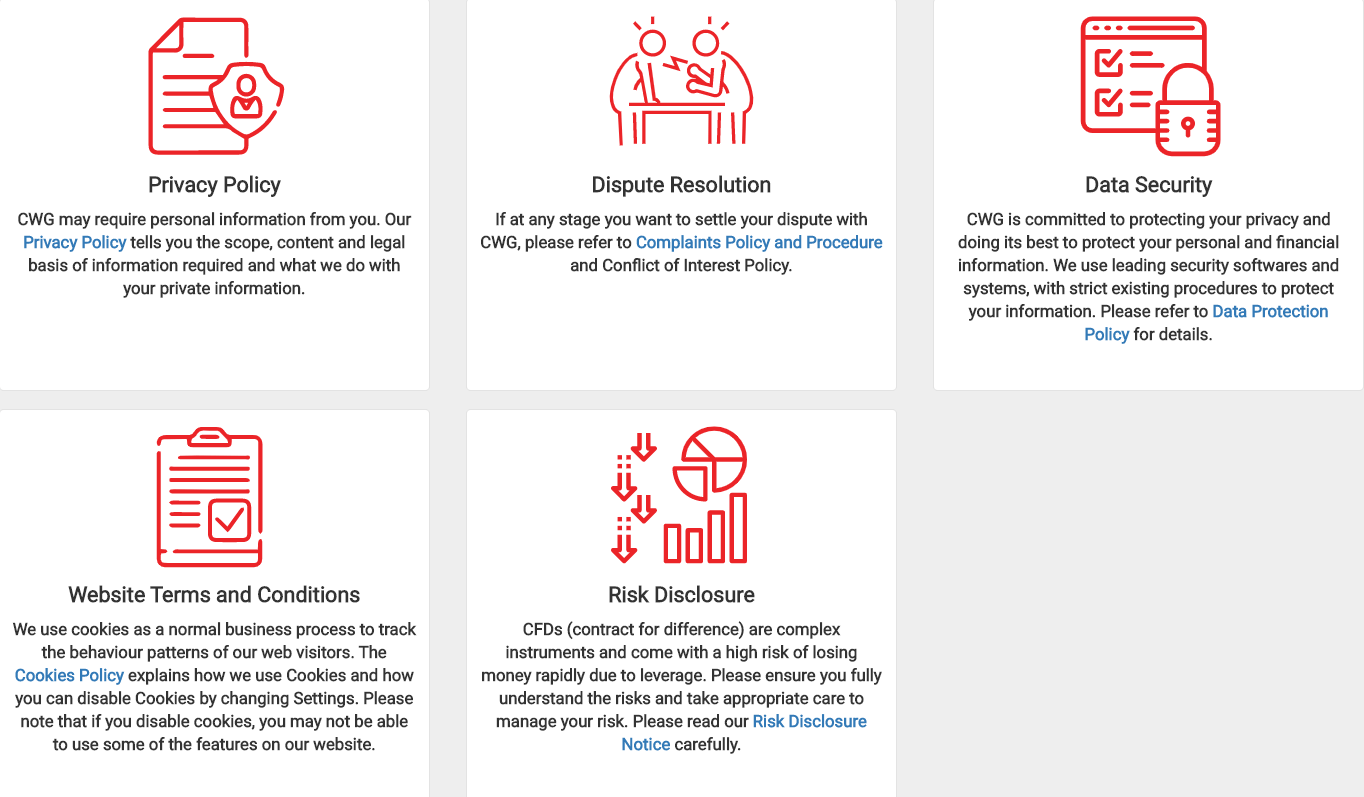 The broker claims it has a license from the SVG Financial Services Authority (SVGFSA), which is the main financial regulator in the country. However, we're not convinced by that claim as we remember the announcement of the St. Vincent and the Grenadines government that it doesn't regulate, or even associate itself with, Forex brokers.
Having said that, we're bound to assume that the broker is unregulated and the CWG fraud may, in fact, be real.
Are CWG promotions to be trusted?
The final segment, and probably most interesting for the majority of traders, of our review is trading terms and conditions offered by CWG. As we noted in the website overview, we didn't really have hard time finding details about them.
Currently, CWG lets its clients trade:
Forex pairs
Precious Metals
Indices
Commodity Features
CFD Spot Energy
CFD Stock
Again, the diversity of tradable instruments is really good, and we have nothing against it, however, when we actually examined various numbers and offerings that come with those instruments, we were a little bit alarmed. Let's start with the leverage and spreads.
The maximum leverage ratio available at CWG is 1:500. As you may already know, leverage acts as a double-edged sword: one edge hits profits and increases them significantly; the other edge hits losses and increases them by the same rate. Therefore, both users and providers of the leverage should be very careful with their "generosity" – something that's totally missing in this CWG review.
Our suspicions spilled over to spread conditions as well. As CWG claims, its bid-ask spreads on Forex pairs can go as low as 0 pips, meaning it won't charge the clients with a single penny. Now, what is wrong with this offering?
Well, Forex brokers usually depend on spreads and commissions to support their platform financially. More often than not, they do away with commissions and focus on spreads only. At CWG, we found out that the only two accounts that charge commissions are Advanced and Institutional, which are only going to be used by the most advanced clients of the broker. This effectively means that CWG basically says no to commissions, as well as spreads. This begs the question: where does CWG get money to fund its services? We have some suspicions that don't really elevate our CWG opinions.

We have the same suspicions about the minimum deposit requirement. As you saw earlier, the Instant account only has a $10 requirement, which is a very minuscule condition from a Forex broker. It gives us the same impression that CWG promotes its fancy conditions to attract as many clients as possible and then charge them with additional costs after the fact.
Our impression that CWG doesn't give out as much as it wants to receive is further strengthened by the bonus platform offered by the broker. As we found out, CWG offers two different bonuses:
$100 bonus & Instant account
10% welcome bonus
Now, these bonuses are definitely a great addition to the platform, there's no doubt about it, however, they're very minuscule and insignificant. The broker doesn't really spend much to offer these promotions.
Finally, we stopped by to check out financial platforms that power CWG withdrawals and deposits. Again, there's a separate section for both deposits and withdrawals on the broker's website, which is quite nice. However, the sections don't really have the level of diversity we saw in trading instruments and accounts.
Traders can make payments via Visa/MasterCard credit cards, Neteller, Skrill, Paysafe Cards, and UnionPay. These platforms aren't charged either for deposits or withdrawals. Deposits are instant while withdrawals take anywhere from one to three business days. Now, even though it's nice to see e-wallets in this section, it would've been so much nicer to also have PayPal and Bitcoin as additional payment methods. This would make deposits/withdrawals much safer and faster.
The ultimate CWG rating
Now that we've come near to the conclusion, let's sum up everything we've discovered in our CWG review:
CWG is a Forex trading broker that also offers many other instruments. Its website is a complete copycat of another, far more trustworthy broker, while the information provided is sort of decent.
We have discovered that the broker doesn't actually have a properly functioning license and the claim of the SVGFSA license is nothing more than a farce. And trading terms and conditions are very suspicious because of their bloated nature.
In short, we think that the question of "can CWG be trusted?" has an outright negative answer. You should try to stay away from suspicious brokerages, even if they don't turn out scammers.