Deriv Review – Should You Trade with this Broker?

Finding a trustworthy Forex broker is as important a task as improving knowledge and experience in financial trading. If you fail to find such a broker, you'll risk losing your money in a scam, yet a trustworthy broker can help increase your chances of success quite a bit.
In this Deriv broker review, we will help you discover the truth behind the trading terms and conditions offered on this platform. We'll also find out whether the regulations found on the website are legit or not.
So, make sure to read this review in full to know if you can trust the Deriv Forex broker.
What does the website look like?
The first entry in our review will be the broker's website and software support. As we visited Deriv.com and looked around, we discovered that the interface leans more towards visual sophistication than informative perfection. This means that you'll find decent visual decorations but finding the necessary information will be a bit of a struggle.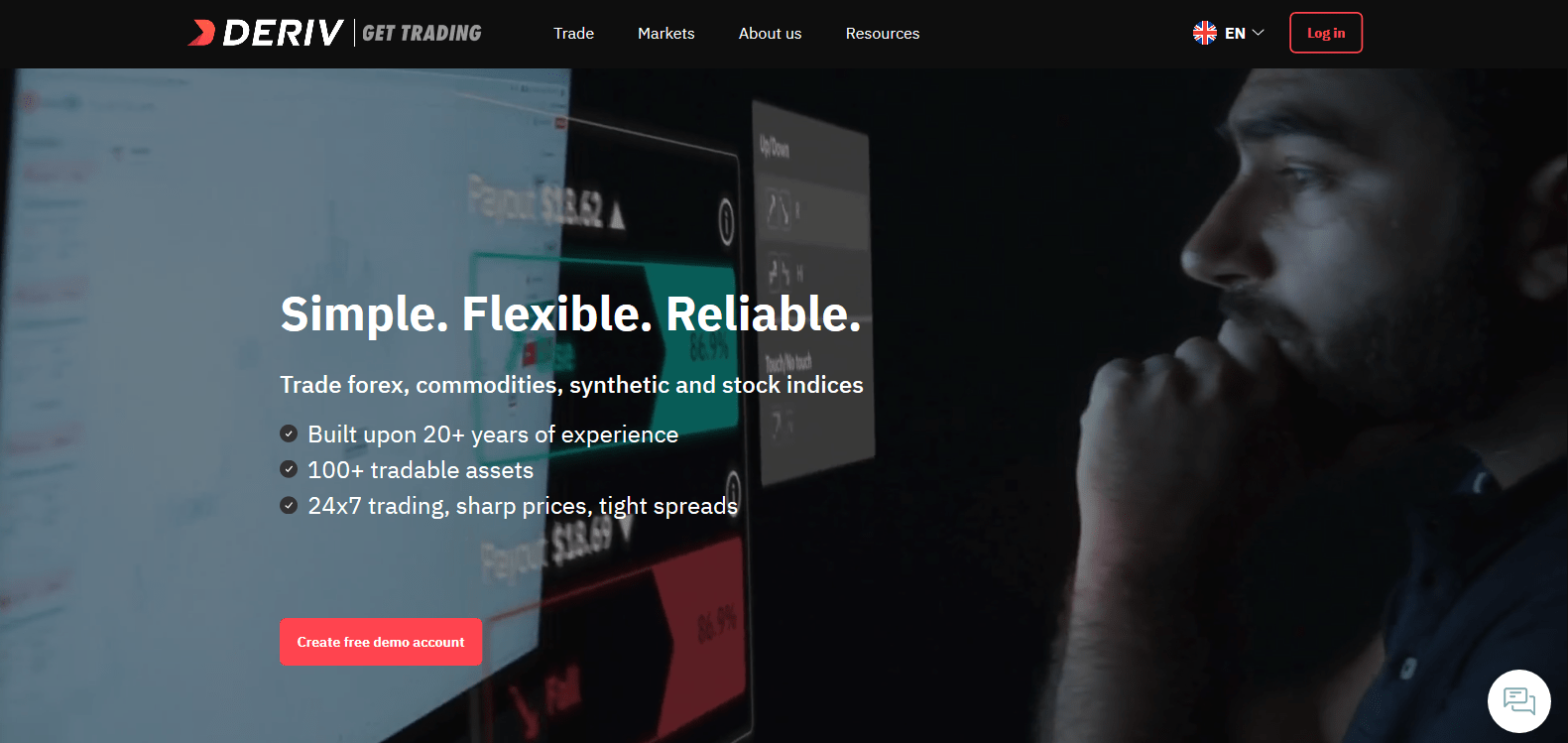 This immediately gives off the impression that Deriv wants to hide some of the details with flashy decorations. Besides, we had a hard time finding many trading terms and conditions, be it the maximum leverage, order execution, or financial safety measures.
After the website overview, we went on to check out the broker's trading accounts. After a lengthy search, we finally found that Deriv offers you three trading accounts: Financial (Standard), Financial STP, and Synthetic accounts. All of them support the maximum leverage of 1:1000, which might seem like a great offering but as we'll find out further down below, it's not.
Besides these live accounts, our review of Deriv Forex broker also shows that you can create a demo account on the website. And while this certainly is an advantage for you, it's still not a huge accomplishment for the broker itself; pretty much all Forex brokers offer a demo account to their clients.
As for trading platforms, Deriv features MetaTrader 5 as the main software to use. In its credit, MT5 is a top-class trading platform that has lots of sophisticated tools and features. And in addition to that, you can also get Deriv's own platforms like DTrader, DBot, and SmartTrader.
Is Deriv legit with its licenses?
Next up, let's talk about Deriv's regulatory framework. If you want to find out whether a broker can be trusted or not, check out its licenses and you'll have a pretty straightforward answer.
With Deriv, we got that answer very easily. As the bottom notice of the website points out, Deriv has licenses from four individual regulators:
Malta Financial Services Authority (MFSA)
Vanuatu Financial Services Commission (VFSC)
British Virgin Islands Financial Services Commission (BFSC)
Labuan Financial Services Authority (LFSA)
Now, the sheer number of the above-mentioned regulators can easily convince an unexperienced trader that they're looking at a legit broker and the Deriv scam cannot be further from the truth. However, as you delve deeper into the world of Forex legislation and get the gist of how these regulations work, you'll immediately realize that it's not all rainbows and sunshine.
Even though Deriv claims to have licenses from the MFSA, VFSC, BFSC, and LFSA, it's still not proof enough to convince us in its credibility. All of the regulators mentioned above come from third-world countries with no political or economic prowess. Therefore, when it comes to ensuring high financial standards and punishing the violators, they cannot be trusted. Especially since Deriv claims to have a global presence in a variety of countries.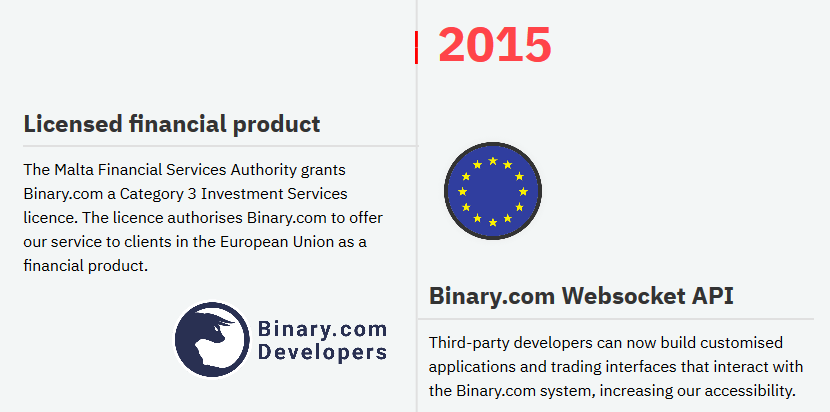 In general, in order to consider a brokerage safe to trade with, it should feature at least one license from a Tier-1 regulator. In Forex, such regulators come from the UK (FCA), Australia (ASIC), Cyprus (CySEC), and Germany (BaFin), among many others. Now these are the regulators you'd want to entrust your financial security, not the third-level bodies that cannot even regulate their subjects within the country borders.
Are Deriv promotions trustworthy?
The last section of our Deriv Forex broker review will be its trading terms and conditions. We'll discuss everything from tradable instruments all the way to commission rates and leverage ratios.
As we have discovered during our review, Deriv offers you 100+ tradable assets, which fall into four categories:
Forex
Synthetic indices
Stock indices
Commodities
Deriv also offers binary options trading, which could be considered an advantage, although in a very strict set of conditions.
Now, even before we go any further, there are two aspects that undermine Deriv's credibility: synthetic indices and binary options. These are two of the most suspicious tradable assets that you can get from a broker.
A synthetic index is an asset that abides by simulated market developments that are supposedly recreated by random software. And through the randomness of the algorithm, the broker doesn't get any benefits from it. However, the real-world experience says otherwise: that brokers do tend to skew the algorithm and turn it into a gambling machine, where the odds are always in favor of "the house".
As for binary options, it's already a fact that the majority of options trading brokers are scammers. Because of the nature of options – you either get or lose everything – it's very easy to lose rather than win, and the brokers have a lot to do with this outcome.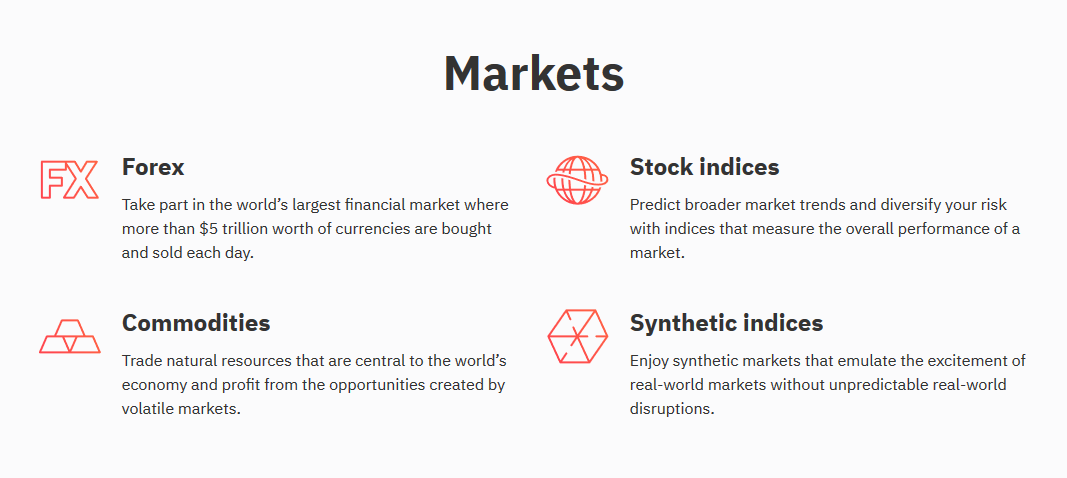 Next up, let's talk about the terms and conditions that come with these assets. As we saw during our Deriv review, the maximum leverage you can get with Deriv is 1:1000, which is way too high for a safe territory. Leverage set that high can easily destroy your entire account in just a couple of trades.
As for commissions, Deriv also claims in a suspicious circumstance that it doesn't charge spreads and the only commissions are instrument fees from 0.015%. When we see a broker that supposedly has such low commission rates, we always assume that it actually has hidden fees or even fraudulent sources of income. And with Deriv, it's not an exception whatsoever.
Should you trade with Deriv?
So, after everything we've discussed in this review, should you entrust your money with Deriv? Are you going to be safe by trading with this broker?
Well, considering that it sacrifices the informative aspect of its website for visual decorations, which is not the best move for a Forex broker. The same pattern can be seen in the regulatory claims: while Deriv supposedly features 4 individual licenses, none of them are actually effective in monitoring the broker's actions.
And as for trading terms and conditions, our suspicions of the Deriv fraud are getting even more founded. Therefore, we cannot safely recommend you to trade with this broker.