Discount FX review – is the broker worth a try?

This Discount FX review was supposed to be a breath of fresh air for our reviewers, but it turned out to be quite a hassle to give it a well calculated and measured rating, simply due to the fact that their offerings are pretty much all over the place.
One important detail that we need to add is that contrary from other brokerages that we've reviewed here, Discount FX seems to have a legitimate license from the Cyprus Securities and Exchange Commission, and is a subsidiary of GBE Brokers Ltd.
A small issue with the regulation
One very small gripe that we thought was a contributor to the Discount FX scam argument was that it's GBE Brokers that holds the license and not the subsidiary itself. Furthermore, the branch office in Germany does not facilitate a BaFin license either.

But that was was pretty much the only argument about the scam possibility, which although doesn't confirm the scam, does put a small dent in the overall trustworthiness of the company. All we're saying is that if this small gripe didn't exist, the rating for Discount FX would have been much higher.
But documents and regulation aside, let's look at what Discount FX offers from a technical standpoint.
Discount FX review – the trading conditions
Here we will discuss the overall trading conditions with Discount FX and how they compare to the rest of the market. Consider the fact that we will be comparing them to companies located in the European Union which is quite the challenge.
Low spreads and leverage
One of the main benefits that we've seen from our Discount FX review is the low spread availability with the brokerage. They try to promote it as 0 pips per one standard lot, but further investigation confirmed that on major currency pairs like the EUR/USD it's more likely to be around 0.4 pips per standard lot.
Considering that the EU market standard is around 1.1 and 1.3 pips per standard lot, this offer can be considered as a relatively nice bonus for the brokerage.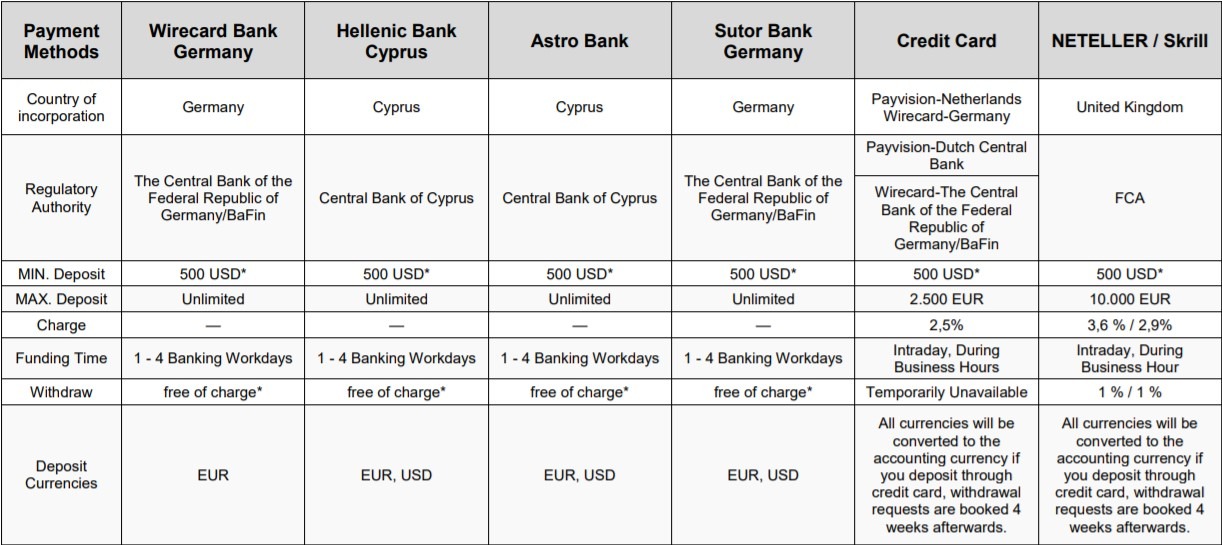 When it comes to leverage though, Discount FX as a Forex broker doesn't really compete with the rest of the market. For example, there are other options that offer as much as 1:1000 leverage on major currency pairs for beginner accounts, while Discount FX has a maximum cap of 1:200.
Deposits and withdrawals
There are several ways that Discount FX withdrawals and deposits work. For example, there are specific banks that the brokerage supports, but not all of them could have branches in a customer's country. Therefore the brokerage offers options for Skrill as well as Neteller.
Deposits
The minimum deposit as it stands is $500 USD across all methods with no fees and the maximum is unlimited besides credit card and Skrill/Neteller transactions. For them, the max amount is EUR 2,500 and EUR 10,000 respectively.
The only options that come with fees are from the unpartnered sources like the companies described above.
Withdrawals
Now, this is where we found yet another gripe that we have with the brokerage. All withdrawals are charged with a 0.15% fee that has a minimum of $20 cap.
Meaning that if you're willing to withdraw around $100 from your account, you're getting $80 in reality.
Withdrawal fees have so far been sighted with only fraudulent companies or with entities not too competitive on the global markets. We didn't want to say it but, this also adds a few arguments to the whole Discount FX scam rumor.
Is Discount FX legit?
After so much deliberation and research Discount FX has indeed turned out to be one of the hardest choices to make in terms of trustworthiness and whether or not the broker is worth it for the long term.
Considering that the spread options are great for the profitability, what we need to consider is that the limited amount of leverage offered diminishes that profitability by a significant margin. Even if the spread was 1.1 but the leverage was gearing up to 1:300 at least, it would still be more profitable.
Then there's the whole Discount FX scam argument which just throws all of the positivity into the trash bin. Although it isn't confirmed, even the slightest doubt is enough to make a trader uncomfortable during a session, which can be devastating.
In the end, we prefer that you remain on the safe side. Unfortunately, we cannot recommend Discount FX brokerage as it is right now, simply because there are too many questions and competition field much better options for traders.