DOW500 Review – What is this broker all about?

If you're an experienced Forex trader and have been buying and selling currencies for a while, you'll know that one of the essential elements of this business is the broker. A broker is your trading counterparty – someone that provides various tools, features, and the whole trading platform to facilitate a smooth experience for you.
However, it is unfortunate that not all brokers are focused on ensuring a great customer experience; some just want to get as many clients and make them pay for various shady offerings. These are called scam brokers and they're the plague of the industry.
Our Forex News Now reviewing team is determined to help you avoid such brokerages, that's why we have prepared this DOW500 review to give you a better idea of what this broker offers and whether it is trustworthy to trade with.
The website teardown
The first element of our review is the website. As we fired off Dow500.com, we noticed that the design is excessively filled with visual effects and saturated wallpapers. The rich blue-violet background is a very poor color choice as it significantly affects the viewers' eyes and distracts them from what's really important – getting the information about the broker.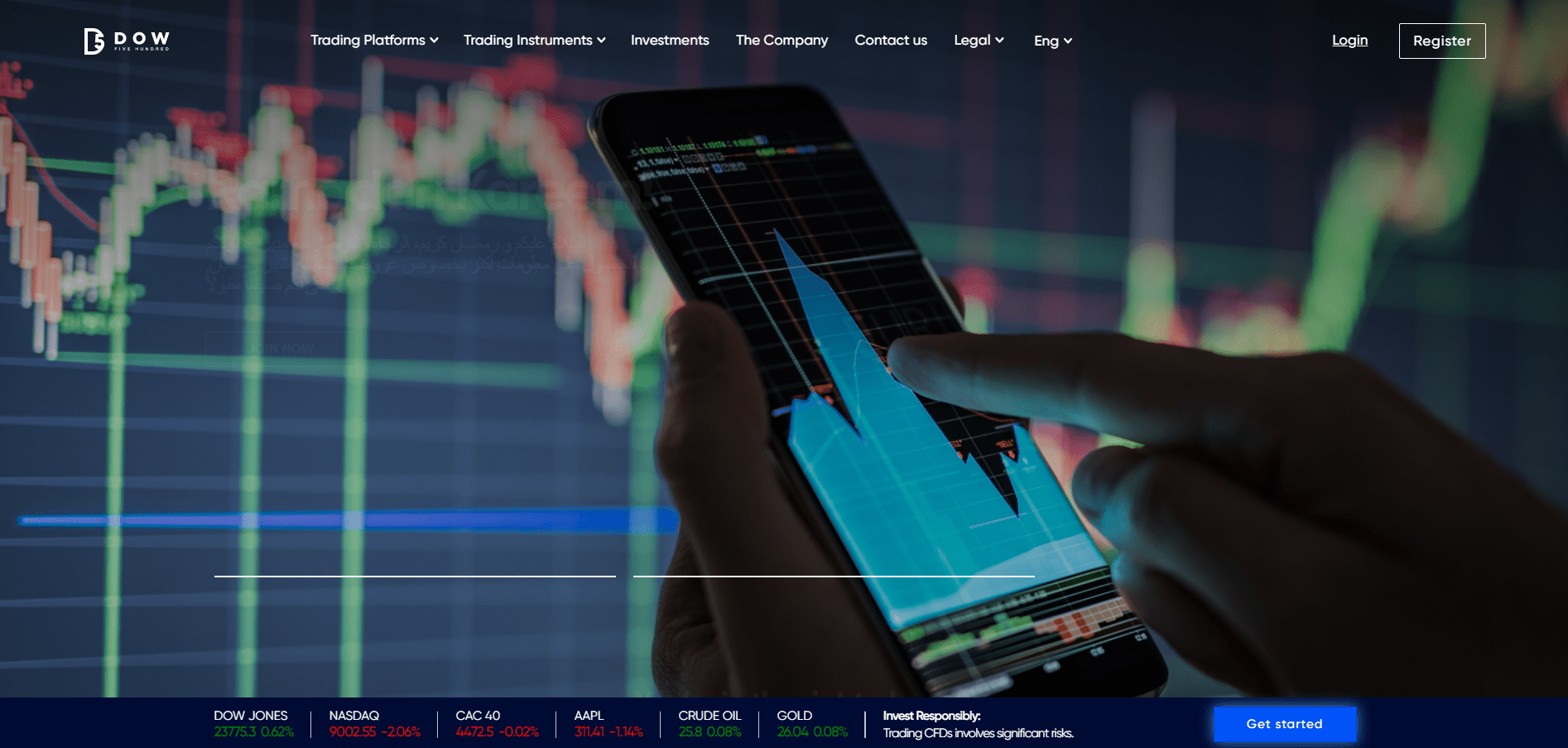 Speaking of information, the website feels like it blabbers a little bit too much. The DOW500 Forex broker talks a lot about its goals and missions, as well as its experience, yet it doesn't mention anything about its license, bonuses, or other important features that a broker should openly discuss on its platform. As we'll discover down below, the broker might be doing this to hide some of the shady details about its platform.
After that, we moved on to find out what trading accounts DOW500 offers to its clients. And surprisingly enough, we found quite a diversified account segment in the Investments section of the website. In it, the broker features 4 different account types:
Basic
Advanced
Professional
Premium
Now, while the broker lists some of the benefits of each account, such as the personal account manager, live trading sessions, and exclusive daily market analyses, it doesn't mention anything about what minimum deposit there is on these accounts. Only through extensive Google search did we found out that the broker used to have a $1 deposit requirement at some point – something that isn't clear whether it's relevant now or not.
Finally, we explored various trading platforms that DOW500 offers. As we found out, traders can use the DOW500 MetaTrader 4 to execute trades in various markets, be it in Forex, stocks, or other supported markets. Granted, MT4 is a widely-used trading platform, it's still not the best for stocks as it lacks various indicators and is limited in the number of tradable securities.
DOW500 also features its own WebTrader and mobile trader platforms. While they're more simplistic and easy-to-use, there's much more room for the broker to incorporate scams into these platforms without being put responsible for it.
Is DOW500 a regulated broker?
After the Dow500.com review, we went on to find out whether any regulatory body monitors the broker. At first, we had high hopes that we were dealing with a properly-regulated brokerage based on various claims we found on the website. One such claim went basically like this: DOW500 is a regulated broker that abides by European financial standards.
Based on this claim, we tried to find any credible European license, be it CySEC, BaFin, FCA, or anything else. However, despite our thorough research, we weren't able to find anything regarding this topic.

It's not only about the fact that DOW500 doesn't have a European license; the broker has no license from any financial institution whatsoever. And whenever you come across an unregulated broker, you should always stay away from them, without exception.
Unregulated brokers aren't bound by high financial standards and guidelines; they can do whatever they want to get as many profits as possible, that's why they often don't shy away from scams and Ponzi schemes, and that's why you don't want to do business with the DOW500 FX brokerage.
Are DOW500 promotions any good?
The final aspect of our review is trading terms and conditions. As we noted before, DOW500 features more than one trading instruments on its platform, more specifically:
Currency pairs
Stocks
Contracts for Difference (CFDs)
Indices
Commodities
The diversity of trading symbols is something that should always be praised, however, if they don't come with decent trading conditions, they're not much of a use. For that reason, we should examine leverage and spread offerings and determine whether they're a good deal or not.
As we've found out, DOW500 features a 1:200 leverage on Forex pairs, whereas other instruments have significantly lower multiplication ratios. We have to note here that the leverage this size is a pretty regular and decent offering from a Forex broker. The same 1:200 leverage is what an average broker would offer to its clients.
What stirs our suspicions is spread charges. During our research of Forex pairs, we found that DOW500 charges at least 3 pips on the most popular pairs such as EUR/USD, USD/JPY, and USD/CHF. Yet that's the least of what an average Forex pair would be charged – an average of 6-7 pips. This much spread between buying and selling prices means that the broker is keeping a huge chunk of your profits while giving you only a fraction of your earnings. We don't know about anyone but we certainly call this plunder.

Next up, let's talk about that minimum deposit requirement that we only found through the internet search. As we said, DOW500 charges $1 to the new clients, which is a very suspicious detail. It's like a symbolic payment for a platform that hides lots of things. It's as if the broker wants you to forget all the flaws and focus on this "advantageous" requirement. But in reality, it further enhances DOW500 scam suspicions.
Finally, we peeked into the payments section to find out which platforms power deposits and withdrawals. In the Investments section, we found four financial platforms:
E-wallets (Yandex, WebMoney, and Qiwi)
Credit/debit cards (Visa, MasterCard, and Maestro)
Wire transfer
Fast wire transfer
The broker also claims that there are no hidden fees or commissions for deposits and withdrawals, which would've justified such high spreads on currency pairs, but it still doesn't because an average of 6-7 pips for spreads is still too much.
Can you trust DOW500?
So, now that we know everything there is to know about this brokerage, would we go as far as to recommend it to our readers?
Well, during this review, we found out that DOW500 is an unregulated broker with a poor website and not too impressive trading offerings. If you take all that and turn them into a Forex broker, it would've make a dull counterparty at the very best.
But more importantly, the conditions we found fuel our DOW500 fraud suspicions and prevent us from trusting the broker. Therefore, you should also be careful if/when choosing it.