A EuroPrime review that focuses on the details of what the broekr offers
The European Forex trading industry went through quite a world-shattering change recently. This means that we have to start looking at some of the brokers with a tougher attitude. This approach has been very useful. Specifically in us deciding to talk about the EuroPrime Forex broker today, and how they come closer every day to become one of the worst Forex brokers in this region of the world. The reasons for this are pretty obvious: their offers are some of the worst in the industry and some of them verge on being illegal, while the service they provide is rather terrible. They have been around for a while now, but despite this, they have never managed to come even close to offering an appropriate service to their traders. In exploring this broker, we would also like you to note how some of the qualities that we are going to mention may seem legitimate but are there just for marketing purposes. They want your time and attention but don't want you getting anything out of them. Because of this, they are very close to being a simple EuroPrime scam.
EuroPrime.com review, platforms and features
What bothers us most about the website that the broker has created is not the fact that it is atrociously designed, even though it is, and neither is it the fact that it does not provide information on the services of the broker easily. It is the navigation through the website that makes the hair of the half of our team's necks stand on its end. The website has a long list of pages that a user may be able to visit, but in order to go to them, the user has to know what to click. Otherwise, they will not be able to access the information and miss out on something important. Beyond that, the design of the website is plain atrocious. The colours that are used are quite ugly, the website looks blocky and everything about the website just hurts our eyes. Still, they get points for telling the truth about everything they offer, even if the truth is not something anybody is going to enjoy. We just wish they did it with a better design, but you can't ask a bad broker to do good things, even with something as basic as their page.

The broker also likes to talk about their platforms. There is no EuroPrime MT4, MT5 or even a ZuluTrade application. The broker operates with a very old SIRIX web trader. According to the broker, the platform was designed so that anyone and anywhere can use it. And it is not a lie, you can access the trading platform from anywhere you want, including your phone. The fact that they have a mobile app solution for the trading platform is quite impressive, but it would have been more impressive if the platform was better optimized for use with a phone. In reality, the SIRIX web trader is in no way unique when comparing to other, similar web browsers. It does not offer any benefits over MT4, and some of the analytical tools that are employed in the platform are quite inferior to what the full potential of MT4 is. This is another reason why we consider the broker to be bad.
The broker also goes on to boast about some of the features that it offers to their users. Specifically, things like their 0 per cent fees on deposit and their 1:400 leverage. Both of these features would be quite commendable and extremely attractive to most traders, but there are many things wrong with both of them. First of all, there is a little asterisk that you may notice above the 0% fees notice on their page, which specifies that certain terms and conditions apply. Which means that there will be instances that you might deposit some money and you will still be charged a fee. What is more, it also mentions that the same does not apply to EuroPrime withdrawals, which might be charged at any time, as per the company's discretion. This is just plain false advertising. What is even worse is the fact that they are offering their users a chance to get 1:400 leverage, which is not something that is actually legal within Europe. The maximum leverage that can be offered to users within the EU is 1:30. This offer would be entirely illegal and incredibly dangerous as it would result in an immediate crackdown. The broker then goes on to describe in small writing that in order to get this type of leverage a user has to be considered a professional trader. Which is good, because the broker is not breaking the law like some kind of a EuroPrime scam, but it is, again, false advertising. This kind of behaviour makes our blood boil and makes some members of our team to somehow close the company altogether.
The fact that the company lies about its deposits and withdrawals policies, while also advertising leverage that is not legal within the area, means that the broker is willing to do anything to get some more customers. What happens when the number of customers starts dwindling and fewer people remain? The broker seems like they are willing to do anything in their power in order to make money, and this is a sign of a very dangerous behaviour that might lead to some very serious legal offences in the future. Which is why we think you should stay as far away from the broker as you can.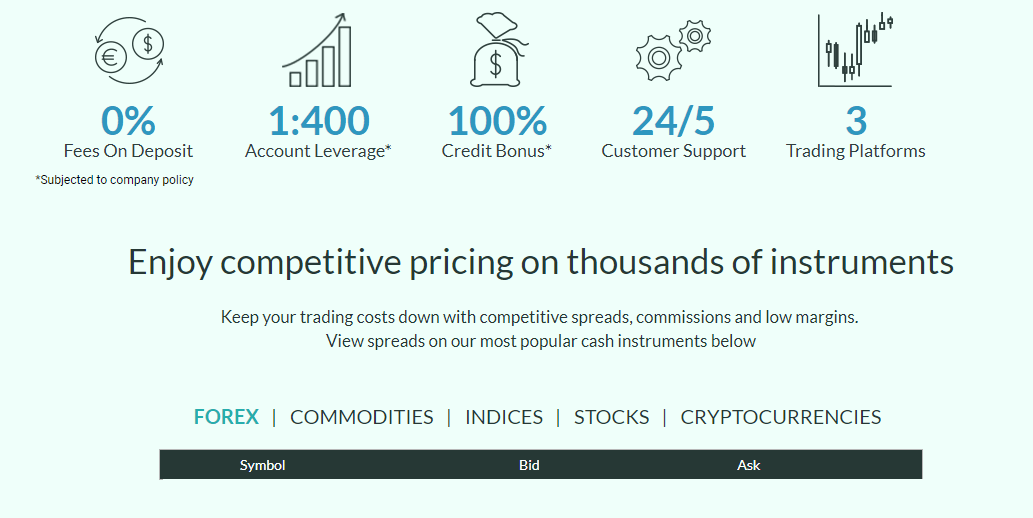 EuroPrime bonus offers
In order to attract your attention, the broker has done their best to start offering a number of bonuses. These bonuses include one that would provide you with a no deposit bonus when you start working with them, one that would ensure your deposit and a number of others. The thing is, the recent changes in the European regulation regarding the Forex industry, and everything related to the Forex industry disallowed any kind of promotions that would resemble no deposit bonuses. This means that the EuroPrime FX brokerage is doing something that they should not be doing.
In reality, it seems like the broker is actually not breaking the law, but simply misrepresenting the bonuses that it is currently offering to its users. The bonuses that the users will be applying for requiring the users to qualify for them. You can get the 50% matching bonus, but you need to jump through a bunch of hoops that make it incredibly hard. The hoops are what make the bonuses not break the law. It is not necessary to market everything as something it is not in order to attract the attention of new users. If the broker is willing to offer a product, detailing the product for what it is would be the most beneficial both to the users and to the broker itself. All of this to say that our EuroPrime rating is falling the more we look at the broker and how it operates.
Education, Customer support
But bonuses don't seem to be enough for this broker. Currently, it seems like the broker is also claiming that it is offering the users a chance to get educated with them. While the educational resources are available, it seems like the education that they are promoting to their users is quite limited and requires a lot of previous knowledge to be able to be fully understood. This means that there is no way for beginner traders to use the knowledge that the broker is offering to their users. It also means that the educational platform that the broker has built is not complete and is lacking in the very basics of what makes an educational platform important and useful. It also results in our team feeling even angrier at the broker as we write this EuroPrime review.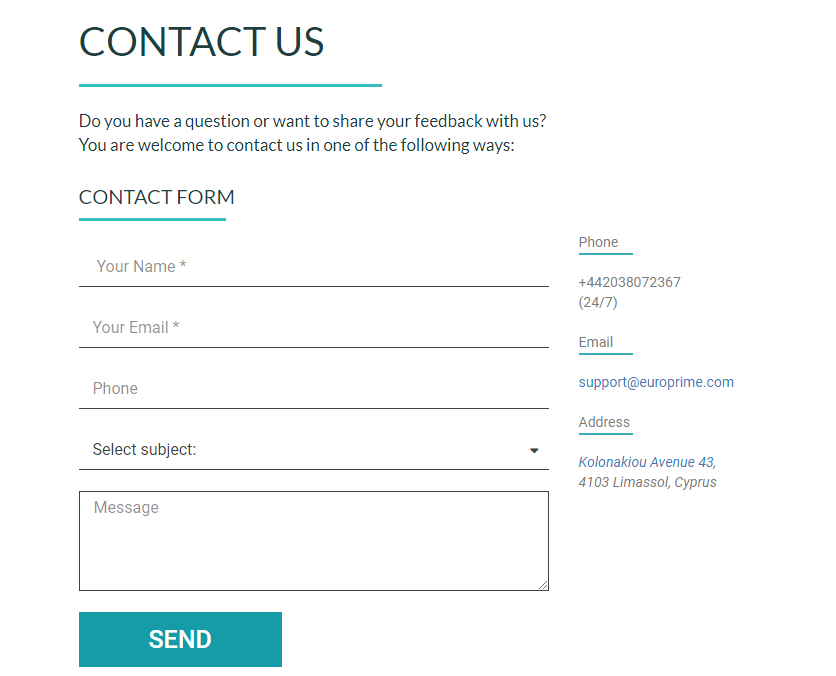 The one thing that seems to work better than you would expect with the broker is the customer service they offer. They have several ways to get in touch with their service team, including online chat and a phone call. It takes around five minutes to receive an answer through live chat and about 15 minutes to get a callback from their call centre. The only thing is, the call centre only works five days a week Which is not necessarily a bad thing since the call trading does not usually happen on the weekends. We just wish everything else about the broker was done with as much care as the customer service. The only thing is, it seems like the service workers are trained to promote special bonuses and ask questions that do not always pertain to the issues, which is something we don't understand the implementation of, but I guess every broker has their reason for doing the things they do.
Is EuroPrime legit?
After all of the issues that we found with the broker, we were pretty surprised to find out that yes, the broker is relatively legit. The broker has a license from a Belize based regulator, which allows it to offer its services across Europ. Although the Belize regulator is not too famous for being extremely reliable, in the case of this company, the licensing is not surprising. After all, the company has never really scammed or defrauded anyone. As a result, if the question was can EuroPrime be trusted, the answer is yes. It can be trusted to not steal from you, but it also can be trusted to provide pretty terrible service and lie to you in the marketing phase just to get you interested in them.
The online reviews seem to agree with this evaluation of the broker. According to these online reviews, the broker has delivered on some of their promises, but most of the EuropRime reviews you will find online also talk about how they did not get what they expected. When they read the page and the marketing material that the company has released over the years, they were convinced that they were going to get a specific type of service. Instead, they got themselves a company that is barely able to provide satisfying service and one that many users run away from after managing to get the funds they deposited with them back.
EuroPrime opinion – bottom line
It is not an easy thing to find a broker that is as bad as the one we were talking about here. The broker that we were discussing all of these negative qualities might not be a EuroPrime scam, but it is only a single misstep away from being one. In order to not end up being this misstep, you should avoid trading with this company altogether, and go out looking for something better in the Forex industry. There are better brokers available all over Europe, all of which you should be considering instead of EuroPrime.