FxCitizen Review – Would You Want to Trade with this Broker?

When starting out your Forex trading career, it is imperative to find a brokerage that will take care of you every step of the way. In that sense, you should be very careful with whom you're doing this business – the internet is full of scam brokers whose only goal is to steal your money.
With this Fx Citizen review, our team of reviewers will help you make up your mind about whether you should trust this broker or not. As an initial impression, we can say that the broker's website looks a little bit clumsy, whereas its trading terms and conditions – a little bit too bloated.
One important aspect to point out is that FxCitizen doesn't currently own any regulatory material. This review will demonstrate why that is a huge downside and something that should immediately make you look elsewhere.
So, without any further ado, let's dive deeper into our review of FxCitizen.
FxCitizen regulations – Should the broker be trusted?
The first and primary section of our review will be the broker's license. It will help us determine whether you can trust FxCitizen or you should definitely stay away from it.
As we have browsed through the broker's website, we have discovered that FxCitizen doesn't actually own a financial license. Even though the broker reassures its potential clients that its platform is very safe to use and is monitored by the Republic of Vanuatu, we didn't actually find any regulatory material in reality.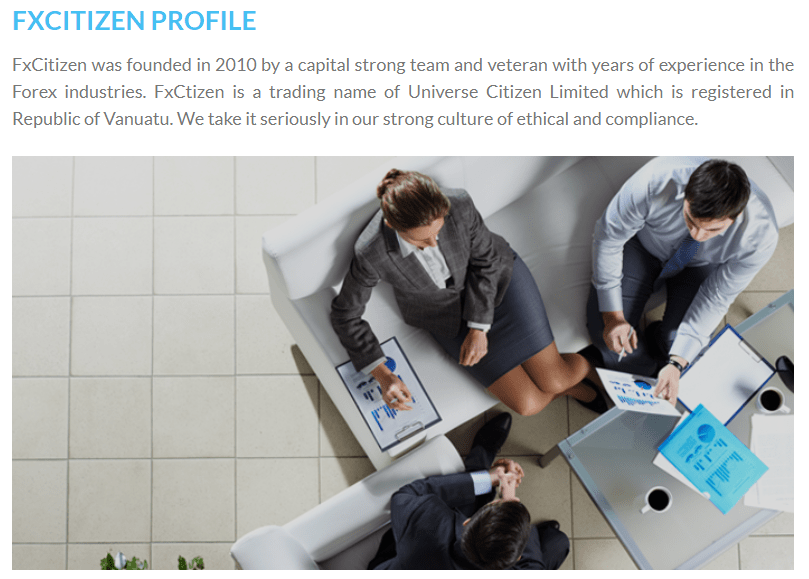 What this means is that when you get your FxCitizen cabinet, you voluntarily put your money in harm's way: the broker can easily scam you, steal your money, and you'll be able to do absolutely nothing about it.
As noted earlier, FxCitizen was founded in the Republic of Vanuatu in 2010. According to its website, it has been nominated as the fastest STP brokerage in the entire industry, which seems to be quite a stretch for a small-time broker with no license.
In short, we suspect that beyond such bold claims, FxCitizen hides a fraudulent platform that is fundamentally designed to steal people's money.
Which accounts can you get with FxCitizen?
Next up, we went to check out each of the FxCitizen account type that you can get on the platform. And impressively enough, we have found four live accounts available on FxCitizen's website:
Cent Micro account – 10 USD
Standard Mini account – 10 USD
Premium Zero account – 100 USD
Premium ECN account – 2,000 USD
As we have checked out these accounts, we have discovered that there are more similarities between them than differences. Besides, the maximum leverage, which is 1:1000, is only available for the Cent Micro account – the basic account, which is only suitable for the entry-level traders. And offering such a dangerously high leverage ratio, the danger of losing money increases exponentially for exactly those beginner traders.
When it comes to FxCitizen's demo account, the broker calls it a "trial account" for its live training account. As you download the Fx Citizen MetaTrader 5, you can engage in virtual trading and test out some of the main features of the broker. However, since it's only a trial account, it automatically means that there is a strict time limitation for how long you can use it.
Platform fees and commissions
The next important section that we should take a look at is FxCitizen's trading, as well as non-trading fees. As the broker itself points it out, its platform is one of the most beneficial places to trade Forex, mainly because of its low trading commissions. And to some degree, it looks like it's true: spreads for the Premium Zero account go as low as 0.6 pips.
However, that's only for a high-end trading account, which means not everyone can use this advantage. As we reviewed other FxCitizen Forex accounts like Cent Micro and Standard Mini, we found out that spreads are pretty high, usually at around 7-9 pips.
As for the fixed commissions, Premium Zero and Premium ECN accounts come with -1.0 and -2.0 pip commissions, which further undermines FxCitizen's claim that it is an advantageous and lucrative broker to trade with.
The broker also charges swaps for overnight trades. And when it comes to non-trading fees, the majority of deposit and withdrawal platforms are commission-free. However, bank transactions do come with certain fees, and Perfect Money withdrawals are taxed with 2% on any amount you cash out.
In short, we cannot really see how beneficial it is to trade with FxCitizen – its commission levels are pretty much higher than the industry average.
Which markets can you trade with FxCitizen?
Now, let's say you do the FxCitizen MT5 download and installation, and are ready to trade with it (which is something that we don't recommend). The next question is, which financial instrument can you trade?
Well, as we have discovered through our review of the broker's website, FxCitizen only offers two different types of tradable instruments:
In Forex pairs, there are around 50 different instruments, which is a decent trading condition for any Forex trader. However, FxCitizen still manages to mess things up as it takes a standard lot size from 100,000 currency units down to 10,000 currency units. The weird thing about this is that we haven't really seen the broker focus exclusively on beginner traders (spreads might be a good example for this), and reducing the lot amount is somewhat counter-intuitive for it.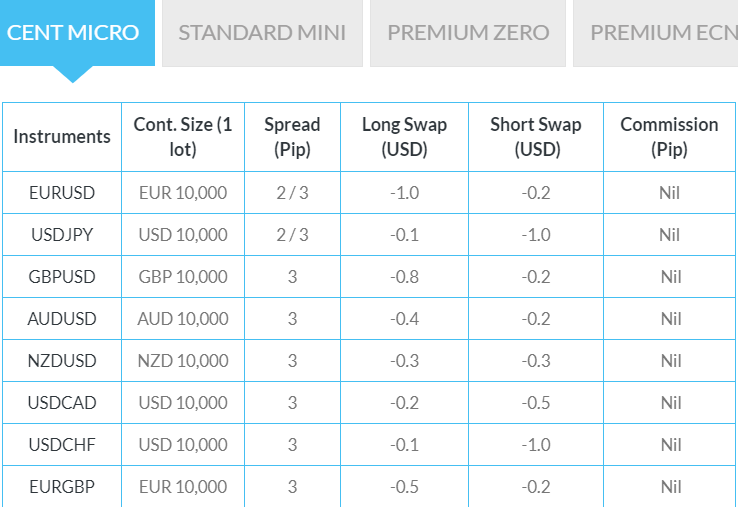 Plus, the highest leverage that you get with the broker FxCitizen goes as high as 1:1000. It is absolutely important to note that with such a high multiplication rate, you can very easily destroy your whole trading account with insurmountable losses. Besides, that leverage is only available for the most entry-level account, something that should be the least risky for beginner clients.
As for commodities, we only found two tradable resources: Gold and US Oil. At this point, it is safe to say that no commodities trader would choose FxCitizen as its main trading partner because of its higher spread and commission charges.
FxCitizen MT5 review
Yet another important section to review is the broker's trading platform. The majority of Forex brokers at this scale, where they only offer around 50 different tradable instruments, usually offer MetaTrader 4 to their clients.
Yet we couldn't find any FxCitizen MT4 on the website. The broker only features MetaTrader 5, which, in our opinion, is a little bit overzealous. Granted, FxCitizen supports ECN trading, which is a highly competitive platform and the one that requires MT5, it's still no excuse to not have MT4 on the website. It shows once again that FxCitizen isn't exactly a beginner-friendly trading brokerage.
To give the devil its due, MetaTrader 5 at FxCitizen is quite flexible and can be run on Windows, Mac, and mobile platforms. Plus, it has quite a few features, although none of them are strictly related to the broker's effort – they're simply available on the stock MT5 platform. These features are:
Expert Advisors and automated trading
Ability to create custom indicators
Secure trade sessions
History of trades
Trading signals
So, judging from these features, one would think that not featuring the MT4 FxCitizen platform installer doesn't really undermine the broker's advantages, however, it is important to point out that MT5 is a much more complex trading platform and not everybody prefers it for their Forex trading ventures.
What are the deposit and withdrawal methods?
Another platform-related aspect to discuss here is FxCitizen's deposit and withdrawal methods. While it certainly cannot indicate whether the broker is legit or not, it will still have some utility for our review.
As we have discovered, FxCitizen supports:
Local Deposit – Deposits in 30 minutes; No deposit commissions; Withdrawals in 24 hours; No withdrawal commissions;
Debit/Credit Card (Visa & MasterCard) – Instant deposits; No deposit commission; Withdrawals in 3-7 business days; No withdrawal fees;
Bank Wire – Deposits in 1-3 business days; Bank charges for deposits; Withdrawals in 1-3 business days; Bank charges for withdrawals;
Perfect Money – Instant deposits; No deposit commissions; Withdrawals in 24 hours; 2% on the withdrawal amount.
As we have seen through our FxCitizen review, the payment platforms are moderately diversified; it would be more accurate to say that there is a huge shortage of e-wallet platforms like Skrill, Neteller, PayPal, and whatnot. But we're not going to dwell on that too much as there are much more pressing aspects that help us make up our minds about FxCitizen's credibility.
FxCitizen's educational section
As we draw closer to the conclusion of this review, it is high time to talk about whether FxCitizen offers any educational content, and if so, how sophisticated it actually is.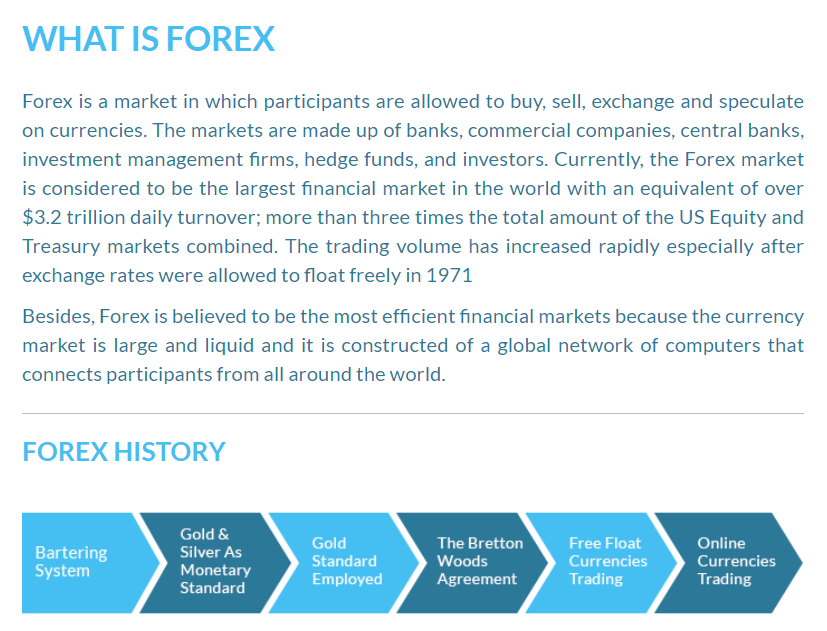 In our reviewing experience at Forex News Now, we have observed that the trustworthy brokers offer very complex educational panels, and their individual elements are professionally-written and compiled. However, scammers too have boarded that ship and started issuing their own educational sections.
That is the case with FxCitizen. It offers educational articles about the following topics:
What is Forex
Why trade Forex
How to trade Forex
Fundamental analysis
Technical analysis
These are the only educational materials you can get by trading FxCitizen. For one thing, it is extremely limited and features no interactive videos, e-courses, webinars, or a unified glossary. And for another, it's not very interactive or comprehensive; it seems like these articles are only there as placeholders – to mimic trustworthy brokers. Yet we're not so easily deceived by such things.
Is there any bonus available at FxCitizen?
Moving on, let's talk about whether there are any bonus promotions available at FxCitizen's website. This certainly won't affect our opinion about the broker, it's just a cosmetic touch to have a more complete look of FxCitizen's platform.
As we have discovered, there are two FxCitizen bonus promotions that are constantly available on the platform:
Deposit Bonus Up To 35%
Monthly Lucky Draw
With the Deposit Bonus of 35%, you can get a maximum of 1,000 USD for a single account, whereas the required deposit is 100 USD. And for the Monthly Lucky Draw, you also need to have at least 100 USD deposit on your account, as well as have at least one lot size traded on it. After that, you're eligible for the promotion with a maximum prize pool of 5,000 USD.
FxCitizen's customer support – Is it any good?
After reviewing the FxCitizen trading terms and conditions, as well as various platforms and financial mechanisms, it is time to checking out which contacting methods you can use to communicate with FxCitizen.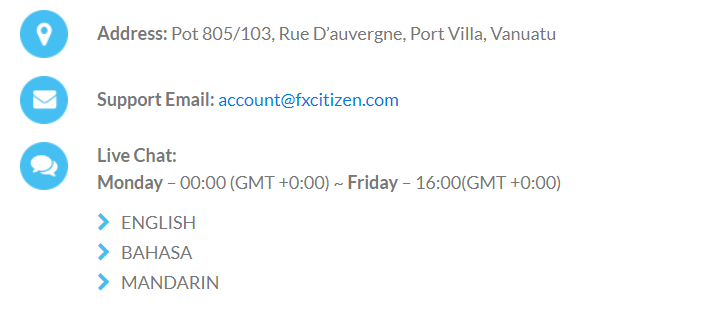 This is actually one of the least disadvantageous features of the broker, simply because it offers a number of different communication channels. These are the methods to contact the support team of FxCitizen:
Email support: account@fxcitizen.com
Address: Pot 805/103, Rue D'auvergne, Port Villa, Vanuatu
Live chat – from Monday till Friday
Now, the main reason why we find this section less disadvantageous than other sections is that the broker definitely allows its clients to use any communication platform to get help from it. Plus, the live chat function is available in three different languages: English, Bahasa, and Mandarin.
However, this still cannot answer a positive answer to the question of "is FxCitizen regulated?"
Our ultimate verdict about FxCitizen
In this review of FxCitizen Forex broker, we looked through every important, as well as insignificant segments of the broker's website and tried to determine whether it is a legit broker to trade with.
First off, we have discovered that FxCitizen doesn't have a top-tier license that would monitor its financial activities. In fact, it doesn't have any license whatsoever, which drastically increases the chances of being scammed.
After that, we checked out the financial instruments that you can trade with this broker. Both the diversity of these assets, as well as the conditions that accompanied them, were a little bit off and they ultimately worsened our opinion of FxCitizen.
Then we moved to FxCitizen trading platforms, financial mechanisms, and other aspects of the entire service. At the end, we have determined that trading with FxCitizen isn't the safest decision that you'll make. It is better to find a more trustworthy broker with proper licensing and whatnot.