FXCL Review – What's this boker all about?

Finding the right brokerage can have a huge impact on your trading endeavors: it can provide tools and features that help you better predict future price movements and safely execute trades.
But it's not always easy to find such a broker right off the bat. The online trading industry is full of scammers and they are in competition with one another to steal customers, not to mention their customers' money.
Now, there are many ways to determine whether the broker you've chosen is a scam or a credible partner. One way is to research the broker yourself and find grey areas on its platform. Another complementary method is to read broker reviews, such as this FXCL review, and find out what experts have to say about the broker.
Is FXCL's license legit?
The first entry in our review is going to be the broker's license. It will tell us whether there's a proper regulatory piece that ensures a safe and secure trading environment or the broker can pretty much do anything it wants with your funds.
During our review, we found out that FXCL was established as an International Business Company in St. Vincent and the Grenadines. This means that the broker has a license from the Financial Services Authority (SVGFSA) with the registered address of Suite 305, Griffith Corporate Center, P.O. Box 1510, Beachmont, Kingstown.

Now, we find this claim to be quite suspicious for two main reasons: first, the registration address at Suite 305 is considered a financial hub for lots of companies, which is why you'll see many of their addresses in the same place. Second, the SVGFSA license doesn't apply to Forex brokers; the SVG government has clearly stated that it doesn't regulate brokers and those who claim that are fraudsters.
For that reason, we believe that FXCL scam may actually be the case because there's no way its SVGFSA license is legit and that it actually operates from that address.
In-depth Fxclearing.com review
Next up, let's take a closer look at the website and how you can navigate through it. When it comes to the interface design, we have to say that Fxclearing.com doesn't look very appealing to the eye. It has this bland background with a yellow & white color palette and uninspiring sections.
As for the information, this website manages to provide details about pretty much every important detail, although there were some sections that we couldn't find information for.
Next up, let's take a look at which trading accounts you can open at FXCL. On the website, we found five different packages that you can sign up for:
Cent account
Standard account
Interbank Cent account
Interbank Standard account
ECN Plus account
The FXCL Forex broker provides many important details about these accounts, including leverage ratios, minimum spreads, and bonuses. Yet it doesn't say anything about what the minimum deposit for each account it. The only thing we know is that the Cent account requires 100 USD from traders.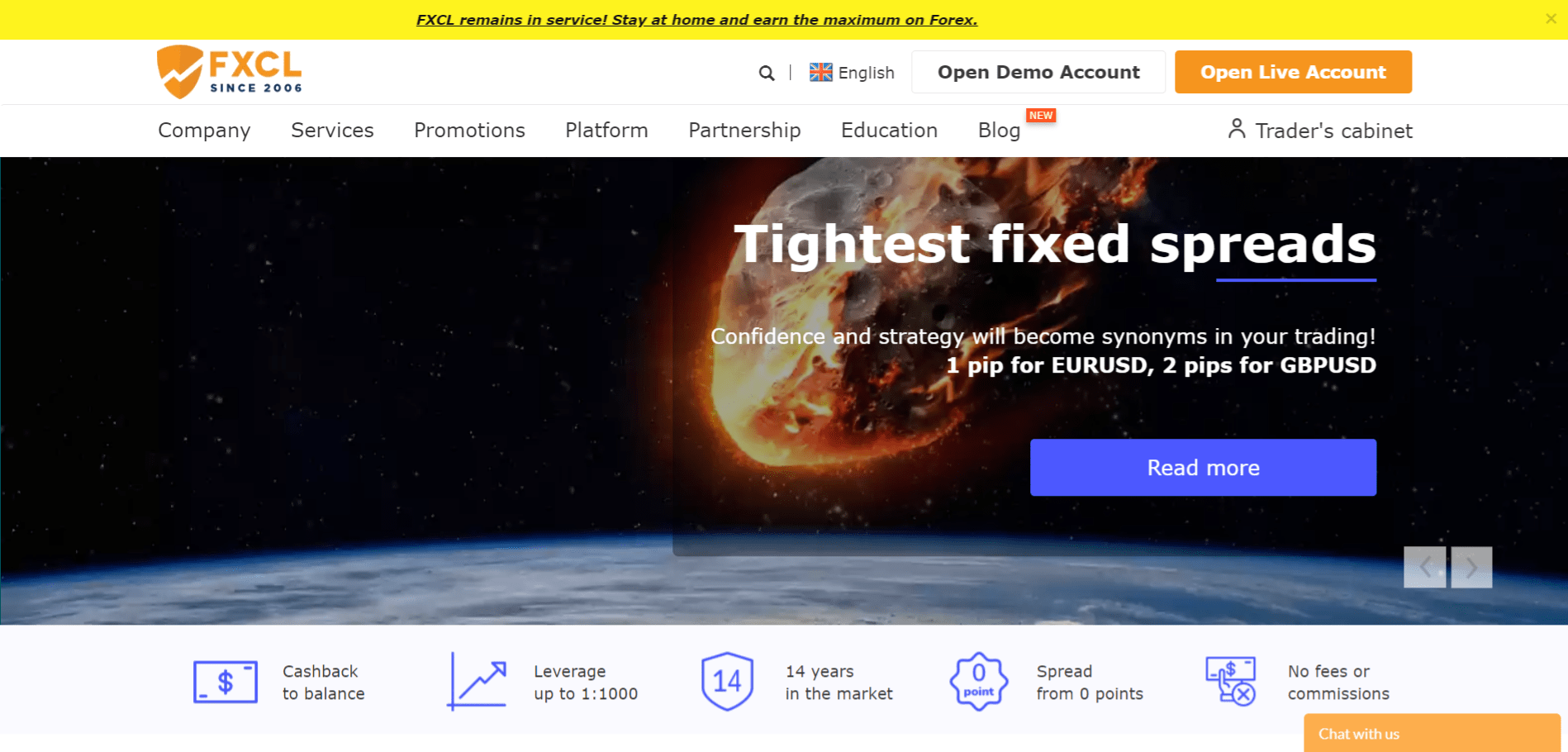 Yet another account that we found during this review is a demo account. It allows you to use the same features and tools and open virtual trades for live market conditions. This is a pretty regular offering that you can find with pretty much every Forex broker, which is why we're not going to give extra credit to FXCL for that.
When it comes to the trading platform, FXCL only offers MetaTrader 4, which is not something we're going to complain about: MT4 is a full-fledged trading platform that many Forex brokers use. It offers EAs (auto trading), lots of indicators, and the ability to create your own tools. However, since there are other assets you can trade at FXCL, and MT4 isn't the most flexible platform in that sense because it has a strict limit in the number of instruments it can support.
Can you trust FXCL's trading terms and conditions?
Finally, we'll check out various trading terms and conditions that directly affect your trading success. First off, we have to note that besides Forex pairs, you can also trade cryptocurrencies and metals at FXCL. But even in light of such diversity, these instruments come in a very limited number, which is not a very advantageous condition.
When it comes to the FXCL promotions, we have a couple of suspicions that need to be voiced. The first suspicion is associated with leverage. FXCL offers a staggering 1:1000 maximum leverage that you can get in the Cent account. Before going deeper into it, we have to point out that such high leverage is really dangerous for all traders, regardless of their experience.
However, there's more to this issue: FXCL offers this leverage only to the Cent account holders – those traders that have deliberately chosen the most basic account to reduce risks. Yet with 1:1000 leverage, the risk of losing a huge amount of money increases exponentially. It seems that the FXCL FX brokerage isn't entirely concerned with the financial safety of its clients.

Next up, let's talk about spreads. As FXCL claims, bid/ask spreads on its platform can go as low as 0 pip, whereas the usual spread revolves around 1 pip. Even if we ignore the 0-pip charge, 1 pip is still a very low fee for a broker that also has low commissions for other segments or outright rejects them. In fact, the ECN platform, which is supposed to have very high commissions due to its professional nature, is completely dependent on spreads that revolve around 1.1 pip.
As for the minimum deposit requirement, we can say that charging 100 USD for a new account is more or less normal, because many Forex brokers have the same conditions. However, this is not enough to dissipate our FXCL fraud suspicions.
Finally, let's have a closer look at what payment methods you can use for deposits and withdrawals. Now, even though we didn't have very high expectations for this segment, we still expected to find some common payment platforms like credit cards and such. Yet we only found bank transfer, Bitcoin, PerfectMoney, FasaPay, and Dragonpay payment methods. Considering that the overwhelming majority of people use credit/debit cards, whether or not they're traders, FXCL is automatically saying no to them by not supporting this platform.
Should you trade with FXCL?
So, as you can see, we have uncovered pretty much every important detail that you need to know about FXCL. Before we answer to our ultimate question of whether your funds are safe with this broker, let's do a quick rundown of FXCL's offerings.
First, we checked out the broker's license and determined that the SVGFSA license, as well as the registration address, are nothing more than a scam used to deceive potential new clients.
As for the website, we didn't like its interface and design, yet we had a good impression of the availability of the information (not in all cases, though). The FXCL MT4 was also a decent addition to the platform, yet it didn't help raise our low expectations of the broker.
Finally, we went to check out FXCL's trading terms and conditions. With its 1:1000 leverage and 0 spreads, FXCL drives our suspicions that it wants to appeal with flashy offerings without sounding overly realistic.
In conclusion, we believe that this broker can pretty easily scam you, which is why we don't recommend signing up for its platform.