FXGT Review – Can the broker be trusted?

Every now and again, you come across a Forex broker that seems to be legit with all its trading conditions and offerings but there's something that doesn't really click in. It's actually not too rare as scammers have mastered the technique of masking their platforms and presenting them as legit ones.
This goes to show that the distinctions are somewhat blurry between legit and scam brokers. Yet with a little more effort and research, it is still very feasible to uncover fraudulent Forex brokers.
Today, we'll have a look at the FXGT Forex broker and find out whether all of that nice platform hides something shady or not.
The website overview
First things first, we got to talk about the website and the interface. While some people may like a complicated design of the Fxgt.com, we think that it's a bit overpowered with visual decorations and images. When browsing through it, it felt like the interface was suffocating us with heavy imagery and visual effects, which is not necessarily a great design choice.
As for the informative side, we have mixed feelings about it. On the one hand, we were able to find information about the leverage, spreads, and other trading conditions, yet it took a lot of searching to find out what license the broker had.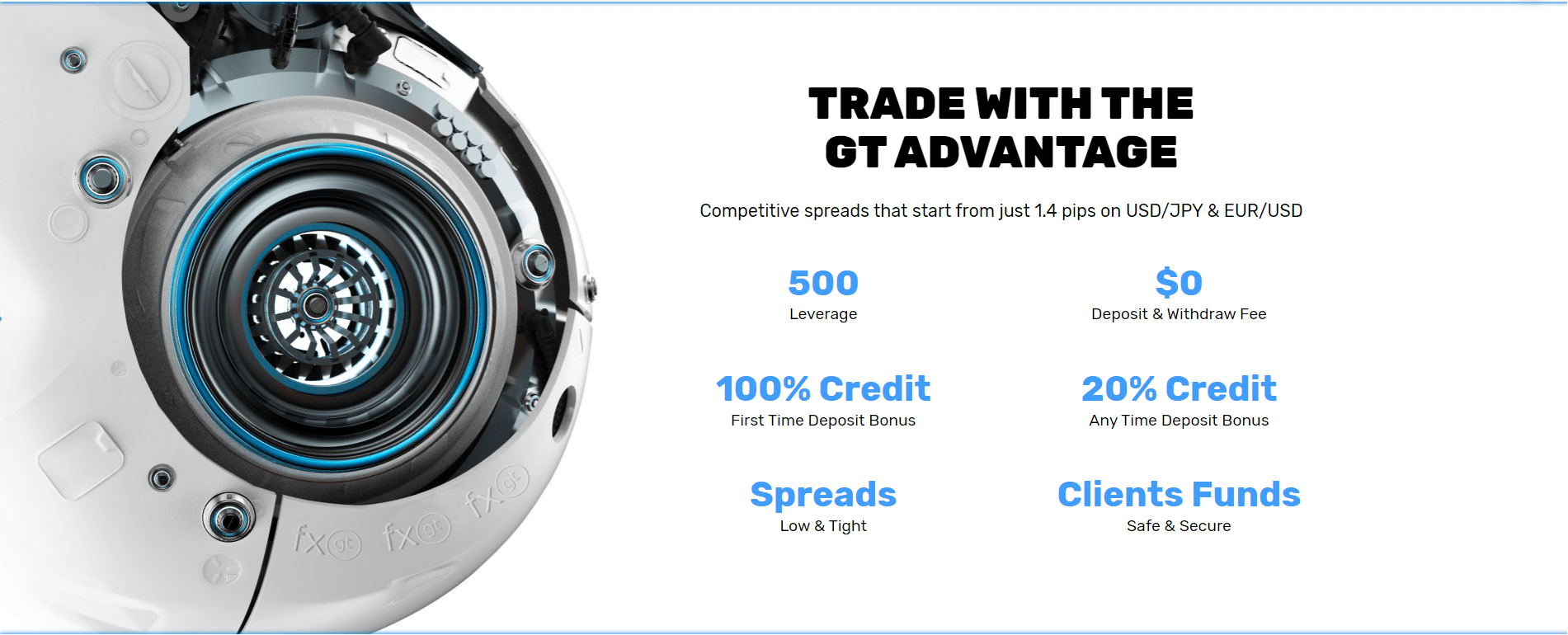 When it comes to the account separation, it's clearly a downside of the FXGT FX brokerage. The reason for that is that there is NO separation whatsoever, the broker only offers one universal account, even though the section where all the details are showcased says "Account Types."
Finally, we examined the trading platform offered by FXGT. The main software for trading is MetaTrader 5, which is kind of unusual because MT5 is considered to be much more comprehensive and difficult than its predecessor MT4.
We're guessing the broker doesn't really mind making it difficult for beginner traders to kick off their careers at FXGT, which becomes especially plausible when remembering that there's no account separation whatsoever, not even a demo trading account.
Is FXGT legit with its license?
Next up, let's discuss arguably the most important aspect of any broker review – the license. The majority of FXGT scam reports we found on the internet generate from the fact that the broker has a very dubious license.
Registered in the Republic of Seychelles, one would assume that FXGT has been licensed by the country's financial institution, yet we found out that the broker actually has a license from South Africa's Financial Sector Conduct Authority (FSCA).

Sure, South Africa is a moderately credible economy with decent regulatory prowess, yet when we take a broker that operates all across the globe, it would take more than one licensing material from a moderately credible economy to ensure higher financial standards.
Therefore, our FXGT opinion of its license is that the FSCA license doesn't present the broker as the most trustworthy financial entities in the eyes of a Forex trader.
What about trading terms and conditions?
Finally, let's move on to the trading numbers and requirements at FXGT. First, we'll take a look at what tradable instruments the broker offers to its clients. As we have found out, FXGT Forex broker has a database of five different asset classes:
Forex pairs
Cryptocurrencies
Metals and energies
Equity indices
Stocks
To give the devil its due, this is an impressive array of assets to see with a small-time Forex broker. And it goes even further when we explore the actual trading conditions.
Let's start with the leverage and spreads. At FXGT, the maximum leverage can ramp up to 1:500, which is dangerously close to being too got to be true. And as we always say, such things are always dangerous and worthy of extra caution. Added to that the fact that spreads on Forex pairs start from 0.00014 pips is already something that gives us some doubts about the credibility of the broker.
Usually, we've seen brokers that have turned out to be nothing more than scammers, and their trading package was filled with flashy conditions like these mentioned above. Therefore, we're always advising our readers to stay away from such brokerages.
This is still true regardless of some impressive bonus promotions. The 100% one-time FXGT bonus is applicable to the newcomers that want to double their deposits, whereas the 20% bonus can be used by any user at FXGT. Even by having such a decent promo platform, we don't think that FXGT is a safe broker to trade with.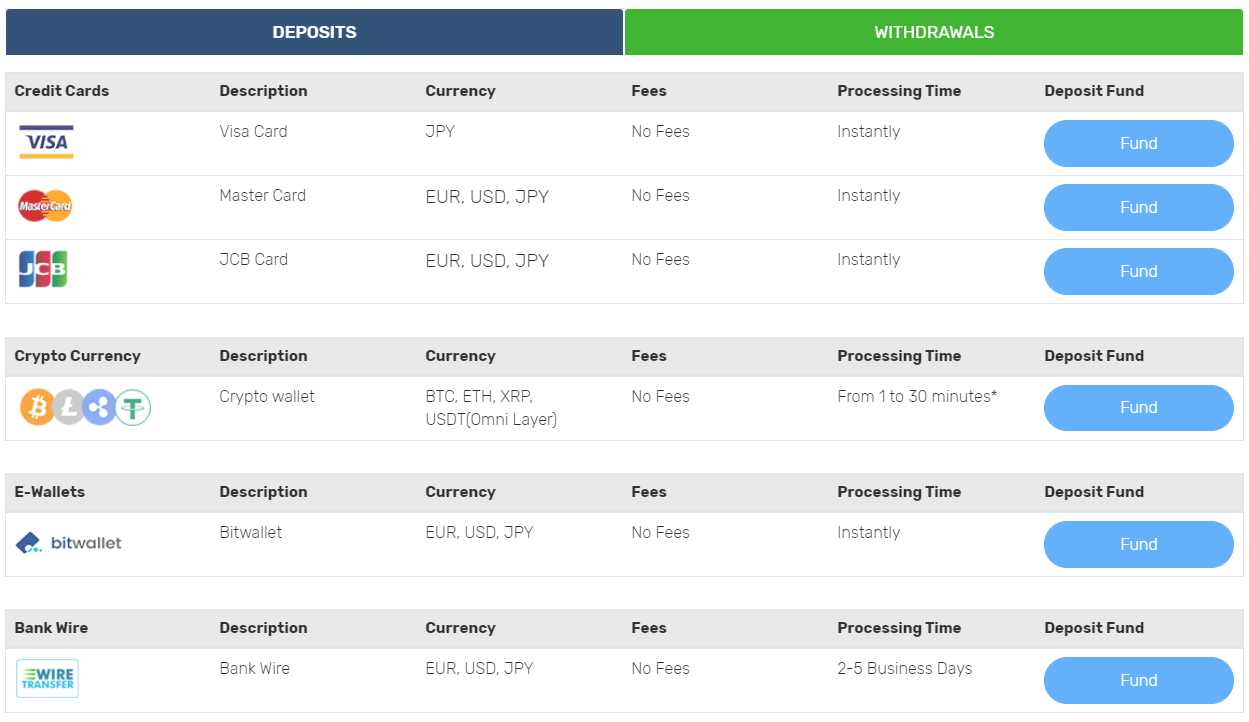 Speaking of deposits, there's one more feature that further deepens our suspicions. As we noted earlier, FXGT has only one account, and that account only requires a $5 minimum deposit to start trading at FXGT. We don't know about anyone else but for us, that sure seems like a dangerous thing. The majority of credible brokers require about $100 from their clients to give them access to their platforms.
When it comes to making those deposits, we have to admit that there's a diversity of platforms that power the payments at FXGT. We found out that traders can make deposits, as well as FXGT withdrawals via Visa, MasterCard, and JCB credit cards, various crypto wallets, and, of course, bank wire. What's more, all payments are commission-less. Yet this feature doesn't disprove our suspicions of the broker's scam.
What's our final FXGT rating?
So, after all we said earlier, what is our final opinion of the broker? Should you associate yourselves, as well as your finances, with FXGT?
We think you should absolutely not! This broker has too many holes in its platform to consider it safe. The license, in particular, is very suspicious and not very powerful when dealing with an international Forex brokerage.
Therefore, we're not going to recommend FXGT to our readers, even if we're wrong and our FXGT fraud suspicions are nothing more than suspicions.