A detailed FXVC review for those interested in trading CFDs

Out of the many new Crypto CFD trading brokerages, FXVC Forex Broker might sometimes feel like the one that can be respected or everything they are. This broker is reliable, has a history of working with financial assets (now including crypto CFDs) and has been licensed by a number of the most trustworthy regulatory bodies across the world. The reputation they have garnered, the offers they provide to their clients and the care they take in securing the information of their clients is incredible. The high quality of the web platform, as well as the level of integration with mobile devices, all let us believe that FXVC is one of the best brokers out there. But don't just trust us. Let us take a closer look and see how and why this might be true.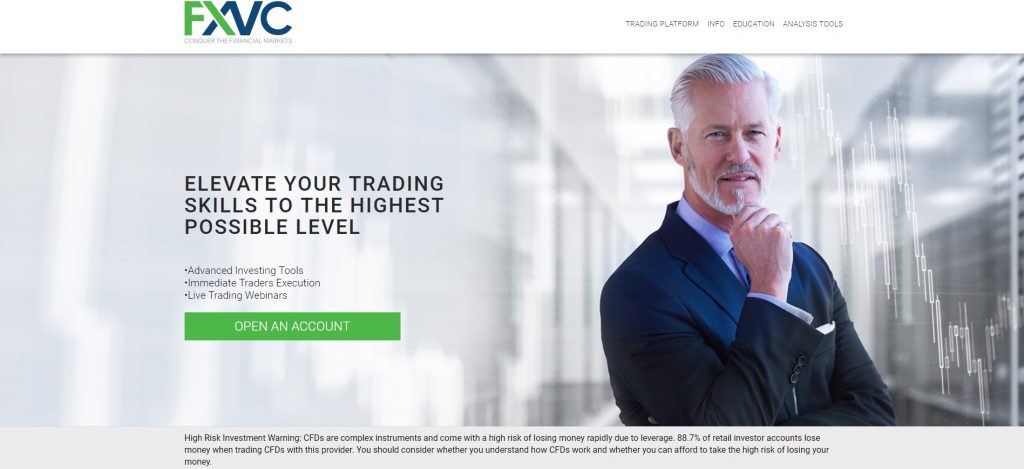 FXVC.eu review
It seems that whoever decided to create the website for FXVC took great care in building a working, appealing and actually useful website. As a result, the website does not overload the visitor with information. Instead, it allows them to learn the details about the functionality of the FXVC FX brokerage at their own pace, while also providing them with quick navigation tools and a pleasant design.
The website takes some of the design ideas it has from the traditional forex brokerage design. It works with a basic scroll website. The imagery that is presented to the viewer is not unrelated though. The website favors, instead of overly complicated pictures, a simplistic design based on geometric design, color and the occasional picture depicting one of their traders. The rest is dedicated to easily and simply conveyed information. Which is what helps increase the FXVC rating for us.
The homepage of the website provides easy to find navigation options to go to parts of the website that contains relevant information. The navigation toolbar at the top leads to the trading platform page, to information about trading, the broker and account types, to the educational part of the website and to the listing of analytical tools, how to use them and the pages where you can actually start using them. There are also easy ways to navigate to pages that have Key Information Documents, KIDs, which provide important information on the subject of trading CFDs within certain contexts and with certain techniques. There are also news and economic calendar pages, as well as other easy places to navigate to.
Offers and Platform
The broker seems to have a large range of services that it can offer to its users. First of all, the types of trading that can be done with the platform is pretty impressive. The broker allows its traders to work with CFDs, crypto CFDs, Forex and some commodities. This gives a very positive spin to the FXVC review, as we believe that such a range of products allows for diversification of assets and hedging against risks that come with trading. The type of hedging that might even save people from losing extreme amounts of money. A very positive aspect that more brokers should seek to have on their platforms.
Is FXVC legit in its offers? We believe so. One of the reasons is the tiered account level system that they provide for the benefit of their users. The range of the accounts starts and basic and goes on to silver, gold, platinum, and VIP. The different types of accounts offer increasingly beneficial features to the users who end up using them. The basic account is the simplest one, requiring a five hundred Euro deposit and offers the most basic features, such as the full range of the tradeable assets and trading alerts. The additional features increase in value with higher deposits. The maximum deposit that lands you at the highest account type is one hundred thousand Euros. The large jumps in deposit requirements are there to protect traders from themselves. This way, the traders do not end up depositing capital that they are unable or unwilling to risk. Though the range of features that the traders receive at higher deposit levels provide them with a level of security. A personal manager is there to prevent you from trading anything you don't want to trade and the additional education and analytical tools will help you achieve better results in your trading over time.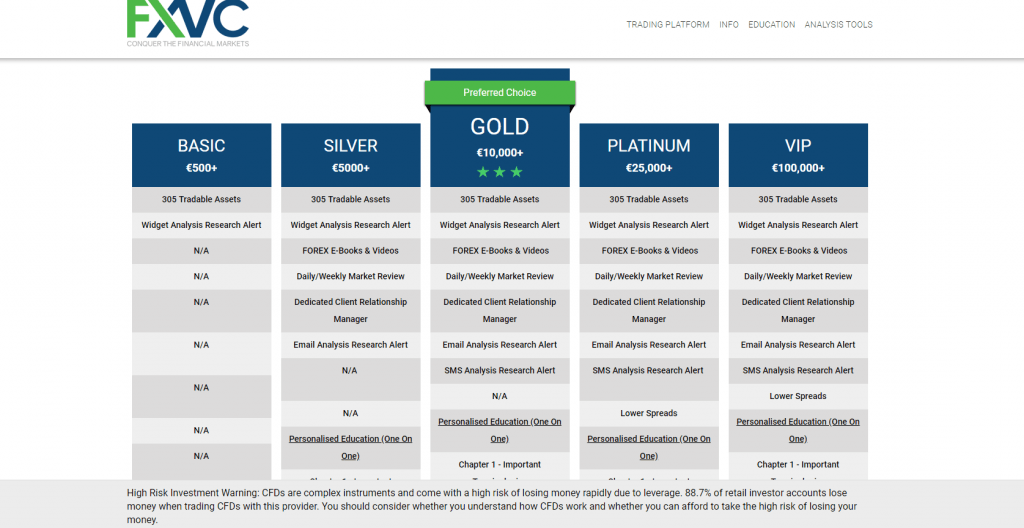 Speaking of education, the broker offers an "academy" to their clients. The very basics of the academy are available to all users for free and are rather useful to beginner traders. Though, if the client decides to advance in terms of their account type, they will have to enjoy the academy's full resources. These include in-depth guides, books, and seminars that will assist them in learning about trading and how it should be done correctly.
Unfortunately, there is no FXVC MT4 platform available, but the broker does offer their browser-based platform for trade. It is very easy to use, offering the clients a very intuitive design that is combined with easy indexing and quick signals. The platform has several tabs for each kind of asset trading and is very quick in the execution of the trades. It is quite an impressive achievement by FXVC that they should definitely be proud of.
Our FXVC opinions on license and reputation
The broker is licensed by CySec, which is Cyprus Securities and Exchange Commission. This regulatory body is one of the most reliable around the world, which grants the broker the reputation of one of the most reliable ones around. The fact that the licensing exists should be evidence that there is no way for FXVC fraud to be a thing. We are always glad to see CySec regulation and would encourage any trader looking to start trading with Crypto CFDs to try and register with the company and trade with them.
If the question "Can FXVC be trusted" is still bothering you, then let us tell you about their reputation among the users. The online FXVC reviews you see, posted by users, are mostly positive. Most of them talk about the reliability and the ease of working with the broke. Often they go into detail to talk about how hedging against risk by investing in different asset types has saved them many a time from losing all of their investment capital in one go. Though there are, as always, those who have lost money and as a result ended up leaving a bad review, blaming the broker for their less than optimal trades. There are also legitimately concerning reports, though it seems the broker responded to them and solved the issues in a timely manner. Such response time is another positive aspect of the broker, as it seems they spend a lot of their energy on leaving their clients and customers satisfied. This level of dedication is important and respectable in the world of brokerage.
Final Verdict
Overall, we have come to the conclusion that FXVC scam is impossible, and moreover, it might be one of the best brokers to trade Crypto CFDs with. While there might be other companies that specialize in this asset and provide a wide range of services and opportunities to the traders, it is our FXVC opinion that they offer a superior service. The diverse range of assets and products, their educational platform, as well as their support team all,  offer something that many other brokers are unable to provide to their clients. This broker comes highly recommended from us, so definitely consider working with them in the future.
★★★★☆

based on

4

reviews
Overall rating:
Good broker FXVC
★★★★☆
Licensed, with a good account offer. What else do you need from a good broker? 🙂
"
Mr.
★★★★★
I would like to know if you can do automated trading on your platform. Because I am 86 year old and a Pensioner and not willing to learn to do trading manually myself. I will just invest USD$250 after it achieves $1,000 I want this to trade and capitalise & reinvest the profit on and on till I want this process to STOP.
"
Stay away!
★☆☆☆☆
Worst broker I have ever traded with! They did not execute my orders properly and made me lose money over and over again. They are scamming people
"