Global GT Review – Should you trust this FX broker?
Global GT FX broker is a new project of GT Group company, which has been around for years. The company has created many well-developed Forex brands, mainly focusing on Asian and African regions. However, this time, GT Groups plans to become a leading player, by offering new Forex brokers with an international scope.
Global GT is a new Forex broker, however, it proves that even without a huge history, it can offer some of the greatest services to Forex traders. As of now, there are 500 trading assets available at the Forex broker, which means that everyone can easily find a trading instrument of his choice.
Global GT works very hard to offer traders a safe and secure trading experience, because of which it follows Forex trading guidelines of leading regulators. Finding a trustworthy Forex broker is never easy, especially when you are new to the market. If you are looking for a new broker to start trading with, follow our Global GT FX broker review, as we find out everything that there is to know about this Forex broker.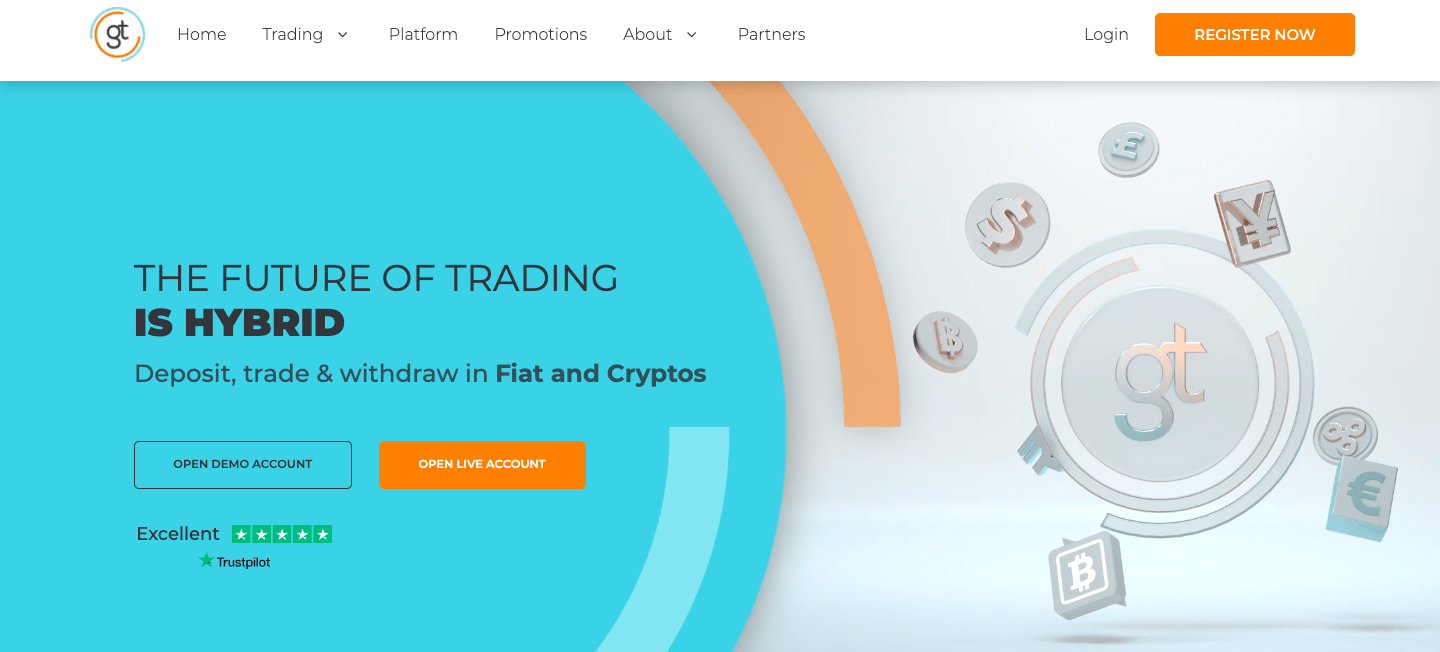 Global GT Forex broker – A quick overview
Global GT is a newly established Forex broker, which offers services to traders across the globe. The Forex broker was created by a very famous, GT Group, which is known for operating several successful brands. With Global GT, the company is aiming to meet its international aspirations.
The Forex broker is headquartered in Gauteng, South Africa. It is regulated and registered in two jurisdictions, one in South Africa, to offer the citizens of the country its services, and another one in Seychelles to offer international community trading services.
With the regulatory framework that this Forex broker has, it is able to offer services to many jurisdictions throughout, and although there still are some countries where it is not available, it strives to become well-known on the international market.
Citizens of European countries are sadly not able to enjoy their services. It is simply because, in Europe, only brokers that are registered locally are able to serve local traders. The same goes for the United States of America. Global GT does not accept clients from Russia, Canada, and Iran either.
The representatives of the Forex broker has many times regarded that it is working tirelessly to keep the funds of their clients safe, and there are a number of things it does to guarantee your safety in this market.
How does Global GT guarantee a trader's safety?
In the world of Forex trading, regulations are of utmost importance. Although not many people understand, regulations are something that makes this market safer and more secure for traders. This Forex broker follows two regulatory agencies: The Financial Services Conduct Authority, FSCA of South Africa, and Financial Services Authority, FSA of Seychelles.
With the FSCA regulation, the Forex broker is able to offer the people of South Africa its services. With the license of FSA, it is able to offer services all around the world. Thanks to the regulatory framework that these two agencies have, trading with this Forex broker is safe for traders.
The Forex broker offers a leverage of 1:1000, which is considered to be very high in this market. However, this does not mean that your safety is not guaranteed. The Forex broker has a Negative Balance Protection, which means that even if you use the highest possible leverage and lose every single one of your positions, you will not lose more money than you have on your account.
Thanks to the Negative Balance Protection, all of your positions will be closed once your balance nears zero. This is very important and will make Forex trading safer for every trader.
Account segregation
Another thing that should be noted while talking about client safety is to account for segregation. This Forex broker keeps the funds of its clients on segregated bank accounts, which ensures the safety of traders.
With this, you can be sure that no matter what goes wrong, even if the Forex broker goes bankrupt, you will still be able to have access to your funds and withdraw it through your segregated bank account.
Forex trading accounts at Global GT
For the clients of the company, the broker offers four distinct account types. The majority of the accounts offer traders the ability to access the leverage up to 1:1000, 500 trading assets, tight spreads, and low commissions. Available account types on Global GT are:
Cent Account
Mini Account
Standard Account
ECN Account

Registering at the Forex broker is very simple and can be done in under a minute, which is one of the biggest advantages of this Forex broker. All traders need to do is to provide basic information about themselves, such as name, email, phone number, country of origin, etc.
However, one thing that traders should always keep in mind is that there is an inactive fee charged by the Forex broker. So, if you decide that you do not want to trade anymore, simply ask the Forex broker to cancel your account, so that you won't have to pay money for this.
The Forex broker notes that after 90 days of inactivity, it charges $10. From then onwards, the fee is $10 monthly, until the remaining account balance is $0.
Demo trading account
Global GT FX broker review shows that this Forex broker also offers a demo trading account. This is one of the best ways to start trading Forex in this market. With a demo account, you will be able to trade Forex without any risks. While using this account type, the Forex broker will give you a certain amount of virtual cash, which you will be able to use for trading. After you have spent all of your virtual money, you can ask for more if you need to practice more.
Many people have this misconception about demo trading account that it is only for beginner Forex traders, which is not true at all. In reality, this is something that can be used by even the most experienced Forex traders who have been in this market for years now.
The main reason for this is that Forex traders can try out different types of new trading strategies with this account type, without having to risk their own funds. There actually are many experienced Forex traders in the market who are still using demo account every once in a while. So, the fact that Global GT offers this type of account is a great advantage.
Swap-Free trading account
Our review of the Global GT Forex broker shows that this broker offers a swap-free trading account by sending a request to support (this can be requested only on the grounds of religious beliefs).. This is not something that should come as a surprise, however. The representatives of the Forex broker have noted many times that they are aiming to have international success, for which, it is very important to respect Forex brokers of every background.
A swap-Free account in Forex is also known as an Islamic account. As you might already know the Sharia law of the Quran prohibits those who follow the beliefs of Islam to pay or receive any type of interest rate. With the swap-free account, those who follow the Quran can trade Forex while also respecting their religious beliefs.
What are the fees at Global GT broker?
Our review of the Global GT FX broker shows that there are no fees or commissions charged by the Forex broker. As we were able to find, there are no CFD commission fees. When it comes to payments, the Forex broker does not charge anything for deposits or withdrawals.
however, make sure to double-check this information with your payment issuer, since there might be some fees applied from the side of your payment issuer. However, there is a fee that you will have to pay, which we have already talked about earlier, if you will not use your account for more than 90 days.
What can you trade at Global GT FX broker?
As our review of Global GT shows, this Forex broker offers 500 trading assets to traders. This is a great thing, especially if you want to diversify your trading portfolio. At Global GT, you can trade:
Forex Currency Pairs
Cryptocurrencies
Commodity CFDs
Indices & Stocks CFDs
Out of the 500 trading assets, there are 48 Forex currency pairs available at this FX broker. You can trade Major, Minor, and Exotic currency pairs with Global GT.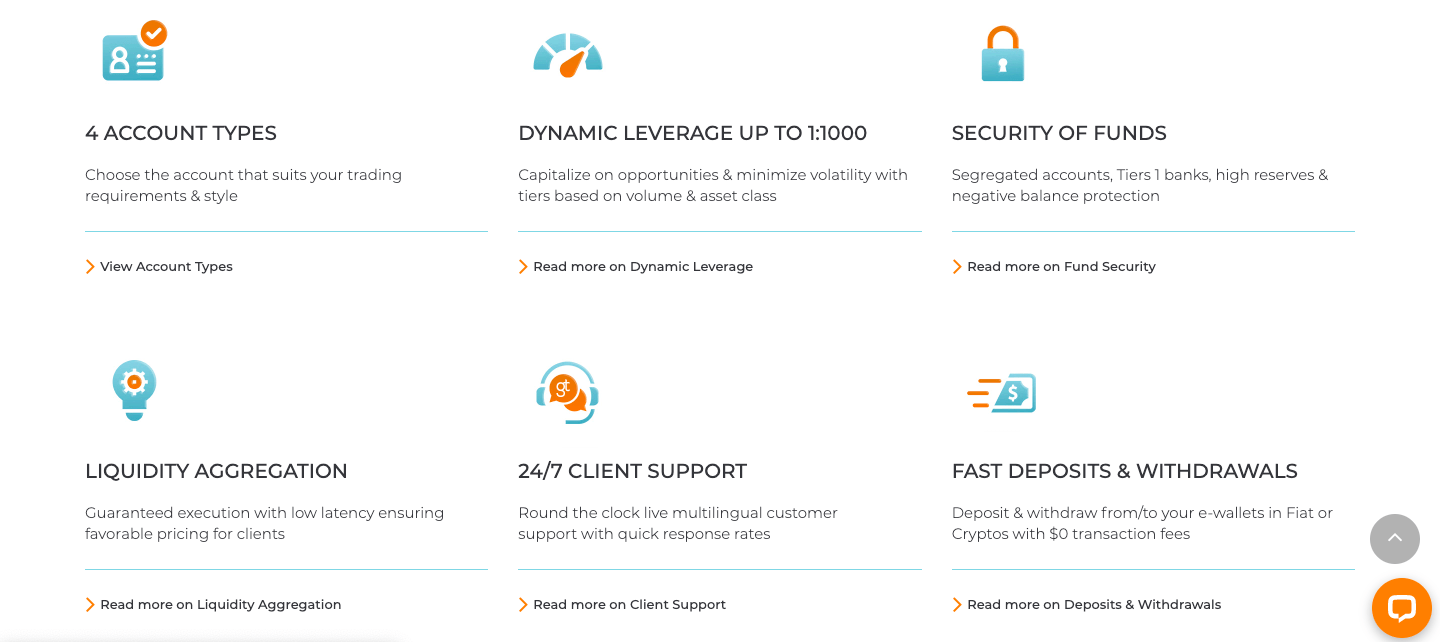 Also, investors can also trade cryptocurrencies, there are more than 13 of them available at this Forex broker. In recent years, crypto trading has actually become very popular.
The broker also offers Commodity CFDs trading, 5 trading commodities available, such as metals and energies. There also are more than 50 stocks available at the Forex broker and 8 indices, including UK Shares, US Shares, German Shares, and Japanese Shares. The Forex broker does not offer trading futures or options, however.
With such a variety of trading assets, it is very easy for investors to diversify their portfolios, which is something that is very exciting for many traders. So, if you want to start trading a Forex broker that offers you diverse trading opportunities, this is is the place to start trading.
It should not come as a surprise that the most popular asset at this Forex broker is the Forex currency pairs. The Forex trading market is known to be the biggest financial market around the world, with more than $5.1 trillion daily turnover.
Trading platforms of Global GT
When it comes to Forex trading, trading platforms are of utmost importance, because they are something that gives you access to the trading market. Our review of the Global GT Forex broker shows that this Forex broker offers MetaTrader 5 trading platform. Thanks to the rich analysis tools and indicators, this trading platform is an excellent solution for experienced traders. It also offers automated trading through expert advisors and signals, which makes Forex trading much easier.
This Forex broker also offers traders a Web-based trading platform, which gives you the ability to trade Forex without having to download any additional application to your computer. Also, there is a mobile version of the trading platform available. This means that you can trade Forex on the go, no matter where you are. However, keep in mind that there is no iOS app version available. However, Android users have the ability to use special applications created for them.
Mobile trading has become very popular in recent years. This is especially important for those who are always on the go, now, they can always stay in touch with the market and make moves if necessary using their smartphones.
Payments methods available at Global GT
Once you have chosen which account you want to use and understand the way the trading platform works, it is time for you to make your first payments. The Forex broker notes that the minimum deposit at this Forex broker is $5.
Our review of the Global GT Forex broker shows that there is a variety of payment methods accepted at the broker. First of all, traders are offered to make payments with more traditional payment methods, such as Credit/Debit cards and direct bank transfers.
Available credit cards include Visa and Mastercard. There also is an option for payments in cryptocurrencies. You can make payments using BTC, ETH, USDT, XRP. The Forex broker also offers payments in StickPay wallet, and other online transfers, such as Skrill and Neteller. You can also make payments using Swiffy, which is an instant bank transfer.
While reading the account, keep in mind that you will be able to use 7 base currencies, such as USD, EUR, ZAR, BTC, ETH, XRP, USDT. It means that you will be able to make deposits and withdrawals in this level of currencies. Also, keep in mind that the broker does not charge any fees for payments, however, it would be better to double-check this information with your payment provider, because there might be some fees charged from their side.
Are there any bonuses available?
There are several types of bonuses available at this Forex broker. Our review of the Global GT broker shows that this company offers a $35 No Deposit Bonus, 60% Welcome Bonus and 30% Loyalty Bonus. The competitive combination of different types of bonuses and loyalty programs makes this company very popular among newcomers in the market.
Keep an eye on the website of the Forex broker to always stay up to date with the information regarding the bonuses and promotions offered by the Forex broker.
Customer Support Team
When it comes to trading Forex, you have to be sure that you can get the help that you need any time of the day. There are several options that traders have when it comes to the customer support team of the Global GT FX broker. The customer support team is available 24/7 with its online chat and email.
However, keep in mind that it is only available in English. The customer support team is very responsive and they are very fast to reply. Most importantly, they are very helpful.
Is Global GT a trustworthy Forex broker?
After reviewing the Global GT FX broker and going through every little detail of this company, we were able to find that this Forex broker is very trustworthy. The Forex broker offers more than 500 available instruments, which offers traders of any interest something that they could appreciate and enjoy.
With its goal of becoming one of the leading international Forex brokers, Global GT is a perfect place to start Forex trading. With little to no fees and very tight spreads, the services of this Forex broker are very hard to deny. So, if you are looking for a new Forex broker to start trading with, we recommend Global GT!