GrandFX Trade Review – What do we make of this broker?

In Forex, a trading counterparty plays a very important role. It can either make you very successful or destroy your financial life.
Whether you get one outcome or the other depends on which Forex broker you choose to trade with. Today's world of online trading is drenched with brokers that seem quite okay but inherently aren't; their platforms reek of scam and fraud.
But how can you distinguish fraudsters from legit brokers? Surely you can't take a leap of faith, hoping that the broker you choose turns out to be a company that cares about your finances.
So, what you should do is consider everything that the broker offers and then make up your mind. It's what we're going to do in this GrandFX Trade review. So, follow along to make sure you don't miss anything important about this broker.
GrandFX Trade promotions – are they real?
Alright, we know what you really want to know – trading numbers. That's why we'll begin this review with GrandFX Trade promotions. First things first, though: while GrandFX Trade claims it is a crypto trading broker, we weren't able to find any information that would prove that. The only tradable asset class we came across was Forex pairs. Right away, our opinion of this broker is starting to deteriorate.
Next up, let's see what spreads and leverage look like. As you know, spreads are important sources of income for Forex brokers, and especially for those that only have commissions on per-lot trades. Yet as GrandFX Trade points out, its spreads start from 0 pips – a very shiny condition in trading. But how exactly does the broker get its funding then? A good question indeed.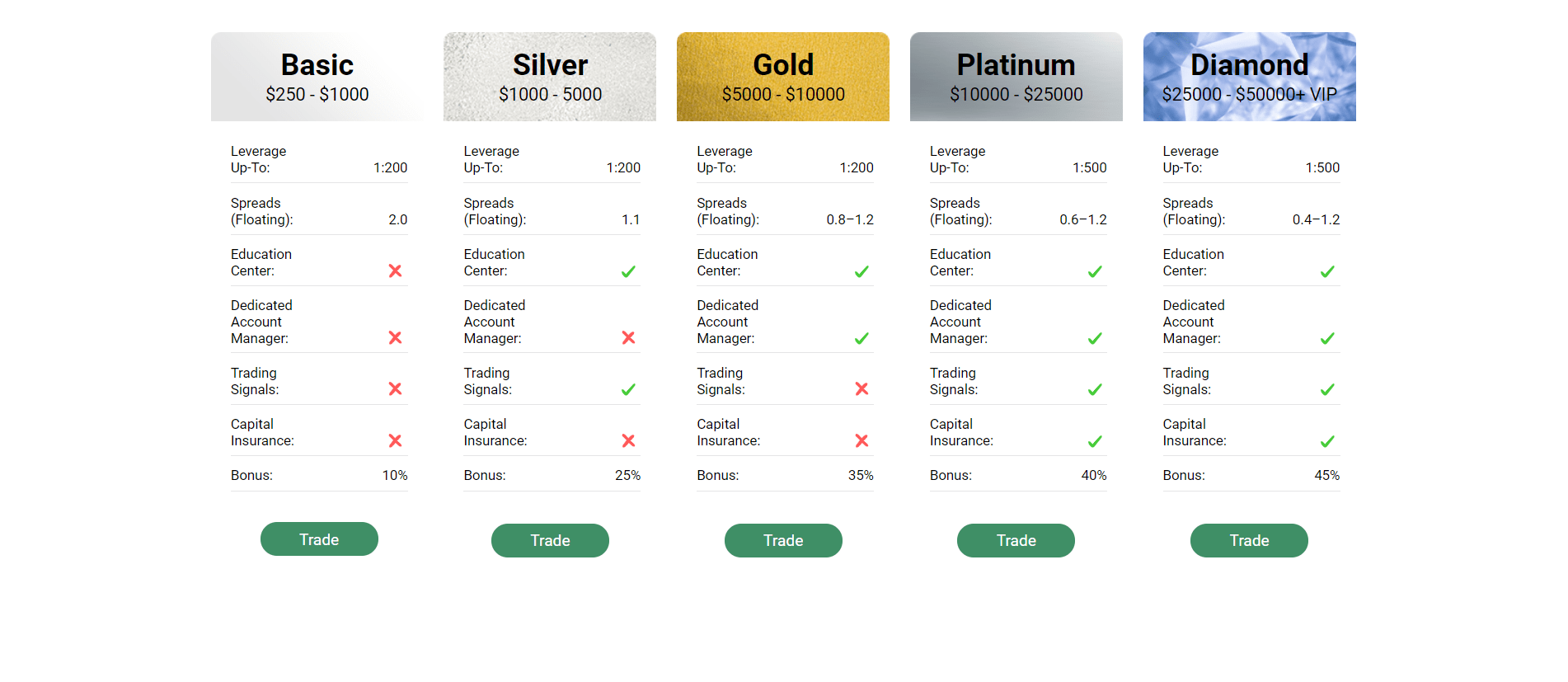 As for the leverage, we're still bombarded with an impressive offering of a 1:500 multiplication rate on Forex trades. However, as we like to point out, it is always important to use the leverage with caution. On the one hand, it increases profits; on the other hand, however, it increases losses as well. That's why the majority of legit brokers tend to be conservative with this offering. Yet that's not the case for the GrandFX Trade Forex broker: it goes wild with its claims of large profits, while forgetting about heavy losses.
As for the minimum deposit requirement, it's exactly the opposite of the leverage and spreads: GrandFX Trade has a hefty $250 deposit requirement for its clients. This is a big financial commitment for lots of beginner traders who want to step into this world without risking too much money. Therefore, it's difficult for us to call GrandFX Trade a beginner-friendly brokerage.
Next up, let's talk about the ways in which you can fund your account and withdraw profits. At GrandFX Trade, the only supported financial platforms are credit cards, bank wire, and Bitcoin. While we're happy to see a crypto payment method, we'd be happier if there were some other platforms like PayPal and e-wallets.
The licensing
Moving on, let's turn our attention to the regulatory material at GrandFX Trade. In our opinion, the credibility of GrandFX Trade scam reports depends on the type of license the broker has.
As we found out from the short disclaimer down at the very bottom of the website, GrandFX Trade has a headquarters in the UK while it was registered in Belize. And as the main destination, Belize's International Financial Services Commission has issued a license for the broker.
Now, what do we make of this IFSC license? Is it strong enough to ensure high-standard financial service at GrandFX Trade? Well, the broker surely claims that, yet we don't think that a Central American Latin country can ensure that for a broker that operates internationally. There are lots of ways GrandFX Trade can hide its activities from the IFSC and have total impunity for illegal actions.
Therefore, we think that GrandFX Trade is as close to being an unregulated broker as it can get.
The website overview
Lastly, let's take a look at the website and software support at GrandFX Trade. During our Grandfx-trade.com review, our eyes were constantly distracted by unnecessary visual effects and saturated wallpapers. It is always better to have a website that effortlessly conveys information about trading terms and conditions.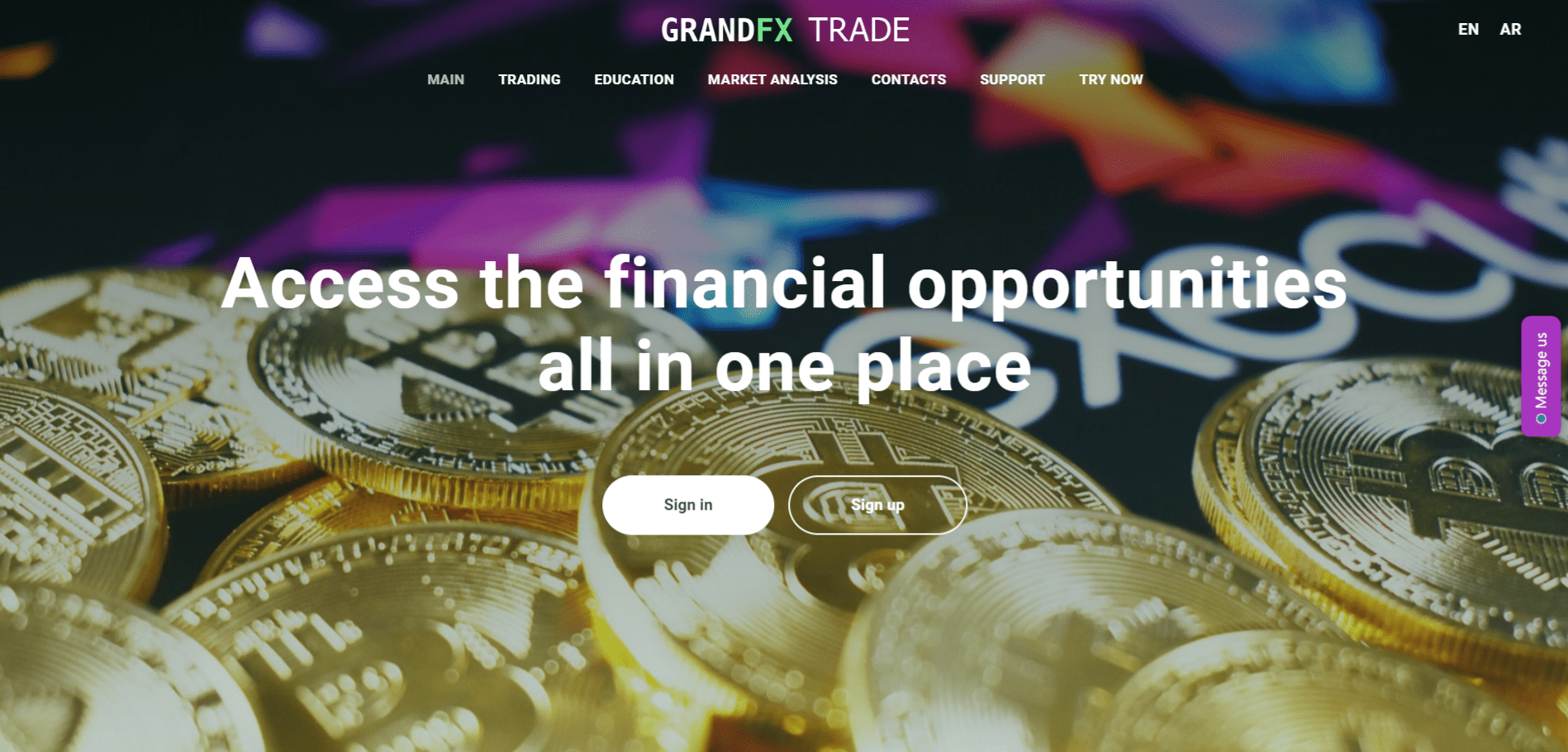 The informative aspect itself is somewhat moderate: the broker heavily showcases its flashy conditions and offerings, whereas there's not much information about the background of GrandFX Trade.
When it comes to trading accounts, we have to give the broker some credit because offering five different packages is pretty decent on the Forex market. These accounts have lots of differences, be it in spread sizes, bonus offerings, or minimum deposit requirements.
Finally, let's talk about available trading software. Upon checking the platform, we only came across a proprietary desktop and web trading platform. Now, desktop software looks like terrible MT4 software, whereas the WebTrader is more sleek and simplistic. Either way, the bottom line is this: GrandFX Trade has more flexibility to plant scams in its own software than in a more universal MetaTrader.
Ultimate rating of GrandFX Trade
To sum it all up, we did a review of the GrandFX Trade FX brokerage and assessed all of its important trade offerings.
Based on overzealous promotions, shady licensing, and not-too-professional website, we can say this: even if the broker isn't a scam, its clumsiness can certainly repel any experienced trader. On our part, we cannot recommend GrandFX Trade to any of our readers.