GreenFX Trading Review

Forex trading is a serious and risky financial endeavor that requires many cautionary measures. You need to make sure that everything works under your control otherwise, it will undermine your financial security and leave you poorer than you were before.
Choosing the right broker is certainly an important measure. In a myriad of Forex brokers, it's hard to find the one with legit market signals and conditions, along with credible licensing material.
When it comes to GreenFX Trading, you have to increase your selection requirements even more. The broker seems to be hiding almost everything from the viewers' eyes. This is exactly why we have decided to make a GreenFX review and make sure, whether it can be trusted or not.
First impressions – is GreenFX legit?
GreenFX Trading is a brokerage established somewhere in early 2019. Even in this aspect, we're met with secrecy and enigma: the broker only mentions that there have been 28 weeks since something has happened. Now, we don't know exactly what these 28 weeks mean but we can assume that this is how long the company has been operating on the Forex (along with other) market.
First things first, the website looks awful. The interface is overly amateurish with its bland and dull buttons and fonts; even the thematic separation is all over the place. We'll discuss this, along with other areas, more thoroughly down below. Even a handful of photos and visual effects are low quality and not too pleasing to look at.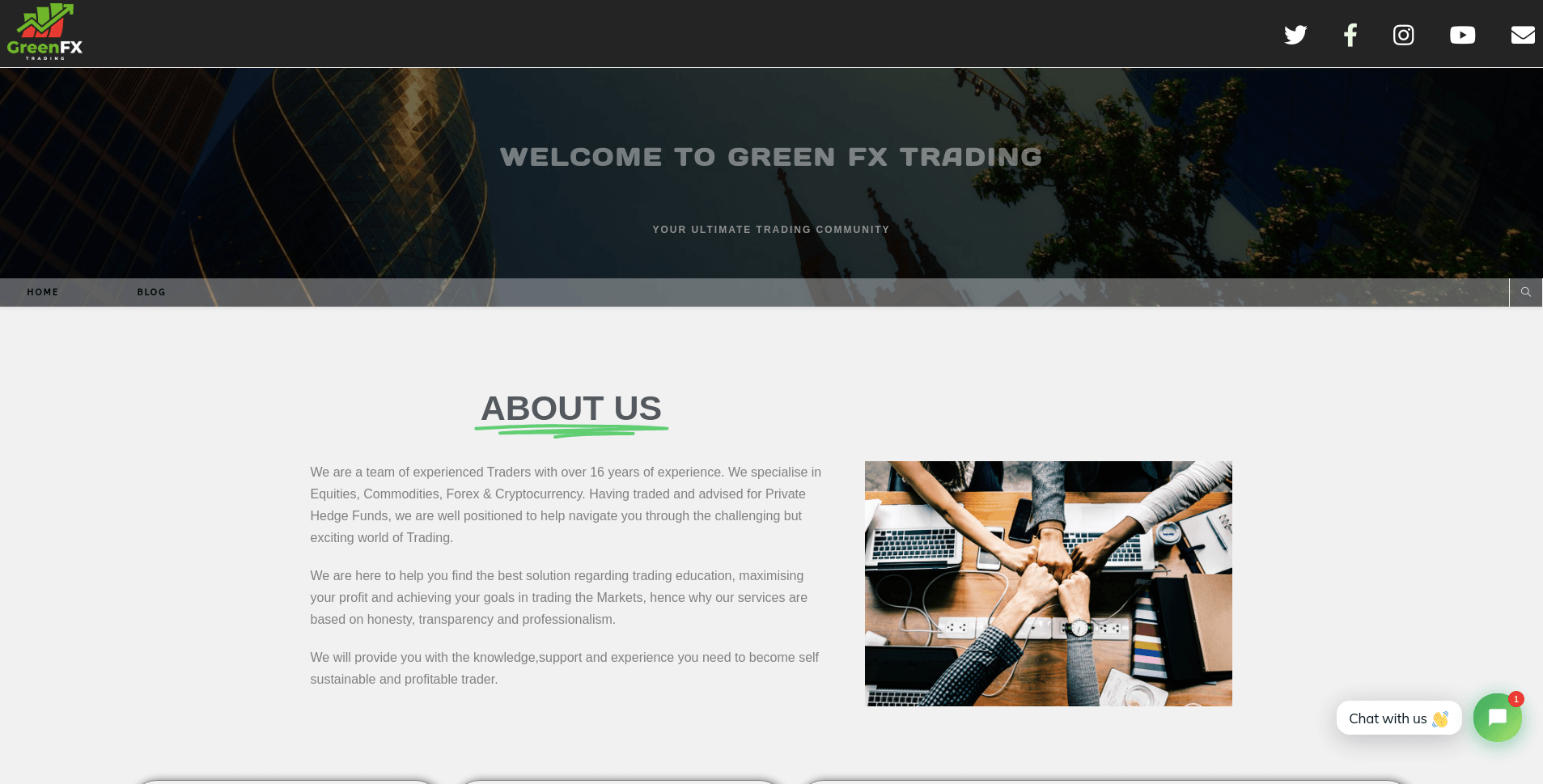 The only tab on the website other than Home is Blog which, as you might have guessed, should contain the stories and blogs from the broker. However, even here there's nothing to be seen.
The broker offers three types of subscription accounts that it calls "VIP Signals". The only way you can access the trading signals and conditions is through subscribing to the website. And when it comes to price, these accounts are some of the more expensive ones on the market; the most basic, 1-month subscription costs 40 GBP.
Again, if you want to unlock the "premium" offer of market signals and conditions, you have to purchase one of three subscription packages and only then will you see the leverages, spreads, and other indicators. We can easily call it theft because the majority of Forex brokers already feature the market indicators without charging anything from their customers.
As for the licensing and regulation material, we're also engulfed with this cloud of secrecy: there's no mention of where the company was registered or who issued its license. This leads us to believe that there's no actual license to GreenFX.
The website overview
Now, let's take a closer look at the website and see, what's really hiding under the hood. As we've mentioned above, there's not much to be excited about the interface. It looks very messy and all over the place; the buttons and indicators are somehow blended with the white background, making it difficult to discern what they're actually saying; and the images and visual effects are very low quality, further reducing the hopes about the broker.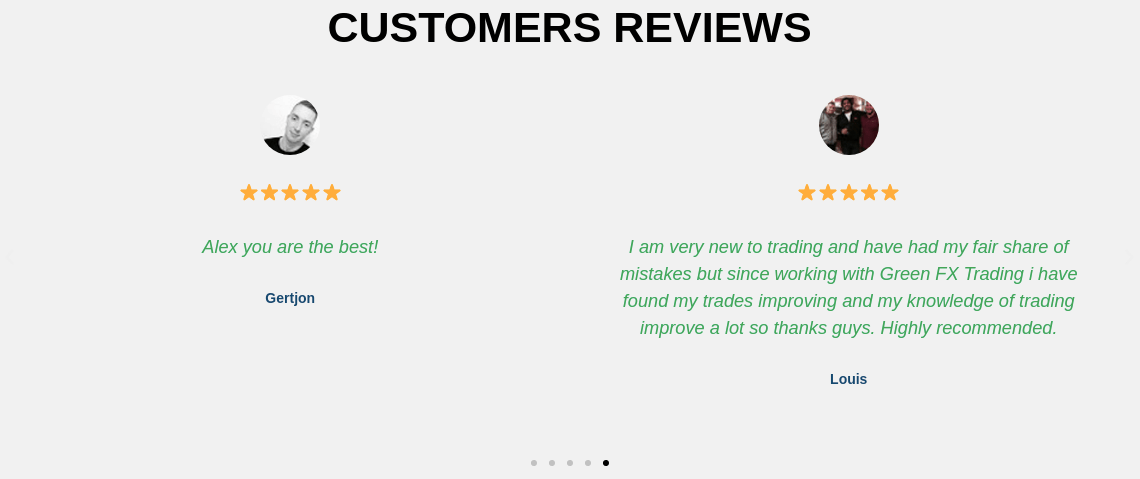 While the About Us section says that the group of Forex traders has been on the market for 16 years, their website clearly doesn't reveal how much of an experience they have gathered. It's safe to say that the opposite stems from the interface: GreenFX doesn't know how to operate on the Forex market. There's no thematic separation that could make it easy for the visitors to find important information about the broker.
Further enforcing our GreenFX fraud suspicions is the claim that the broker is actually an educator. "We will provide you with the knowledge, support and experience you need to become self sustainable and profitable trader," says their webpage. But how do they prove all this? Can a customer access the educational material on the website? Well, if GreenFX is an educational entity, it has to put the educational material somewhere. While there's a Blog tab where you'd expect these materials to be posted, there's absolutely nothing in there – no stories, no blogs, no educational material whatsoever.
As you might remember, there are three different subscription packages on the website: 1-month, 2-month, and 6-month subscriptions. If you choose any of them and pay the money, then you'll be able to unlock the market signals and conditions. What's even more concerning is the fact that you purchase these packages through PayPal – one of the most secure and anonymous platforms in the world. This way, the broker can easily conceal the transaction details and evade any responsibility if something goes wrong.
Can GreenFX be trusted with its trading terms and conditions?
When it comes to trading terms and conditions, there's nothing more shady and opaque: the only way you can see what the leverages, spreads, bonuses, and other indicators are is if you subscribe to any of those three packages. And what's worse, the most basic one, a 1-month subscription costs 40 GBP. That's right; 40 GBP just to see what the GreenFX promotions are; after that, you have to make additional deposits and transactions to start the actual trading.
And you might be asking: why shouldn't I pay the money to know what the market conditions are? How does it indicate the fraudulence of GreenFX? Here's why: almost every broker in the industry has in one way or another indicated the market conditions on their website. It doesn't matter if they're legit or not, they still feature them without charging the money from the customers. And when one broker does exactly the opposite, we start to question its credibility.

Therefore, this only enforces our suspicions that GreenFX wants to take your money in every possible way, robbing you and giving nothing in return: as you remember, there's no feasible benefit to subscribing to the platform. The only benefits that you get are the market signals, customer support, and the educational materials, nothing more.
What should you think about GreenFX's regulation?
You probably won't be surprised to find out that there's no licensing or regulation material indicated anywhere. The only thing that the broker says about its establishment is that they've been operating for 28 weeks – kind of an unusual method for measuring the operation length.
And while the broker just briefly mentions that its information and signals shouldn't be considered as trading advice, there's no actual license or legal framework that would constrain them from doing financial Ponzi schemes.
And if you wonder how this is beneficial to the brokers such as GreenFX Forex broker, here's how it goes: the financial companies often migrate their businesses to the distant and small countries or even avoid any regulatory oversight entirely. This comes in handy when they want to hide their earnings from taxes and the illicit activities from the punishment. Therefore, GreenFX does a pretty good job for its own interests.
Although we can say in favor of the broker that it's not lying to their customers as if it has some sort of a CySEC or BaFIN regulation which would also mean nothing – these licenses might be effective on paper but in reality, they're close to zero.
Our final GreenFX rating
Forex brokers can be many things: they can either be legit and credible or deceptive and fraudulent. Some of them have legit market conditions and promise lucrative outcomes, while the others are mostly lying about their flashy promotions. However, one similarity between them is that they all communicate with their customers. There aren't a lot of brokers that hide almost everything about themselves.
And with GreenFX Trading, we've been able to experience exactly this case. A thick cloud of secrecy and covered information further enforce our suspicions and lower the GreenFX opinions for many traders – not just ours.
There's absolutely no mention of market signals and conditions; there are no licensing materials indicated anywhere; the only thing that should contain any possible information about the broker is the Blog tab. However, even here there are no stories or blogs of any kind.
In conclusion, we're mostly sure that if there's one broker that you should avoid entirely, it's GreenFX. You might be crawling into a Ponzi scheme while thinking you're going to get rich. Protect your financial stability and find someone who's more open and credible.