Invest Markets Reviews- Is the Broker Worth Trading with?

Invest Markets is a Forex broker authorized by the International Financial Services Commission of Belize. It provides opportunities to trade in a variety of trading instruments including Forex, Commodities, Indices, Shares, Cryptocurrencies, as well as ETFs using the popular MetaTrader 4 platform as well as the proprietary InvestMarkets WebTrader.
In terms of leverage, the broker provides both 1:50 and 1:500 for various sorts of customers with a $500 minimum deposit. Besides, the broker has no tight spreads offered as well as no Islamic account.
So in this Invest Markets review, we are going to further talk about the trustworthiness of this company and also discuss some of the important issues such as leverage, trading accounts, the website of the company, and Deposits & Withdrawals. So let's get started in order to explore all about this brokerage.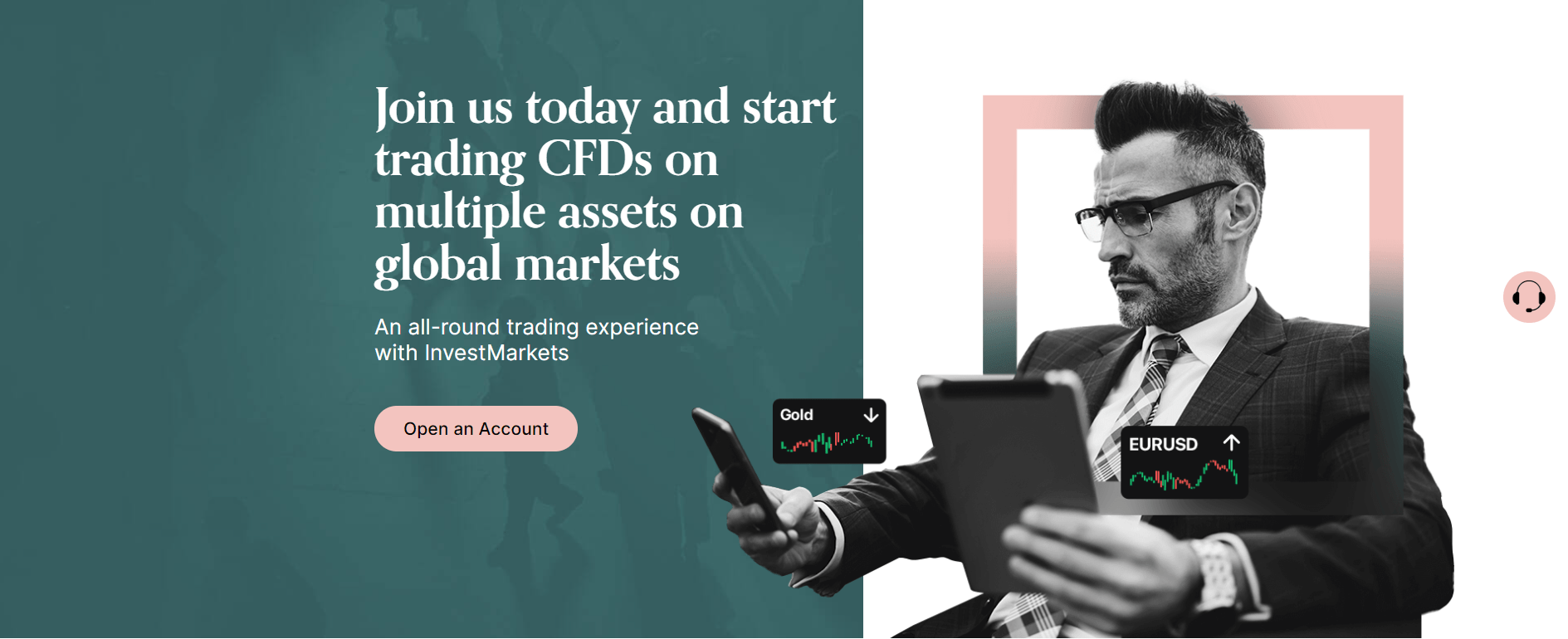 Can Invest Market be trusted? Are they a reliable brokerage?
In order to evaluate whether or not the firm can be trusted, we must first examine its licensing. Fortunately, the website does not hide this information and exposes it all clearly in the footer. According to this written information, the company is regulated by the International Financial Services Commission of Belize with license number 000307/166. This would typically be enough to consider the broker to be reliable, but there are several problems related to their authorization.

The International Financial Services Commission of Belize is not a very reliable institution in terms of giving authorizations to broker companies. This is because they are often engaged in fraud. On top of that, they often give numerous scam brokers a regulation, without any further checking of what they are doing and if they are truly legitimate.
As a result, we truly can not state that the registration and licensing statements in this nation relax us, indeed it makes the Investment Markets fraud more likely to be true. But let us forget that we have learned this information first and try to assess this broker in comparison with present market norms.
Is the website user-friendly?
We must concentrate on the website design before even touching the terms and conditions and see if it is easy to navigate and enables newbies to quickly navigate through the different sections of the webpage. This also includes information openness and access to important data.
In the case of Invest Markets, we can say that the website design is minimalistic which makes it easier to process the indicated information pretty easily. However, it should also be noted that when you go into the different sections such as Forex Trading or Cryptocurrencies, there is a lot of unnecessary information written on the webpage which makes the site very useless. It is kind of a blog rather than a broker service. A copy of the text should be small and precise. The clients should have the ability to easily find the desired information without any further searched around the webpage.
InvestMarkets Trading Features – are they competitive in the industry?
Let us now deal with the main section of this review. The parameters of the Investmarkets Forex broker trade. Are they worth it in any manner for both experienced as well as newcomers? Or are they average broker companies or even less than the average? What if they have awful conditions confirming our concerns about the InvestMarkets scam? This section discusses issues such as leverage, spreads, removals, software, and numerous other components of the firm. So let's get started and find out more about the brokerage.
Is it profitable to trade with InvestMarkets?
We must examine their maximum leverage and spreads in order to assess the profitability of trading with this company. First of all, it should be noted that it is very hard to find the information about the leverage and spreads on the website which already gives us some doubts about the company.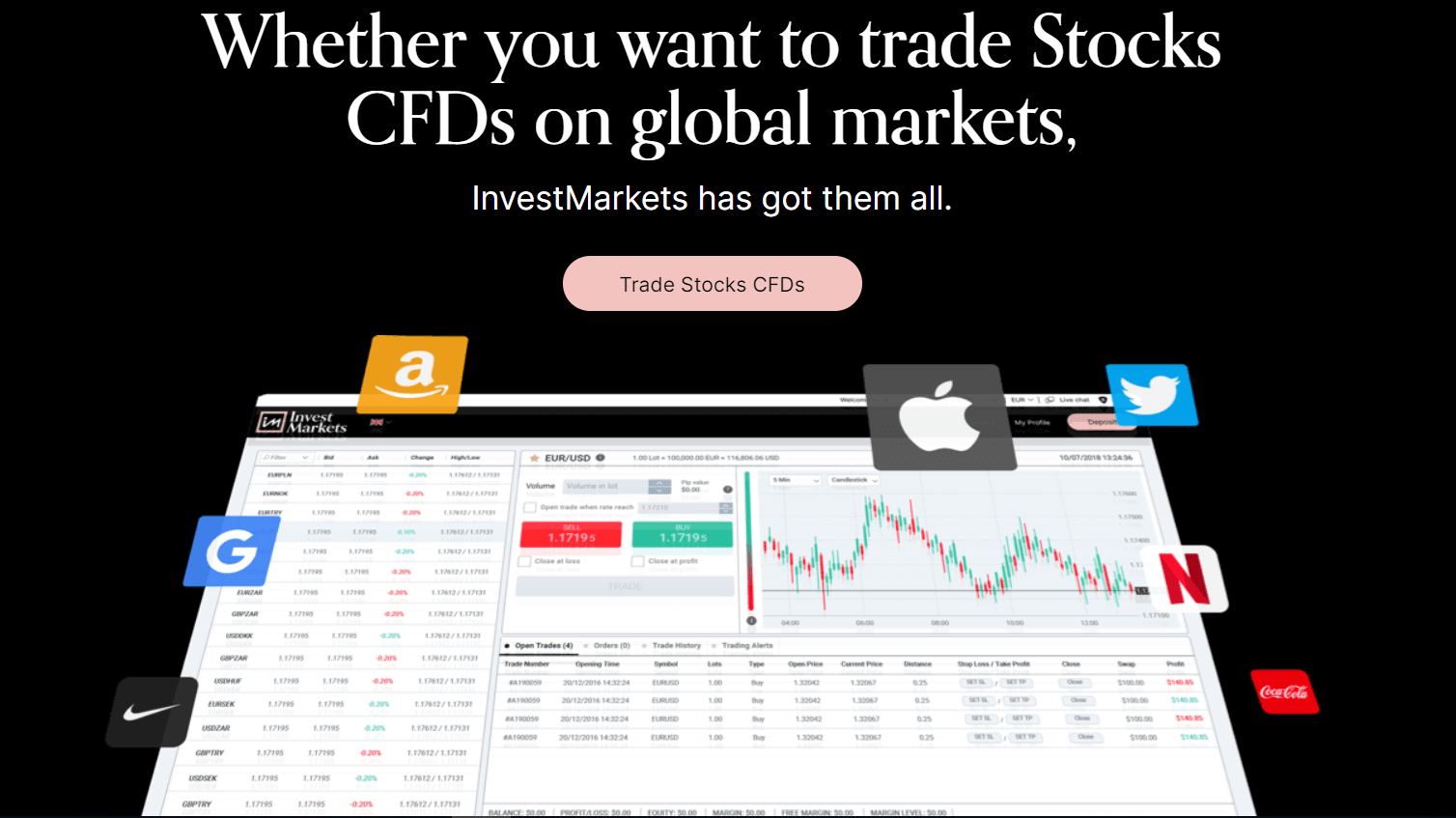 InvestMarkets brokerage gives traders up to 1:500 leverage which is a pretty good advantage. This makes sure that the beginner trader does not have to risk a lot of his own funds and benefit from the added capital due to the high leverage. However, the broker doesn't really offer tight spreads, which means that quite a large chunk of the profits will be going towards paying these off. Furthermore, there's no guarantee that these gains will be protected, as the authorization is not too viable with this broker.
Trading Accounts
Another important thing that should also be highlighted in this InvestMarkets Forex broker guide is the trading accounts they offer to their clients. A Forex account is a trading account which investors keep for trading financial products with a certain broker company. Brokers can give traders a range of accounts for various levels of ability, expertise, and understanding, or perhaps a single account.
Here is the list of what type of trading accounts can InvestMarkets FX brokerage provide their customers with including:
Basic Account
Gold Account
Platinum Account
VIP Account
The maximum leverage remains the same regardless of the account type, but the minimum deposit changes:
Basic Account – $250
Gold Account – $25 000
Platinum Account – $100 000
VIP Account – $250 000
On top of that, as we have already mentioned above, there are no Islamic/Swap-Free accounts for Muslim customers. These trading accounts are given by certain brokers where customers do not charge swaps or overnight charges for opening the trades if these positions remain open for extended periods after the trading is over.
Deposits & Withdrawals
Another important element to bear in mind when assessing the forex brokers is the facility for making deposits and withdrawals. InvestMarkets provides traders with a range of options for making withdrawals and deposits, such as:
Credit cards
Debit cards
OKPAY
Neteller
Skrill
Perfect Money
Bank Wire Transfer

The website claims that the cancelation requests can be completed within 24 hours, however, it may take up to 5 business days for the funds to be deposited into the trader's trading account. Another important thing that should also be noted here is the fact that there can be some problems occurred when it comes to withdrawing money from this broker company.
Considering the fact that they are not very trustworthy and are not regulated by a reputable institution, it is very hard to be sure that the money can be successfully withdrawn by the trader, without any further problems or obstacles. This is why it is extremely important to be sure in advance what type of withdrawal services they have and if it is truly legitimate.
Is Investmarkets legit? Should you trade with this broker company?
After considerable deliberation, it is time to provide a judgment on our InvestMarkets review. Is it worthwhile to trade with this broker company? Or is it just another average firm that is outperformed by pretty much everyone else?
In certain ways, sure. Investmarkets Forex Broker has some distinguishing characteristics that set it apart from the competitors. In reality, when compared to industry norms, it offers largely poor and inadequate services. The license case is also a little questionable since the International Financial Services Commission of Belize is not a very reliable institution in terms of giving authorizations to broker companies.
On top of that, there is a lot of unnecessary information written on the webpage which makes the site very useless and very hard for the customers to find the relevant information.
Overall, we believe it is not worthwhile to trade with Investmarkets while there are so many better choices available in this industry. So think twice before you arrive at the decision to trade with them.