InvestMug Review – Is this platform worth your attention?

There are a lot of online financial providers on the internet, and it might not always be easy for you to find out whether they are trustworthy or not. That's why sometimes fraudulent companies are able to trick new customers into their systems easily and steal their money. In this article, we decided to review another fake news website that is trying to position itself as a cryptocurrency investment company through different channels. At the first glance, the visitor of InvestMug.com will think that this is a regular news website where you can get information on how to trade cryptos, how to earn money online and other stuff that may be related to investing. However, things are not always what they seem to be.
To put it into a few words, Investmug.com tries to trick new customers into its system by contacting them through messengers like Telegram, or other popular apps like Tinder. The salesperson tells you to sign up for their platform, make a deposit with cryptocurrency, and in exchange, you will get a profitable return somewhere between 5 and 20 percent on a weekly or monthly basis. The reality is that this company is an unregulated scammer and once you decide to make a deposit, you will never be able to see your money ever again, as well as the salesperson you spoke with. That's the main reason why we advise you to avoid this website at all costs.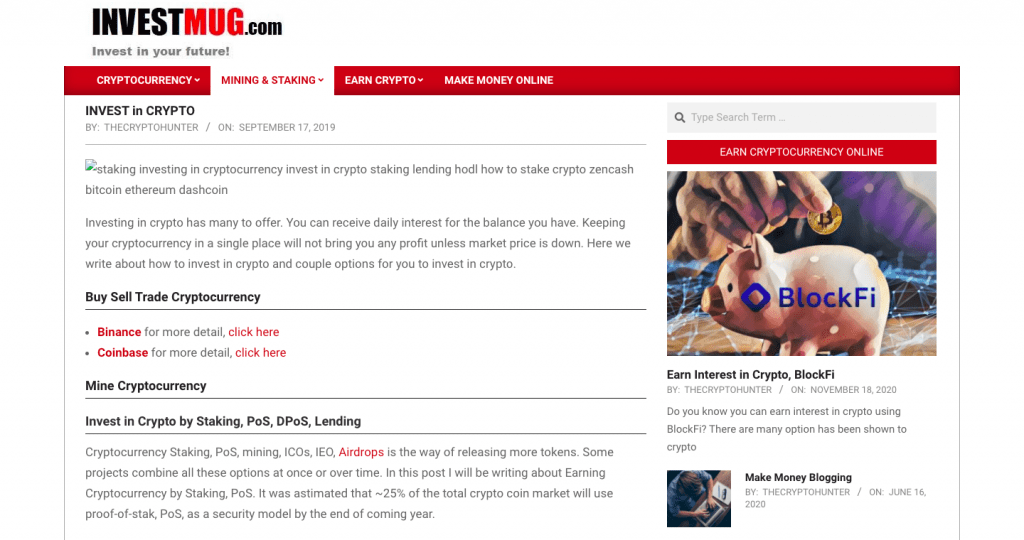 How does InvestMug scam people?
The majority of scammers are in direct contact with possible victims on different platforms that are widely used by people involved in the investment industry. There is a high chance that the target customers might be the investors that had a significant loss in recent investments, however, regular users can also get messages from InvestMug. The most important thing is that you check the background of a specific company before deciding to trust them with your money. One trick scammers usually use is that they have backup websites, (in the case of InvestMug it is a fake news website) proving that they actually do something valuable. However, having a webpage does not mean anything and can not be the guarantee of trustworthiness.
InvestMug might also offer attractive conditions such as low risks and high returns, but your goal is not to fall for it. In fact, every investment involves risk and no one can guarantee what happens in the future. The salesperson might even say that this offer is for a limited amount of time, but this is only aimed at customers to make deposits as soon as possible, and after that, the scammer will disappear from your radars forever.
Should you trust InvestMug?
No, we recommend you to never trust InvestMug, as there is nothing that proves its trustworthiness. It is impossible to find any valuable information about them on the internet, their main webpage consists of only crypto news and it does not have an "about us" section where customers might have had the chance to discover some additional things such as regulations, the owner company, etc. Besides, there are a lot of other reputable brokers available on the market that offer much more reliable service and are licensed by reputable financial regulatory bodies, ensuring that in case of wrong actions from the investment company, it will face negative legal consequences and you won't be the only one suffering from the loss of financial assets.
What to do if you already deposited at InvestMug?
Some of our readers might already be the victims of InvestMug. Well, if you are wondering if there is something you can do about your lost money, the answer is that you will not be able to get it back. Try to forget about the loss and learn your lesson to never trust a platform with a suspicious background ever again.
InvestMug Reviews
When dealing with such platforms, one might decide to do research before deciding to deposit money. While searching on the internet, you might come across positive reviews that are written by fake users. The main purpose, once again, is for fraudulent companies such as InvestMug to position themselves as successful providers. By sharing false information about positive experiences, there is a high chance that you will not check the website's credentials. Your main goal should be to still check whether the company is regulated or not. Below are some examples of these fake reviews.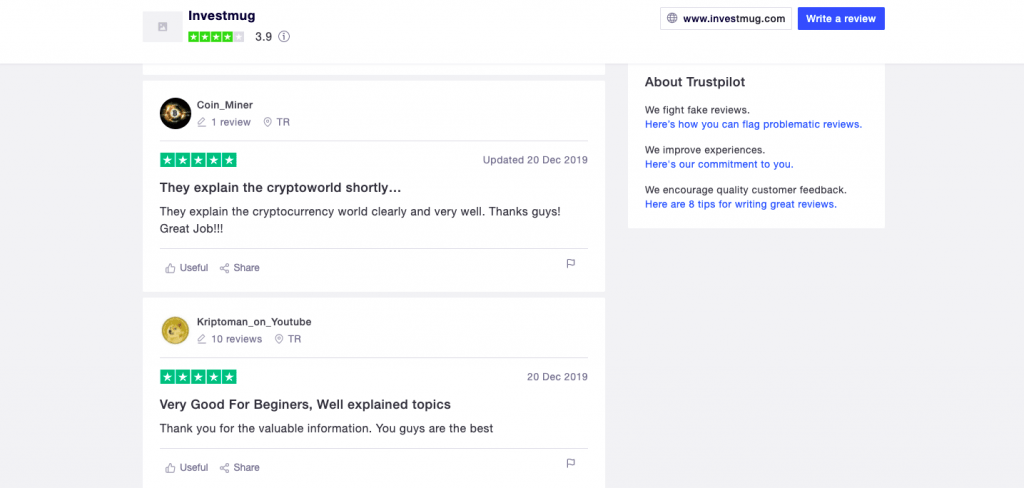 Is InvestMug a scam?
Yes, InvestMug is definitely a scam, and the main reason behind that is the fact that they are not regulated anywhere, and additionally, they are lying to their customers with false information. Their overall investment of $19 into the design and development of their platform does not really evoke any trust either. We advise you to avoid this platform and go for the ones that hold a decent license and are regulated by trustworthy financial regulators, where you will not have to worry about money or privacy issues.