Investous review

Investous is an interesting website – a glossy, overproduced piece of media bound to impress you if you are looking for a Forex Broker to start trading with.  On the other hand, this type of overproduction brings us to the question: is Investous legit? Yet, no matter how impressive it is, there are telltale signs that the broker might not be as honest as the glossy cover page is telling you. It is our habit to look beyond what people want us to see, and in this case, we saw something that is dangerously reminiscent of a scam.
Investous review: on the surface
When first going to the website presenting Investous, we are showered with a comforting wall of information that seems beautiful, but really isn't that telling of what the company has to offer. The first red flag I get is the fact that looking them up brings up no opinions about them by anyone, at all. A lack of Investous reviews is a dangerous sign that thins might not be all as they should be. Though this might not be the biggest problem. Let us look at their website.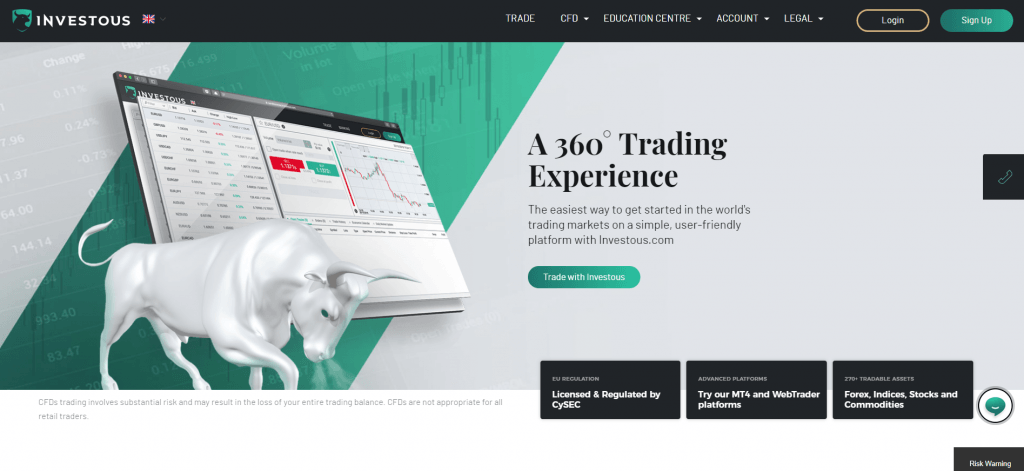 Simply looking at the front page will make probably make you feel like that this could be the broker for you. Well, think about it, is there really any useful information other than the general ideas and thoughts about the platform? Yes, there might be a video at the bottom giving you a seemingly daily update on the state of the market, but this information isn't new and it doesn't provide you with anything that you wouldn't already know if you were trading on a daily basis. It also was only started four days before this review was written, which does not grant the daily updates much of a record for trustworthiness. They offer general info and give you a false idea that they have won one award or another. Spoiler alert: they haven't and this Investous review is here to show you why.
The main page offers navigation to the education page they have provided. While this is a step up from the usual scam broker decision to not educate their users, this broker only goes so far. Investous provides only brief definitions for some of the industry lingo, as well as brief summaries of a few very large concepts that would require pages upon pages of talking about. They only provide two strategies that you could use to trade with, while those knowledgeable about the industry will know there are way more than just two. They also give you access to web animated lessons that are short, barely informative and give you little knowledge yet look good in the browser. The Investous scam is using a typical scam broker approach – make everything look good, but very little effort into making it actually good.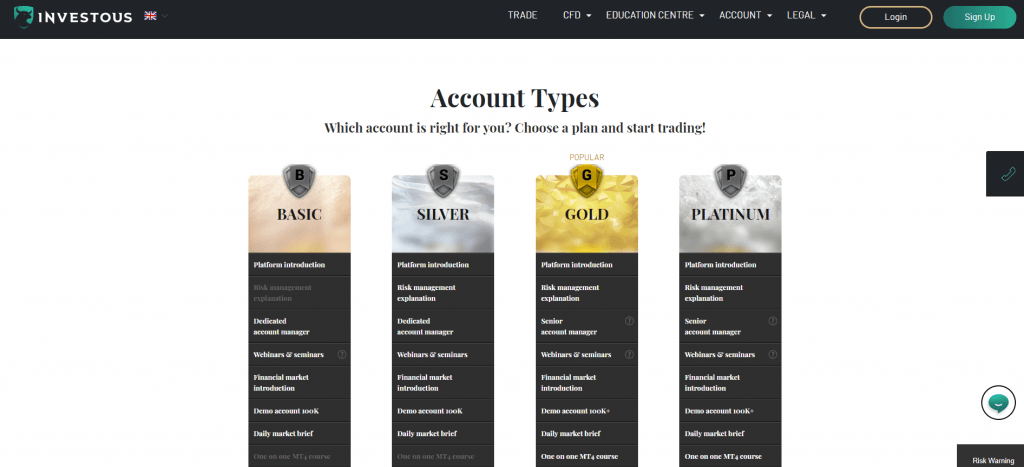 Investous fraud account types
Investous seems to offer four account types: basic, silver, gold and platinum. Gold holds some serious advantages against the two lower-tier options, while Platinum barely offers any advantage to the Gold option. The website also tries really hard to make sure you take a good look at the gold option and end up buying it, even going as far as to suggest that you "pick this one". I am always suspicious of companies pushing a single product onto me, especially when they seemingly offer such variety in their products. The gold also seems to be their most popular product, even though it offers private consultations with a senior manager, which would be really hard to do if the manager was actually at senior level.  This makes the entire thing even more suspicious.
Something else that makes me suspicious and makes the Investous rating lower in my opinion, is the mysterious Diamond Account mentioned in their "withdrawal charges" section, which is never seen mentioned anywhere else. A sign that the scammers are not as adept at what they are doing as they thought, while also copy pasting some data from other websites.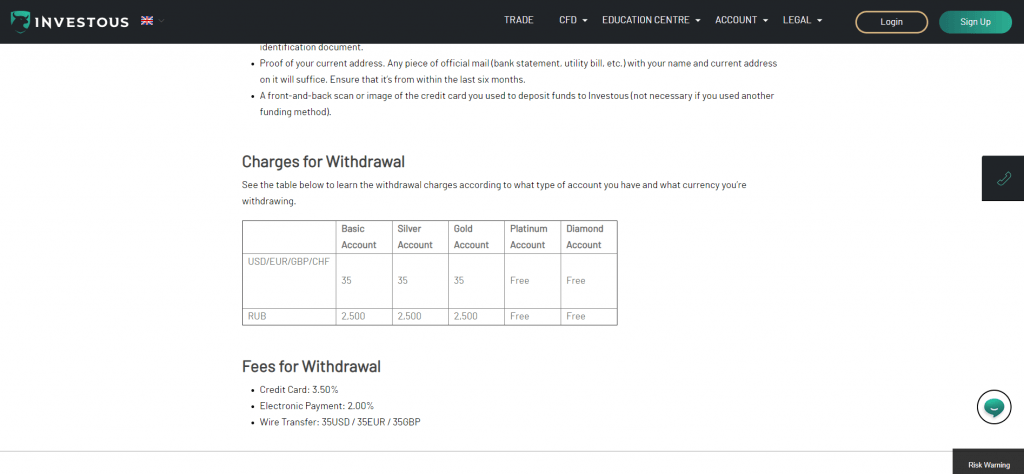 Not the winners
If you scroll down a little on the website for the company, you will see that Investous claims that it has been awarded a couple of 2018 awards from Forex Awards. At the point of writing this review, Forex Awards has yet to publish anything regarding the 2018 awards, with 2017 awards being the highlights on the page. This is the most obvious lie they have on this website. And if you lie about one thing, how trustworthy are you really? Can Investous be trusted? My answer is: not at all. Especially if you are dealing with my money.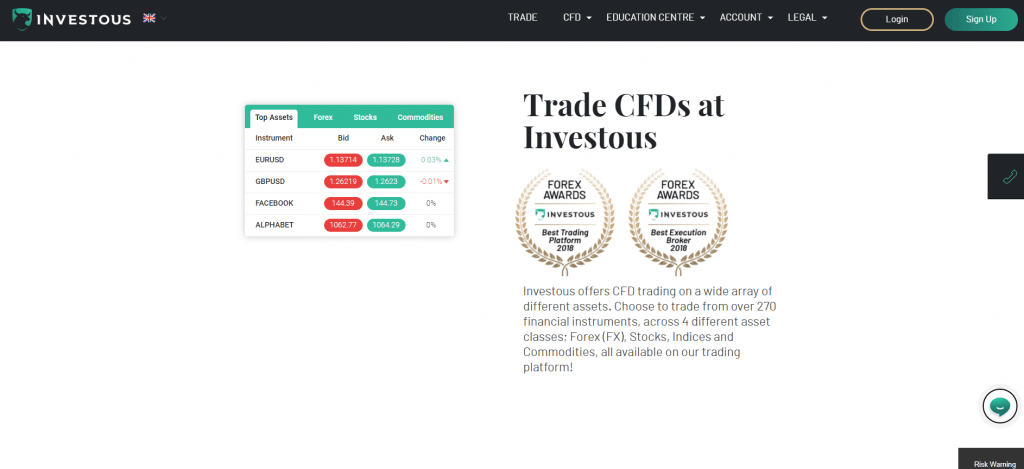 Investous.com review summary
So that's the conclusion. It lies to you about its awards, misinforms you about all of the available account types and pretends to educate you while giving you barely any info. Contacting them is also pretty hard – while they do have a char support system, they do not seem to reply, ever. The conclusion? Avoid Investous like the plague!