A detailed IQ Option review 2019 of qualities and offers
More and more brokers are popping up and hitting our radar. Unfortunately, however, most of those brokers are not very trustworthy or reliable. We review every broker we find by digging deep in their services, history and try to catch some mistakes or giveaways that some people may miss. This IQ Option review was created for the same reason as our any other review, in order to keep you informed and keep you safe when choosing a broker. However, you'll be delighted that we had a wonderful experience when researching this broker. So get your skeptical mind prepared because we will be discussing all the essentials of this broker.
Can IQ Option be trusted?
We want to be as honest as possible here and say that the design of the website didn't impress us that much. The problem we have with the page is the fact that most of the information on it is dedicated to the services that the company offers, and the information is rather vague. However, after a bit more effort being put into the research, the entirety of the company was in front of us like a book ready to be read. This is why we would like to suggest that when you decide to visit the website yourself, keep in mind that a little more effort is needed to find the info you need. The first reaction and thought we had was that an  IQ Option scam was a possibility. After all, it is quite annoying to have the registration sidebar follow us all the time, with the overall design of the website being a little vague and confusing but, in the end, it was all worth it.
Overall, with a little bit of effort, every user will be able to find most of the information about the company, with ease. The problem with navigation is pretty easy to solve just be exploring all of the tabs a little bit. The homepage will show some general information about the broker and the products they offer. It shows how many stocks, currency pairs, and other assets can be traded on the platform. In order to learn more information about their products, the users should go to the IQoption For Traders navigation menu, where they will find details on the subjects of withdrawals, fees, spreads, and other important information that is useful to be aware of when you are just considering to start trading with the broker. This tab will also provide detailed information on the historical quotes, the stocks available to traders, access to the educational videos and the educational platform the broker provides and other very useful tools such as the calendar and details about competitions. In the About Us tab, users will be able to find information on licensing, the awards the company has received, the contact information of the technical support team and so on. The Trade tab allows access to detailed information on the subject of what each tradeable asset presents and how it is traded on the platform.
Once you have oriented yourself in the slightly confusing design of the website, it should not be hard to navigate to the information that you want to learn about the IQ trading (the way the company trades), anymore. You will also be able to access information about the platform with ease so that it should not be an issue for you to learn more about the broker and how they do their trading and how you will be doing it if you register with them.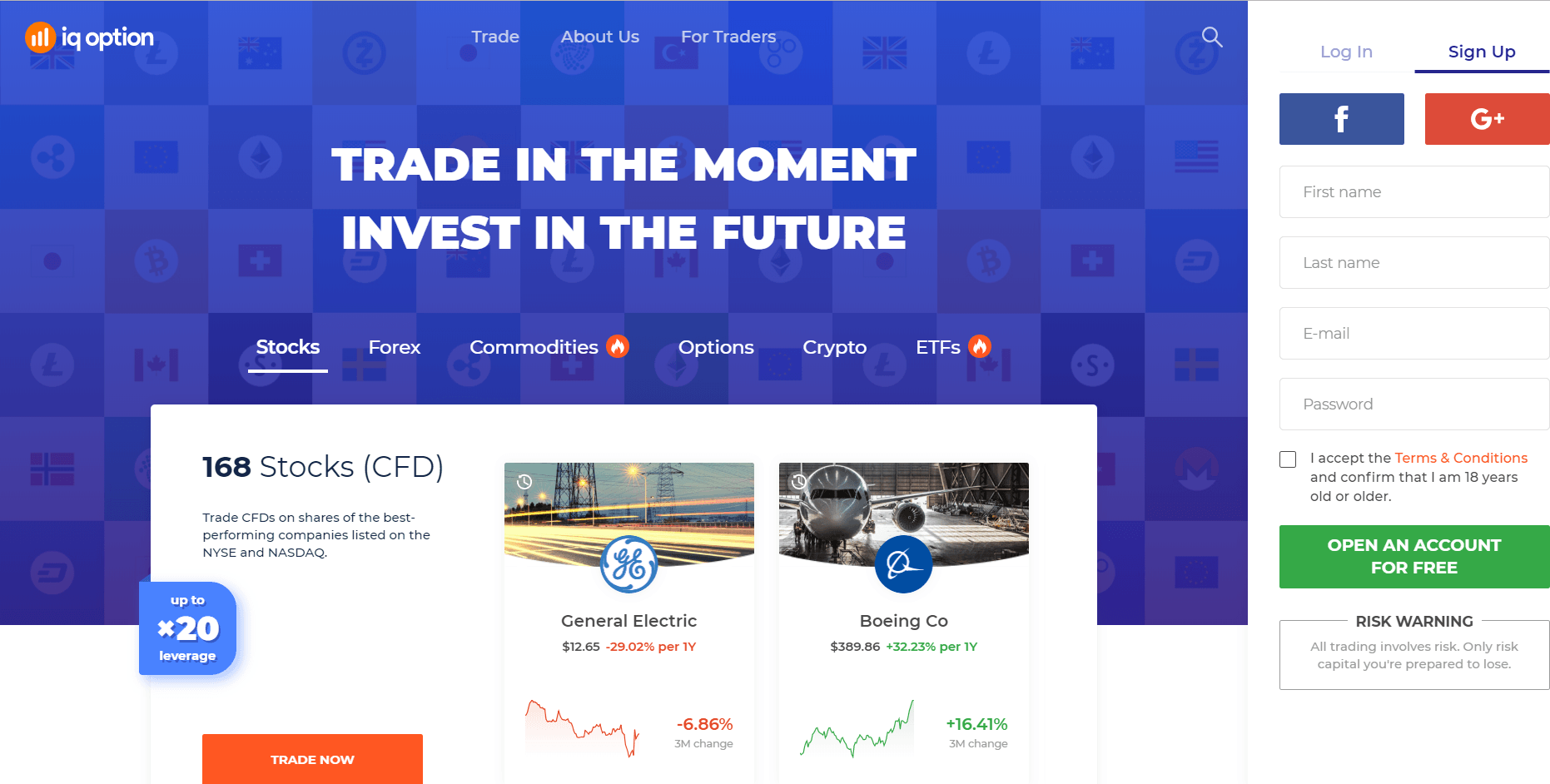 Is IQ Option Legit?
In order to find out the answer to this question, all you have to do is look at the IQ option Forex broker regulators and partner countries. The information will pretty much provide all of the verification of the legitimacy you need. The licensing information, as well as the information on the places where companies are allowed to operate,  are usually contained in that specific tab. Except there is one problem: you won't be able to find much info in the about us tab.
When you are going through their "About Us" tab, you won't really find that it contains much information about the company itself. Most of the information was about their numbers, how big they are, how many users they are servicing and how much those users are making actually, which means they are basically pretty much bragging about the company. We don't mind a bit of bragging, but we also like to find useful and relevant information about the company, in their about us page. Therefore we had to go ahead and dig a bit deeper in order to find out where exactly the Forex broker is based and provide more detailed information in this IQoption review. Now you don't have to go digging as deep as we did because all of the information is already available right here.
While digging, we were happy to find out that the broker is licensed by CySEC and has named Cyprus as the country where its HQ is located. It also has offices in other countries like, with offices located in cities such as Saint Petersburg, London, and New York City. We were also very surprised to see that the broker has an active and useful social media account. It is always refreshing to see a broker make effective use of their social media because so many brokers are struggling to do just that. We might have thought that IQ Option fraud is a very certain possibility if we had seen that the social media pages are dead or dying. Now that we have seen that they are very active, thriving and have built an effective community, we are excited to say that the broker is very far from being a fraud. The broker is even verified by Facebook, which gives it a huge advantage in terms of trustworthiness over all of the other brokers we have seen.
IQ Option customer support
The really exciting thing about IQ option is the fact that they cover a huge part of the globe with the services they offer. Although, this kind of service coverage would be pretty useless if the company did not offer customer support to resolve important issues when they arose. Which is why the image below, depicting all of the places you can contact the IQ option customer support, presents such great detail about the company. If you are most anywhere in the world, you will be able to get in touch. It doesn't matter if you are trading with IQ Option South Africa, Singapore, Russia or Spain, you will be able to get in touch with them and solve any problem you might encounter during your trading experience. All you have to do is make a phone call.
If you are not a phone call type of person, there are also other ways to get in touch with IQ option. It is possible to email them and get the information you need with ease, although this might take a bit more time than you are okay with spending on this. Instead, if you want immediate assistance, you could go for the live chat option offered by the broker. The live chat is only available to users who are already registered with the broker and have logged into their account. But once you have access, you can get in touch with the company 24/7, no matter whether you are trading with IQ Option Africa or anywhere else in the world. Oh, how great the advantages of having a worldwide customer support coverage are.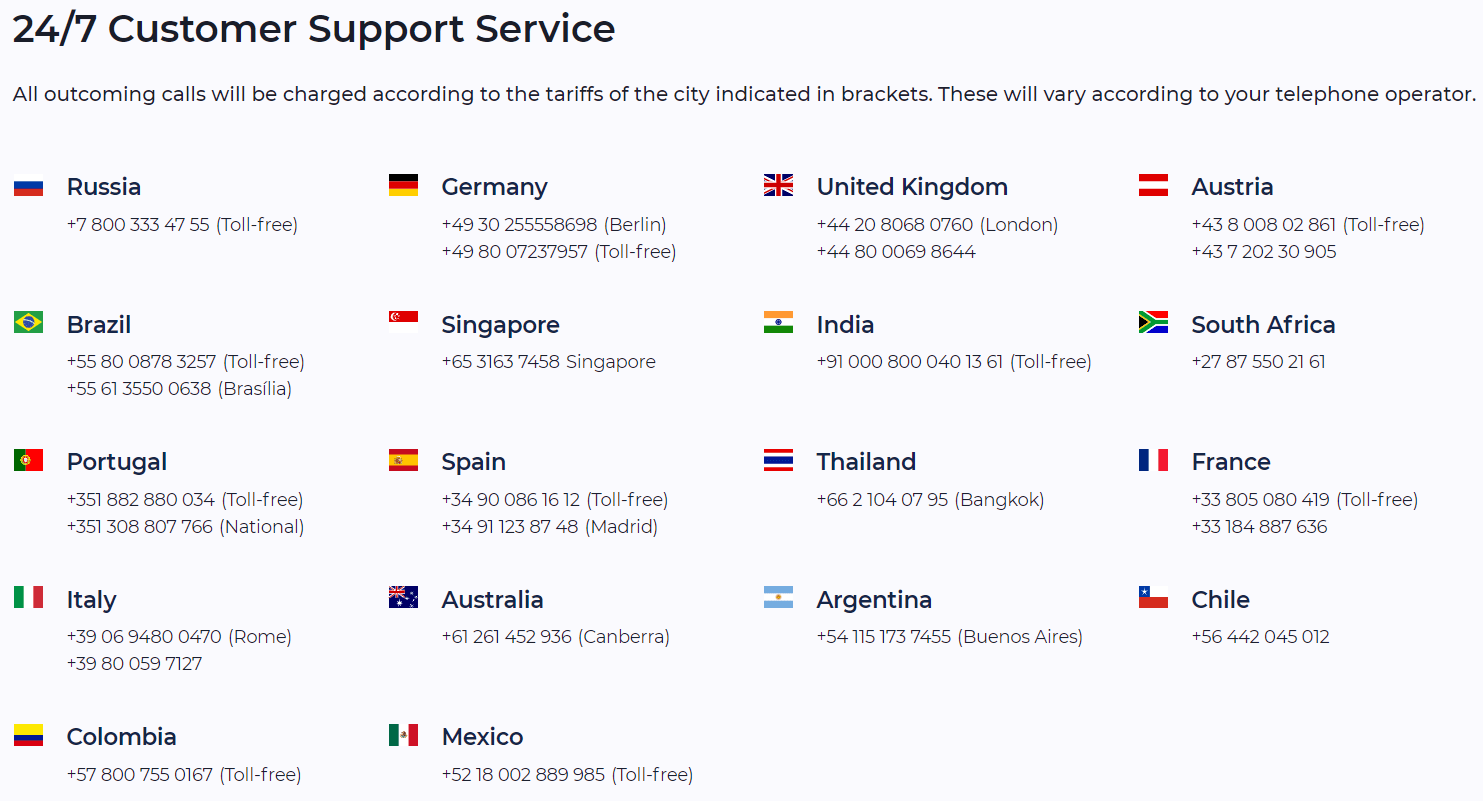 IQ Option FX brokerage's trading details
When trying to learn about a broker, we try to find out about all of the details possible. IQ Options has absolutely no problem of disclosing information about how many traders they house and how much those traders are making. They also love to talk about the number of awards they have received over the years of operation, the kind of improvements the company has made to their services and the number of asset types and assets within each type they have. Can't blame them for wanting to disclose all of the information about themselves, after all, it is the IQ Option strategy to attract more customers. Another positive aspect is that almost all the information about the broker is disclosed on their social media sites as well. If it is not disclosed then it is surely discussed by the community. We believe that such openness towards transparency is what gives IQ Option the edge over nearly 95% of all the other brokers. After all, many simply try to hide parts of information about them in order to make themselves seem much more attractive. Having a social media community that you can always contact and ask about some specific thing is very convenient. In 2017, there were about 78 customer service officials ready to take your request at a moment's notice. The number has increased a great amount in 2019,  so be prepared for their amazing customer service.
IQ Option Details
It is stated on the IQ broker official website that they were housing nearly 26 million traders in 2017. Please note that this was nearly double the amount they serviced in 2016, implying that more than 13 million people decided that this broker was a good choice for them. Having 26 million traders on a platform is a rather big achievement for a single broker, but now after two years have passed, the numbers have yet to be tallied, yet it is believed that there are even more registered users. The fact that IQ Option is impeccable with their service is why the broker has grown such a huge amount over the years. They have absolutely no problem with handling this amount of traders every day, thanks to their efficient servers and highly effective technological team. And if the numbers didn't seem telling, the awards should, as the broker has had excellent service for many years now.
The company has managed to win about 14 awards over the past 10 years, each of them for either unique years of operation or from unique award ceremonies. The fact that the company has this many awards for their trading practices, for their software, the trading platform, and customer support. A wide range of awards such as this should serve as proof that the broker is worth looking into.
IQ Option withdrawal
The withdrawal process with the broker is definitely the talk of the community because of how quickly they can handle the request of so many people. 26 million and even more people trading on the platform every day means a lot of people asking for withdrawals, daily. With around 20-25% of the registered users asking for withdrawals every day, you already have a big problem. Processing more than 5 million requests within 1 day is remarkable and pretty much impossible unless your system is well enough organized and the servers are running without any kind of interruption. And yet, it seems that there is no such thing as IQ Option withdrawal problems or at least none that we have encountered so far. The only problem that we have found so far is the fact that some people get confused by one thing – how to withdraw. The withdrawal process requires you to do so the same way you made your initial deposit. If you made a deposit with a card, you will only be able to withdraw the amount limited by your card. It is important to keep in mind that there are certain requirements associated with withdrawal and that if you do not follow them, you might encounter some issues. These are, thankfully, rather easy to fix when you get in touch with customer support and use the right methods of withdrawal.
Now, once you have figure out what the requirements are, you have to go ahead and do a couple of things. First, finish your IQ Option sign in, and then go to the withdrawals page. There you will be able to select one of the many ways for withdrawing funds. Pick the one you like the most and go with it. The funds will be deposited to the account that you have registered. The number of options for withdrawal is huge, with some of them being:
Neteller
Perfect Money
Qiwi
Skrill
Visa/Mastercard
Webmoney WME
Webmoney WMR
Webmoney WMZ
We also looked at the IQ Option fees that need to be paid by the users when they are trying to withdraw. There are two sides to this, however. if you are a trader who trades on a low-profit-margin, for example maybe $200 or $250 a month, it might be a bit discouraging to have a fixed withdrawal fee of 25 EUR, as it becomes a rather big percentage of your monthly income. But for large profit traders, it is a godsend, since they will not have to be paying anything else on the profits that they are going to be making. So look at it from the perspective of how you will be trading and where your trading volumes are.  There is still reason to believe that in the long run, it is still beneficial for everybody, as you won't have to pay for every trade that you make up conducting. We believe out of all the FX options IQ option is one of the best in terms of withdrawal, which is why you should be considering it as your main broker.
IQ Option Trader/Mobile Trader
When we released the IQ Option review 2018, the broker was still using a Web Trader application for its users. The application is still available for use, to those users who enjoy themselves a good web trading application. It still comes in the form of a Mobile app as well, with the only thing you are required to do in order to get it on your phone is log in from your phone browser. But times have changed and IQ option has changed with them. Now the broker is offering a fully developed platform that they have built themselves. The new IQ option platform is rather interesting and provides users with a slew of benefits that the old WebTrader did not have the capabilities of providing. Let's take a look at it.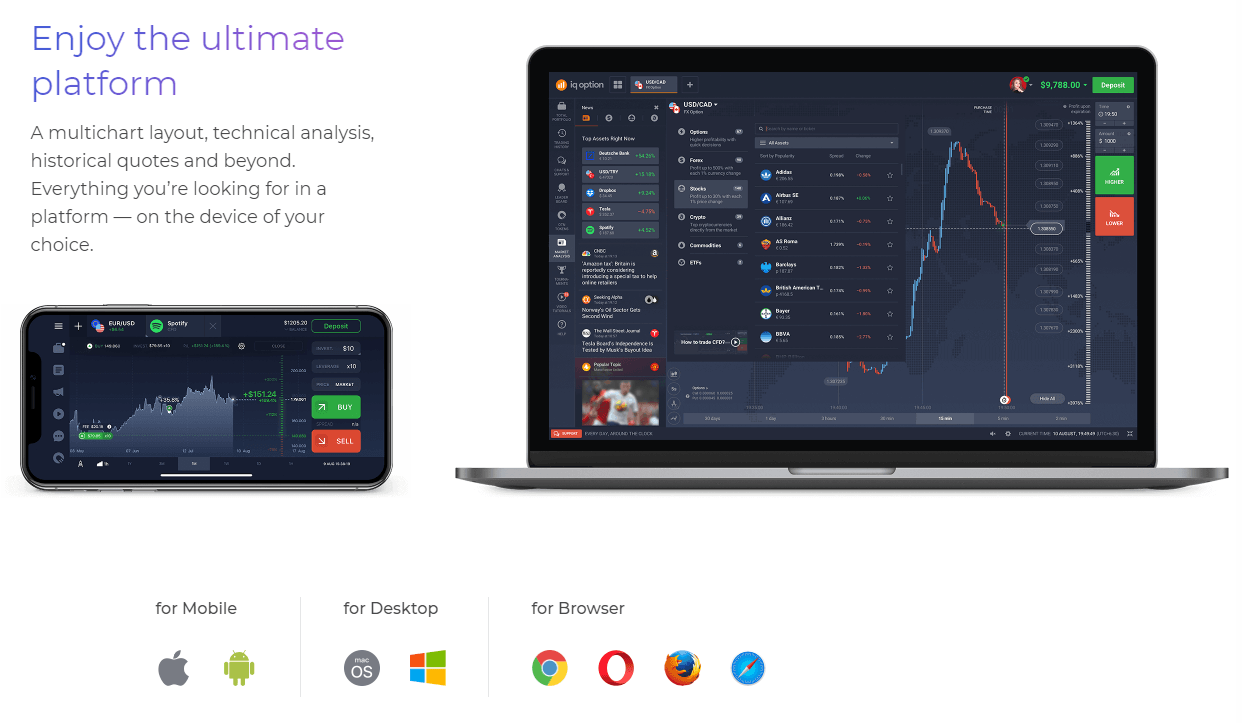 The IQ option trading platform was designed recently and is available both for Windows and for Apple OS. Users will be able to download the software to their computers and start trading right away. The requirements to run the programs are pretty low, so users should not have much of a problem in doing so. And the benefits of having the platform downloaded on your device of choice are many and wide-ranging. Many will appreciate the speed and the smoothness of how the trading platform operates, while others will enjoy the fact that the design is intuitive and good to look at. The number of different kinds of platform-specific charts, tables, and tracking of prices, quotes and so on will be something technical analysis proponents will enjoy greatly. The number of indicators available on the platform will also be of interest to those who like to analyze for hours upon hour before they start trading. This IQ options review considers the platform to be one of the best available to users online, even beating out MT4 and CTrader. This is a detail that some users find a little irritating though – many are used to working with MT4 or MT5 or another platform that might be a little more popular, which is why when they come to IQ option they dislike the fact that they are not there. But, the IQ option platform is incredibly versatile and very intuitively designed, so even those who have never seen it before will be easily able to use it.
Furthermore, IQ options provide mobile application versions of their trading platform. The IQ option Android and iOS application is easily available to all users and is pretty much the same thing as the desktop version. Those looking for IQ option APK will be able to find it easily on the homepage of the broker. The fact that the IQ option platform is so easy to use across all of the devices a user might possibly own makes it one of the best brokers and one of the best trading platforms out there. Definitely, something that could convince twenty million users to trade with the broker.
IQ Options Reviews
If the qualities described above are not something that has convinced you to start trading with the broker, you should consider the reviews you will be able to find online for the broker. We do not mean the professional reviews, which are of course mostly positive (simply because the broker provides such a positive experience), but the reviews provided by the users of the platform. If you spend just even around 15 minutes looking at the reviews online, you will be able to see the overwhelmingly large number of positive reviews for the company. Most of them will provide detailed IQ option Opiniones, which all potential users will find useful for their work. They will talk about spreads, withdrawal speeds, the platform and so on. It seems like all of these reviews are honest. How can we tell? Well, there is a large number of them that talk about their experience and a lot of them are not as positive as you'd think. This is only natural. If a company has 20 million users, a number of them will have lost their money trading with the broker, which would result in them being angry and possibly lashing out against the broker by leaving a negative review. You will even see some saying IQOption scam is the only thing you will get if you start trading with the broker. Although, an overwhelming majority of reviews will be positive.
The reason that negative reviews such as this exist is simple – there are those who need to lash out against the broker because they lost money trading with them. This might not have been the fault of the broker at all, but the fault of the user failing to trade in a smart way. The result is an angry user that is lashing out. The fact that these negative reviews exist is a positive sign – it means the broker is not taking them down, or not trying to take them down. It means the broker is honest and does not pay for bad reviews to be removed or good ones to be uploaded. The broker simply allows them to exist, because they know they can't satisfy anyone and because they choose to be honest, rather than cover up negative reviews. This makes, of all the FX options IQ options one of the most honest and one of the most exciting ones. It is honest and it has a lot of positive reviews about it, what more can you ask for in a broker?
Summarising the IQ Option review
In the end, we have to say that IQ Option has left a very good impression on us. We were blown away by how big they actually are and how many users they actually work with on a daily basis.  It was quite refreshing to see how an effective and legit broker looks like. IQ Option offers you fixed withdrawal fees, great spread designs, impeccable customer support and quite a large pool of trading assets to choose from. We hope that this IQ Option review 2019 helped you in formulating your decision. Regardless if you choose to trade with them or not, we wish you good luck!