JAFX broker review

If you want to succeed in FX trading, one of the most important factors will be the Forex broker you choose to work with. But therein lies the problem, because there are so many scam brokers out there, you may find yourself in bed with one of them. One such scam broker is JAFX, who is fairly new to the industry and aggressively seeking new clients to defraud. The JAFX scam is an interesting case, though, because there are some very obvious red flags that should be pointed out. Nevertheless, it is easy for new traders to fall into their trap, which is why this JAFX review is useful to anyone looking for a new broker.

Is JAFX a scam?
Inasmuch as everyone likes to believe that they have a keen eye for detail and can't be conned, the truth is actually opposite. Even experts have fallen for scam brokers and lost money because the scammers too are very smart. Fortunately, the JAFX scam is not too elaborate and it's easy to see what's going on. For starters, the company does not have any regulation whatsoever.
At the bottom of the JAFX website are some details about the company, and the company itself is called JAFX Ltd. Their headquarters are in Saint Vincent and the Grenadines while their payment services provider is in Bulgaria. There is no mention of any financial regulation or a license number provided, which means that the company is completely unregulated. That by itself is a huge red flag, as it is never advisable to work with a Forex broker that has no license. Many a Forex scams have been run by unregulated brokers because there is no way for their clients to get retribution. Furthermore, the company is based offshore meaning that should a client have any complaint, they would not have any recourse.

So far, the signs discourage working with this particular broker, but there are some more subtle cues you should look out for. One of those is in the quality of the website itself. A good broker who intends to stay in business enlists professional help to create a good website. However, the JAFX website review shows unprofessionalism. Take a look at the homepage, for example, at the section with live spreads. They remain static all through the day! Those are not 'live' spreads. Interesting also is the fact that there are no names of any company official listed anywhere. Usually, an FX broker provides their visitors and clients with the names of the top officials; so clearly, this brokerage is trying to hide something. Then there is the overall 'feel' of the website that looks off, another sign if a broker who didn't put much effort in establishing their online presence.
Upon further JAFX review, that's when you find some more stark evidence of fraud. Remember how the company is said to be based in Saint Vincent and the Grenadines? Then why is their contact info in Australia and the UK? There is absolutely no correlation between the two, so perhaps those numbers are just fake. Sure enough, upon searching those numbers on Truecaller, the one in Australia belongs to Optus Networks Pty., the second largest telecommunications company in the country.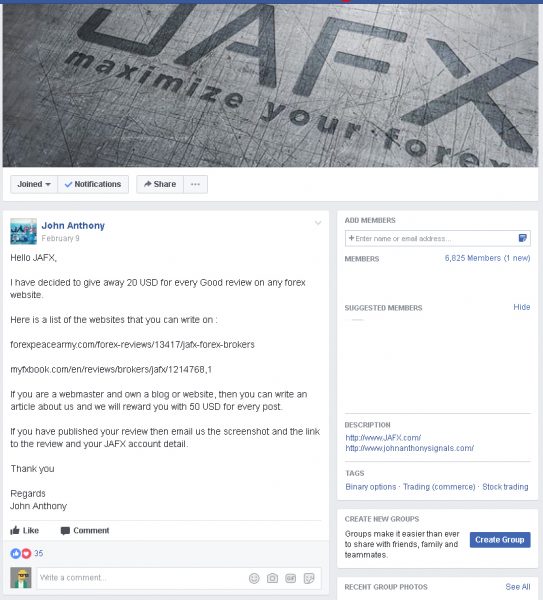 JAFX reviews revealed even more worse tricks used by this company to create a fake persona. First, all of the reviews (of which there are few) were negative, with former clients complaining about being defrauded. Then there was a Facebook post about the supposed founder of the company, one John Antony. In the post, he was asking people to write positive reviews about the company for a $20 reward. Those with a website would be paid $50 for creating a post about them. This kind of review buying is common in the industry, but you can bet those who did so were never paid.
Is JAFX legit? Absolutely not. All the signs point to this company being a complete sham. There is no legitimacy in the company itself or in the people who are behind it. Anyone who is looking for a new broker to work with should completely avoid JAFX unless they are feeling generous.