KontoFX review

KontoFx is an Estonia-based company that offers CFD and crypto trading to its wide audience of customers. We should mention it straight away that the company is not regulated, but it is a child company of the NTMT Transformatic Markets OU. Despite the fact that KontoFX is a child company of a large corporation, we can't necessarily say that they get a slip for not having a license from any financial regulators.
The Broker offers leverage of 1:200. KontoFX broker also offers specially designed Webtrader that can be used without the installation of Flash and is easy to be used by the experienced and the beginner traders as well. The minimum deposit to start trading with KontoFX is standard for today's FX industry and is 250 EUR/GBP, the transactions can be made via Visa, Mastercard, Maestro and Wire transfer. While searching for this broker you might have seen information about KontoFX scam but with our investigation, we came to the conclusion that the broker is definitely not a fraud. You can see the detailed information about the broker and its services in this KontoFX review.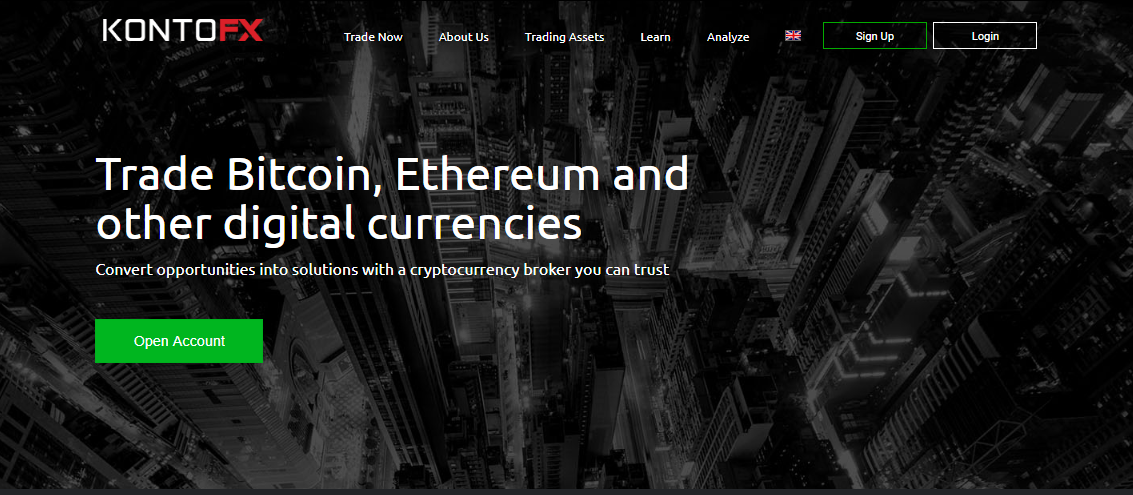 First Impressions
The overview of the KontoFX website has given us a very good first impression. The website looks welcoming and uncomplicated so it is very easy for every trader experienced or non-experienced to navigate and find the needed information. The website is secure and has the choice of three languages – English, Spanish and German, which are amongst one of the most spoken languages in the world. It has a mobile version that allows new members to register and gives the possibility to already registered users to trade via mobile. It seems like the company has put lots of effort into the website, it has several categories and the landing time from one to another is fast and comfortable. In terms of the content, it is broad and updated.
The website has a news category where you can find up to date pieces of information about the economy and finances. Also, KontoFX broker offers a financial calendar, real-time chart and technical and fundamental analysis on their website. In addition to that, you can find information about CFD trading, crypto trading, Forex glossaries, and more, that can be well used by somebody who is interested in learning.
KontoFX displays the information about its all-in-one trading platform, competitive spreads, a variety of available cryptos you can trade with the broker and financial coaching and education. Our KontoFX.com review showed us that the broker is offering an innovative approach and provides a good experience for its customers in a new age of online trading. While there is a question is KontoFX scam or not, we think that the company that puts a lot of effort into education and customer service cannot be considered as a fraud, although there is still an emphasis on their lack of regulation.  Now let us see what the broker has to offer in terms of the service and products.
Signing up with KontoFX
For those who want to sign up with the broker, it is very easy. The open account button is displayed on the very first page of the website. Once you push the button the KontoFX sign-in window will be opened. The registration process is quite fast and can be found on other broker platforms as well, so nothing special here. The new user is required to fill the details such as First name, last name, e-mail address and phone number. Once this information is filled you can set a password, sign up and start trading. On the registration window, KontoFX displays the risk disclosure statement that CFD and Forex trading involves substantial risk and may result in the loss of the invested capital. Of course, it is not allowed for the people who are younger than 18 years old to hold an account with the broker.
KontoFX trading Software
KontoFX allows its users to trade on specially designed platform KontoFX WebTrader. It is designed especially for the broker's customers and is promising the best possible trading experience and a good variety of tools and features. It has a very simple interface, has a fast loading time and is easy to navigate. One of the best parts of the software is that it does not require downloading or installation and can be accessed via the page "trade now" on the KontoFX website.
In addition to that, the WebTrader does not need Flash to run, unlike many platforms that are web-based. It means that it can be run on almost every device. The other benefits and advantages of the WebTrader include advanced analytical tools, about 50 indicators, and tools that are built-in and are used to determine trends, eight timeframes available for each cryptocurrency, competitive spreads and three types of order execution. Even though the WebTrader is easy to use, KontoFX still suggests users the free trading guide to learn the basics of their platform.
However, we need to outline that there was nothing preventing KontoFX from adding MT4 and MT5 in their portfolio of software options, but they decided not to anyway.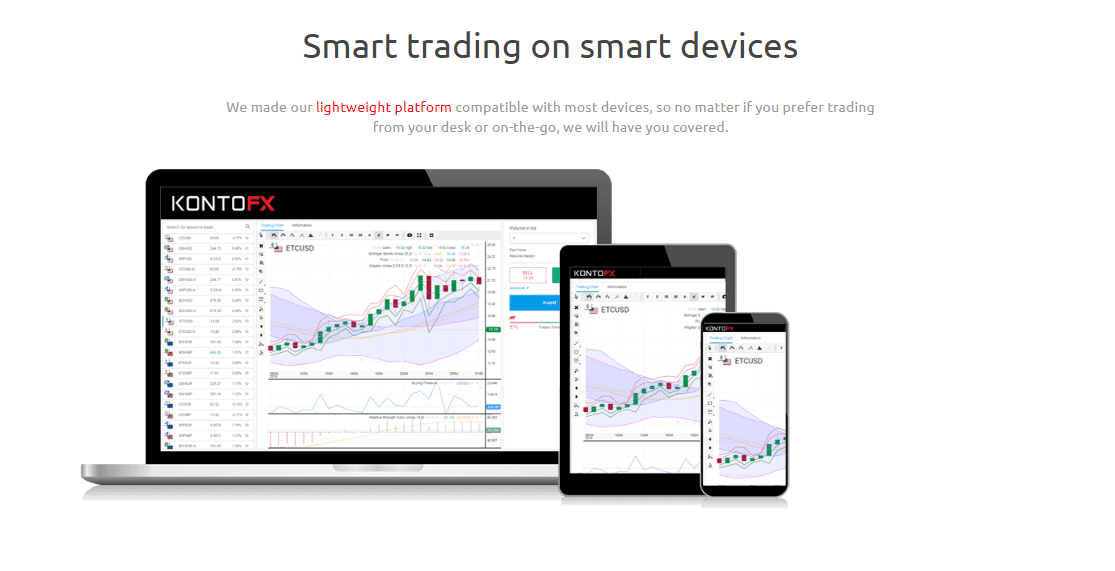 KontoFX review: Trading accounts
KontoFX offers its clients to open three types of trading accounts depending on the position and experience of the traders. The trading accounts include a Self-trading account, an Auto-Trading account, and a Social Trading account. The self-trading account offers the basic set of necessary trading options. It is suitable for both, experienced and beginner traders. With the Self-trading account, the traders have a good opportunity to try out and adjust their own strategy. This account offers spreads from 0.6 pips.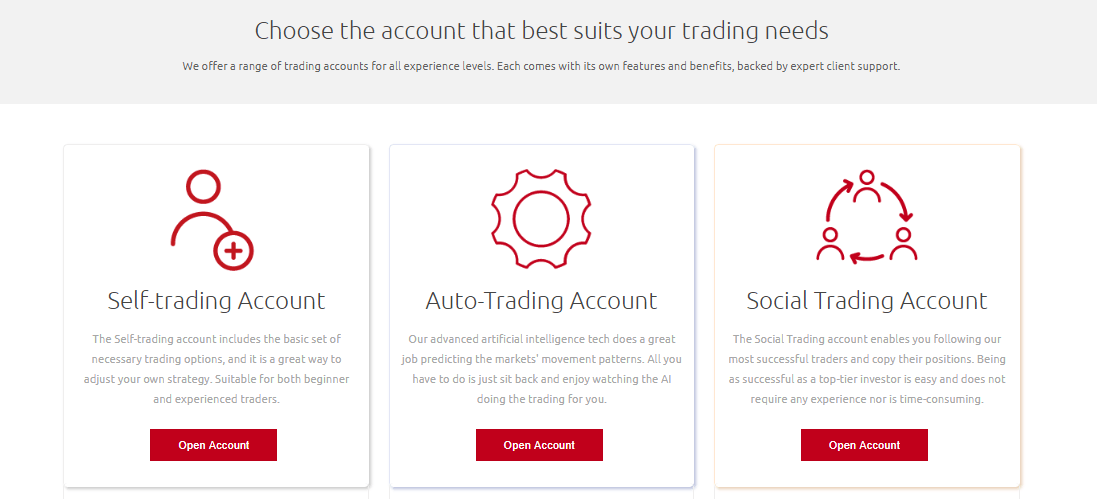 The auto-trading account, as the name suggests offers the users to let the robot trade for them. It is designed in a way that the artificial intelligence tech makes the analysis of the market and predicts the next movements. Based on this information AI trades instead of the customer. The Auto-trading accounts are very easy to set up and run.
The third account KontoFX Forex Broker offers is a Social trading account where the user has the possibility to copy the positions of the most successful traders and have a higher chance of successful trades. For this kind of accounts, there is no experience required.
For all account types, the currency is EUR, GBP. Also, all the customers are offered analysis managers, flexible deposit methods, resource center access, live webinars, daily market analysis and one on one training that can be a great help for the beginner traders.
Trading conditions with KontoFX
The fact that KontoFX is not regulated gives them the possibility to offer high leverage, which is not possible to get from regulated brokers since ESMA regulations set the leverage caps to be 1:30.
Thanks to this circumvention of regulation, KontoFX is able to offer 1:200 leverage, but we can't necessarily say that it's trustworthy.
With KontoFX you have access to a large variety of digital currencies. Currently, you can choose among 50 cryptocurrencies that include Bitcoin, Ethereum, Ripple, Cardano, Dashcoin and many more.
In addition to that, you can get the KontoFX bonus once you open an account with them. Currently, the broker is offering a 15 percent bonus for those who are trading exotic cryptocurrencies. The broker offers various exotic cryptos including Neo, Stellar, Tether, Monero and more.
Deposit and Withdrawal
The minimum deposit with KontoFX is nothing special and is in accordance with the average minimum deposit in the Forex trading Industry. You will be able to start trading with 250 EUR or 250 GBP.  You can deposit your money through one of the most secure transactions such as Visa, Mastercard, Maestro, and Wire Transfer.  As for the KontoFX withdrawal you need to submit the withdrawal request form and wait for around 5 business days for it to be processed. It would be quite handy to have some other means of withdrawal to speed the process up even for a small fee.
KontoFX Opinions: Customer Support
Customer support is one of the most important things to be considered while making a choice. KontoFX offers customer support in three languages and is available from Monday to Friday, 05:00 – 22:00 GMT. The customer care team is reachable via two email addresses and if you do not want to wait for the reply you can reach them directly via phone.
Can KontoFX be trusted?
Is KontoFX legit? Our knowledge of it being a subsidiary of a large corporation makes us want to say yes, but the fact that they don't have a license from any EU based regulators makes us want to say no. Therefore it's safe to say that although KontoFX may be legit despite all of our suspicions, it's still best to avoid them at the time being. Despite the fact that KontoFX offers relief from strict ESMA regulations, don't forget that those regulations were installed for a reason. To keep inexperienced as well as experienced traders from making risky decisions without proper knowledge.
Overall, despite the slightly positive tone that we've used in the review, we can't recommend this broker to anybody, it's simply not worth the risk.