KontoFX review – should this broker be trusted?

Having a trustworthy broker can have a world of difference to your trading endeavor. It can demand reasonable spreads and commissions, as well as offer lucrative leverage and bonuses. And what's more important, the broker will have a credible license that will hold it against higher financial standards.
However, the chance of coming across a scam broker is quite high in this online world. These brokerages blind their clients with flashy over-the-top offerings and hide the flaws behind them.
Yet the agencies like us are trying to see through them and their cunning mechanisms. This is yet another attempt to see through a broker with seemingly exciting trading offerings. So, let's dive deep into the KontoFX review and see what the broker is all about.
Brief overview
KontoFx is an Estonia-based company that offers CFD and crypto trading to its clients. We should mention it straight away that the company is not regulated, but it is a child company of the NTMT Transformatic Markets OU. Despite the fact that KontoFX is a child company of a large corporation, we can't necessarily say that they get a slip for not having a license from any financial regulators.
The Broker offers leverage of 1:200. KontoFX broker also offers specially designed Webtrader that can be used without the installation of Flash and is easy to be used by the experienced and the beginner traders as well. However, there are several shady aspects that we'll uncover further down below.
The minimum deposit to start trading with KontoFX is 250 EUR or GBP, while the transactions can be made via Visa, Mastercard, Maestro and Wire transfer.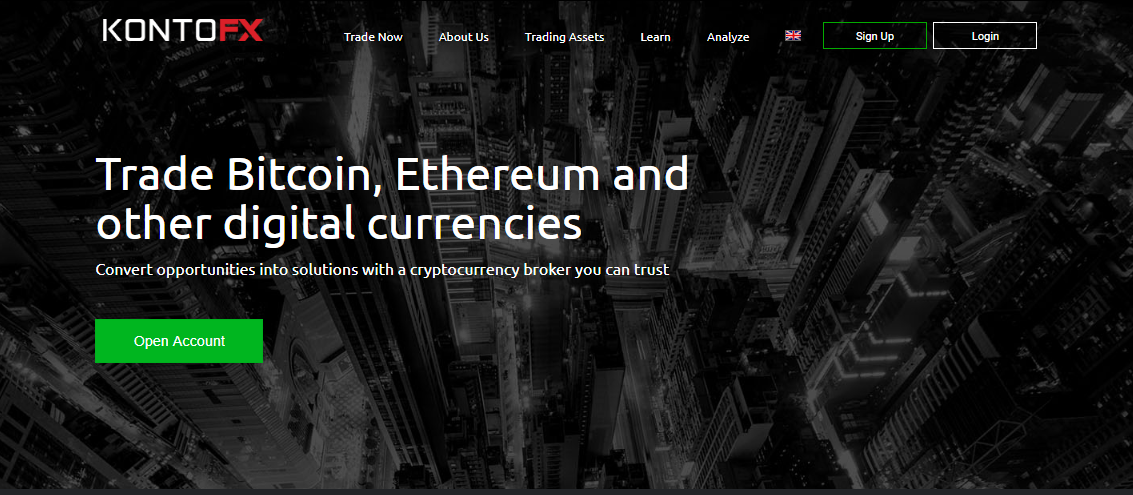 First Impressions of software
The overview of the kontofx.com review led us to mixed feelings. On the one hand, we'd like to think that the broker has out a lot of effort to construct this website with all its tabs and language support (English, Spanish, German). On the other hand, however, we cannot help but notice just how overcomplicated the interface looks.
As you can see in the first page screenshot up above, there are lots of contrasty images used as decorations. According to the website design 101, the first thing a developer should think of when creating a website is how easily the visitors can navigate through the interface. In this case, we don't think that potential traders can easily adapt to this crowded interface and go straight to the desired information.
The website has a news category where you can find up to date pieces of information about the economy and finances. Also, KontoFX broker offers a financial calendar, real-time chart and technical and fundamental analysis on their website. In addition to that, you can find information about CFD trading, crypto trading, Forex glossaries, and more, that can be well used by somebody who is interested in learning. We definitely have to give thumbs up to KontoFX for that!
However, the way its website is developed still hinders the visitors from effectively getting to know everything about this broker and its offerings, that's why we think that the KontoFX scam might be the real deal: behind the complicated designs, there may be some hidden grey areas. W
Signing up with KontoFX
For those who want to sign up with the broker, it is considerably easy. The open account button is displayed on the very first page of the website. Once you push the button the KontoFX sign-in window will be opened. The registration process is quite fast and can be found on other broker platforms as well, so nothing special here.
The new user is required to fill the details such as First name, last name, e-mail address and phone number. Once this information is filled you can set a password, sign up and start trading. On the registration window, KontoFX displays the risk disclosure statement that CFD and Forex trading involves substantial risk and may result in the loss of the invested capital. Of course, it is not allowed for the people who are younger than 18 years old to hold an account with the broker.
There's not much we can say about this aspect as it looks pretty straightforward. Let's move on to the trading software and see why we're suspicious of the proprietary platform.
KontoFX trading Software
As we have already mentioned, the KontoFX WebTrader is the only way traders can open/close their positions on crypto-assets; there are no MetaTrader programs, not even cTrader for the sake of diversity of the options.
As the broker claims, the proprietary WebTrader is designed especially for the broker's customers and is promising the best possible trading experience, as well as a good variety of tools and features. Now, while we think that this claim can actually be true, we also have second thoughts for the possible use-cases of this platform.
One of the reasons why many scam brokers use their own trading software is that they're much more independent in planting all the schemes in them. With MT4/MT5/cTrader, they're constantly monitored by an online community and have smaller leverage to actually fulfill their plans. And the fact that the broker is free to incorporate those pieces of trading software into its platform makes us even more suspicious. Of course, this is just a speculation, but when taking into account that the broker doesn't have a license, this actually becomes a dangerous possibility. And certainly the one that every trader should be careful of!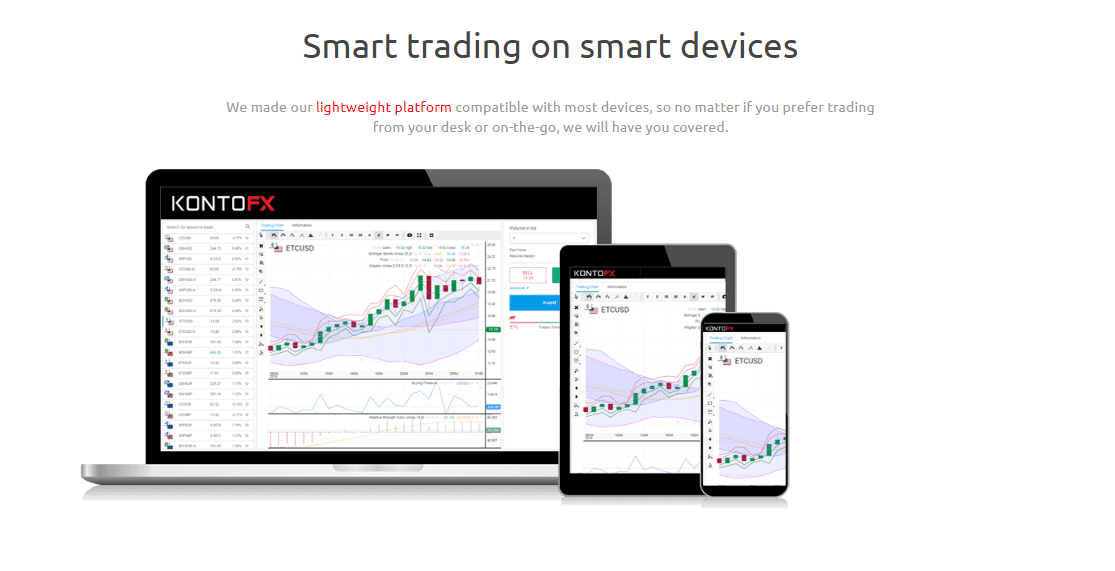 KontoFX review: Trading accounts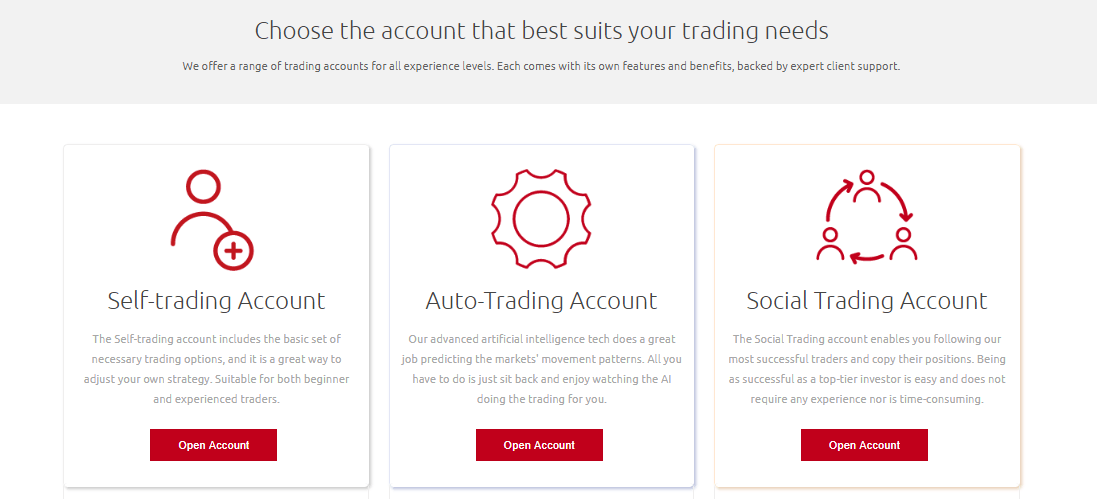 Next up, the KontoFX trading accounts. There are three rather unconventional account types that include Self a Self-trading account, an Auto-Trading account, and a Social Trading account. The self-trading account offers the basic set of necessary trading options. It is suitable for both, experienced and beginner traders. With the Self-trading account, the traders have an opportunity to try out and adjust their own strategy. This account offers spreads from 0.6 pips.
The auto-trading account, as the name suggests, offers the users to let the robot trade for them. It is designed in a way that the artificial intelligence tech makes the analysis of the market and predicts the next movements. Based on this information AI trades instead of the customer.
The third account KontoFX Forex Broker offers is a Social trading account where the user has the possibility to copy the positions of the most successful traders on the platform and have a higher chance of successful trades. For this kind of accounts, there is no experience required.
For all account types, the currency is EUR, GBP. And as mentioned earlier, the minimum deposit requirement here is 250 EUR or GBP. Now, many traders would think that this requirement is very low, however, for the beginner traders, who want to minimize their losses, even 250 euro/pound can be a hefty requirement. It would be a much better idea to have an additional demo account for the inexperienced traders.
Trading conditions with KontoFX
The fact that KontoFX is not regulated gives them the possibility to offer high leverage, which is not possible to get from regulated brokers since ESMA regulations set the leverage caps to be 1:30.
This means that the broker can ramp up the ratio as high as 1:200. This much leverage in Forex trading would be quite reasonable as Forex pairs can be less volatile than cryptocurrencies. However, the crypto market, even the crypto CFD market, is much more volatile and the regulation caps are set for a reason: the higher the leverage, the larger the losses.
But KontoFX obviously doesn't care about that correlation. It risks its clients' financial stability just to put the 1:200 number into the front page and the consequences do not really matter.
The second important aspect is the spread amount. As mentioned earlier, the broker has a minimum spread of 0.6 pips which, admittedly, isn't as impressive as the leverage but it's still over-the-top considering that the broker doesn't seem to have commissions on transactions.
Since there are only two ways of receiving funds to run the business – spreads and commissions – we are interested in how the broker manages to fund its business with such shallow spreads.
As for the KontoFX promotion, the broker currently offers a 15 percent bonus for traders that open/close positions for exotic cryptocurrencies such as Neo, Stellar, Tether, Monero, and many more. While we certainly have nothing against this bonus, we don't think that it helps to restore the broker's already notorious reputation.
Deposit and Withdrawal
As mentioned earlier, the minimum deposit requirement is 250 euro/pound and traders can deposit the cash via Visa/Mastercard/Maestro credit cards or the wire transfer. This is yet another underwhelming section that requires our attention. Since these platforms have been around for a very long time, the hacker community is more than capable of penetrating them and stealing funds pretty easily.
It would be a much better idea to have cryptocurrencies or even PayPal for transactions, especially when considering the fact that KontoFX is actually a crypto trading broker.
As for the KontoFX withdrawal, you need to submit the withdrawal request form and wait for around 5 business days for it to be processed. It goes without saying how obsolete these platforms are and how inconvenient it is to use them.
KontoFX Opinions: Customer Support
When it comes to customer support, we cannot say anything explicitly bad about the broker. Realizing how important it is to have a properly functioning support department, KontoFX has set up a pretty well-functioning system here. The broker offers customer support in three languages and is available from Monday to Friday, 05:00 – 22:00 GMT – it would be better if the platform worked 24/7 though as many crypto trading brokerages do. The customer care team is reachable via two email addresses and if you do not want to wait for the reply you can reach them directly via phone.
Can KontoFX be trusted?
So, is KontoFX legit? Our comprehensive review shows us that there are too many shady aspects to give a positive answer to that question.
First off, the broker has no license that can curb its unsolicited actions. This is probably the biggest reason why we think the broker is a scam. But there's more!
KontoFX offers its own proprietary trading software, WebTrader. And as we've stated quite explicitly, there are many occasions when brokers plant fraudulent schemes into their trading platforms, whereas MT4/MT5 wouldn't let them do that.
Then we reviewed the trading terms and conditions. The leverage that goes up to 1:200 and spreads that go as low as 0.6 pips made our KontoFX fraud suspicions even more pressing. These are simply too high for the market average offerings, once again proving our theory that the broker is trying to trick its clients with flashy numbers.
Finally, the review of the deposit and withdrawal platforms showed us that a crypto trading brokerage (!) doesn't actually support crypto payment platforms. How convenient for it – it's a well-known fact that the cryptocurrencies are more secure than regular money.
Thereby we claim that it is not safe to trade with KontoFX!