LegacyFX Review – A mediocre broker or something to avoid?

Despite the fact that they are a licensed firm with regulation from the International Financial Services Commission, they appear to be a little shady. The majority of broker evaluations on the internet are negative, and the owner company's website is broken and inaccessible.
Forex brokers do not appear to be regulated by any important regulatory entity because there is no irrefutable proof of oversight. This is a classic fraud warning sign. If you have experienced an unjust loss, no government agency can help you recover your money in this case.
The broker uses MT5 software as a primary trading platform. This is the only option they have which is never a good thing regarding choosing a broker as a trader will most likely go with a brokerage firm that has multifunctionality guaranteed for its consumers.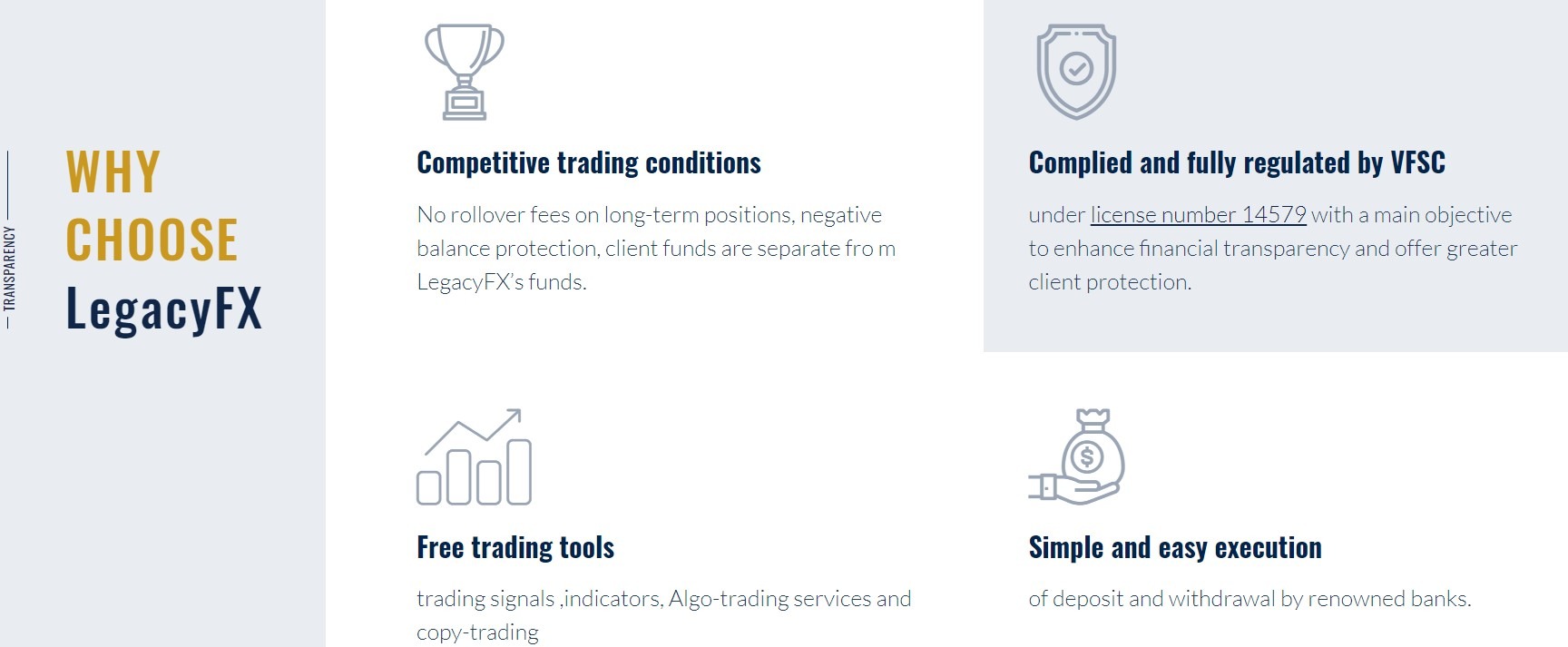 Does LegacyFX Have a License?
The firm only has one license and it is from Vanuatu. However it is highly advertised and according to the reviews, the firm has an astonishing amount of qualifications, specifically three which are preposterous.
Even if the case of the firm having multiple licenses were true it wouldn't mean anything in the modern-day landscape of the industry as it is getting harder and harder to distinguish a fake broker from a real one and having a regulatory body monitoring you won't cut it anymore. A brokerage firm needs to show its values by its actions.
Trading features Available on LegacyFX
Trading features are an important part of any brokerage firm. Leverage ad spreads are the most important tools in a broker's arsenal of services and products. We will be discussing many of the features and even give our readers an inside look at the structure and the reason behind the specific features that one gets on the site.
Account types
There are seven account types available on the site. T6hey are named after precious metals. A custom VIP account is also available for a huge amount of money as a requirement for a minimum deposit.
Each of them has something to offer to the consumer however nothing interesting can be found among the vast sea of features that the firm advertises. The atrocious minimum deposit amount for a custom VIP account is $50,000, This is such a shocking move from the firm as with a custom account you get virtually no exclusive features.
There are no fees to pay. Live support is available for Signals of the Day. Accounts with no swaps are also available. This broker's website is up and running. Trading Academy, Commodities Tool for automatically charting, Channel for private communication, Updates and ideas, Stocks Trading Premium concepts include coaching, personal achievement goal, VIP MasterCard, a trading technique employing a direct dealing desk, Dealing Area, exclusive chances, and more. Sessions with a platinum-rated professional, with the greatest degree of mentoring.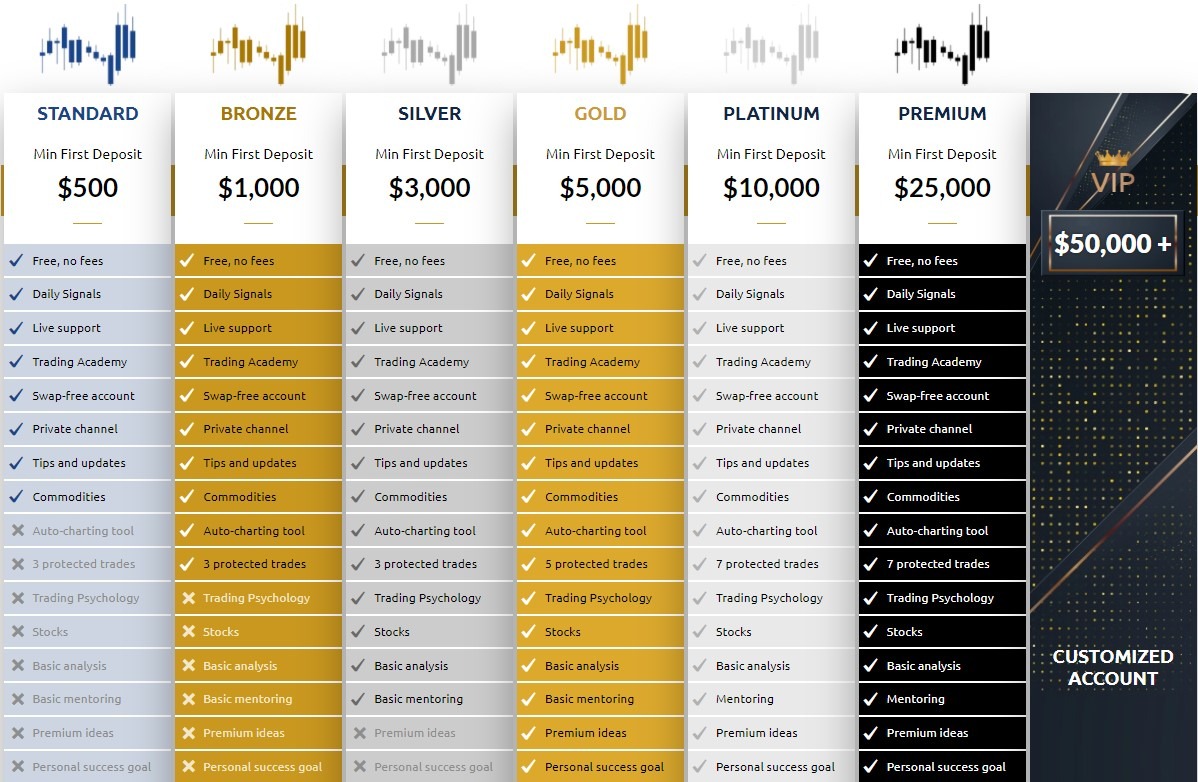 Leverage
Retail traders in Europe will most likely be limited to the former ESMA intervention requirement of fx and CFDs:
For major currency pairs, the ratio is 30:1;
Non-major currency pairs, gold, and major indexes have a 20:1 leverage;
10:1 for non-major equities indexes and commodities other than gold;
5:1 for individual stocks and other benchmarks;
For cryptocurrency, the ratio is 2:1;
Any licensed broker working in the EU is subject to this law. As a result, you'll need to find a non-EU broker that suits your needs in order to trade.
Note that Australia, the United States, and the United Kingdom have all implemented or will implement similar leverage restrictions. So, in order to gain said leverage, you may have to move overseas. This is the reason why the maxim leverage on the site is 1:200
Spreads
The firm has fixed spreads on all its assets. The liquidity of a broker's spreads is determined by the amount of volume traded for a particular currency pair. The finest brokers that offer RAW accounts, on the other hand, put it at 0.0 – 0.7 pips. It ranges from 1 to 3 pips for Standard accounts.
The amount of lot size you utilized to open a certain position determines the value of those spreads. We all know that each pip costs $0.10 while utilizing a 0.01 loss size. So, let's say you wanted to BUY EUR/USD, the spread was 1.0 pip, and you used a 0.01 lot size to begin the trade. As a result, your broker made $0.10 on that trade. When you open a position, the broker has already grabbed that value, whether you win or lose.
Minimum Deposit
The medium depositing amount for all 6 of the metal-based named accounts is $500 which is higher than the industry average. If we take into consideration how much of the provided features of the firm are practically useless and not beneficial for the consumer this is something to be outraged about. The products and services are sub pair according to multiple authentic reviews and it is all evident on the website of the broker we highly encourage our readers to visit the site and see it firsthand.
Bonus
LegacyFX doesn't have any bonuses, they just have a loyalty program that doesn't even have a cash reward. The whole thing is a glorified marketing strategy. By staying loyal to the firm one will receive logo-centered merchandise of the company and if one is lucky maybe a gift card.
The following are the benefits that one gets from the loyalty program if we can even call it benefits as it's just mediocre marketing.
They claim that they give specialized content within the program; nevertheless, this is such a hazy concept, and a call with the principal account manager should not be considered a luxury, as many rival organizations supply it as a standard feature. The three phases of Personalized Presents on different levels of the loyalty program are the most amusing promotional gifts.
Final thoughts
All in all, we would not recommend our readers to do their business with this brokerage firm as they have been involved in multiple fraudulent actions. The products and services on the site are atrocious and the loyalty program is absurd. There is not much good to say about the firm.
The instructional information on the site, or the absence thereof, is a significant negative. Although there is a section on the website dedicated to this type of content, the content is significantly underwritten and neither proficient nor informative for anyone. Everything is only for show. This reveals a lot about the company's unwillingness to engage with its customers. The prospect of it appears to be unpalatable to the brokerage firm.