Lirunex Review – Should you trust this company?

The decision to enter a financial market and start trading is itself very difficult and requires a lot of consideration. However, it's also difficult to find a partner that will provide all the necessary tools and platforms for your trading endeavors.
The trading industry is full of fraudulent brokers whose only goal is to trick you into their financial schemes and steal your money. This is why you should be extremely careful not to fall for their flashy conditions.
In our Lirunex review, we'll take an in-depth look at the broker's platform and all of the important features, such as the leverage, spreads, and licensing. So, let's waste no more time and get right to the review.
Is Lirunex legit?
The first important entry in this review is going to be the broker's regulation. Based in Malaysia, Lirunex holds a license from the Labuan Financial Services Authority (LFSA) with the license number of MB/20/0050.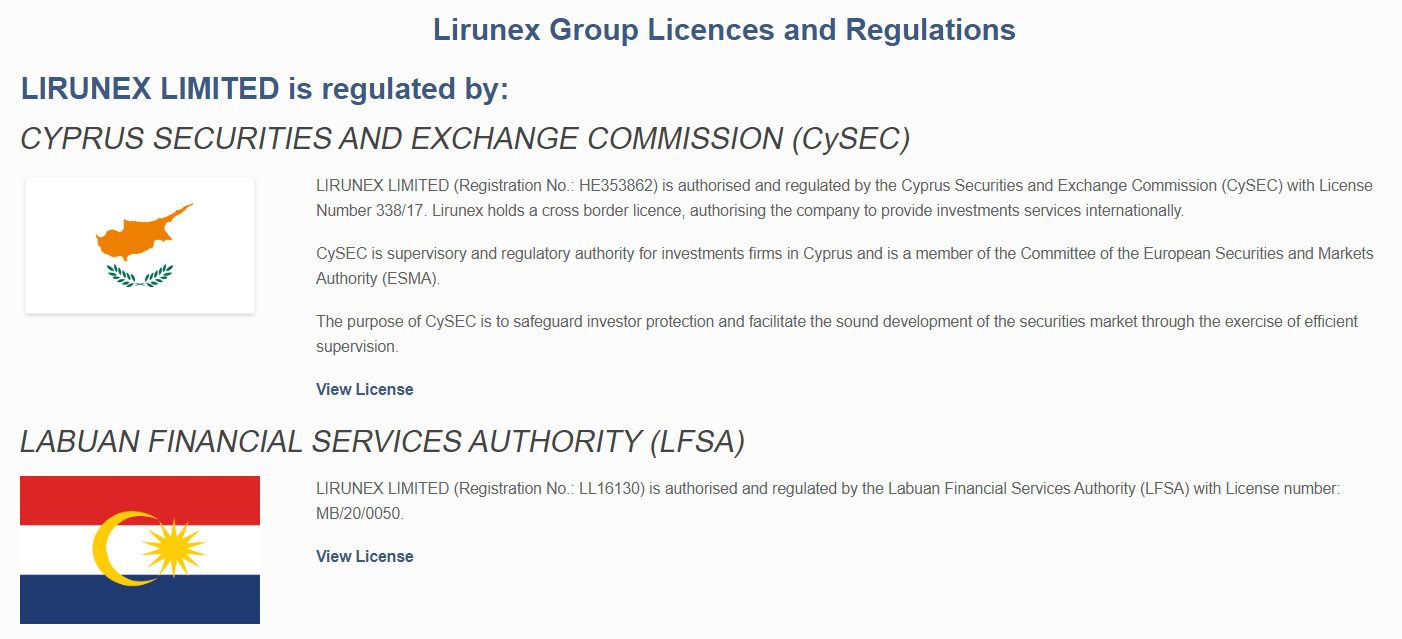 On top of that, the broker also claims to have branches across the globe that also have licenses of their own, including the Cyprian branch with the CySEC license and the Marshall Island branch with no specific license.
Now, despite these claims, there are many grey areas on the platform that make us suspicious. For instance, the maximum leverage that you can get for all accounts and all jurisdictions is 1:500, which is way more than what the CySEC regulation requires – just a 1:30 multiplication rate.
For this and many other reasons, we believe that Lirunex only has one license from the LFSA. And to be fair, it's not the world's most renowned regulatory material: Malaysia is a weak third-world country with no economic or political prowess to actually monitor the actions of a brokerage, especially the one that operates globally.
Therefore, we believe that the Lirunex scam may actually be real.
The software experience
Next up, let's talk about what the website looks like and how it functions. Interface-wise, it's not as sleek as other more prominent websites. The design is rather boring and the sections don't really flow between one another.
When it comes to the information, Lirunex does a surprisingly good job ad plainly providing details about pretty much every aspect of its platform. We were easily able to find the information about the leverage differences for different accounts, minimum and maximum trade sizes, and lots of other details. For this, the broker should be commended, even though some of the provided information may not actually be true (judging from the licensing claims).
Lirunex offers you three live account packages:
LX-Standard – 200 USD min. deposit
LX-Advanced – 500 USD min. deposit
LX-Pro – 1,000 USD min. deposit
The majority of trading conditions are all the same for these accounts, including the maximum leverage of 1:500 for Forex pairs, an unlimited amount of deposit, and even the speed of execution. And the differences in spreads and commissions don't really justify the differences in minimum deposit requirements – people would be better off by going for the LX-Standard account.
As for the trading software, the Lurinex MT4 will be your main trading platform, if you do decide to trade with this broker. Now, granted, there are many advantages you can use with this software, such as a bunch of indicators, drawing tools, and advanced charting mechanisms, you should note that it all depends to a broker whether the software is safe or not. And as we've already seen in the previous chapter, Lirunex doesn't really have a sturdy licensing to brag with.
Are Lirunex promotions legit?
The final entry of our review, and the one that most people are usually interested in, is going to be trading terms and conditions at Lirunex. On this platform, you can trade:
Currency pairs (Majors, Minors)
Gold & Silver CFDs
Index CFDs
Commodity CFDs
Crypto & Stock CFDs
The multitude of tradable instruments is certainly praiseworthy. Not only does it allow traders from various markets to come into one place but it also helps individual trades diversify their portfolios with different trading instruments.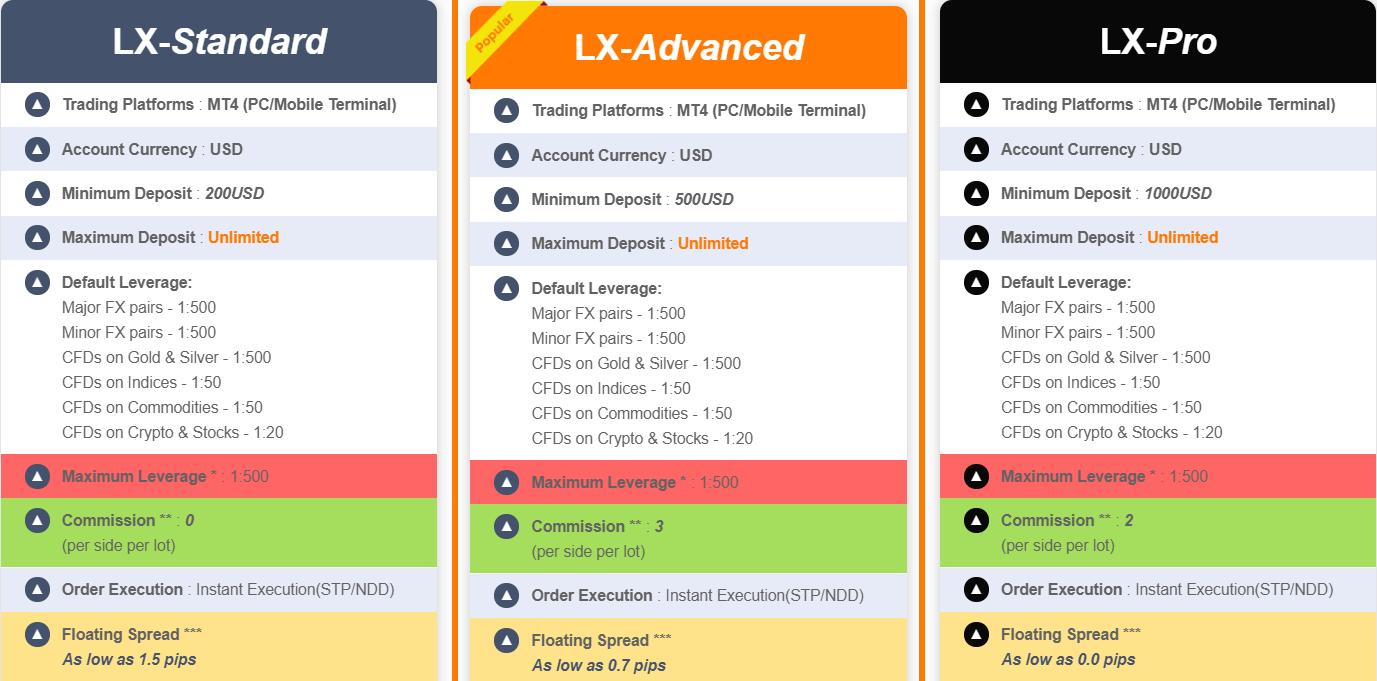 However, when it comes to the accompanying features, we're not overly convinced. For example, the maximum leverage you can get for Forex pairs is, as noted earlier, 1:500. What this means is that you're borrowing 500-times more money from the broker than what you've deposited. This way, the upcoming profits increase with the same amount. Yet the same applies for the losses, making this feature very dangerous to use willy-nilly.
Yet the Lirunex Forex broker goes about it without warning its clients first. Besides, if the broker really had a CySEC license, the maximum leverage Lirunex would've been able to push would be 1:30 – not a single step more.
The same suspicions do we have with spreads. As our readers may already know, Forex brokers usually depend on bid/ask spreads to fund their platforms; yet Lirunex makes these wild claims that the minimum spread for FX pairs will be 0 pip, whereas the average will go as low as 1.5 pips, which is still very low. And since even the commission levels are either zero or close to it, we're wondering where Lirunex gets the funding.
When it comes to making deposits and withdrawals on the platform, you won't be able to find a lot at Lirunex. Sure, the broker claims to deliver many more platforms "soon" (credit cards, Neteller, etc), there are only three variations of one payment method you can use:
Bank transfers
Local Online Banking (South East Asia)
Local Online Banking (China)
The transaction times for both Lirunex withdrawals and deposits will usually be around 24 hours, with variable commissions for local online banking methods. As you can see, there's not a lot of options for you to fund your trading account.
Should you trust Lirunex?
So, to get back to the ultimate question: will your funds be safe by trading with Lirunex? Well, let's do a quick rundown of what we've just said in our review:
Lirunex is a Forex broker that claims to have a European license but actually goes with only the Malaysian one, which is not that sturdy to ensure the safest financial experience.
The broker also fails to deliver a decent user experience on its website: it looks clunky and the design choice is very poor. Software-wise, there's not much bad to say about it, except that a fraudulent broker dictates the game, not the software that it's using.
As for trading terms and conditions, there are too many suspicious details to consider the broker reliable: the leverage is way oo high and spreads are way too low.
For those and other reasons, we believe the Lirunex fraud suspicions to be real. Therefore, we wouldn't recommend it to any of our readers.