Reviewing Milton Prime – Why should you trade with this broker?
Milton Prime is a famous Forex broker offering services to traders around the world. There are many traders using Milton Prime for several reasons. First of all, it is a regulated Forex broker,  that is focused on the safety and security of its clients. The broker also offers traders access to different types of assets.
In addition to Forex currency pairs, you can also trade CFDs on numerous assets, such as stocks, indices, as well as precious metals, and energies.  The broker offers traders very competitive services. Depending on your location, the leverage for Forex trading can go up to 1:1000 at Milton Prime.
However, there is much more about this Forex broker that traders should know about. If you want to learn more about Milton Prime and everything that this broker has to offer, follow our detailed review of Milton Prime and start trading today.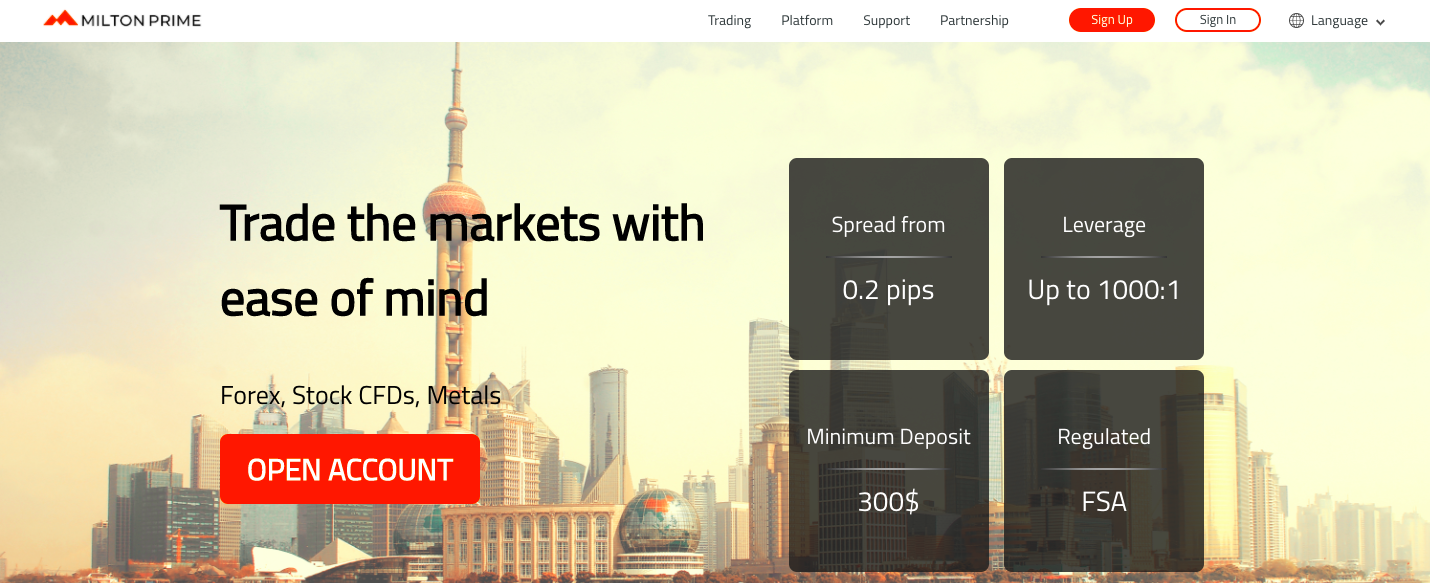 Steps to start trading at Milton Prime – Trading Account
The first thing that you have to do to start trading is to open a live trading account. The Forex broker offers traders three types of accounts and depending on your needs in Forex trading you can create either one of them. The initial deposit that you will have to make to create a live account depends on the account you are creating. It can be either $300, $10,000, or $100,000.
Account creation is a very simple procedure as you only have to provide basic information about yourself. However, keep in mind that the broker also follows the KYC policy, which means that you might have to verify your identity. This can be done by providing several documents. It can be your ID, as well as a passport. Also, to verify your location, you will also have to provide a copy of a utility bill from the past three months. Registration at Milton Prime could take up to one day.
The broker also offers traders access to a demo trading account. A demo account is a great way to start trading Forex if you do not have much experience in trading. While using a demo trading account, the broker will provide you with a certain amount of virtual cash which can be used for trading. Although a demo account can't be used to generate profits, it can be a great way to learn more about Forex trading and grow as a trader.

Although many people have this misconception that a demo account can only be used by beginner traders, it can actually be very helpful for experienced Forex traders as well. The main reason for this is that experienced traders many times go back to the demo trading account to test out different types of strategies and see which one works better.
How does this Milton Prime keep you safe?
While trading Forex, one of the most important things that every trader should focus on is the safety and security of their funds. As we found out while reviewing Milton Prime, this Forex broker is licensed by two regulatory agencies. They are Financial Services Authority Seychelles, an offshore regulatory body, and Cyprus Securities and Exchange Commission, a well-known European regulator.
The European license gives the broker the ability to offer services to the whole region. According to the MiFID II directive, any broker that is licensed in any of the EU-member countries has the right to offer services throughout the whole region.
The Forex broker follows several requirements because of its licenses. One of them is the negative balance protection which can be a guarantee of safety for many traders, especially for those who are using higher leverage. As we have already said, the broker offers traders leverage of 1:1000, which is very high leverage.
While trading with higher leverage, traders are likely to open themselves up to significant risks. One of these risks is losing all of their funds and even more than they have on their trading account. Thanks to the negative balance protection, you are protected from losing more money than you have deposited on your trading account. The broker also keeps the funds of its clients on segregated bank accounts, which means that your funds will be safe at all times.
What can you trade at Milton Prime?
While reviewing Milton Prime, we were able to find out that the broker offers traders access to numerous types of trading assets. Among the assets that can be traded at Milton Prime  you can find:
Forex currency pairs
Stocks
Indices
Energies
Precious Metals
Trading so many assets at Milton Prime is possible thanks to the CFDs trading. CFDs are a very popular way for trading many different assets because it lets you trade instruments like stocks and precious metals without having to own them directly. This possible because when you are trading CFDs, you are actually speculating about the possible price movements in the market.
Milton Prime review shows that the broker is largely focused on Forex trading and for the wrong reason. The Forex broker offers traders access to more than 50 currency pairs. The available currency pairs are the Forex broker includes Major, Minor, as well as Exotic currency pairs.
Trading platforms of Milton Prime
Our review of Milton Prime shows that the broker offers traders MetaTrader 4 trading platform, which the most popular trading platform in the market. This trading platform is very user-friendly and is used by millions of traders every single day. It offers traders access to numerous trading indicators, which can make trading even easier.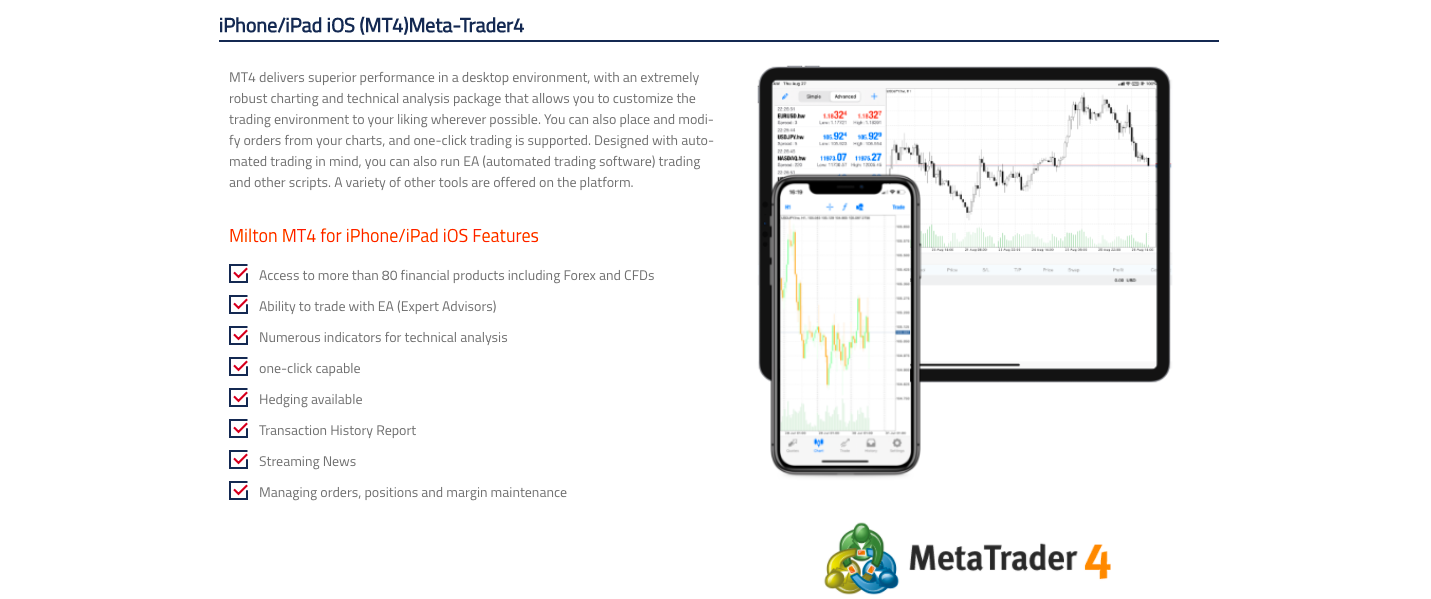 MT4 can also be used for charting and analysis, which makes it a perfect all-in-one trading platform. There are several versions of the trading platform available at Milton Prime. The regular windows version of the platform can be downloaded from the website of the broker in no time, or if you do not want to download additional applications to your computer, you can also use the web-based trading platform of the broker directly in the browser.
In addition, there also is a mobile version of the trading platform available for traders who want to stay in touch with the market even when they are away from their computers.
Should you trade with Milton Prime?
After reviewing Milton Prime, we are confidently recommending this Forex broker to our readers. There are many things that make this broker exceptionally good, among which are the competitive services of the broker Milton Prime offers traders access to numerous trading assets and gives them the ability to take an advantage of higher leverage.
The broker is licensed by tw0 well-known regulatory agencies, which makes it a trustworthy and safe Forex broker. Because of this and many other reasons that we have discussed throughout today's review of Milton Prime, we recommend this broker to traders.