Moneta Markets broker review – is it legit or scam?

Forex trading is gradually becoming a very popular activity for people. It is possible to earn a lot of money with proper trading. But in the meantime, a decent broker is needed, who provides assistance in forex. 
Numerous brokers emerge every day. Some of them offer reasonable terms and conditions, while the rests are nothing more than a scam. It is always a challenge to find out the legit one because their schemes are very sophisticated. In this review, we will try to determine whether Moneta Markets broker is legit or scam.
A brief overview
Established in 2018, Moneta Markets is a part of Vantage International Group Limited. The latter itself was established in 2009 and is licensed in 3 jurisdictions. It has an average trading volume of $100 billion monthly. The broker offers over 25o CFDs and has a leverage of up to 500:1.

Website review
As soon as you enter the official website of Moneta Markets, it looks a bit unhandy and overloaded. When you own a website, it is essential to offer a simple view. The appearance always plays an important part. 
The website has four main sections which are: Trading, Clients, About Us and Partnership. They also include several subsections. At the very top of the page, there is a language bar and Contact Us. The website is offered on 13 languages. Then we have Login, Sign Up and Demo. 
When you scroll down a site, it shows the available trading opportunities, including forex, crypto and commodities. The general information about deposits and leverage is also on the main page of the website.
At the right side of the bottom, you can see a Chat icon. You should enter your email and name to send a message.
Tools
Moneta Markets has educational tools. It provides clients with an economic calendar, where they can explore global events that impact the markets. Moreover, in the Education subsection, a number of video tutorials are available, where you can sharpen your forex trading skills and gain additional experience. However, it should be noted that both of these features require improvement in design.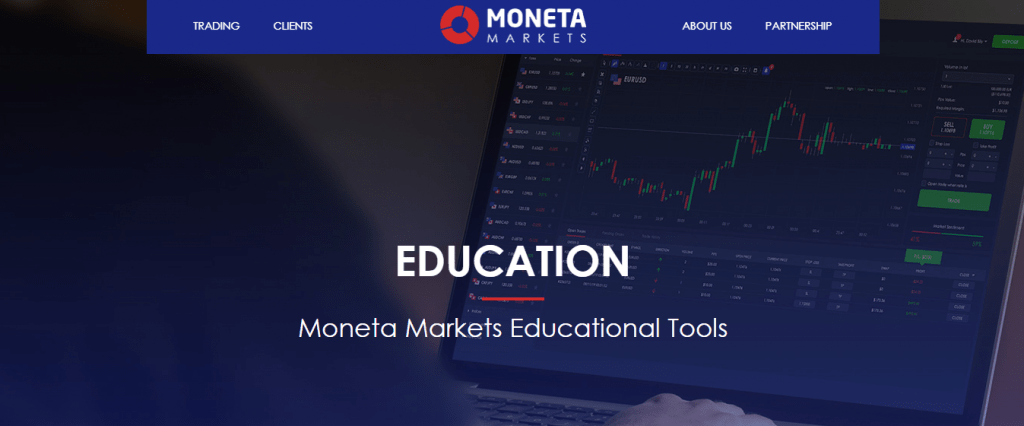 Customer support
Having a good service is impossible with decent customer support. Moneta Markets can boast of having one, which has a multilingual support group. It is available 24/5. You can either send an email or make a phone call, which is indicated on the website too.
The license review
Here comes one of the most important parts of the forex broker – the license. As has already been mentioned above, Moneta Markets is a subsidiary of Vantage International Group LTD, which in its part is regulated by Cayman Islands Monetary Authority. If we compare this regulator to CySEC or the FCA, it does not seem to be a highly reliable entity. 
Account types
Moneta Markets offers both live account and demo account. The broker does not charge an extra fee for opening an account, but the minimum deposit is $200 to start trading. Creating a live account only takes 5 minutes and is similar to creating a social media account. You should provide your first name and surname, phone number and email. 
If you are a novice trader and step by step get used to forex, then you should try a demo account, which is also possible on the website. You have to provide documentation and proof of identity. But keep in mind that a demo account only lasts for 30 days and then it will expire. 
Trading terms and conditions
Now we come to the topic, which is interesting for every trader. It is trading terms and conditions. The leverage differs from forex to metals, and the maximum leverage is 500:1. It could be considered a relatively high amount. You cannot start trading unless you deposit $200 into your account. 
The only trading platform available on the website is Webtrader. Unfortunately, the broker does not have MT4, which is a huge minus for the brokerage company. You can also download the app on your android or ios devices and conduct trading through your mobile phones. 
The broker services are not available for the United States clients. 
Bonuses
The most exciting part of any broker website is bonuses and promotions. Luckily Moneta Markets has a bonus available, which is a 50% deposit bonus. However, the main drawback of this system is the fact that you should put at least $1,000 to be eligible for the bonus. You can withdraw the deposited funds at any time, but the cancellation of the bonus will follow as well. 

Deposits and withdrawals
Moneta Markets does not charge an extra fee for deposits and withdrawals, but keep in mind that banking institutions can take its transfer fees, which are independent of the broker. The fund can be deposited in 8 currencies: USD, AUD, EUR, GBP, NZD, SGD, JPY. 
You can deposit money via traditional and non-traditional methods. If you deposit money via Visa or Mastercard, it is instant, but transferring money through Bitcoin usually takes one business day. The latter is especially useful because we know that cryptocurrencies provide a high level of anonymity, speed and security, so Moneta Markets is a notable exception that it offers Bitcoin services.
The withdrawal process is very fast and easy. It is possible to withdraw money from the Webtrader's platform. 
Summary
So now comes the summing up of the review – is Moneta Markets a legit broker or are we dealing with another scam? Well, the broker is a relatively new entity formed in 2018, but its parent company International Group LTD operates for almost ten years. We have reviewed the website, which requires some improvement, discussed the license, which is less prestigious than CySEC or other regulatory boards and reviewed trading terms and conditions. 
Given the information from the official website Moneta, Markets seems to be a legit company, but it requires improvement in transparency and trading services. It lacks a trading platform which is MetaTrader 4, but the high leverage is very attractive for clients.
We give 2.5/5 to this broker, and it would be better if you stay away from this broker because it arises some suspicions.