MTrading Review – What type of broker are we dealing with?

A Forex broker with a trustworthy platform and decent offerings is a company that greatly increases the profitability of your trades. It provides a platform that helps you better conduct a technical analysis, better analyze charts, and better plan out the trades.
Conversely, a fraudulent broker works tirelessly to suck as much money out of you as possible. It'll tell you everything you want to hear, be it rocking a sturdy license or offering whopping leverage, yet the actual offerings will be drenched with scam and fraud.
In order to tell the two types of brokers apart, you need to dive deeper into the broker's platform. In today's MTrading review, that's what we're going to do.
Can MTrading be trusted? – A license overview
The first entry in our honest review of MTrading is going to be the broker's license. It can pretty accurately show whether the broker abides by high financial standards or it's just another company that does anything that it fancies.
As we browsed through the broker's website, we found that MTrading is a member of The Financial Commission. It was registered in St. Vincent and the Grenadines, while the license was supposedly issued by the country's Financial Services Authority (SVGFSA).

Now, someone with zero experience and knowledge of finances might have believed this claim and considered MTradinga legit brokerage. However, for us, this actually enhances our MTrading scam suspicions, and here's why:
The SVGFSA license is actually a facade that many financial companies use on the surface. It helps them dissipate some suspicions and attract as many novice traders as possible. In fact, such regulatory institutions are often used as safe havens to hide illicit activities, as well as earnings, from the more powerful governments and go on doing all the nasty stuff to the clients.
With that being said, we believe that MTrading is not a trustworthy broker because a. it has a suspicious SVGFSA license and b. it lies about that license being high-end.
What does the website look like?
Next up, let's dive deeper into the online platform of MTrading and weigh it up in a couple of ways. First off, we'll examine the interface. When it comes to its design, Mtrading.com doesn't look too bad: in most areas, it is simplistic enough to facilitate effortless navigation through the website. However, there were some heavy background images that didn't exactly enhance the user experience at MTrading.
As for the informative aspect of this website, we were able to find the most of the information pretty easily but, again, there was an issue of the same information not being too insightful. For instance, we wanted to find out the exact details about MTrading withdrawal and deposit methods, yet we only saw the methods of payment.
When registering at Mtrading.com, you can get two main live accounts: M. Premium and M. Pro. For the M. Premium account, you need to deposit at least 100 USD, and after doing that, you can get maximum leverage of 1:1000 and spreads from pip. For the M. Pro account, the minimum deposit is 500 USD, with the same maximum leverage of 1:1000 and even lower spreads – we're going to discuss these offerings in the next section.
Finally, we went to the Trading Platforms section where we found that the whole process of trading is facilitated by four iterations of one software:
MetaTrader 4 (base version)
MetaTrader 4 supreme edition
MetaTrader 4 multiterminal
MetaTrader 4 web trader
To be fair, the user experience with each of these MT4 versions is going to be top-tier, yet it's worth noting that it's not exactly about the software but about the broker that offers it. MT4 may be the world's most popular trading platform but if MTrading fraud is actually real, the platform won't be able to stand in the broker's way, meaning it'll be used as a scamming tool.
MTrading promotions – Should you trust them?
Last, but certainly not least, comes the section that the majority of traders are usually interested in – trading terms and conditions. MTrading is primarily a Forex trading broker, however, it also offers instruments from other markets, namely:
Commodities
Stocks
Indices
The exact terms and conditions for these assets seem like they're designed to enhance your profitability but in our opinion, they're there to trick you into believing that MTrading is focused on your interests.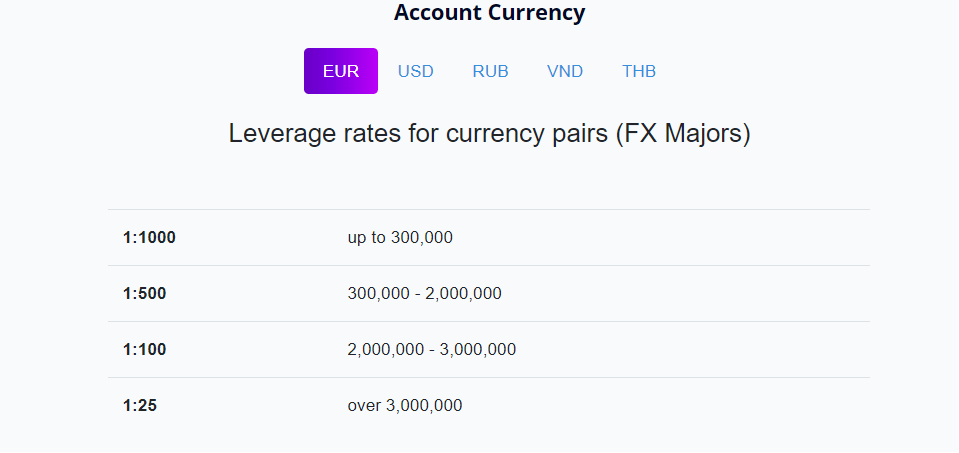 If we take a look at MTrading's leverage offering, we can easily see what the problem is: the broker goes way over the line by featuring 1:1000 leverage to both M. Premium and M. Pro customers. On the one hand, leverage of this magnitude really boosts your profit sizes. On the other hand, though, it also increases losses with the same amount, which can be even more destructive to your account than the benefit of profits.
As for spreads, MTrading still continues on the suspicious road by either charging no spreads or going very low with them. If you choose the M. Premium account, spreads will start from 1 pip, whereas the M. Pro account charges no spreads. Either way, we are very suspicious as to where MTrading Forex broker gets sufficient funding from – it definitely doesn't come from spreads or other commissions.
The minimum deposit requirement at 100 USD is quite decent, considering that other brokers go with pretty much the same amount as well.
The final part of this section, as well as the whole review, is going to be deposit and withdrawal platforms. As we have already noted above, MTrading doesn't really say what exact conditions there are for payments. The only thing we know about them is that you can use the following platforms:
Alfa-bank
Astropay
Manual operation
Neteller
Nganluong
Perfect Money
Prepaid card
QIWI
Skrill
Visa/MasterCard
WebMoney
Wire transfer
Now, while it would've been much nicer if we knew the exact limitations for MTrading withdrawals and limitations, as well as how long the transactions take, that still wouldn't have increased your opinion of this broker: we still believe that MTrading is way too suspicious to trade with.
Can you trust MTrading?
In this review, we took a closer look at yet another Forex broker – MTrading. This brokerage was established in 2012, which would have some people believe that it is experienced enough to offer a decent trading platform.
Yet as we've found out, MTrading has lots of issues, as well as grey areas that undermine its credibility. For example, while the website looks mostly fine, it fails to deliver more detailed information about some of the important aspects.
As for the registration, we have established that the SVGFSA license is nothing more than a farce used to deceive potential new clients.
And finally, we checked various trading terms and conditions, determining that they too are very suspicious and not exactly advantageous for those traders that value stability and financial safety.
So, with that being said, we don't consider MTrading to be a trustworthy trading partner. You should probably find a more honest broker that doesn't shy away from providing useful information about its platform.