Mugan Markets Broker Review – Trade 200+ instruments
Mugan Markets is an international broker serving clients from 2015. Be noted that the broker is not available for citizens or residents of the United States, France, Belgium, Spain, United Kingdom and any other jurisdiction in which citizens have restricted trading rights.
There are more than 200 assets for trading, including various asset classes: Forex pairs, shares as CFDs, commodities, cryptocurrencies and indices. Available leverage for trading currencies is up to 500:1. Trading fees are low. In addition, there are no fees on deposits and withdrawals and the process is instant. The broker has acquired multiple rewards including:
Best Customer Service 2019
Best Execution Speed 2020
Finance Innovation 2019
Best Crypto Assets Rates 2020
Mugan Markets offers traders access to MetaTrader 4, Marketplace for PAMM managers, deposits and withdrawals are possible in Fiat currencies and in Crypto. The speed of execution is lightning fast and the order execution type is ECN. In addition, traders can be anonymous by making deposits using crypto. You will not find this feature with most other brokers.
Account Types
Mugan Markets offers 3 account types: Classic ECN, Trader ECN, and Custom ECN. The Custom ECN is for VIP traders that are able to deposit more than 10,000 USD. There are many ways to make money in the markets. Every trader has a unique style and approach. In order to meet the needs of different traders, the broker offers both spread-free and commission-free accounts. Let's discuss each account type in more detail.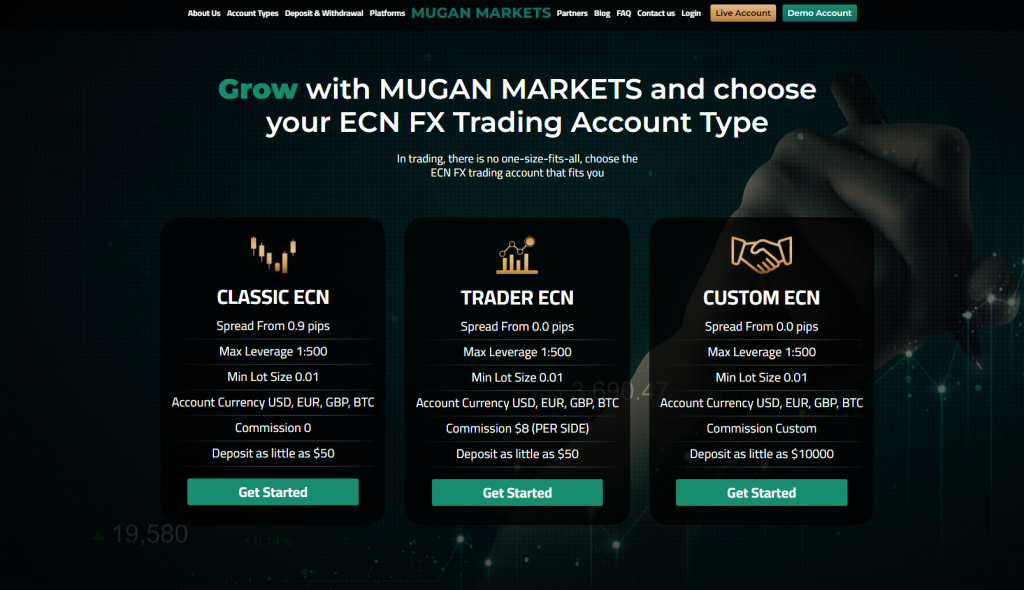 Classic ECN account
In order to open this account type 50 USD minimum initial deposit is required. Available leverage is 500:1, however, keep in mind that high leverage leads to opening oversized positions and finally leads to blowing up accounts. Be careful when trading with high leverage. Spreads start from 0.9 pips. Which is lower than what most other brokers are offering. And there are no commissions on this account. Zero commission trading is beneficial for position traders. These type of traders usually take several, well-calculated trades per month. And therefore, spreads are less of a concern for them.
Trader ECN account
This account type is for intraday traders that place orders frequently. The reason is simple: spreads are starting from zero. On the downside, commissions are 8 USD per traded lot in one side. However, traders that open and close orders frequently and make numerous trades, care less about commissions. Available leverage for trading Forex pairs is up to 500:1. And the minimum initial deposit requirement is as low as 50 USD. Scalpers, algorismic traders, news traders, day traders, and high frequency traders will particularly enjoy this account.
Custom ECN account
The account type is for VIP traders with minimum deposit requirements of 10,000 USD. There are no spread markups in this account. However, custom commissions are charged per traded lot. Leverage is also 500:1. And accounts can be opened in USD, EUR, GBP, and BTC. The account type is for professional traders that treat trading like business.
Partnership Programs
Mugan Markets is actively trying to expand its customer base and is offering attractive partnership programs. There are programmes for PAMM managers, business affiliate and for those that wish to be Introducing Brokers to other traders. The main benefits are:
Fully Customizable Rebate Plans
Refer and earn commissions
IB portal to track all your earnings
Trading Software
Mugan Markets provides traders with access to the most popular – MetaTrader 4 (MT4) platform. The platform was originally built for Forex trading and now traders have also access to indices, commodities, etc. using this software. The platform was released in 2005 and became super popular right away. The platform's reliability and durability is unchallenged even today. Which is the main reason why so many traders stick to MT4.
MT4 supports algorithmic trading. The trading robots of MetaTrader are called Expert Advisors (EAs). You can create trading robots by coding language MLQ4 or go straight to Meta Market and purchase various indicators and trading robots. MT4 has the largest pool of trading algorithms available for trading.
In addition to the desktop platform, the broker also offers mobile and web trading terminals. Mobile app is very useful in emergency situations, such as: power outages, breakdown of computers, loss of cable internet connection, etc. What's more, you are connected to the market from anywhere in the world from your smartphone. The broker offers a mobile version of the MT4. The platform itself features live charts, full set of order types and markets.
Customer Support
Great customer service is critical for the development f every financial service provider. Mugan Markets understands this simple truth very well and offers professionally trained customer support available 24/7. You can get in touch with this broker using live chat or email.
Extra Features
In addition, the broker offers educational blogs and FAQ section. The blog section is aimed at both professional and novice traders. Traders are provided with important information such as recent market developments, economic news. Market analysis, trading guides, tips and tricks for beginners and more.
Conclusion
To sum everything up, Mugan Markets is a great broker offering access to over 200 assets including FX pairs, crypto, indices, commodities, and shares as CFDs. there are 3 account types available: spread-free, commission-free and VIP. And therefore, every trader type will find what fits best to his/her strategy. Minimum initial deposit is only 50 USD, maximum available leverage is 500:1 and available trading platform is MT4. The broker offers good partnership opportunities and great customer service. Overall, we can safely say that Mugan Markets is a good broker.