NESSfx Forex broker review | Should you trust it?

There many Forex brokers on the market and it is very important to start trading with the one that can keep you and your funds as safe as possible. As Forex trading became very popular online with the help of the development of the internet, many scam companies emerged and started to lie to people and get their money illegally.
To help you stay safe, we are reviewing different brokers on the market. Today, we are going to talk about NESSfx, a Forex broker that claims to own an authorization form CySEC, Cyprus Securities and Exchange Commission. However, it seems like the regulatory framework that the broker follows simply is not enough for it to offer a safe trading experience to its clients.
If you want to learn more about this Forex broker and the reasons why you should avoid it, you should read our review. We will talk about everything that might help you stay as safe as possible.

Regulatory framework of NESSfx
NESSfx claims to own a license of CySEC, which is the main regulatory body of Cyprus. This gives the broker the ability to offer the citizens of many countries their services, however, the fact that the broker owns the authorization is not enough to say that they are safe. In reality, while working on this research, we have come across many problems and challenges that the broker has.
Regulations in general are something that should be followed very strictly because they give traders the safety that is needed so much in the world of Forex trading. However, NESSfx is not doing that, which makes it very dangerous for investors to trade with this company.
One of the things that CySEC requires is for brokers to keep the funds of their clients on segregated accounts. We tried to contact the customer support team of NESSfx to find out if they follow this rule, but sadly, we could not get the information that we needed. First of all, it was very hard to connect with the customer support team, and we still have not received an answer from them, which raises even more questions than we had before.
The customer support team of NESSfx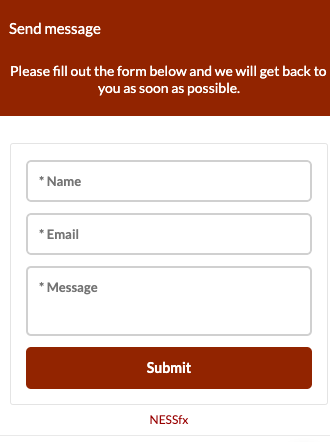 For Forex traders, it is very important to trade with a company that can provide needed help at any time of the day. NESSfx has a special form that you have to fill out if you want to get help, but sadly, it is not helpful at all. We have waited for many hours but still, we have not received any answers from them.
If this happens in the case of emergency and the traders are left on their own, without any help from the broker, everything can end up very badly for the traders. This added to many other problems makes us believe that this broker is actually a scam.
We believe that the broker is very dangerous for many reasons. But one thing that bothered us the most is the things that we have read online. People are complaining not only because they lost their hard-earned money with this broker, but also because representatives of the brokers actually called them and offered them investment opportunities.
This is totally unacceptable and goes against everything. It seems like the company is on a hunt to find vulnerable people, lie to them, and get their money illegally. To avoid this dangerous situation, we recommend avoiding this Forex broker at all costs.
How does the website of the broker look?
While working on this review, we checked every little detail about the broker. Even the first few seconds was enough to find out that the broker is not safe. The website looks very bad, it looks like it was created by someone who has no intention to make it useful. Also, we could not find most of the information that we were looking for and this further made us believe that this broker is a scam.
So, is NESSfx a scam company?
We believe that every single trader should avoid trading with this Forex broker because of a number of reasons, but the main one is to stay safe. Sadly, we were not able to find anything that we would make us believe that the broker is trying to create a safe environment, which leads us to believe that the broker is a scam and should be avoided at all costs.