Review of Nextmarkets – What does it has to offer?

Nextmarkets was established back in 2014 and claims to be the leading European commission-free trading platform with offices in several cities of Europe, including Cologne, Lisbon, and Malta. The company claims to be one of the leading companies in the region, providing numerous services. This includes the special offering of professional investors, who are so-called coaches aiming at helping beginners start trading.
Although the company has grown massively over the past few years. there are some drawbacks that traders should know about. Although the brokerage claims to be commission-free, it is not necessary to correct. Nextmarkets still charges some type of fees, such as spreads for example. Also, the commission-free trading which is so largely advertised by the company only applies to orders that are above 250 Euros, which does not really make it a free-of-charge brokerage.
While Nextmarkets is certainly not a scam, there are some disadvantages associated with this broker which leads us to not recommend this brokerage to our readers. There are many other brokers that offer traders services that are simply a lot better than the services offered by this broker.
So, without further ado, let's get into our detailed review of Nextmarkets and discover what this broker really has to offer.

The safety of funds – Nextmarkets regulations
When discussing Nextmarkets, before moving on to disadvantages that we have found, it is very important to give the brokerage some credit. While there are some very serious concerns about the quality of the services that this broker has to offer, it would be unfair to call it a scam.
After all, the broker is established and regulated in the EU, which is known for having very strict regulations when it comes to trading and investing markets. The company owns the license of the Malta Financial Services Authority, as a financial services company.
While it is regulated and licensed, there is a bit of a shady fact around the company. As it has a headquarters in Germany, it is very concerning why the company has not received Germany's license yet. While it is true that EU-regulated brokerages have the right to offer their services to every single EU member state, it still is concerning that the brokerage has not received local regulations and licenses in the countries where it operates.
This would create additional security and safety for the brokerage and could take the services of the broker to the next level. The agency that regulates this brokerage is not that well-known in the market and is not among the top-tier regulatory bodies either, which is a huge disadvantage.
Being a heavily-regulated brokerage has become a very important factor in the financial industry over the past few years. There are numerous brokerages available online today, which means that the competition in the market is very high.
What does Nextmerkets have to offer?
Nextmarkets has numerous offerings for its clients. The company focuses on offering traders different types of assets, such as stocks and ETFs. However, although there are some advantages associated with this brokerage, there also are several disadvantages that traders should know about.
One of the biggest disadvantages that we were able to identify while reviewing Nextmarkets is that the broker only offers traders the opportunity to do technical analysis, and there are no fundamental analysis opportunities on the brokerage. This can be a huge disadvantage for traders.
Numerous traders in the market try to focus on different types of factors that influence the price movements in the market. Among them is the fundamental analysis, which is the process of analyzing the political and economic events around the world that could influence the price fluctuations in the market. While technical analysis can be very helpful for traders, it is very hard to imagine it is enough for making correct judgments about future price movements.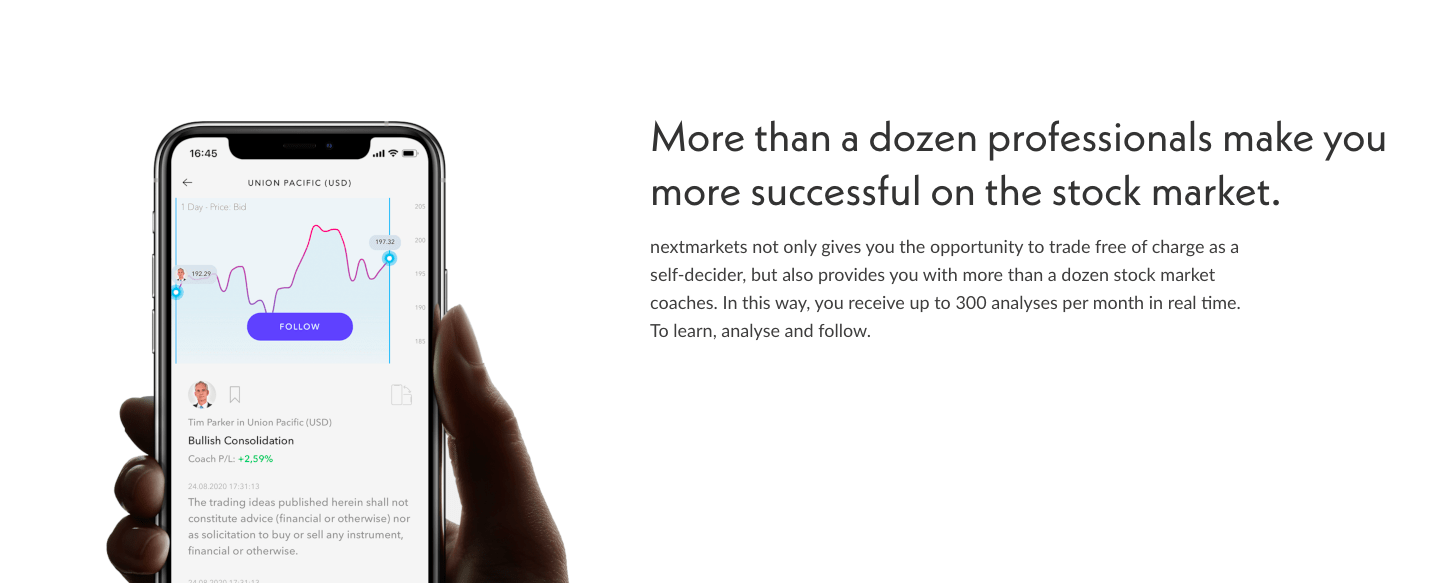 That said, the services of the broker should not be ignored. The trading platform can be downloaded on your mobile phone, which makes it a bit easier and more comfortable to use. The broker also does not charge any inactivity or deposit and withdrawal fees. The process of opening an account is also very easy, which should not take longer than 5 minutes.
However, one huge disadvantage of this company is the lack of available trading assets. Whenever you are thinking about modern brokerages, you think of a company that offers traders the opportunity to easily diversify their trading portfolios and use all different types of assets for trading. However, as our review of Nextmarkets shows, this is not true for this brokerage.
So, if you are a trader with numerous different types of interests, this brokerage might not be a perfect choice for you.
The customer support team of Nextmarkets reviewed
While reviewing this brokerage, we wanted to focus on different types of factors that might be important for traders. One of them is the customer support team. While the customer support team can be contacted through different channels, contacting them was the best experience that we have had.
Sadly, it took us a very long time to get hold of someone who was ready to answer our questions. Even after we contacted the customer support team, there were some issues with the conversations that we had. Some of the answers that we have received did not make any sense and for the most part, our questions were left without answers.
This is a huge disadvantage. Whenever you are trading, you never know what is going to go wrong. It is vital for brokerages to be able to offer traders timely and useful help.
The website of Nextamrkets
When reviewing Nextmarkets, we tried to use their website as much as we could. Sadly, the website is not good at all. In fact, it is almost useless. The information is very hard to find on the website and everything looks very basic and simply not good. The website is also very laggy and it makes learning more about the company even harder.
We tried to find detailed information about the regulatory status of the company and the services that it has to offer to its clients but it was almost impossible at some point to receive some of the information. This is a huge disadvantage of this Forex broker. In the majority of the cases, brokers work very hard to ensure that the first impression on their website is good and it attracts traders.
It seems to be very hard to imagine anyone deciding to use the services of the broker after seeing their website. The website platform is also very buggy and sometimes you click on some things but it simply does not work. This makes it very hard to trust such a company.
because of such lack of information on the website of the broker, it was very unclear how the company differs between real shares and CFDs, what does it offer and how does it offer these services.
No educational material
When reviewing Nextmarkets brokerage, we were very shocked to find out that it does not offer any type of educational material. Over the past few years, the importance of education in the financial markets has increased a lot. Because there are so many beginners involved in the trading industry, it has become vital for brokerages to offer different types of educational material and the opportunity for traders to practice more and grow as traders.
In fact, some of the regulatory bodies, including in the EU, require brokerages to offer traders educational material. Since this broker is registered and regulated in the EU, it is very shady that it does not offer educational material. It leaves a feeling that the brokerage is not really focused on the individual needs of their clients.
However, it should also be noted that the broker offers its clients a special demo account, which can be a great option for traders to learn more about the market and grow as traders. But, this can't be considered an advantage, as almost all of the brokers in the market today offer traders the demo account.
Lack of information
Another huge disadvantage that we found while reviewing Nextmarkets is the lack of information provided by the broker on their website. The broker does not display very important information about their services to traders. This includes no information about payment solutions, minimum deposit, and so on. The lack of details about payment solutions available on the broker is a big issue, as it makes it harder for traders to decide whether they should be using this brokerage or not.
Getting started on Nextmarkets
Getting started on Nextmakrets is not the most pleasant experience. While the broker claims that it is very easy to open a live account and start trading, we had a totally different experience. First of all, we waited two days for our account to get verified. While waiting is not a huge issue, it should be noted that the majority of modern brokerages verify accounts much faster.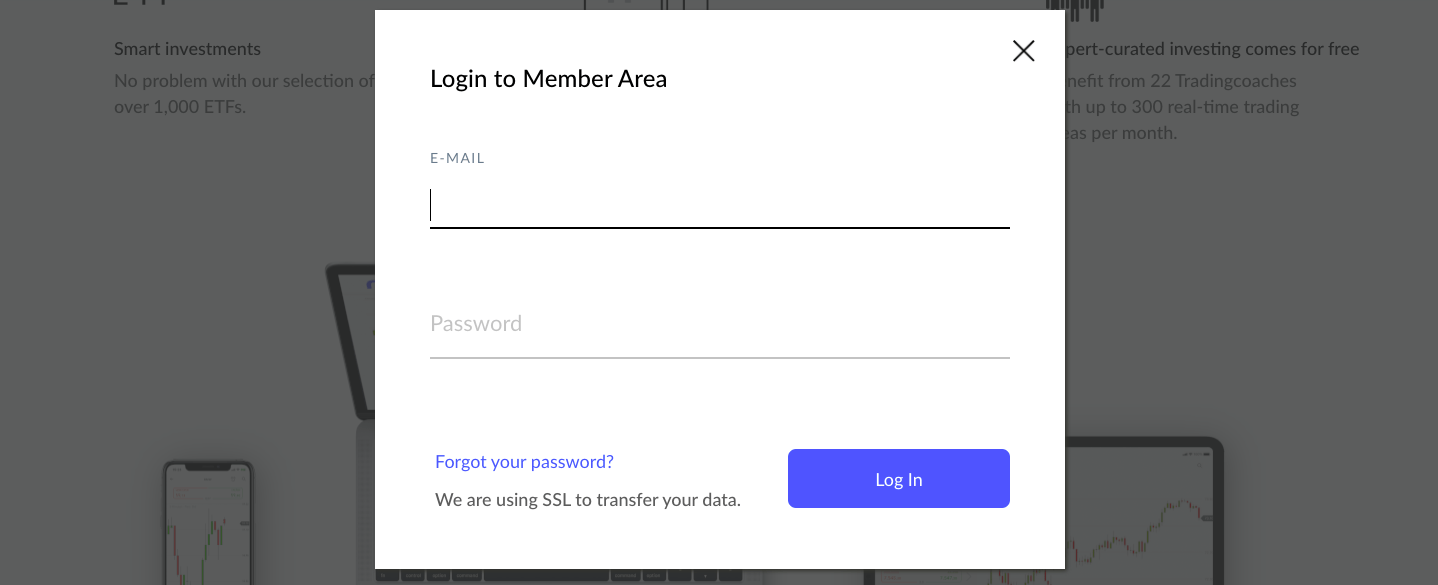 There should not be such a problem with a brokerage that claims to be an innovator in the market. Another disadvantage was the process of depositing funds. It took us a very long time to figure out how to do things, and as mentioned above, the customer support was not very helpful either.
After we were finally able to open the account, we found that there was only one account type offered by the broker. This is a huge disadvantage in today's trading market. The majority of the trading brokerages in the industry offer different types of accounts to ensure that traders can easily create accounts that fit their individual needs and wants in the market. Without doing so, it is almost impossible to become a successful service provider in today's market.
Offering only one account to all different types of traders does not really make any sense. This makes the market a lot harder for beginners to get started in.
Trading platforms of Nextmarkets reviewed
Many clients of the company have complained about the fact that when getting started with the brokerage, they had to learn how to use a totally new trading platform that they have never had experience with in the past. The broker offers their own in-house web-based trading platform. The platform is also available on iOS and Android devices.
While the trading platform is not bad, it is not good either. It is somewhere in the middle. It is not too hard to use but does not really look good. At the same time, the broker does not offer traders MetaTrader 4, which is one of the most popular trading platforms in the market. Almost every single trader is used to this trading platform and knows every little thing about it. Also, since Nextmakrets does not offer MT4, clients of the broker will miss out on the Expert Advisors, which has become very popular in the market.
Should you use Nextmarkets?
After reviewing Nextmarkets, we found numerous problems associated with the brokerage. Although at first things seem to be fine with this broker, there were several issues that we identified that are very hard to be ignored. The thing about this broker is that it seems to have it all that makes a good brokerage, but, at the same time, it lacks numerous other small factors that are vital for brokerages to offer traders safe and secure services.
While the broker has displayed some chances for further future development, as of today, we would not recommend this broker to our readers. While we might not think that this brokerage is a scam, we believe that it is not the best broker for traders to trust and trade with. There are simply a lot better options available in the market than Nextmarkets.