NSBroker Review

When setting out to start your Forex trading career, one of the first things you do is find your "ideal" trading partner. Now, we put the word "ideal" in the quotation marks because there's actually no such thing as an ideal broker – everyone has their quirks and shortcomings.
However, it doesn't mean you shouldn't be looking for the best one out there. The internet is full of Forex brokerages that are seemingly honest with their customers, but when the curtains rise, they're left with their bare schemes and lies.
In light of such an abundance of brokers, it becomes incredibly difficult to find the most credible ones. In this review, we'll be trying to determine whether the NSBroker fraud is the actual possibility or the broker is who it claims to be. So, without further ado, let's begin.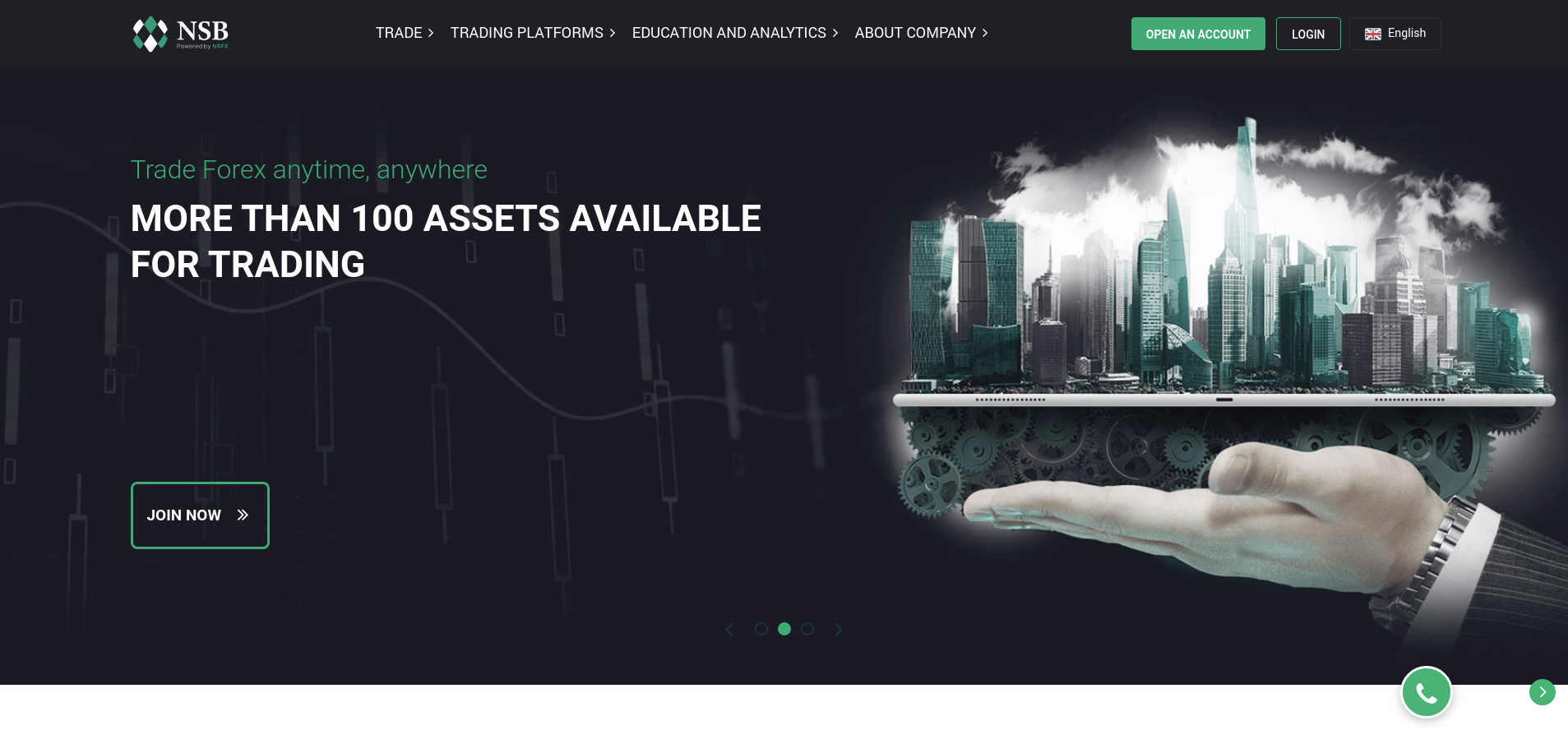 A general overview
When it comes to this particular broker, there are a lot of grey areas that need to be addressed. For instance, even though NSBroker has a pretty extensive About Page with its ultimate goals and missions, there's no mention of where or when the company was established. It's definitely an issue that hints to a further lack of transparency which, not to rush things, will be revealed at its due time.
A list of licenses that give away the NSBroker scam
One of the things that's particularly interesting with this broker is it's seemingly diverse regulatory measures. As the first page of the website indicates, the NSB Forex broker is a compliant entity of six different licenses! And even though it might seem overly convincing to many Forex traders, a detailed debugging of this particular statement will reveal many hidden flaws and inconsistencies to our readers.
What does the website look like?
The next aspect we're going to talk about in our review is the website. It seems that NSBroker has put some thought into making its online "apartment" as user-friendly as it can get: the interface looks quite pleasing with not-too-complicated visual effects.
However, we said "some thought" because there are areas where the lack of consideration is pretty evident. For instance, while the whole interface is separated into four sections, there are many indicators that we were unable to find such as currency spreads, minimum deposit requirements, the withdrawal limits, and the abovementioned date of establishment.
What's more, the broker doesn't even have different accounts for various customers. For instance, the beginner traders would need a bit different approach and lesser obligations than the experienced ones, and while there is a demo account for those who want to try their luck in this endeavor, it still doesn't contribute much to our NSBroker opinion.
Underwhelming indicators and offerings
We mentioned earlier that it took us a lot of effort and time to look for several trading indicators. And even in this extensive research, we weren't able to find spreads and minimum deposit requirements anywhere indicated on the website. We had to approach this issue a little differently to finally discover the data that we came for.
The only actual indicator that NSBroker provides is the maximum leverage rates. But even that is only showcased on the first page of the website – there's no trading terms and conditions department where you'd find it alongside other indicators separately.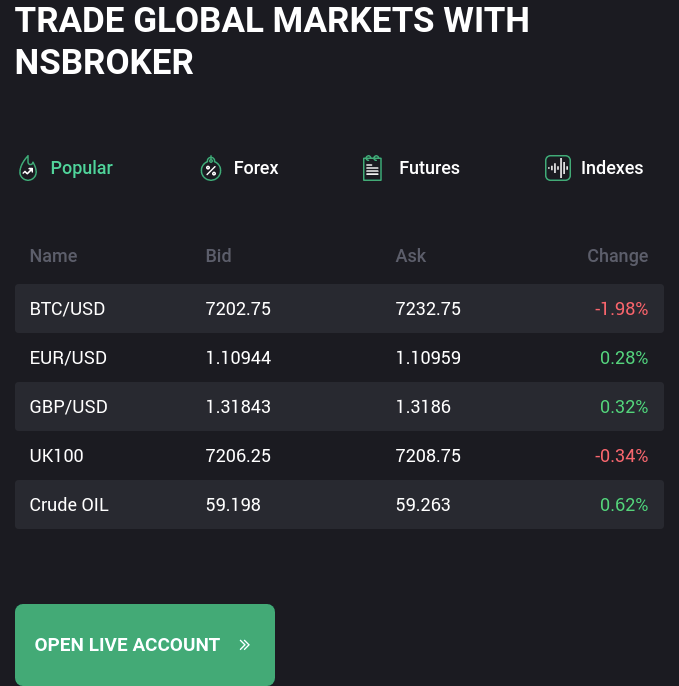 When it comes to trading platforms, NSBroker uses MetaTrader 5 for its main trading executions. That's probably the most exciting thing about this broker since MT5 is the most recent edition of the software.
However, things aren't that exciting with the NSBroker withdrawal and deposit possibilities. While there are seven different platforms, including credit cards and e-wallets, they all come with certain drawbacks that we'll discuss more thoroughly down below.
All in all, our overall opinion is that NSBroker is a somewhat shady financial entity that still has a chance to prove its credibility. Let's move to a more in-depth part of our review to make things a bit clearer.
Is NSBroker legit with its six different licenses?
As we've mentioned earlier in this review, NSBroker has a pretty extensive regulatory material listed on the first page of its website. Here are the exact regulating bodies: MFSA, MIFID, FCA, BaFin, AMF, and CONSOB. Now, these abbreviations might be confusing to many readers and that's fine, we don't need to go through every single one of them.
We're only going to focus on one of those licenses – MFSA. The reason for that is the broker himself has indicated it as its main legal framework. We don't know why NSBroker brought other licenses here but we suspect it's not for a good reason. So, let's take a closer look at this MFSA license.

The abbreviation itself can be "decoded" into the Malta Financial Services Authority. And while some might think Malta is a credible regulator for the NSB FX brokerage, we have quite a different opinion about it.
Malta is one of the biggest hubs of the casino industry, as well as online trading companies. Thanks to its liberal legislation, the country attracts many gamers and investors all around the world. So, NSBroker is trying to tell us that its compliance with the Malta legislation restricts its financial activities? We don't think so.
What the broker is trying to do here – at least that's how it looks – is to mask its activities and make them look like they're completely legal. This is quite a popular method among businesses: they opt for "safe havens", avoid taxes and responsibility for their illicit actions. That's our opinion on NSBroker's licensing material.
The website review
Next up, the website. At a brief nsbroker.com review, the website looks surprisingly sophisticated at a first glance – the interface is not too stuffed with unnecessary visual effects and decorations, the font looks pretty decent, and an overall aesthetic is acceptable.
However, that's pretty much all that we can say about the positive aspects of the website design. On the flip side, there's one major shortcoming that's immediately apparent when you try to search for some important details: it's that you won't actually find it. For instance, there's no establishment date, no minimum deposit or withdrawal requirements, even some of the promotions like spreads are missing.
As we go deeper and deeper, we find that there aren't even separate accounts for different traders. What if someone with no Forex trading knowledge wants to kickstart their career using NSBroker's platform? Such traders are always prone to minimizing the risks and financial commitments to their brokers.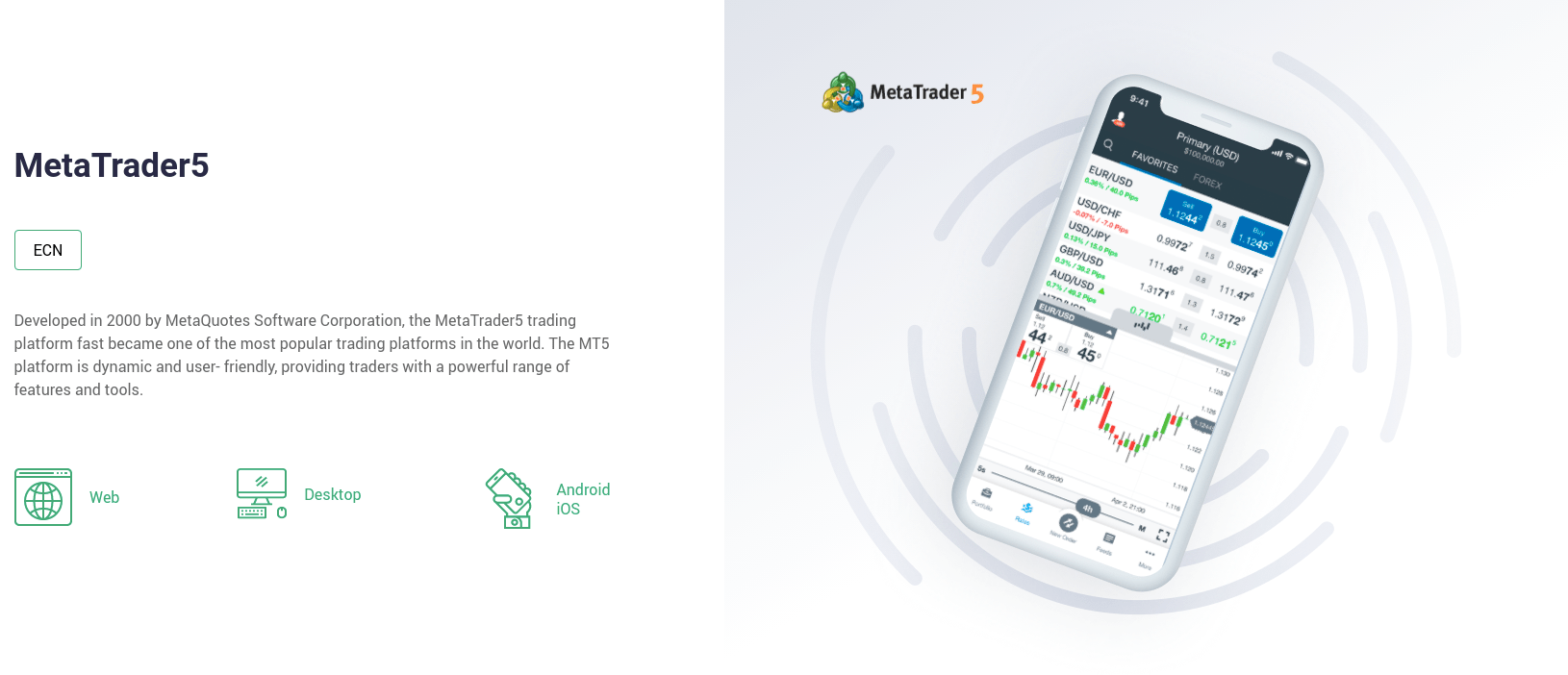 And while there is a demo account that's completely free, it's not that exciting to do Forex without gaining anything in return. So, they're stuck with the only live account that demands an initial deposit of $300 (we'll talk about how we came across this number down below).
There's one additional thing that can be considered an advantage – the NSBroker MetaTrader 5 trading platform. MT5 is the most recent update to a popular software that's been around for at least 15 years now. It contains its own charts, diagrams, trading tools, and everything else that's necessary for a successful Forex trading.
What do the NSBroker promotions look like?
And now, let's talk about what NSBroker actually offers to its customers. Let's begin with the only indicator that's provided on the website – the leverage, which can go as high as 1:100. What this means is that your deposits will be multiplied by 100 to increase your trading volumes and profits. And while it's certainly not bad, it definitely scores below the market average.
As we noted above, the broker has a minimum deposit requirement of $300. But it's not something that we came across on the website. No, we had to do research on Google where the previous rates were still saved. And here we found that at some point, NSBroker charged its customers with a $300 initial deposit. And it's pretty egregious since not many traders can risk such large amounts on a risky financial endeavor.
The next concealed indicator is spread. It's a selling and buying price difference between currency or any other market pairs. And here too we had to approach things a little differently: we found a window with currency pairs, took an EUR/USD pair and did a manual calculation of what the spreads would look like. It turns out that the minimum spread is somewhere around 1 pip which, to be fair, is not too bad.
And when it comes to withdrawal/deposit opportunities, the broker has credit cards, bank wire, and some e-wallet platforms like Neteller, Skrill, and Fasapay. In terms of deposits, there aren't too many restrictions since the transactions are instant and commission-free. However, when you're withdrawing your money, it takes 1-2 days to complete and some platforms charge 2.9% commission rates.
What is our final verdict?
As we're coming to a conclusion of our review, we've got one more thing to say: if you value your financial security and stability, try to avoid the brokers like NSBroker. You don't have any guarantees that they don't turn into the financial scams that just want to steal your money.
Just take a look at it: some of the most crucial information, including the date of establishment and trading conditions, is completely hidden from the users' eyes, not to mention the absence of NSBroker bonus or any other promotions.
The broker is even covering its suspicious origins behind the curtain of six different licensing bodies. And the most crucial one, the MFSA, proves to be one of the most ineffective licenses that NSBroker could ever indicate here.
And when the time comes to evaluate the actual numbers, the underwhelming leverages, high deposit demands, and somewhat okay spreads add to already deteriorated opinion: NSBroker is not the right assistant for you!